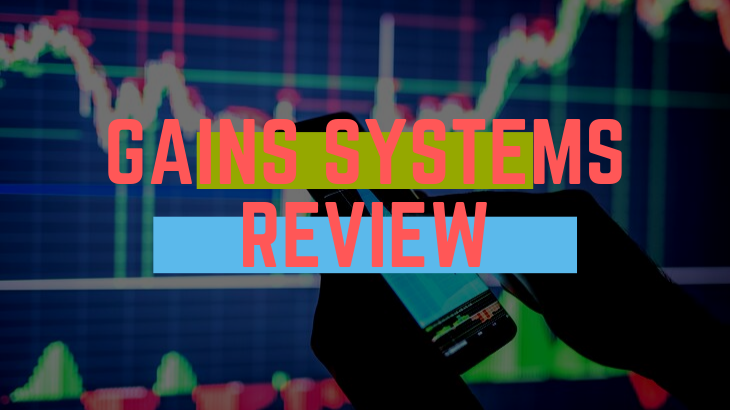 Gains Systems Review – Another HYIP MLM Scam Exposed!
Welcome to my Gains Systems review!
Within the MLM industry, there are a handful of major niches where a lot of MLM companies thrive under.
Unfortunately, one of these niches is investments, and I've yet to actually see an investment-based MLM company that offers something close to legitimate.
Today, we're looking at a HYIP MLM called Gains Systems, and we're not surprised by what we found out.
First of all, I must Congratulate you for taking your time to do your own research before buying into any "seemingly good" product.
That's the way to avoid scams and find the legitimate way to make money online!
Let me be completely transparent with you, I'm not associated with Gains Systems in any form.
So, rest assured that I'm not here to pitch or sell anything to you.
Instead, I'm here to reveal what this HYIP scam is trying to do and why it's a scam in the first place. 
Gains Systems Review Summary
Product Name:  Gains Systems
Founder:  Not disclosed
Product Type:  HYIP MLM
Price:  $10 minimum investment
Best For:  NO ONE! 
Summary:  Gains Systems is a high yield investment program that promises a trading platform run on advanced artificial intelligence and other pieces of technology they name-dropped. However, it's far from what it claims to be, and all because it's an outright PONZI SCHEME! There's even proof that people lost their hard-earned money from this program, and I'll show you in this article below. 
Rating: 1/100
Recommended:  No!
More...
This company is based in Hong Kong and has been running since April of 2019, which means they've been running for a few months now.
Now, Gains Systems is a registered business in Hong Kong, but it's not authorized to carry out investment services. This means only one thing: they've registered a business name under a different business category but are carrying out investment programs.
Seems suspicious right?
If they're not authorized to carry out investment services, then that means they're unregulated by the SEC or any governing body.
At this point, they're already operating illegally!
Gains Systems Product Line
Gains Systems is an investment program, so they're promising an investment service that trades cryptocurrencies and real life currency.
As said on their site, they include trading with:
Perfect Money
Bitcoin
TRON
Ethereum
Litecoin
And so on…
There are no restrictions on the amount of investments that you can make. I mean, why would they even do that, right? That would only lessen their income stream at this point.
According to their site, you receive a profit based on the amount of the deposits you make, even if you different payment systems.
Withdrawals are available on request, which takes up to 48 hours to process.
Minimum withdrawal amount is $2.50, or 0.0015 BTC, 0.13 LTC, 0.06 ETH, 328 TRX
From what I can gather, I don't think that this is anything that involves any form of high yield investments at all.
Gains Systems Has an Affiliate Program
They also have an affiliate program which allows you to recruit someone as your partner and get profits from them.
Through your affiliate link, you'll earn a 7% commission from the initial amount of investment that your recruit makes. Further downlines get you 3% -1% -0.5% -0.5% commissions up to five levels deep. So if your recruit recruits someone, then you earn a percentage as well.
Now, the use of an affiliate program is uncommon for trading programs, or at the very least legitimate ones.
I say this because legitimate trading programs want you to focus your efforts on investing, while the recruitment part or the affiliate aspect of it is merely a bonus. It doesn't allow you to earn a full-time income, but rather just incentivize people to join.
This only means one thing for Gains Systems. That their profit stream is reliant on the number of people who're investing in their system.
That's why they're too much focus on recruitment as opposed to anything at this point.
I'm Jerry!
I Created My Own 4-Figure Monthly Passive Income at just 21 Years Old!​
Does The Product Work?
Unfortunately, there's no evidence that their program actually works as promised.
In fact, their TrustPilot profile show nothing but complaints from people who're saying they're not getting their money back.
Check out this screenshot:
So, it's true that people are actually losing money from this system. I've yet to see an actual comment about someone making real money.
How To Make Money With Gains Systems?
To make them look legit, they offer two ways for you to make money, and none of them having to do with what you're investing money on:
ROI Commissions
Referral Based Commissions
How To Get Started With Gains Systems?
It's free to sign up for this terrible platform, but you need to invest a minimum of $10 to avail of the commissions and their compensation bonuses.
Gains Systems Compensation Plan
As promised, your funds are invested and promised a 3% daily return on weekdays and 1.5% on weekends.
Your returns are perpetual, so it looks like you're running on an infinite source of income at this point. There's also no mention of ROI or return on investment anywhere on their site, which is also suspicious.
Referral Commissions
Your referral commissions pay out via a unilevel compensation structure at 5 levels down. The recruiter, that's you, gets placed at the top and every recruited affiliate placed one level under them. If you recruit another affiliate, they're placed at the 2nd level after your first recruit, so you earn a smaller percentage. And so on.
This is what the percentage of funds looks like:
Level 1 (personally recruited affiliates) – 7%
Level 2 – 3%
Level 3 – 1%
Levels 4 and 5 – 0.5%
You also get higher commission percentages as you move up in rank, which Gains Systems does not mention how on their website:
Once you move up in rank, this is what your percentage looks like:
Level 1 – 10%
Level 2 – 5%
Level 3 – 2%
Levels 4 and 5 – 1%
That's all they have to offer, which proves that there's nothing high yield from their program at all.
Gains Systems Ugly Truths Revealed!
#1 No Evidence of Anything!
As I mentioned above, there's just no evidence of Gains Systems having anything legitimate as far as trading is concerned.
There's also no evidence that the company has been generating any form of revenue other than people investing into their program.
As everything stands, the only thing that's generating money for the company is the people being recruited to invest their money.
#2 Typical Ponzi Scheme Business Model!
The biggest giveaway of them being a Ponzi scheme is the lack of a product or service. That, and their keen focus on recruitment.
Per the FTC or Federal Trade Commission's guidelines on Ponzi schemes, these are the two of the biggest red flags.
In most of the scams that I've exposed, they all fall under the same business model that Gains Systems is running on.
#3 Gains Systems is Doomed to Fall Apart!
Just like most Ponzi schemes, Gains Systems is doomed to fall apart within the next few months. And that's because they don't have any real source of income other than recruiting people.
Their trading system is non-existent so it doesn't make them any money at all.
What I Like About Gains Systems?
Nothing about this system has anything positive worth mentioning, even if I have to sound biased about it.
There's just nothing that could even salvage this product from a very negative review.
With 100% confidence, I can say that there's nothing legitimate about Gains Systems as far as evidence supports it.
It's clearly a Ponzi scheme that does a terrible job at hiding its modus operandi. The compensation plan is a dead giveaway that it's a pyramid scheme, amongst other things.
Stay away from this program!
How I Make a Living Online?
I'm not a fan of MLM, not because it's illegal or not profitable, but because of all the restrictions and the expensive costs involved.
Instead, Affiliate Marketing is my top recommended business model for anyone to make money online.
The reason is simple...
You don't have to recruit anyone to make money
You have the freedom to promote any products you want and not being restricted to only promote the products from one MLM company
It's Free to get started
In fact, with affiliate marketing...
I've personally created a 4-Figure Monthly Passive Income Stream and become financially independent at just 21 years old without any College degree or working experience!
Through my own hard work, I went from a broke restaurant waiter to living my dream laptop lifestyle in less than a year's time...
If you want to discover the secrets of how I did it at such a young age, click here!