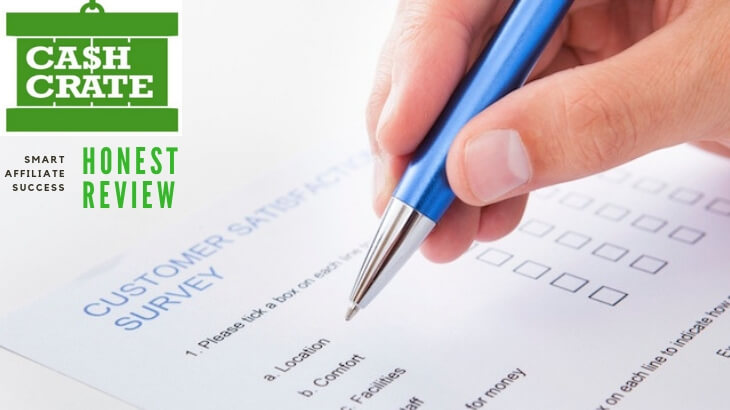 Is CashCrate A Scam? All The Tasks, None Of The Cash
Welcome to my CashCrate review!
Now, if you're reading this review, something about this GPT site probably piqued your curiosity.
I mean, this site has been around for more than 10 years, and it's got to be doing something decent, right?
This site I'm talking about is CashCrate.
First of all, I must Congratulate you for taking your time to do your own research before buying into any "seemingly good" product.
That's the way to avoid scams and find the legitimate way to make money online!
Let me be completely transparent with you, I'm not associated with CashCrate in any form.
So, rest assured that I'm not here to pitch or sell anything to you.
Instead, I'm here to reveal why this old GPT site still continues to run with the young GPT sites and dominates above the rest. I'm also here to find out what makes this GPT site tick.
Is CashCrate a scam? Far from it, but continue reading.
CashCrate Review Summary
Product Name: CashCrate
Founder: Not disclosed
Product Type: Get Paid To Rewards Site
Price: Free to join
Best For: People who don't mind spending an hour just to earn a couple of dollars.
Summary: CashCrate is a very legitimate GPT site with a decent rewards program. But despite being an old GPT site, it failed to innovate and convince me why this GPT site is the best. That's why I can't recommend their program to anyone who's looking to earn a lot of money online. The income potential of this site is low to close to nothing at all (and I'll show you the math behind this claim). But if you don't mind the low payout, this site is worth checking into.
Rating: 30/100
Recommended: No
More...
CashCrate is a GPT or Get Paid To Rewards program that invites you and other people to sign up for offers, complete surveys, and other activities in exchange for a small payment.
You can also refer their program to other people and get paid a small commission for every member you sign up using your referral link.
CashCrate has been around since 2006 and currently has 2 million members worldwide.
Thousands of dollars of checks are issued monthly (which you can view on their website's gallery) and their Facebook page currently has 25,000 fans and counting.
More than $3.9 million have been awarded in cash payments since they started.
They are currently headquartered in Las Vegas and is under the management of CEO Patrick Clochesy.
If you know anything about GPT sites such as ClixSense, PrizeRebel, or Level Rewards, then it won't take you long to familiarize yourself with how CashCrate works.
CashCrate doesn't really offer much in terms of the tasks and its payout.
Most of the time, you're going to be doing the following tasks that will help you earn a little bit of money online.
But if you want your time online to be more fulfilling, then I would start doing productive things like learning about affiliate marketing. I have a step-by-step guide for that too.
How Do You Earn With CashCrate?
Listed below are the tasks that CashCrate will reward you for completing:
1. Confirming Your Email And Profile Survey
For doing this one-time task of confirming your email, you get $1 credited to your account.
The Profile Survey also asks for more information about you, so answer this as truthfully as possible.
The survey will also affect your qualifications for certain surveys and offers. After you complete your profile survey, you'll be credited $0.50 to your account.
2. Completing Surveys
What's a GPT site without doing any survey, right?
You're never going to run out of surveys with CashCrate either, unlike other GPT sites that I've reviewed like BizRate Rewards.
Each survey pays about $0.25 to $2, depending on the length of the survey. The shorter time it takes to complete the survey, the less it pays out.
Some surveys can be completed in 5 minutes while some surveys take about an hour.
3. Completing Offers
There are two types of offers to choose from: free offers and then your paid offers.
Paid offers are the quickest way to earn money on CashCrate, but they are quite risky since they require your credit card information and then some.
According to some complaints, members have been cold-called by marketers or spammed in their emails by different offers. But I'm going to talk more about this in the later paragraphs.
Paid offers pay at about $10 minimum, so as long as you remember to cancel your subscriptions, you should be fine.
4. Watching Videos
You get paid to watch videos on CashCrate (I mean, which GPT site doesn't?).
But the payout is terrible for this task since you're only less than $1 for videos. This task is only available to members from the USA.
5. Shopping With CashCrate
CashCrate is affiliated with different stores such as Walmart and Macy's to shop from.
So, every time you purchase something from their site through CashCrate, you get a percentage cash back.
It's more like a rebate than anything, so don't expect a lot of money in return.
6. Check-In With The Site
Each day you log in to the site, you get paid $0.03 each time you click a link that takes you to an offer or survey within CashCrate. You don't need to complete the offer or survey to get paid too.
7.Referrals
Much like surveys, this is where most of your income will also come from. The referral system pays you $20$ of everything your referrals earn, and 10% of everything their referrals earn.
So, it's built like a three level tier (you at the top, your direct referral at the 2nd level, and their direct referral at the third).
I'm Jerry!
I Created My Own 4-Figure Monthly Passive Income at just 21 Years Old!​
How Much Can You Earn with CashCrate?
If you've reach this part of the article, then you've probably done enough of the math on what you can expect to earn from CashCrate.
And like me, you're probably not impressed by how much they can actually pay you.
Unless you've built a strong network of active referrals, then you're looking at earning just a few cents daily or a few dollars each month.
How Does CashCrate Pay?
For members, all of their first payments are made by check, but the succeeding payments can be made through PayPal and direct deposit.
Another neat feature that CashCrate has that other GPT sites don't is their Payment Wall, where they show images of checks they paid out or images of PayPal emails to people as proof of payment.
Now, I don't think this wall serves any other purpose than to show that CashCrate does pay its members.
And it also makes it easy for me to compute for how much you can actually earn.
What's The Minimum Payout Threshold?
You'll need to reach $20 before you can cash out, which is higher than most GPT sites.
And it's one of their biggest disadvantages, but I'll explain later.
CashCrate may be for you if:
You don't mind spending hours earning a few cents online.
You don't mind doing mundane tasks like completing hour-long surveys.
You don't mind getting paid $20 every three months (or how long it takes to get you to that payout threshold)
CashCrate Ugly Truths Revealed!
#1 – It Takes Forever To Reach $20
I think that this is CashCrate's biggest con. Most people are not willing to spend the time and effort to earn $20 online if it takes them more than month to reach that amount.
I mean, would you?
The only high-paying task that I see that would make you earn $20 quickly is their paid offer, and I don't think I don't want to risk my credit card information and my contact information.
And even though I can cancel subscriptions any time, do I really need to go through that hassle just so I can cheat my way through the offer?
#2– Low Income Potential
I have yet to see a GPT site or survey intermediary that pays out a decent amount. But with CashCrate, the income potential is low to close to nothing at all.
How did I know that? Well, they paid out $3.9 million dollars since they started, and that was since 2006.
So within 12 years, they paid out an average of $325,000 every year.
And how many members do they have? About 2 million members.
Whether or not they are active is completely out of the question because this number will show you just how much each person got paid.
So if you divide $325,000 by 2 million subscribers, each member got paid $0.16 for their troubles.
But let me give them the benefit of the doubt. Let's say that out of the 2 million subscribers, 30% or 600,000 are active members, meaning they are still logging in and participating in these tasks.
$325,000 divided by 600,000 members, and each member got around $0.54 cents.
Even with that percentage of active members, the payout was still very terrible!
#3 – You Get Disqualified From Most Surveys
Apparently, CashCrate is notorious for disqualifying members from surveys before and even after they complete it.
I mean, check this complaint out:
I know that surveys will need to match certain demographics so there are always instances that you may not match with a survey.
But it's another story where you think you qualify and then get booted out after answering the survey.
What I Like About CashCrate?
#1 – CashCrate Paid Its Members
Not all GPT sites are created equal, and not all GPT sites pay their members.
That's why this is always a good thing worth noting because even though I might rib on CashCrate for paying too low, other people might just use my review to start using CashCrate.
CashCrate has been around for 12 years and counting, and if it was a scam, they wouldn't have lasted that long.
Being a dinosaur in the GPT industry, their list of tasks and their payout threshold are prehistoric.
This is why I can't recommend this program to anyone looking to earn some serious cash online.
The main reason why this review went this direction is that the payout is just terribly low. You have other GPT sites out there that pay out better, and this is saying a lot.
Sometimes, you just find yourself looking at the dashboard and think "nah, none of these tasks are worth doing", and that's a completely normal reaction.
I mean, would you spend an hour to earn $2? I would think not.
But despite all that, if you just want a reliable site that at least pays their members, then CashCrate is worth looking into.
How I Make A Living Online?
I've personally created a 4-Figure Monthly Passive Income Stream and become financially independent at just 21 years old without any College degree or working experience!
Through my own hard work, I went from a broke restaurant waiter to living my dream laptop lifestyle in less than a year's time...
If you want to discover the secrets of how I did it at such a young age, click here!