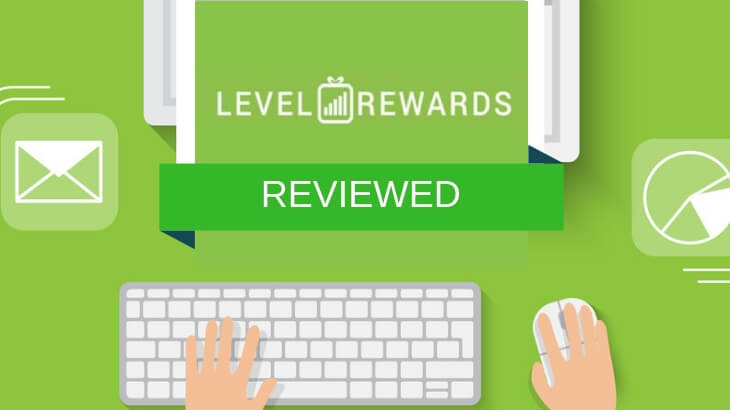 Is Level Rewards a Scam? A GPT Site That's Too Good To Be True
Welcome to my Level Rewards review!
You're probably thinking "Not another GPT site review". But this one's different. Today, we're talking about Level Rewards.
First of all, I must Congratulate you for taking your time to do your own research before buying into any "seemingly good" product.
That's the way to avoid scams and find the legitimate way to make money online!
Let me be completely transparent with you, I'm not associated with Level Rewards in any form.
So, rest assured that I'm not here to pitch or sell anything to you.
Instead, I'm here to reveal why Level Rewards is different from all the other GPT rewards site out there and why it's a hit with some people.
Is Level Rewards a scam that's out to get you, or will it help you earn passive income?
Read on and find out...
Level Rewards Review Summary
Product Name: Level Rewards
Founder: Not Disclosed
Product Type: Get Paid To (GPT) Rewards Site
Price: Free to join ( but paid offers will ask for credit card information)
Best For: People who know how to make GPT sites work for them by referring people and creating content around it.
Summary: Level Rewards is a legitimate GPT or Get Paid To Rewards site that provides a unique referral program to its members. While it's a decent program, it's a program that I can't recommend. First, the leveling system may hinder members from earning income. Second, there's limited income potential (and I'll show you some math behind it) due to their leveling system. Lastly, the sponsors can be disappointing because the site doesn't have an official training program and they rely on sponsors to train members. If your sponsor doesn't do the work of training you, you're not going to go far with this program. However, if you're looking for some quick cash online, Level Rewards can help you with that. Just don't expect a lot of it.
Rating: 50/100
Recommended: No
More...
Level Rewards is a Get Paid To or GPT rewards site that pays you for referring people.
Because there's no About Us page, there's no information provided on who the founder is, when the site was created, or even where their current HQ is.
This program is not that any different from the likes of PrizeRebel or BigSpot, but what makes them unique from every other GPT site is how much you earn.
The more people you recruit and the higher the levels they go up, your commission rates go up.
Level Rewards makes their money by having people sign up for the paid and free offers.
The information that they gather (the names, contact info, and other important details) are then submitted to lead generating companies for marketing purposes.
Another way for Level Rewards to earn money is the commissions that they get every time they have someone sign up for a free or paid offer.
How Level Rewards Works
On paper, it looks easy to make money with Level rewards, but it's not as easy as you thought that it would be.
So, your referral money is not paid out the moment signs up for your link. You have to reach Level 1 if you want to start receiving commissions.
How do you get these levels you ask? By completing various offers that they put up on a daily basis.
The higher your level is, the more you're paid in terms of commissions from other members.
You're paid out $5 for every Level your referred member goes up in.
So if you're level 2 and the member you referred goes to level 1, you're paid $5 and then $10 when he or she goes to level 2. This referral goes in increments of 5.
However, there's a catch. You can't commissions if the member you referred is higher than you.
If you're on level 1 and the member is already level 2, you wouldn't be able to earn the commissions until you're level 2 yourself.
Because there are 10 levels in total, you can earn up to $50 in commission from members, which is a good amount considering that you're going to put in a lot of work to get those levels and referrals in.
As they are 10 levels in total, you can earn $50 per commission which is a good amount.
But you definitely have to put in a lot of work to get all those referrals and complete every offer in order to Level up yourself.
Another way for you to increase your levels is to complete paid and free offers inside Level Rewards. These may or may not require your credit card detail, so choose carefully.
Some of them have 7-day trial periods, which is annoying because it asks for credit card information and to me, that's not a very good idea.
Training And Support
There isn't much training and support provided by the creators of the program itself.
The training that you can probably expect to receive will come from your sponsor. And I think that your sponsor may or may not have the time to do so.
As far as support goes, there are two places where you can contact the team for certain issues. The newbie Facebook page or the support ticket system on the website.
Their support, unlike other GPT sites, is good. You'll find their Facebook community to be quite helpful in terms of finding sponsors or helping you navigate through the program.
Most of the concerns that they do bring up to support is when offers don't give out credit like they're supposed to. Customers can then file a "Missing Credit" report to get their credit back.
How Do You Get Paid?
Level Rewards is just like any other GPT site. You get paid out through cash (PayPal or bank transfer) or through Amazon Gift Cards.
They payout pretty quickly as well for PayPal and Amazon gift cards. Bank transfers can take a few days, so that process is usually the longest.
Minimum payout requirement for PayPal and bank transfer is around $5.
How To Get Started With Level Rewards?
Level Rewards is free to sign up, so this essentially removes the possibility of this program being a Ponzi or pyramid scheme.
However, there are paid offers (free trials) that require your credit card info, and if this subscription is not canceled on time, then you may get charged.
I'm Jerry!
I Created My Own 4-Figure Monthly Passive Income at just 21 Years Old!​
Level Rewards is for anyone:
Who know how to refer these types of program and succeed
Who can develop content around this program to make the referral system work
Who have a lot of time on their hands to make this program work
Level Rewards is not for anyone:
Who don't have the time to spend sitting in front of the computer doing countless offers
Who are wary of sites asking for credit card information
Who are under the age of 18
Who are located outside of the USA, Australia, UK, and Canada
Level Rewards Ugly Truths Revealed
#1 - Their Leveling System Is Not That Great
The leveling system is what makes them unique from all the other GPT sites, and that's something. But it's not as great as you think it might be, and I'll give you two reasons.
First, you have to be constantly ahead of them because you don't get your referral money if you're lower than them. You have to be at least a level higher before they level up.
So, if you have 100 signups and they're all level 2's while you're still a level 1, you don't get the money until you're level 2.
Second point, even if you do have 100 sign ups, if they don't get past level 1, you will only earn $5 per referral.
This kind of makes it a full-time job without a guarantee for a full-time income and more.
#2 - Limited Income Potential
Some GPT sites won't allow you to make money because of very low commission rates or it takes quite a while to achieve minimum payout.
For Level Rewards, the biggest issue here when it comes to the income potential is its program.
With my point above, it doesn't matter if you have 100 signups. If they don't reach level 1, you don't get the money.
At the bare minimum, you need to get 100 signups to get to level 1 to get $500 in cash back.
Let's do some quick math. According to the Center for Poverty Research, the annual earnings for a minimum wage worker is $15,080 at a federal minimum wage of $7.25 per hour.
To get to that annual amount of income via Level Rewards, you need to sign up 3,016 members and they have to be at least level 1 just to get $15,080 by the end of the year.
Now, if you're just signing up for Level Rewards to have some small cash lying around in your PayPal, then by all means, sign up and go through the program.
But if you're expecting to buy a new car by the end of the year with Level Rewards, you might be disappointed.
If you're looking for a bit more in terms of consistency in income generation, I would advise you to turn away from GPT sites and look at affiliate marketing.
#3 - The Sponsors Can Be A Letdown
Unless you know the sponsor yourself, your biggest challenge in leveling up is your sponsor.
Level Rewards doesn't provide formal training, so they let the sponsors do all of it. Now, some of them will be willing to work with you to get started because their income is on the line.
But majority of the sponsors will only be looking out themselves and don't care for much of their referrals as long as they get their cash.
What I Like About Level Rewards?
#1 - Level Rewards Actually PAYS OUT!
GPT sites have a bad rep for not being able to pay out to their customers.
Level Rewards breaks the stigma of GPT sites by paying their customers and on time.
They even have a Facebook group that's open to the public that's dedicated to users posting proof of their income from Level Rewards.
Level Rewards is a legitimate GPT rewards site that offers a unique way of providing incentives to its members. Despite being a decent program, I cannot recommend this to anyone for the following reasons.
First, the leveling system hinders their members from earning a lot of money. As explained above, you don't get paid out for the hundreds of signups that you acquired if they don't reach level 1.
To me, that's money sitting out in the open with no guarantees of even getting it.
Second, the income potential is limited due to their leveling system and you have to put in a lot of work to really make it worth your while.
Lastly, the sponsors can be a letdown. This is because Level Rewards doesn't provide you with any formal training from their site, and that all training is handed down to sponsors.
Think of it the way an MLM or Multi-level Marketing program works. The upline has to take care of the downline if they want to earn more money.
And if your sponsor doesn't do the work of training you, you lose out on the chance of earning more.
But if you're looking for a way to earn quick cash online, Level Rewards should do the trick.
How I Make A Living Online?
I've personally created a 4-Figure Monthly Passive Income Stream and become financially independent at just 21 years old without any College degree or working experience!
Through my own hard work, I went from a broke restaurant waiter to living my dream laptop lifestyle in less than a year's time...
If you want to discover the secrets of how I did it at such a young age, click here!