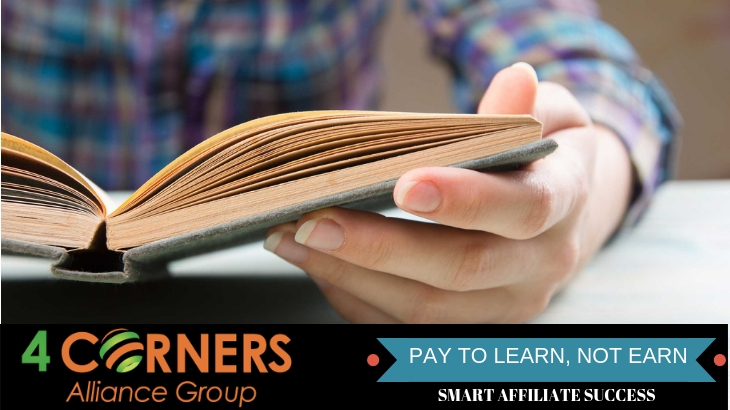 Is 4 Corners Alliance Group A Scam? Pay To Learn, Not Earn
Welcome to my 4 Corners Alliance Group review!
An MLM business opportunity that sells books? Yep, such a company does exist.
And if you're reading this review, someone probably told you about the same company.
I am talking about 4 Corners Alliance Group!
First of all, I must Congratulate you for taking your time to do your own research before buying into any "seemingly good" product.
That's the way to avoid scams and find the legitimate way to make money online!
Let me be completely transparent with you, I'm not associated with 4 Corners Alliance Group in any form.
So, rest assured that I'm not here to pitch or sell anything to you.
Instead, I'm here to reveal why this business opportunity is unique in terms of their product line.
Is 4 Corners Alliance Group a scam?
Find out in this article...
4 Corners Alliance Group Review Summary
Product Name: 4 Corners Alliance Group
Founder: David Harrison
Product Type: Books and Financial Literacy Training MLM
Price: $67 to get into the program, and $545 for upsells.
Best For: People who are able to market training programs and books.
Summary: 4 Corners Alliance Group is a legitimate company that sells books on financial literacy and making money work for you. But despite having a unique product line, they're not worth doing business with. It's mainly because the income potential is low or close to nothing at all (and I'll show you what I mean in this article). Then there's the issue of their expensive product line, which is very absurd to be honest.
Rating: 10/100
Recommended: No
More...
What is 4 Corners Alliance Group?
4 Corners Alliance Group is a MLM or multi-level marketing company founded in 2013 by David Harrison and his business partners, seen in this photo.
4CAG or 4 Corners Alliance Group provides users with cutting edge financial literacy products delivered by real-world veterans in the areas of marketing, finance, and business.
They are currently located in Las Vegas, Nevada, and still continue to operate to this day.
4 Corners Alliance Group Product Line
4CAG brings to the table a very unique product line.
Books.
You read that right (pun intended).
In a nutshell, 4CAG provides an e-book library covering financial topics ranging from changing your mindset and motivation to thorough financial education that aims to make your money work for you.
These books range between $10 and $100, and here's what you're getting:
LEVEL 1 ($10) – 1 Book on understanding metal investments. You also get two additional books as well.
LEVEL 2 ($10) – 2 Books about Binary Options and Bitcoins
LEVEL 3 ($25) – 3 Books on Credit card debt, Economics and Exchange traded funds
LEVEL 4 ($60) – 6 Books covering Binary Options, Multiple Income Streams, Hedge funds, swing trading and debt
LEVEL 5 ($150) – 8 Books on Real estate, Forex trading, American Depository Receipts and Momentum trading.
LEVEL 6 (The Biggie for $300) – 27 Books covering a range of topics like different kinds of investments, REITs, ETF trading, Options trading, Forex trading etc.
I'm Jerry!
I Created My Own 4-Figure Monthly Passive Income at just 21 Years Old!​
Does The Product Work?
That basically says that 72% of American adults have read a book in 2015 and you're trying to sell to them a training program that's comprised of nothing but books.
The 6th level of training contains 27 books in PDF form, and I have a feeling that people will never make it past the 1st level of training because that's way beyond the threshold of most Americans.
Let's be honest. No one wants to buy through an expensive training program just to get buried in books and training.
If I am paying for the training, I'd better get more than books. I'd need webinars and visual aids to help me with the training program.
And the best example that I can think of that actually does this is Traders Academy Club. It's a Forex training platform that provides an intensive curriculum into the world of Forex trading.
I know that it's not MLM but their training model is what 4CAG should be.
More to the point, it's difficult to gauge if a training program does work because you have to base it on these factors:
Did you really earn money using the techniques learned from the program?
Did you really change your mindset from the training you received from the program?
Did you really achieve your goals using the program?
And for me, these are all circumstantial. Circumstantial in a sense that yes, you could've succeeded using the program, but how much of the program contributed to the success?
And another point here is that the books are expensive and I don't even know who the authors are.
What's stopping you from purchasing similar books from Amazon and get cheaper books?
I mean, I just did a quick category search on Amazon for their books on Business Motivation and Self Improvement, and here's what I got:
Is their training program really worth it, or even worth marketing for that matter?
How To Make Money With 4 Corners Alliance Group?
Just like any other MLM company, 4CAG offers two options for earning through their business opportunity:
Retail commissions
Residual commissions and bonuses
And just like any other MLM company, they rely on the following marketing methods to get to their customers:
Word-of-mouth marketing
Traditional marketing
Social media marketing
That's probably how you came across their product in the first place. Someone told you about making money from reading books, and you're now curious.
How To Get Started With 4 Corners Alliance Group?
So, to join 4CAG, you're going to have to pay the following amount:
$18 for membership fee (one-time)
$10 for the Level 1 e-books
$8 for the enrolment fee (one-time
$4 for your sponsor (I don't know why)
$27 for the newsletter
That brings you to a total initial investment of $67.
Then you have your upsells of the remaining level 2 to 6 books, which brings to a total of $545!
That's pretty expensive, if you ask me with no guaranteed ROI.
But if you want to invest that amount of money on quality education that will get you started in your business, I would advise you to take a look at my step-by-step guide on affiliate marketing.
4 Corners Alliance Group Compensation Plan
From what I can surmise, there are two possible means for you to earn in their business opportunity.
Instant commissions – These are commissions earned when you sell products from level 1 to 6, and if you qualify to be a distributor at that.
100% Match Commission – You get 100% match commission when your personally sponsored member receives a commission from a member of their downline.
Newsletter Commissions – When any of your recruits subscribe to the $29.95 newsletter (you know, the one that you also paid for), you also get a commission for the subscription.
Here's what a sample matrix of their Match Commission looks like:
This is where it gets a little tricky because their Match Commission looks a lot like it pays out a lot more to recruiting rather than selling the product.
And you know what that is?
That's a pyramid scheme in the making.
Fortunately for them, they have not been branded as such and I won't be the first to do so.
I won't delve into too much details about their compensation plan, so here's a video instead:
4 Corners Alliance Group Ugly Truths Revealed!
#1 – Low Earning Potential
You've probably guessed it since I already pointed this one out in the earlier paragraphs. There's little to no income potential at all for joining 4CAG's business opportunity.
According to their income disclosure statement (or the complete lack of), the IBO's (Independent Business Owners) earn between $500 and $2,000 on average annual gross income.
Even if I am going to earn $2,000 per year, that puts me at about $166.67 per month or about $5.55 per day with a 30-day work week.
Guess how much US Federal Minimum Wage is? $7.25 per hour.
You'll find their income disclosure on their compensation plan.
#2 – No Clear Support Or Training Provided For IBO's
They may be marketing educational materials, but they sure as heck don't provide any support or training on how to do that.
The company doesn't provide any detailed information at all (not even on their compensation plan) on how IBO's or distributors are going to be trained in marketing the product.
I am not surprised as to why their IBO's only made $2000 a year.
#3 – The Products Are Expensive
Again, I would like to reiterate the fact that their products are expensive.
You're looking at close to $600 to get all of the products, and then into the business opportunity.
How are you going to market $600 worth of educational materials when people can easily get cheaper (and better) programs on financial literacy from sites like Amazon or Udemy?
Just look at the price difference. For about $20 (or even at full price of $94), I can get a guide on entrepreneurship handled by the one and only Guy Kawasaki.
That's still cheaper than what 4 Corners Alliance Group provides. And I'll have a certificate that I completed that course that I can brag to my friends.
If that's not value, I don't know what is.
What I Like About 4 Corners Alliance Group?
#1 – Unique Product Line
I know what you're thinking, and I am not referring to the kind of uniqueness that Kannaway and Changing The Future Outcome both share.
Despite my harsh (and honest) reviews, I always look at the bright side, and one of the good things about 4CAG is that they have a unique product line.
They are an MLM company that sells books on financial literacy (I know, it's quite the irony as well) and making your money work for you.
What's also ironic is that it's going to cost you $600 to learn how to save money, and how to make it work for you.
But I am not going to hold that against them. If they did something with their price tag, and if they provided other benefits, then this review might've gone the other way.
Is 4 Corners Alliance Group A Scam?
4 Corners Alliance Group is not a scam, and looks to provide a decent business opportunity.
But despite having a unique product line to bring to the table, they are not a company that I would not want to business with.
My biggest beef with them is that they have an expensive product line that makes it difficult to both market and to acquire.
There are cheaper and better alternatives to what they are selling, and I guarantee you people will prefer to go for cheaper products.
On top of that, the income potential is really low or close to nothing at all and I'm pretty sure it's going to take you a while to recover your expenses from their program.
How I Make A Living Online?
I'm not a fan of MLM, not because it's illegal or not profitable, but because of all the restrictions and the expensive costs involved.
Instead, Affiliate Marketing is my top recommended business model for anyone to make money online.
The reason is simple...
You don't have to recruit anyone to make money
You have the freedom to promote any products you want and not being restricted to only promote the products from one MLM company
It's Free to get started
In fact, with affiliate marketing...
I've personally created a 4-Figure Monthly Passive Income Stream and become financially independent at just 21 years old without any College degree or working experience!
Through my own hard work, I went from a broke restaurant waiter to living my dream laptop lifestyle in less than a year's time...
If you want to discover the secrets of how I did it at such a young age, click here!