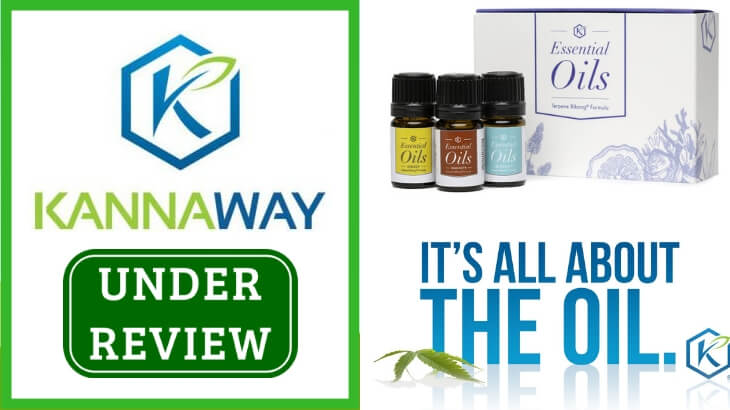 Is Kannaway a Scam? You Won't Believe What These Guys Are Selling!
Welcome to my Kannaway review!
This is the most unique MLM company that this site has ever reviewed in all time.
This is also the only MLM company that sells this type of product in existence.
I am talking about Kannaway!
First of all, I must Congratulate you for taking your time to do your own research before buying into any "seemingly good" product.
That's the way to avoid scams and find the legitimate way to make money online!
Let me be completely transparent with you, I'm not associated with Kannaway in any form.
So, rest assured that I'm not here to pitch or sell anything to you.
Instead, I'm here to reveal what makes Kannaway the most unique MLM companies of all time and why this review is worth checking out.
Is Kannaway a scam?
It may or may not be...
Kannaway Review Summary
Product Name: Kannaway
Founder: Christopher Hussey and Jeff Rogers
Product Type: Hemp-infused products MLM
Price: $29.99 for monthly membership fee
Best For: People who are capable of marketing and selling Hemp-infused products.
Summary: Kannaway is an MLM company that brings Hemp-infused products into the market. This makes them a very unique MLM company. But despite their unique product line, their business opportunity is far from being decent. I can't recommend their program to anyone for three reasons. First and second, you're earning through commissions and you're selling expensive products. I did my research and their product pricing is far from affordable, and this makes it difficult to sell their product. If you're relying entirely on sales commissions, you're going to work hard to sell their products. This makes their income potential very low because of that. You're earning commissions by selling very expensive products in a very competitive industry. Good luck with that.
Rating: 40/100
Recommended: No
More...
Kannaway is a MLM or multi-level marketing company that was founded in 2014 by Christopher Hussey, who's now the current CTO, and Jeff Rogers, who's now the company CEO.
Both Rogers and Hussey wanted to bring something unique to the MLM table. Something that wasn't done, or even thought of before.
And it has everything to do with Hemp.
That's right. Hemp. The one that's associated with "growing different varieties of the Cannabis plant and its products including fiber, oil, and seed."
Hemp is also refined into different products like wax, rope, cloth, and fuel. It has a lot of beneficial uses, but the thing is, its controversy is linked to its relationship with cannabis.
Most people would assume that Hemp is cannabis or vice versa, but in fact, they're not similar.
People get high on smoking cannabis due to its chemical component called THC or Tetrahydrocannabinol. Hemp has no THC, but instead it has CBD or Cannabidiol.
CBD accounts for 40% of the plant's extract and can be taken into the body in different ways. The difference between THC and CBD is that CBD has no intoxicating effects that THC has.
In other words, CBD does not make you high or disorients your thinking.
This makes Hemp legal to purchase and own in the United States. But the stigma of cannabis wrapped itself
Kannaway Product Line
Kannaway's product line is actually very in-depth, so I won't be listing them all down. I'll just be focusing on what they're currently marketing the most, or what's selling the most.
The main ingredient of Kannaway's product lines is Hemp and its component CBD.
These range from oils (these are not similar to the essential oils that Young Living markets) to energy chews.
Some of the most notable products include:
Premium Hemp Oil Caps
Premium Hemp Oil Oral Applicator
Pure CBD Premium Capsules
Kannaway Pure CBD
Kannaway Chocolate Energy Chews
Kannaway Salve Travel
Kannaway Salve
Kannaway Starter Pack
But like most MLM companies, Kannaway also has a starter pack that costs a whopping $262.50!
Does The Product Work?
It was pretty difficult to locate product reviews for Kannaway because I would assume people are embarrassed to post that they've used Hemp-infused products online.
But I checked one site called CBD Oil Review, which looks like a review site dedicated to Hemp production companies.
They average 2.95 stars out of 5, out of 195 votes from this site.
People who are suffering from chronic pain and insomnia seem to have found good results from Kannaway's products, which is a good thing.
However, there were other reviews from other users who found that the product didn't even do anything for them.
But I would like to dispute both positive and negative reviews to the fact that while CBD has a lot of benefits and side effects, it still depends on the user's body on how they're receptive of the chemical.
I would also like to mention that it also depends on the CBD content of a particular product. Maybe Kannaway has different dosages of CBD for every product.
I'm Jerry!
I Created My Own 4-Figure Monthly Passive Income at just 21 Years Old!​
How To Make Money With Kannaway?
At the end of the day, Kannaway is an MLM business at heart and the business opportunity that it provides its customers can only have them earning money in two ways:
Selling their products to the customers and earning retail commissions
Recruiting people
Like a lot of MLM's, Kannaway relies on two types of marketing:
Word-of-mouth marketing
Social media marketing
That's probably how you've heard of Kannaway in the first place. Someone you know, like a family or friend, may have brought it up or have posted it on social media.
How To Get Started With Kannaway?
To become a Brand Ambassador, or what Kannaway calls their distributor, it will cost you a monthly fee of $29.99 plus a minimum monthly spending on products.
If you don't keep up on both, you lose your privileges to earning commissions and bonuses.
Brand Ambassadors are given immense company support such as:
Promotional Material
Kannaway Marketing Website
MLM Training
Kannaway Media Marketing System
Kannaways Secure Back Office
Access To Kway University Training
Success Manual & Quick Start Guides
Kannaway Compensation Plan
Kannaway has a straightforward compensation plan. How much you can earn depends on how much you make on your own retail sales, and the amount of recruits you get into your downline and the sales they make.
But let me get this out of the way. Kannaway does not compensate you for recruiting people.
But what they do is compensate you for the sales that your downline is making, so there's a little bit of focus on recruiting.
They follow a unilevel structure for its compensation plan, so the higher your rank is, the more commissions you earn.
I won't be getting too much into the details, but here are some key takeaways on how you can earn from their business opportunity:
Direct Sales Bonus – The Brand Ambassador gets a 30% commission on purchases from his or her downline for selling or for personal use.
Triple Direct Sales Bonus – Brand Ambassadors earn direct sales commissions paid on all Kannaway Value Packs at triple the rate.
50% DSB Check Match – Brand Ambassadors get paid the DSB Matching Bonus at 50% check match on all direct sales bonuses, and is paid out to the entire team.
If you want to know more about their compensation plan, check out this video:
Kannaway Ugly Truths Revealed!
#1 – You're Only Earning Through Commissions
Because brand ambassadors are only earning commissions, they're actually forced to put in more work to build a team in order to get more.
MLM companies usually pay you to recruit others on top of the sales they make, but Kannaway doesn't.
But I do understand the reasoning behind this compensation scheme.
Kannaway wants to put emphasis on teamwork.
Rather than having an upline just keep on recruiting and recruiting just to get the bonuses, Kannaway wants their distributors to be focused on getting more sales, so the compensation is focused entirely on that factor alone.
For people expecting that this is their "run of the mill" MLM program, they're going to be utterly disappointed.
But are the direct sales commissions enough to make this lucrative.
I don't have access to their income disclosure statement, nor could I find one online.
But it would be safe to assume that their distributors aren't earning that much at all.
I'll explain more about this assumption in the next section.
If you're looking to ways to earn more money online, I would stop looking at MLM opportunities and recommend you focus on affiliate marketing.
#2 – The Products Are Expensive!
Their starter pack alone costs $262.50! And then you have these products on their catalog.
Most of the price tags average at around $180 per product, and then I look at Amazon to match prices.
Look at the huge price differences on their products. Amazon is listing these products at 60% less than Kannaway's price tag.
How is a Brand Ambassador supposed to compete with that kind of pricing?
#3 – Very Low Income Potential
I mean, even if you're getting 30% of product commissions, you still need to sell a whole lot of them to make it worth your while.
30% of $200 is at $60, so if you do manage to sell one kit, you get that amount. That's not entirely bad.
But how long did it take you to sell that product? If it took you a day to sell just one kit, then you lost a lot of money. And here's why.
The US Federal Minimum Wage sits at $7.25 per hour, or $15,080 per annum.
If you managed to sell one kit for one day, you earned $60, or probably $7.5 per hour. That's not bad at all.
But what if you only sold three kits in a month?
That's about $180 in commissions, then assuming you worked at those sales for 5 days a week, you're looking at $1.125 per hour.
To me, that's not just worth it if I'm spending 40+ hours a week on just selling one kit.
Again, this is not to say that I am guaranteeing you're only going to earn less than minimum wage. This is just the company's income potential.
A brand ambassador's success is totally reliant on how capable he or she is at selling these products.
What I Like About Kannaway?
#1 – Low Sign-up Cost
Individuals can become Brand Ambassadors for paying a small monthly fee, which is not that bad, considering the commission rates and the compensation plan.
#2 – Unique Products
Kannaway is the only MLM company that offer CBD-enriched products, and is available (and legal) in all 50 states. Their product line is legal under The Federal Controlled Substance Act and contains no active THC.
This means that it cannot be used in any illegal means. Right now, this opportunity looks to be available in the USA alone.
But if you do decide to purchase their product and you're not from the USA, I would check with your local government regulations regarding Hemp production and the use of Hemp-related products.
Kannaway is a legitimate MLM company that provides Hemp-infused products. They are far from being a scam nor a pyramid scheme because they don't focus on compensating on recruitment, which are both good.
However, their business opportunity is something that I cannot recommend, and for good reasons.
First, you're only earning through commissions. The focus here is on direct sales, and how much sales your team is making.
This wouldn't be a problem if it wasn't for their price tags. Which brings me to my next reason: their products are expensive.
Amazon and other stores are listing Hemp-related products at 60% less than what Kannaway is selling their product for. This makes it difficult for Ambassadors to close down sales of their products.
Which brings me to my last point: the income potential is really low. Because you're earning commissions only and you're selling a very expensive product, you'll find it difficult to make any real money with their business opportunity.
How I Make A Living Online?
I'm not a fan of MLM, not because it's illegal or not profitable, but because of all the restrictions and the expensive costs involved.
Instead, Affiliate Marketing is my top recommended business model for anyone to make money online.
The reason is simple...
You don't have to recruit anyone to make money
You have the freedom to promote any products you want and not being restricted to only promote the products from one MLM company
It's Free to get started
In fact, with affiliate marketing...
I've personally created a 4-Figure Monthly Passive Income Stream and become financially independent at just 21 years old without any College degree or working experience!
To follow my footstep and find out how I managed to create such passive income stream at such a young age, please click on the button below. I've prepared a Special Video to explain to you 🙂