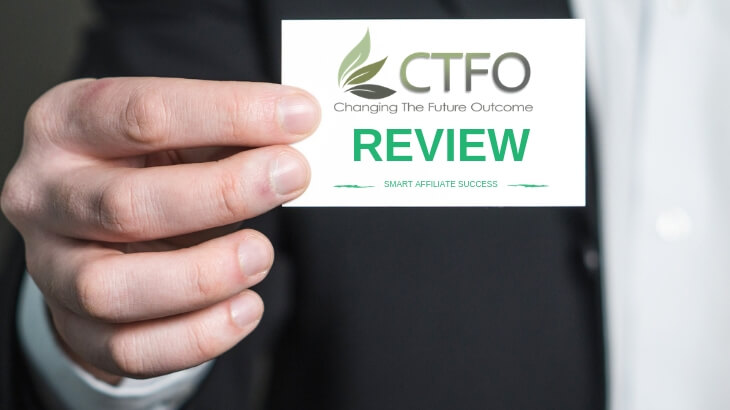 Is Changing The Future Outcome A Scam? A Unique MLM Uncovered
Welcome to my Changing The Future Outcome review!
The name of the company is quite a handful, and their products are revolutionary. You're probably reading this review because someone told you about it and now you're curious.
I'm talking about Changing The Future Outcome!
First of all, I must Congratulate you for taking your time to do your own research before buying into any "seemingly good" product.
That's the way to avoid scams and find the legitimate way to make money online!
Let me be completely transparent with you, I'm not associated with Changing The Future Outcome in any form.
So, rest assured that I'm not here to pitch or sell anything to you.
Instead, I'm here to reveal what makes this company a unique MLM company that completely sets itself apart from the others.
Is Changing The Future Outcome a scam?
Find out in this article...
Changing The Future Outcome Review Summary
Product Name: Changing The Future Outcome
Founder: Stuart and Steve Finger
Product Type: Weight loss, skin care, Hemp-infused products MLM
Price: Free (for retailers) or Subscribe to $47.47 monthly autoship to get into MLM program
Best For: People who can confidently educate their customers about Cannabis and market the products accordingly
Summary: Changing The Future Outcome, or CTFO, is a rebranded MLM company that now sells hemp-based infused products on top of their weight loss product line. Despite having a revolutionary product that only few MLM companies dare to bring to market, their business opportunity leaves a lot to be desired. I would say I can't recommend this business opportunity to anyone because it's difficult to market their products due to the stigma associated with Cannabis. It takes a lot of effort to market these products, and one thing that their associates need to do is to educate their customers. This kind of effort does not make their compensation plan worth the while.
Rating: 50/100
Recommended: No
More...
What is Changing The Future Outcome?
Before I dive right into this review of Changing The Future Outcome, or CTFO, it's worth noting that this wasn't always the name of their company.
Prior to Changing The Future Outcome, the company first went by the name of Chew the Fatt Off.
Now, Chew The Fatt Off was a MLM or multi-level marketing company that sold weight loss products. But it didn't work out for them.
So, the founders, brothers Stuart and Steve Finger, decided to take a step back and rebrand the company.
With their rebranding, they also added products to their previous product line.
Now, they still retained the abbreviation CTFO, but with a different meaning.
Changing The Future Outcome Product Line
Just because they changed their name doesn't mean they also changed products.
Changing The Future Outcome still sells their weight loss products from their Chew The Fatt Off days, but they did introduce a new line of products that are all based on CBD oil.
This reminds me of another MLM company that sells hemp-based products called Kannaway.
Now, you can read about their hemp acquisition from this snippet right here, which is found on their website.
So on top of weight loss, they have products for skin care, anti-aging, health, nutrition, and even for pets.
What is CBD (Cannabidiol)?
Allow me to help you out here if you're curious about CBD or Cannabidiol.
CBD or Cannabidiol is an extract from the Cannabis plant, which is what you might know as Marijuana.
Now, there are 120+ compounds found in a Cannabis plant, but the most dominant one is the THC or Tetrahydrocannabinol and the second major component being CBD.
What's the difference between THC and CBD, you might ask?
THC is the psychoactive component of Cannabis, while CBD is the medical component.
That's why CBD is legalized, and THC is not.
You don't have to worry about feeling something similar to what Elon Musk did in his interview with Joe Rogan.
For those who didn't know, Elon Musk smoked a Cannabis joint in this podcast and was broadcasted on the Internet. Tesla shares went down the next morning.
And no, I will not share the picture of Musk smoking the joint. It's inappropriate for this site.
Anyways, back to the topic at hand.
So, when you're taking in these CBD-based products, you're not going to get high or hallucinate. But I should tell you that THC will always be present in CBD, even after extraction.
But as long as the THC content is lower than 0.3%, the product is legally approved in the USA.
If you want to know more about CBD and its extraction process, watch this video. I learned a lot.
What Are The Benefits Of Cannabidiol?
Ever since CBD was legalized in the USA and some countries, more medical practitioners are speaking up about the benefits of CBD.
So, here's a list of benefits of the CBD:
Anti-inflammatory
Relieves Nausea
Promote Cardiovascular Health
Helps fight cancer
Anxiety disorders
Possibly treat seizures and other neurological disorders
I would say that the CBD is going to change the medical field within the next few years, and it would be a booming industry to get into.
But it doesn't mean that the CTFO business opportunity is going to be the same.
I'm Jerry!
I Created My Own 4-Figure Monthly Passive Income at just 21 Years Old!​
This is always my go-to page, or Consumer Affairs if BBB is not available, to check for reviews on products, refunds, and other issues.
Despite having a C- rating on BBB, there doesn't seem to be a single shred of complaint about their products.
On the contrary, I found a lot of positive reviews about their product (and their business opportunity).
Now, I am not an expert on CBD or hemp-based products, so I can't determine what makes their product work.
But I am inclined to believe that the component of their product is doing its job.
How To Make Money With Changing The Future Outcome?
Just because they have a revolutionary product doesn't mean that they have something revolutionary to offer in terms of compensating their associates.
CTFO is just like any other MLM company because they offer the following options for earning:
Direct retail sales
Residual earnings and commissions
If you want to be a retailer, you can purchase products at 20% off for all orders and then make a decent profit from that.
If you want to enjoy their commissions, you have to sign up for their MLM program, which requires you to sign up for a monthly autoship.
How To Get Started With Changing The Future Outcome?
It's free to sign up as a retailer for CTFO, and you can start earning right away on retail sales alone.
But if you want to make a little bit more, then you're going to want to go for their MLM commissions, which requires a monthly autoship of $47.47.
Changing The Future Outcome Compensation Plan
If there's one thing worth noting about the CTFO compensation plan is that anyone can become an associate.
There's no need for you to buy kits or subscribe to a membership fee (except for the autoship).
I won't bore you with all of the details, so I'll just provide you with the most important highlights:
Direct Retail Commissions – Affiliates get 20% off on all orders from CTFO, so whatever they mark-up the product to be is their profit. If I get a bottle for $3.50 and sell it for $7.00, then I'll have earned a 50% profit.
Unilevel Pay – You get a commission from your 1st level recruits. There's no limit to the number of 1st level recruits that you can have as well, so you can just build up a huge team and just earn a decent commission from them.
Regenerating Matrix Pay – You earn about 1% commission from your different levels. This is it gets interesting. You can only earn from 3 1st level personally enrolled recruits, 9 2nd level recruits, and increments in multipliers of 3.
This video should shed more light on their intriguing compensation plan, so I won't have to.
Changing The Future Outcome Ugly Truths Revealed!
#1 – Limited Income Potential Due To The Stigma Of Cannabis
It's going to be difficult to market CBD-infused products to the mass market because of Cannabis' stigma.
It's also worth noting that not all states in the USA, and other countries, have legalized the medicinal use of Cannabis and its other products.
Sure, you're making a 20% profit off retail products, but what's the point of that if you can't sell it where you live?
I would also say that there's limited income potential because there's no income disclosure to be found.
I'd assume that this is because a lot of their associates just want to sell products and get the retail commission, so they choose not to subscribe to the MLM compensation plan.
#2 – Products Restrict Themselves In Oth
​

​

er Countries
Again, this is because their products have something to do with Cannabis. Some countries may restrict the plant, but will allow products that only have their components, specifically CBD.
Others may not be so forgiving and will restrict the substance in its entirety, be it source or extract.
So, right off the bat, your state or country may not even allow you to take part in CTFO's business opportunity at all.
#3 – They're Compensating Too Much For Recruitment
From that video I posted, it seems to me that they're compensating a lot for recruitment.
This is a dangerous thing to do since they could be flagged as a pyramid scheme by the FTC for that.
I mean, their Regenerative Matrix Pay is just insane if you're able to earn a commission based on that number of recruits.
If I would have it my way, I would place a few people on the first few levels and focus everyone on the lower levels because that's where I would get a lot of the money.
What I Like About Changing The Future Outcome?
#1 – CFO Founders Aren't Taking Executive Compensation
I just found out that the reason why CTFO products are priced competitively low is that the management (a.k.a. the founders) are not taking any form of executive compensation.
Their salary is just based off like any other associates, where they earn from commission.
This is a commendable thing worth noting because you're not going to worry about helping management get more money.
I don't see any other MLM company and its executive team doing this either, so CTFO founders are actually doing something revolutionary.
Is Changing The Future Outcome A Scam?
Changing The Future Outcome is a very legitimate company with a decent business opportunity. However, their business opportunity is far from what I would recommend.
The main reason that I wouldn't recommend this product is because it's too difficult to sell hemp-based products due to the stigma associated with it.
It's going to take a lot of work on your part as an associate to inform your customers about why CBD is completely legal and why it's safe.
And by work, I mean you're going to have to educate your customers. I don't think the 20% profit makes it worth my while if I have to do that much work.
On top of that, the products may be restricted in some states in the USA or in other countries, so in itself, the products don't even allow you to take part in the business opportunity.
Despite all of that, CTFO looks to be like a game-changer in the MLM industry because of its products and its solid compensation plan.
However, that may take a few years before that even happens.
How I Make A Living Online?
I'm not a fan of MLM, not because it's illegal or not profitable, but because of all the restrictions and the expensive costs involved.
Instead, Affiliate Marketing is my top recommended business model for anyone to make money online.
The reason is simple...
You don't have to recruit anyone to make money
You have the freedom to promote any products you want and not being restricted to only promote the products from one MLM company
It's Free to get started
In fact, with affiliate marketing...
I've personally created a 4-Figure Monthly Passive Income Stream and become financially independent at just 21 years old without any College degree or working experience!
Through my own hard work, I went from a broke restaurant waiter to living my dream laptop lifestyle in less than a year's time...
If you want to discover the secrets of how I did it at such a young age, click here!