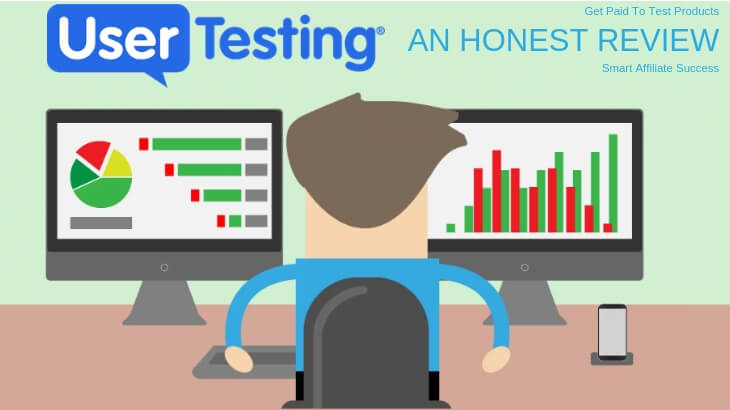 Is UserTesting A Scam? It's A GPT Website With A Unique Twist!
Welcome to my UserTesting review!
You probably have come across a lot of GPT sites and survey sites that promise to pay you for your feedback.
But those sites pay miserably and they may even be a scam.
However, there's one site that pays out a decent rate for your feedback and it's completely different from the conventional GPT and survey sites.
I am talking about UserTesting.
First of all, I must Congratulate you for taking your time to do your own research before buying into any "seemingly good" product.
That's the way to avoid scams and find the legitimate way to make money online!
Let me be completely transparent with you, I'm not associated with UserTesting in any form.
So, rest assured that I'm not here to pitch or sell anything to you.
Instead, I'm here to reveal the inner workings behind UserTesting and why it's the most unique GPT site reviewed yet.
So, we're going to review this review site (get the joke?), and find out the answer to the question:
Is UserTesting a scam?
UserTesting Review Summary
Product Name: UserTesting
Founder: Dan Garr
Product Type: Get Paid To Test Products
Price: Free to join
Best For: People who love to share their feedback on products or websites and getting paid for it
Summary: UserTesting is a company that pays you to review other companies' or developers' websites, apps, programs, or other products. You will go through a screening process to determine if you make a good reviewer for their site. They have a high payout rate for reviews and you're going to earn some serious cash. But I wish the latter was true. This is why I can't recommend this business opportunity to anyone. The reason for that is you may be making little to no money at all (and there are several reasons which I'll reveal in this article). Sure, you're earning this rate but if the quantity doesn't match, then you might as well look for other options.
Rating: 50/100
Recommended: No
More...
UserTesting is a Get Paid To or GPT website with a specific twist. It doesn't compensate you to complete surveys or do other tasks, so it's quite different from other conventional GPT sites such as InboxDollars, SendEarnings, or Vindale Research.
So what does UserTesting do? It's a site that pays you to review websites, mobile apps, and other things.
Your feedback on these products are valuable to the developers, so real people like you and me can make some extra cash while providing feedback for those companies.
The idea behind UserTesting came to co-founder Dave Garr, who realized that other people may see things that he doesn't notice on his website, and I too notice the same thing when it comes to my writings.
That's why Jerry checks in on my articles every day.
Garr used this idea and asked his friends and family to give feedback about his website, and thus UserTesting was born.
11 years later, more than 1 million feedback videos have been accomplished by UserTesting for more than 34,000 companies.
And these are not small companies either.
These are huge corporations that are asking UserTesting to gather feedback about their products or services.
So, UserTesting is kind of a big deal.
Who Uses UserTesting?
The UserTesting website is divided into two users: people like you who want to make money online, and the companies that want their app or websites tested before launching it.
For these companies, UserTesting gives them an opportunity to have their website properly tested by real and random people.
Your feedback also goes beyond aesthetics and to determine if it's user-friendly or not.
You're going to comb through the website page by page and identify issues that may need to be addressed prior to the launching.
This is a video showing us the proper way to do testing on UserTesting:
On top of that, you're also going to participate in focus group discussions with other people who reviewed the same product as you did.
This makes your evaluation (and theirs) more credible.
I'm Jerry!
I Created My Own 4-Figure Monthly Passive Income at just 21 Years Old!​
You now know that UserTesting will pay you to review other companies' apps, games, or even websites before launching it.
But that's just the surface level. There are several aspects that I'd like to point out on how their system works and how you're going to get paid.
The Step-By-Step Process
When you qualify for a test, you'll receive an invitation via email. You can also check every now and then on the website. I'll get to why this is important later on.
Next, you're going to start the test, and you need to make sure that you've read all the instructions properly.
You're also going to download UT's online screen recorder, which allows them to see what you see. Don't worry it's only the screen that they see, and not your face.
Once your screen recorder is on, you're now going to proceed with the test and carry out the tasks as instructed. This usually takes about 20-minutes for recording.
In your audio review, you need to speak clearly into the microphone as you're recording.
Once that's done, you're going to answer four follow-up written questions.
After completing the test, the company receives your feedback through UT and uses it to improve their app, game, or website.
And then you just rinse and repeat the process.
You also don't need to worry since UserTesting provides a very thorough tutorial on how to do a proper review.
How Do I Join UserTesting?
It's free to join UserTesting, and it's available to all residents. You only need to be above the age of 18 and that your country supports PayPal payments.
Once you sign up as a tester, you'll be required to complete a sample test before they let you into the program.
If you pass the test, you'll receive an email confirming your successful registration and another link to continue with the registration process.
You'll then download their screen recorder from their website, so UT will use that record your sessions and upload to their servers.
You'll also need to set-up your microphone so that your voice can be heard on the recordings.
Once your application is completed and you passed their test, you can start doing reviews immediately.
The Tests And The Ratings
Once you're signed up, you'll be initially rated by UserTesting according to the video you submitted.
Your rating as a tester is how you qualify for tests. If you don't qualify for a test, you're not going to see it on your dashboard.
If you qualify for a test, this is what you'll see on the dashboard.
The reason why I mentioned that you need to check for tests on the site every now and then is that these tests are first come, first serve.
This means that each test is limited by the number of testers that the company or developer has paid for.
If you provide excellent reviews, your UT rating goes up and this allows you to qualify for more tests.
Likewise, if you give bad reviews, your rating also goes down and disqualifies you from tests.
So, you need to do a good job with your reviews if you want to earn more money.
How Much Can I Make with UserTesting?
Each test pays out a standard $10, but there are shorter tests that pay an average of $3.
UserTesting is quite upfront about their site not being a "get-rich-quick" scheme since projects are limited and based on your demographics.
If you're looking for more consistency, I would advise you to look at affiliate marketing. Here's my step-by-step guide on it if you want to get started.
How Long Does A Test Take To Complete?
Each test consists of a 20-minute recording with a four-question written test, so it takes about that much time to complete each test.
So, you're looking at earning around $30 per hour at the minimum, which is not that bad at all (and if you're lucky).
How Does UserTesting Pay You?
UserTesting only pays out through PayPal and you'll need to reside in a country that accepts PayPal.
Each project payment takes about 7 days from the time you did that project, so there's a little lag time.
UserTesting is perfect for:
Anyone who loves to give out reviews in one way or another
Anyone who has a good speaking voice
Anyone who's able to provide direct and concise points in his or her review
UserTesting Ugly Truths Revealed!
#1 – Payment Issues
Apparently, there are issues with users not getting paid for their work, as seen on the screenshot below.
This may be an anomaly or this may be due to some technical issues, but it's still worth noting.
You only have one way of earning money from the site, and the possibility of not getting paid is a big letdown.
#2 – You Might Not Make Any Money At All
Some users have pointed out that they haven't seen a test for months.
This could be due to the fact that the site has let in more testers than what they could accommodate, and that everyone's just fighting over each test.
Based on these user feedbacks, it looks like a case of user congestion. Again, another thing worth noting because these tests are very limited in terms of availability.
If a test only allows 10 people to participate, and there are 30,000 users signed up, that's a pretty tough situation right there.
You're also not going to be making any money at all because tests are first come, first serve. You have to be very quick otherwise you're going to lose it to someone else.
Despite the high-income potential, the best thing that you can do is to have UserTesting as just another stream of income and not your main income.
You shouldn't quit your day job for this opportunity. You'd be lucky to make $50 a month at best.
#3 – Pre-Screening Is Hit Or Miss
While their pre-screening process is a good way to streamline quality reviewers, it's actually a hindrance for people who are good at reviewing but can't really voice out their ideas.
There are just people who're more attuned with writing out reviews than doing a voice and screen recording, and their pre-screening kind of limits anyone's income potential from the get-go.
Even if you do barely pass the test, you're still going to get a rating that might affect your qualification for testing.
Remember, you need to do a lot of good reviews to get your ratings up.
How can you get your rating up when you don't have access to tests in the first place?
What I Like About UserTesting?
#1 – They Really Value Your Time
$10 for a 20-minute test is quite generous, which brings it to about $30 per hour of your time. That's almost 5 times the federal minimum wage in the USA.
If they had enough tests for everyone, this review would've gone the other way around and I would even go as far as recommend it as a source of income.
UserTesting is a very legitimate business operation that pays you to review other companies' or developers' apps, programs, websites, and other products or services.
In a way it's a very specific GPT or Get Paid To website because it's only focusing on providing reviews.
This makes them completely different from conventional survey intermediaries and mainstream GPT sites in terms of tasks, application processes, and even payout.
However, despite their unique twist, I can't recommend their business opportunity to anyone simply because there's little to no chance of earning money from the site at all.
On top of the possibility of having payment issues, you're competing against other testers for the availability of each test.
So, a test that needs 10 participants from a pool of thousands of testers is like stuffing a cork down the eye of a needle.
You're also looking at tests not being available to you because you don't qualify for it, and in order to qualify for these tests, you need to get a better rating.
To get a better rating, you need to do more tests.
It's kind of counterproductive.
But I will say that they do appreciate your time and you will be fairly compensated for providing 20 to 30 minutes of your time.
How I Make A Living Online?
I've personally created a 4-Figure Monthly Passive Income Stream and become financially independent at just 21 years old without any College degree or working experience!
Through my own hard work, I went from a broke restaurant waiter to living my dream laptop lifestyle in less than a year's time...
If you want to discover the secrets of how I did it at such a young age, click here!