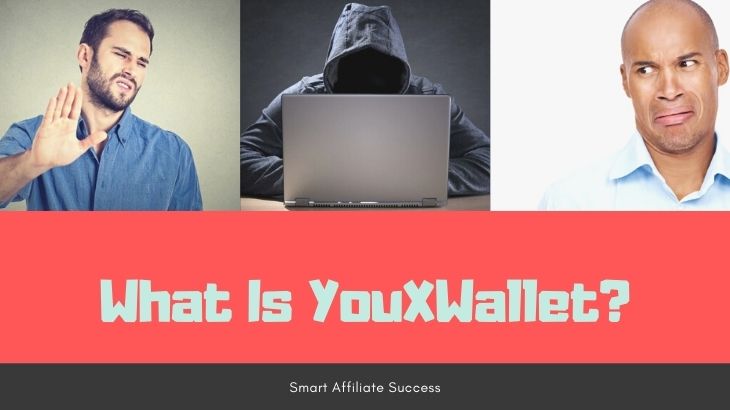 What Is YouXWallet? This Scam Takes Your Wallet!
Welcome to my YouXWallet review!
Do you want to know why cryptocurrency has this huge stigma behind it? It's because it's used by pyramid schemes and Ponzi schemes as a way to lure people into the program.
When the cryptocurrencies boomed a couple of years ago, people wanted to get into it as early as they could, hoping to turn a huge profit from their investments.
Sadly, these people are lured into programs that promise 1000000% ROI on their investments along with overly-hyped up claims of passive income.
Combine that with an industry that's relatively unknown, you have the perfect recipe to create a Ponzi scheme.
Today, we're taking a look at a company called YouXWallet, a company that took advantage of this opportunity.
First of all, I must Congratulate you for taking your time to do your own research before buying into any "seemingly good" product.
That's the way to avoid scams and find the legitimate way to make money online!
Let me be completely transparent with you, I'm not associated with YouXWallet in any form.
So, rest assured that I'm not here to pitch or sell anything to you.
Instead, I'm here to reveal what this scam is all about...
YouXWallet Review Summary
Product Name: YouXWallet
Founder: Not disclosed
Product Type: Cryptocurrency MLM Scheme
Price: $10 membership + Various Investment Tiers
Best For: NO ONE!
Summary: YouXWallet is a cryptocurrency MLM program that doesn't try so hard to not look like a Ponzi scheme. In fact, it has all the makings of one. There's a lot of red flags we found, from the unknown owner to the recruitment incentives. Stay away from this program!
Rating: 1/100
Recommended: No!
More...
YouXWallet is a MLM company that markets a cryptocurrency investment program.
Right off the bat, YouXWallet doesn't try hard to make itself look legitimate. At the very least, the site's presentable but it's not in English. It's in Portuguese when you first log in, but you do get the option to switch languages.
However it doesn't work and even if you choose English as the option. It'll revert back to Portuguese after you load.
There's no information about who owns the company, but a quick domain research reveals the following:
The domain name was registered on May 2019
Domain was registered privately
Domain was registered with Estonia as the address
They claim that the company is based out in Estonia, but their offices are in Portugal.
YouXWallet Product Line
Because it's a MLM company, we expect YouXWallet to have retail products or services, but apparently we were proven wrong.
There are no products or services sold here. YouXWallet offers a membership into their income opportunity where you earn by investing in their scheme and getting other people to do the same.
I'm Jerry!
I Created My Own 4-Figure Monthly Passive Income at just 21 Years Old!​
Does The Product Work?
Their business model does not make sense whatsoever. And here's why.
There's no proof here that income is generated outside of membership investments. There's no proof that trades are being done on a daily basis to generate profits.
The money that's coming in from new members are used to pay out the members on the highest tier. The funds then trickle down as much as it can. However the lowest tier will not be seeing a single cent, not until they get someone to recruit below them.
Even if there are investments being made (which there isn't), they would need to have permissions from the financial regulators in the countries they operate on. It's one thing to be registered with these regulators, and another thing to be authorized to carry out financial activities.
How To Make Money with YouXWallet?
YouXWallet offers you two ways to make money:
Return on investments, or ROI
Referral commissions
How To Get Started with YouXWallet?
There's a membership of $10, but it's not mentioned if it's a one-time fee or a recurring one.
Then you'll have to invest a certain amount of money, with a minimum of $100 and up to $50,000 to avail of their ROI offers.
YouXWallet Compensation Plan
YouXWallet's main income opportunity is through its ROI commissions, which promise you a fixed 0.3% daily ROI from Monday to Friday.
Here are the tiers offered:
Xwallet 100 — Invest $100 worth of bitcoin
Xwallet 300 — Invest 300 worth of bitcoin
Xwallet 500 — Invest 500 worth of bitcoin
Xwallet 1000 — Invest $100 worth of bitcoin
Xwallet 3000 — Invest $3000 worth of bitcoin
Xwallet 5000 — Invest $5000 worth of bitcoin
Xwallet 10,000 — Invest $10,000 worth of bitcoin
Xwallet 20,000 — Invest $20,000 worth of bitcoin
Xwallet 30,000 — Invest $30,000 worth of bitcoin
Xwallet 40,000 — Invest $40,000 worth of bitcoin
Xwallet 50,000 — Invest $50,000 worth of bitcoin
Members keep getting paid until they reach a total payout of 400%. Once that limit is reached, they'll need to reinvest.
Recruitment Commissions
You get a commission when you recruit new members into the program. You get 10% of the investments they make.
The company will reward you with commissions when you recruit new members that make an investment.
For every personally recruited member, you will earn 10% of the investment that they made.
Binary Residual Commissions
This is their form of passive income where you earn residual commissions from building a team. This follows a binary compensation structure where members are placed on your left and right leg, and their members are placed subsequently below.
You can earn as much as $20000 per day with their structure.
Residual Commissions (Unilevel)
They also have a residual commission in place that follows a unilevel structure, working along side your binary residual commissions.
This one follows 10 levels, with your members placed under you, and their members placed subsequently below them. This follows a commission percentage of 2.5% at the first level, all the way to 0.1% at the 10th level.
YouXWallet Ugly Truths Revealed!
#1 No Info on Owner
One red flag here is that there's no information on who the owners are. Obviously, any legitimate business will want to be transparent about who runs the company as a form of building trust and rapport within consumers.
The fact that they don't have any information on who owns the company means that they don't want to be liable for anything illegal they're about to do. This brings me to my next point…
#2 Obviously a Pyramid Scheme!
The way their compensation plan is set out makes it look like a pyramid scheme. According to the FTC and SEC's guidelines on spotting pyramid schemes, one of the biggest red flags is its major focus on recruitment incentives. You may check out their infographics right below:
This means that there's no other way to generate profits from the company other than to recruit people and have them invest. Ultimately, this makes them a pyramid scheme.
#3 No Authorizations To Carry Out Investments
As mentioned earlier, they promise that you get ROI's based on your investment. But they are not permitted to do so by any financial regulatory committee.
You'd have to have special permissions or authorizations to carry out these activities. This means that they're liable for securities fraud if they get caught, and people who're promoting this programs also become liable.
What I Like About YouXWallet?
There's nothing to like about this program. It would be wrong to even praise this program for something they don't deserve.
YouXWallet is definitely not legitimate as far as we're concerned. They've got all the makings of a pyramid scheme if we were just to base it on the FTC and SEC guidelines.
There's no owner information, so they're clearly hiding from the law.
The recruitment incentives are heavily pushed, which is one of the red flags of a pyramid scheme. The only way to make money is to recruit people and to get people to invest.
Stay away from this program!
Related Links
How I Make a Living Online?
I'm not a fan of MLM, not because it's illegal or not profitable, but because of all the restrictions and the expensive costs involved.
Instead, Affiliate Marketing is my top recommended business model for anyone to make money online.
The reason is simple...
You don't have to recruit anyone to make money
You have the freedom to promote any products you want and not being restricted to only promote the products from one MLM company
It's Free to get started
In fact, with affiliate marketing...
I've personally created a 4-Figure Monthly Passive Income Stream and become financially independent at just 21 years old without any College degree or working experience!
Through my own hard work, I went from a broke restaurant waiter to living my dream laptop lifestyle in less than a year's time...
If you want to discover the secrets of how I did it at such a young age, click here!