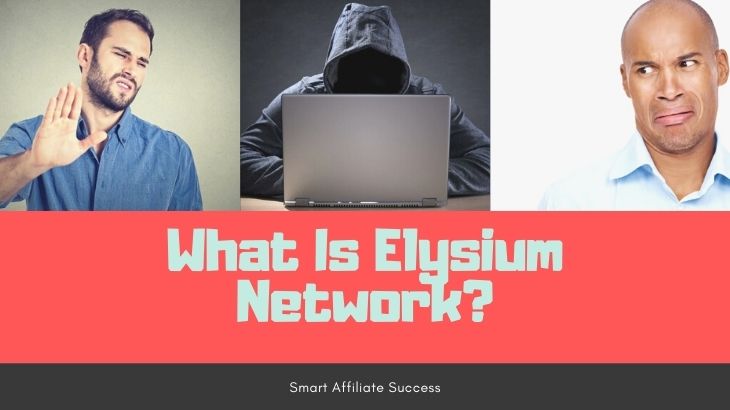 What Is Elysium Network? It's Definitely Not Something Legit!
Welcome to my Elysium Network review!
The MLM industry is riddled with pyramid schemes and Ponzi schemes. Majority of them under the guise of legitimate financial investment schemes that promise ROI's by the thousands.
Granted, you can make thousands of dollars in investments, but not in the way that these MLM companies market. Some are even promise you that you could make a ton of money just by doing nothing.
Today, we're looking at a company that's made lots of promises and we'll see if they hold their end of the bargain.
This is Elysium Network.
First of all, I must Congratulate you for taking your time to do your own research before buying into any "seemingly good" product.
That's the way to avoid scams and find the legitimate way to make money online!
Let me be completely transparent with you, I'm not associated with Elysium Network in any form.
So, rest assured that I'm not here to pitch or sell anything to you.
Instead, I'm here to reveal what this program is suspiciously all about...
Elysium Network Review Summary
Product Name: Elysium Network
Founder: Fred Pascal Stege
Product Type: Investment MLM
Price: $650 USD for membership + $60 USD for monthly sub
Best For: NO ONE!
Summary: Elysium Network is a MLM company that markets an investment scheme. Unfortunately, it's got the makings of a pyramid scheme. Yes, the owner has had extensive background and experience in MLM but decided to do the one illegal thing about the industry. You'll see their recruitment incentives and see why we think they're a pyramid scheme.
Rating: 1/100
Recommended: No!
More...
Elysium Network is a MLM or multi-level marketing company that's tailored to the financial investment niche. Unlike most of the pyramid schemes that we reviewed, this company actually has a real person behind it.
The owner and CEO of Elysium Network is Fred Pascal Stege, and has an impressive resume.
His MLM experience goes back in 2005, working with MLM companies such as Vemma (also known as Origin Pure) and Jeunesse.
After his involvement with Jeunesse in 2019, he went on to create Elysium Network.
Elysium Network Product Line
Elysium Network offers investments through what they call their Elysium Capital Pinnacle Portfolio, which is described as a world-class portfolio and has achieved high performance on top of a solid risk-to-reward ration.
The external revenue of the company is generated through Currency Trading, Manual Trading, and HFT or High Frequency Trading.
I'm Jerry!
I Created My Own 4-Figure Monthly Passive Income at just 21 Years Old!​
Does The Product Work?
Now let's look at how their business operates. They claim that they generate ROI through their authorized prime brokers and liquidity providers registered under the Swedish Financial Supervisory Authority or FSA. They have full transparency offered and have segregated accounts with different European banks such as Barcllays and Swedbank.
Now, this is good and all, but how about their passive investment income opportunity? You know, the one that they're actively promoting.
In order to carry out investments and other financial activities, they need to be authorized by these financial institutions. It's one thing to register your business with them, and another thing to get authorization to operate like this.
Unfortunately, I couldn't find any information on their registration or any authorization that would allow them to invest legally.
So why are they doing something illegal? Shouldn't the owner, with all of his MLM experience, know any better?
Without being authorized to carry out investments, it means they are not legally required to be audited by third-party accounting filing. We will never know if they are paying returns based on external revenue.
Right off the bat, this is securities fraud.
On top of that, their compensation plan (which we'll discuss below) is focused on recruiting and not on the selling.
This means that they are operating as a pyramid scheme. If you don't believe us, check out what the FTC and SEC have to say about it:
How To Make Money with Elysium Network?
Elysium Network presents its income opportunity by letting you think that you can make money from:
ROI or return on investments from investments made
Referral and recruitment commissions from signing people up and getting them to invest
How To Get Started with Elysium Network?
The membership into Elysium Network will cost you €548.95 EUR and then €79.95 EUR a month
Elysium Network affiliate membership is €548.95 EUR or about $650USD and then €79.95 EUR or $93.95USD a month.
There's a cheaper option of €179.90 EUR but it doesn't allow you to participate in the compensation plan.
Elysium Network Compensation Plan
Direct Commissions
Elysium Network pays out commissions to members when they sponsor new affiliates:
Make €25 EUR on the sponsoring of a €179.90 EUR affiliate
Make €100 EUR on the sponsoring of a €548.95 EUR affiliate
Unilevel Residual Commissions
Elysium Network pays out a commission following a unilevel residual compensation structure. Members you personally recruit are placed under you and are marked as the 1st level.
Their recruits are placed on the 2nd level, and goess on from there.
You earn a commission per level. The deeper the level, the lower the commission percentage.
Binary Residual Commissions
They also have commissions based on a binary compensation structure. Members are placed into your left and right side, or what you call as legs. This is the first level.
Their recruits are placed on your second level, and they branch off into two more spots (that would have you with 4 members for that level).
This goes on indefinitely, and commission is based on the monthly fee paid by the recruits.
Elysium Network Ugly Truths Revealed!
#1 Securities Fraud?
As mentioned earlier, Elysium Network puts itself at risk for securities fraud for not having the right authorizations from the financial regulators.
They are not authorized to carry out investments in Sweden, USA, or any part of the world.
This is their regulatory failing, and charts like these are no substitute for auditing:
Also, if they brag so much about their software, why isn't available to non-affiliates or non-members?
And why is there no information provided on how these bots work?
#2 Pyramid Recruitment Incentives
With regards to their incentives, everything is focused on recruitment. This is as suspicious as it gets when we want to consider it a pyramid scheme.
Members are given access to a back-office software, which the program is supposed to be selling. But even then, Elysium Network doesn't go into complete detail on how that program is supposed to work.
What you're actually left with is paying these membership fees and getting paid to recruit others.
What I Like About Elysium Network?
There's nothing to like about the program. There's just a lot of things wrong, and it's wrong to say anything otherwise.
Is Elysium Network a Scam?
We think there's a lot of things going on with Elysium Network, and there's nothing legitimate about the way it does business.
It has the makings of a pyramid scheme, and we're disappointed with its owner. He should know better on how MLM companies should operate.
Elysium Network incentivizes recruitment, which takes up 90% of their compensation plan. This itself is a red flag considered by the SEC and FTC to be a pyramid scheme.
There's no authorization to do any of the financial activities they promised. They're on the verge of committing securities fraud, so you could land some jail time if you end up promoting this program and they get caught.
We advise you to go look for other business opportunities online.
Related Links
How I Make a Living Online?
I'm not a fan of MLM, not because it's illegal or not profitable, but because of all the restrictions and the expensive costs involved.
Instead, Affiliate Marketing is my top recommended business model for anyone to make money online.
The reason is simple...
You don't have to recruit anyone to make money
You have the freedom to promote any products you want and not being restricted to only promote the products from one MLM company
It's Free to get started
In fact, with affiliate marketing...
I've personally created a 4-Figure Monthly Passive Income Stream and become financially independent at just 21 years old without any College degree or working experience!
Through my own hard work, I went from a broke restaurant waiter to living my dream laptop lifestyle in less than a year's time...
If you want to discover the secrets of how I did it at such a young age, click here!