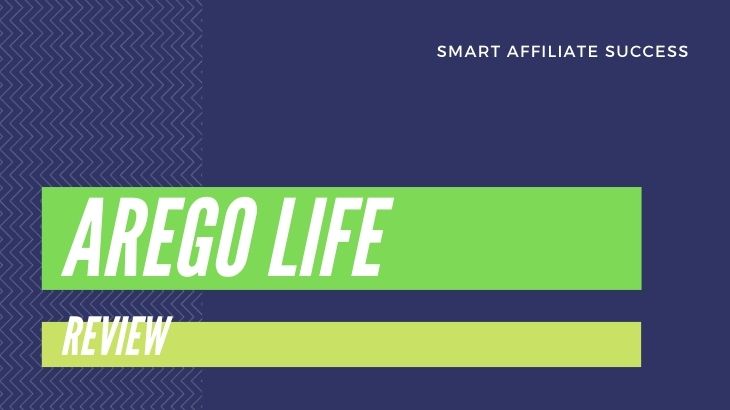 What Is Arego Life? It's A Brand New MLM Company!
Welcome to my Arego Life review!
In the MLM industry, there are a handful of popular niches. One of them happens to be health and wellness. We even recognize some of them to be very decent in terms of providing income opportunity.
This company's relatively new in the MLM industry, and we're going to find out if it has potential.
This is Arego Life.
First of all, I must Congratulate you for taking your time to do your own research before buying into any "seemingly good" product.
That's the way to avoid scams and find the legitimate way to make money online!
Let me be completely transparent with you, I'm not associated with Arego Life in any form.
So, rest assured that I'm not here to pitch or sell anything to you.
Instead, I'm here to reveal what this new MLM company is all about...
Arego Life Review Summary
Product Name: Arego Life
Founder: Don Coplin, Jim Douville, and Adam Baadsgaard
Product Type: Health and Wellness MLM
Price: $49.95 membership fee + starter set
Best For: NO ONE
Summary: Arego Life is a MLM company that belongs under the health and wellness niche. It's a new company, but it's income potential isn't that great. In fact, you only sell one product. That's quite disappointing comparing that to the likes of other giant MLM companies.
Rating: 50/100
Recommended: No!
More...
Arego Life is a MLM or multi-level marketing company that belongs under the health and wellness niche.
The company is founded by Don Coplin, Jim Douville, and Adam Baadsgaard. According to their bio, Coplin is a retired dentist and an "avid research and formulator".
Doubille has had experience in the MLM industry as a promoter for Nerium International before founding Arego Life. He also promoted Rain International in 2017 but left it shortly in 2018.
Arego Life was founded on March 2018.
Arego Life Product Line
Arego Life markets only one product as of this writing. It's called Adapt X.1, which is marketed as a "patented adaptogen youth formula".
The company goes on and promotes it further by saying that it naturally balances each of the 14 serotonin neuro-pathways.
In simpler terms, it can give you numerous benefits such as improved sleep, better mood management, improved skin health, and anti-aging benefits.
The product costs $70 for a 1oz bottle. This gets you 220 sprays, lasting to about 23 to 36 days.
I'm Jerry!
I Created My Own 4-Figure Monthly Passive Income at just 21 Years Old!​
Does The Product Work?
Arego Life's products appear to be backed by a series of studies and tests, at least on the surface. Based on what I Read, Coplin's formulation appears to have worked over the years.
There are even studies on Arego Life dating back to 2009, but as it turns out the studies done by Coplin were not done directly on Adapt X.1.
Rather, it was on other formulation not in relation to Arego Life. It just so happens that the same formulation done on these studies is used on Adapt X.1.
How To Make Money with Arego Life?
Arego Life presents you with two ways to make money from:
Retail commissions
Commissions from recruitment and team sales
How To Get Started with Arego Life?
Arego Life costs you $49.95 for its MLM membership. You can also sign up through their $149.95 Executive Kit, which covers the membership and 2 bottles of Adapt X.1.
Arego Life Compensation Plan
Arego Life is a mix of retail commissions and residual commissions through their compensation plan.
MLM Commission Qualification
To qualify for unilevel commissions, you need to recruit at least one member and generate $55 PV a month.
To qualify for matrix placement, you must enroll at least 3 members a month with a minimum purchase of 1 Adapt X.1 bottle.
Retail Commissions
You earn a 25% commission on retail sales on bottles of Adapt X.1. 25% is paid out on a customer's first order, and paid out continually on residual retail orders.
Self-Purchase Commissions
For self-purchases, you get a 25% commission.
Recruitment Commissions
Members are paid out 25% on the first orders placed by their personally recruited members.
Residual Commissions (unilevel)
This residual commission follows a unilevel structure. Your recruits are placed under you and are considered as level 1. Their recruits would be level 2, and so on.
You get a percentage commission based on sales volume generated by those levels:
level 1 (personally recruited affiliates) – 3%
levels 2 and 3 – 3%
levels 4 to 6 – 4%
levels 7 and 8 – 5%
level 9 – 2%
level 10 – 1%
Residual Commissions (matrix)
This follows a 3x13 matrix. Members are placed under you at three positions for level 1, and three more positions per level, giving you 9 positions, and so on.
Arego Life Ugly Truths Revealed!
#1 Banned In Germany For Misleading Claims
Just earlier this year, the Hamburg Regional Court in Germany banned the promotion and distribution of the Adapt X.1 Supplement after it was found guilty of creating misleading marketing claims.
To be more specific, Adapt X.1 was being marketed in Germany through unverifiable medical claims and false active ingredient claims. They were also caught citing studies and patents that had nothing to do with Adapt X.1.
The thing with Arego Life or with any other health and wellness MLM company is that if they want to make all kinds of therapeutic and medical claims, it needs to be backed by the FDA or any counterpart.
This means that the MLM company would need to submit their products tested and verified. The FDA or any counterpart will then verify that the ingredients are all there and are measured properly.
But this isn't done for free though. The company will need to pay for the testing, with no guarantee of even passing it.
However, if they get the approval, that's a HUGE marketing boost!
#2 They Only Have One Product!
The fact that they only have one product to sell means that it's going to be difficult to market the opportunity.
Normally, you want health companies to have at least a solid lineup of products in order to have a fighting chance of selling them. But with Arego Life, you'd have to deal with either selling one or none.
This would automatically mean that the income potential is already low. If you can't sell one product, you lose all chances of earning money.
What I Like About Arego Life?
There's just nothing to like about this MLM opportunity at this time of writing. It's relatively new, and there's just so much to be done to improve the company.
Arego Life is a legitimate MLM company as far as we're concerned. There's nothing fishy about its compensation plan, and it's a relatively new company. There's a lot of potential, but for now, it's not something that we can recommend if you want a full-time income.
The income potential is quite low because it only has one product to sell, so you're either selling one or none. It doesn't help incentivize customers to sign up for the membership program.
They've had issues with misleading medical claims. Although it's been pointed out by one country and have banned Arego Life from being promoted, I suspect other countries will follow if they continue to mislead customers.
Right now, this program is just not worth it at this time.
Related Links
How I Make a Living Online?
I'm not a fan of MLM, not because it's illegal or not profitable, but because of all the restrictions and the expensive costs involved.
Instead, Affiliate Marketing is my top recommended business model for anyone to make money online.
The reason is simple...
You don't have to recruit anyone to make money
You have the freedom to promote any products you want and not being restricted to only promote the products from one MLM company
It's Free to get started
In fact, with affiliate marketing...
I've personally created a 4-Figure Monthly Passive Income Stream and become financially independent at just 21 years old without any College degree or working experience!
Through my own hard work, I went from a broke restaurant waiter to living my dream laptop lifestyle in less than a year's time...
If you want to discover the secrets of how I did it at such a young age, click here!