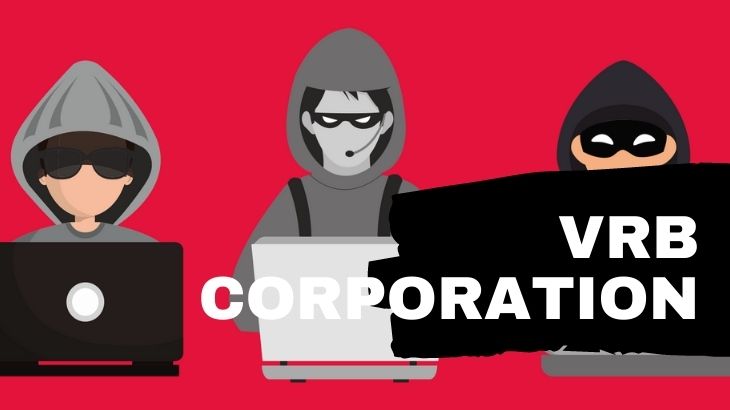 What Is VRB Corporation? Avoid This Cryptocurrency Ponzi Scheme!
Welcome to my VRB Corporation review!
Cryptocurrency investment scams are very common, and becoming infamous, in the MLM industry. While they promise ROI's for your "investment", they still follow a MLM-like compensation plan for paying out recruitment commissions.
Unfortunately, they have the makings of a Ponzi scheme and are now being kept an eye out for by the financial regulators.
Today, we're looking at another possible Ponzi scheme called VRB Corporation.
First of all, I must Congratulate you for taking your time to do your own research before buying into any "seemingly good" product.
That's the way to avoid scams and find the legitimate way to make money online!
Let me be completely transparent with you, I'm not associated with VRB Corporation in any form.
So, rest assured that I'm not here to pitch or sell anything to you.
Instead, I'm here to reveal what this scheme is all about...
VRB Corporation Review Summary
Product Name: VRB Corporation
Founder: Richard Thomson
Product Type: Cryptocurrency MLM
Price: $100 minimum investment
Best For:
Summary: VRB Corporation is a cryptocurrency investment scheme powered by a MLM compensation plan. We have reason to believe that it's one big ponzi scheme because of its recruitment incentives. They also lied about a few things, and that's a bad way to business.
Rating: 1/100
Recommended: No!
More...
VRB Corporation does not provide us with anything useful in terms of what it's all about, who runs the business, or who owns it.
We do know that it's a cryptocurrency MLM investment scheme where it promises you ROI based on how much you invested, and how many people you get to invest in the program.
In simpler terms, they want you to think it's passive income. But it's not.
There's one name associated with VRB Corporation, and that's Richard Thomson. He's the guy that appears in one of their presentation videos. He has a British accent and VRB Corporation has been marketing to countries such as Philippines, Vietnam, and Malaysia.
So when we checked their domain registration, here's what we found out.
The domain was first registered on 2014, then renewed on 2019. This was registered privately, but the address is Arizona, USA.
Doing a search for Richard Thomson reveals nothing outside of VRB Corporation. This means that we're dealing with a salesperson or someone using a fake name.
VRB Corporation Product Line
Because they're a MLM company, we expect them to have a retail product or service. Unfortunately, they only have a membership program to offer.
Subscribing to their membership program will allow you to enjoy the full benefits of their compensation plan.
This in itself is one big red flag.
I'm Jerry!
I Created My Own 4-Figure Monthly Passive Income at just 21 Years Old!​
Does The Product Work?
On their whitepaper, VRB Corporation claims they're the world's leading financial and commercial service company.
They also claim that they provide corporate banking, retail banking, and wealth management services for its users.
However, these claims are just so hilarious because the company didn't really exist up until a few months ago.
For the cryptocurrency side, they offer something called VRT Tokens, which is what you'd be investing on. You pay for the token via your investment and earn the token back in ROI.
The token has no monetary value in the market and its value is dictated by what VRB Corporation decides it to be.
There's no proof that investments and trades are being carried out, nor are they even authorized to carry out these financial activities.
A quick EDGAR search on the SEC website returned zero results that they're registered with the company, or even permitted to do investments and trades.
What does that leave us?
Their source of income comes from people signing up and forking over their hard-earned money in recruitment fees.
These fees are paid out and divided to the top tiers, and then it trickles down. Of course, the lowest tiers will not get anything not until they recruit people below them.
How To Make Money with VRB Corporation?
As a member of VRB Corporation, you can make money via:
ROI Commissions
Referral Commissions
How To Get Started with VRB Corporation?
You'll have to purchase $100 worth of their VRT tokens to be eligible for the "investment opportunities". You can go up in terms of how many tokens you buy, it's not going to be worth it.
VRB Corporation Compensation Plan
ROI Commission
You're getting ROI promised by the company after you join. According to their compensation plan, there are two levels at which you can join and the ROI % you get from these levels:
$100 to $5000 Investment Level – 0.3% to 0.5% Daily ROI
$100 to $5001 to $100,000 Investment Level – 0.5% to 0.82% Daily ROI
Note:
VRT Tokens are tracked by the company through VRB Points
The tokens are priced at $1.81 as of July 2019 and has not been updated since.
Referral Commission
You earn a commission every time you recruit someone into your team.
This follows a unilevel structure. Personal recruits are placed on your first level, and their recruits are placed on the second level, and goes on up to 20 levels.
VRB Corporation Ugly Truths Revealed!
#1 Their Coin Has No Value
My main issue with them, on top of being a pyramid scheme, is that they're marketing a worthless coin. It has no value outside of VRB Corporation, and therefore can't be used on anything.
It can't be traded for other cryptocurrencies too!
#2 It's A Ponzi Scheme
The bottom line here is that their source of income comes from recruitment, making it a huge Ponzi scheme.
This means that they're going to run out of funds the moment they stop recruiting people.
#3 Lies About Its Association With Comerica
To add to their legitimacy, they claimed that they were in a business relationship with Comerica Bank. They claim that their financial backing come from that bank.
This forced them to make a statement against VRB Corporation, citing that the company is not working with the scheme and that their claims are 100% false.
This means that people who are advertising that they're working with VRB Corporation are lying and that they're not affiliated with Comerica Bank in any way.
What I Like About VRB Corporation?
VRB Corporation is something that's not even worth praising. There's nothing to like about their program!
Is VRB Corporation a Scam?
VRB Corporation has nothing of value to provide for the MLM industry. It's just as worthless as its cryptocurrency.
We have more than enough reason to believe that this is a Ponzi scheme. They don't have permissions to carry out investments, nor are there any proof that this is being done to generate profit outside of membership investments.
They lied about a lot of things including affiliation with recognized banks and got called out for it.
Their coin has no market value, so it's worthless to invest on it.
Stay away from this program!
Related Links
How I Make a Living Online?
I'm not a fan of MLM, not because it's illegal or not profitable, but because of all the restrictions and the expensive costs involved.
Instead, Affiliate Marketing is my top recommended business model for anyone to make money online.
The reason is simple...
You don't have to recruit anyone to make money
You have the freedom to promote any products you want and not being restricted to only promote the products from one MLM company
It's Free to get started
In fact, with affiliate marketing...
I've personally created a 4-Figure Monthly Passive Income Stream and become financially independent at just 21 years old without any College degree or working experience!
Through my own hard work, I went from a broke restaurant waiter to living my dream laptop lifestyle in less than a year's time...
If you want to discover the secrets of how I did it at such a young age, click here!