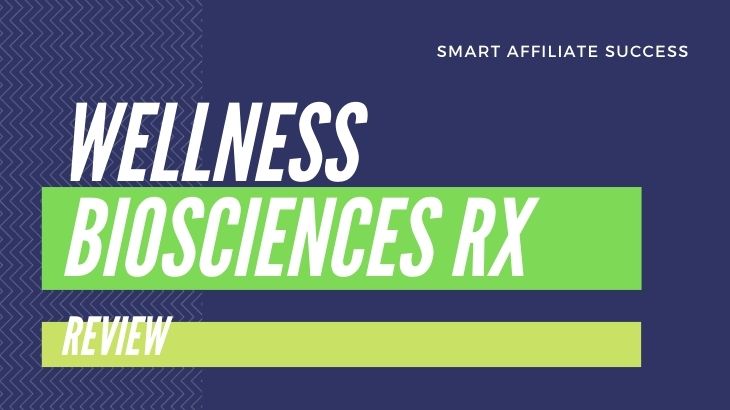 What Is Wellness Biosciences RX? It's a CBD MLM Company!
Welcome to my Wellness Biosciences RX review!
Hemp-based and CBD products are all the rage these days. Not because they come from Cannabis, but they are known to have powerful healing and therapeutic benefits. A quick research on Google will reveal the numerous studies done on these compounds that prove how they effective they are at treating and relieving certain illnesses.
This is why MLM companies were quick to add these products to their offerings. It's relatively new and it's effective. However, this doesn't mean that all CBD and Hemp-based products are effective right off the bat. Not all of them are made equal.
Today, we're going to review a company called Wellness Biosciences RX.
First of all, I must Congratulate you for taking your time to do your own research before buying into any "seemingly good" product.
That's the way to avoid scams and find the legitimate way to make money online!
Let me be completely transparent with you, I'm not associated with Wellness Biosciences RX in any form.
So, rest assured that I'm not here to pitch or sell anything to you.
Instead, I'm here to reveal what this CBD company is all about...
Wellness Biosciences RX Review Summary
Product Name: Wellness Biosciences RX
Founder: Sean M Baker and Barry Cocheu
Product Type: CBD Health and Wellness MLM
Price: $49.99 membership fee plus various starter sets
Best For: No one
Summary: Wellness Biosciences RX is a MLM company that markets CBD-infused health and wellness supplements. They're backed by two industry experts and seasoned entrepreneurs, but that's the only impressive thing about the program. We have no proof that any one from company is making any money. There's no income disclosure statement. On top of that, they have expensive retail pricing.
Rating: 50/100
Recommended: No!
More...
What is Wellness Biosciences RX?
Wellness Biosciences RX is a MLM or multi-level marketing company that operates in the health and wellness niche, specifically products infused with CBD and Hemp.
For those of you who don't know, CBD or Cannabinoid is a component of cannabis (commonly known as Marijuana) that contains all of the health benefits, minus the psychoactive component called THC (tetrahydro cannabinoid).
The company was founded by two well-known MLM industry experts, Sean Baker and Barry Cocheu.
Cocheu made quite the headlines recently when he was featured in AmeriScience's lawsuits. Back in 2011, he was the CEO of this MLM company. The company and Cocheu were held liable for $3.4 million dollars on top of prejudgment interest and punitive damages.
Meanwhile, Sean Baker managed to keep his nose clean and has done a good job avoiding lawsuits and intrigue. He's been credited with starting numerous businesses for over 15 years. At one point, he's generated more than $11 million inside of a $400 million dollar company as a distributor.
Wellness Biosciences RX Product Line
Wellness Biosciences RX markets various CBD oil products. They claim they specialize in the development of the highest grade 100% USA-grown hemp, rich with CBD, CBDA, CBG, CBN, CBC, and terpenes.
They claim that their farms are located in the luscious plains of Kentucky where it's perfectly suited to grow healthy and nutritious hemp.
Their labs are also capable of extracting the cleanest and most potent CBD oils from their plants.
Based on the marketing presentations found on YouTube, we've narrowed down the popular products:
WBRx Energy – $109.99 for a 1 oz bottle
WBRx Sleep – $109.99 for a 1 oz bottle
WBRx Relief Balm – $99.99 for a tub
WBRx Balance – $119.99 for a bottle of thirty capsules
And no, we didn't mistype those. The 1 oz sized bottles are oils, which you'll have to use with a dropper.
I'm Jerry!
I Created My Own 4-Figure Monthly Passive Income at just 21 Years Old!​
Does The Product Work?
Wellness Biosciences RX claims that they all use the best hemp plants known in the industry, and we can't discredit them for it.
The use of CBD oils and other hemp-related products is still very controversial because of its source, which is Cannabis. While numerous studies have been done on how good they are, it doesn't really mean that all CBD products are good. People are still afraid of the stigma that CBD products can get them addicted to the use of it.
As I mentioned earlier, CBD or cannabinoid is the therapeutic component of the Cannabis plant. This is the component responsible for the health benefits of Cannabis. The other component, THC, is responsible for the psychoactive part and other side effects.
A CBD oil doesn't contain any THC, so there's no way to get high from using their products.
Because they operate in the health and wellness niche, all their claims would have to be backed by the FDA. This would mean that they would have their products tested by the Food and Drug Administration to determine whether or not these claims stick.
As of this writing, they have not made any claims that their products provide any relief or treatment, which is good.
How To Make Money with Wellness Biosciences RX?
Wellness Biosciences RX provides you with two ways to make money from their income opportunity. There's nothing that uniquely stands out from their compensation plan, which we'll discuss in the next sections.
Retail commission from selling the products
Residual commissions from building a team and selling as a team
How To Get Started with Wellness Biosciences RX?
You'll need to sign up on their website, where you'll be asked for your referral's ID number. You can't sign up without it, so there's a strong need for building a team here.
Once you're signed up, you'll be asked to pay for the registration fee, which is $49.95. This will allow you to get into their compensation plan at the base level, meaning you can start buying their products at wholesale and reselling them for the MSRP.
Paying the registration fee alone will not give you any products or starter sets. But Wellness Biosciences RX does have the following starter packs to choose from:
WBRx Silver Pak – $499.95
It includes the affiliate membership and bundled WBRx products of:
WBRx Energy – 1 bottle
WBRx Sleep – 1 bottle
WBRx Relief Balm – 2 bottles
WBRx Balance – 1 bottle
WBRx Gold Pak – $1324.95
It includes the affiliate membership and bundled WBRx products of:
WBRx Energy – 3 bottles
WBRx Sleep – 3 bottles
WBRx Relief Balm – 4 bottles
WBRx Balance – 4 bottles
WBRx Diamond Pak – $2449.95
It includes the affiliate membership and bundled WBRx products of:
WBRx Energy – 7 bottles
WBRx Sleep – 7 bottles
WBRx Relief Balm – 7 bottles
WBRx Balance – 7 bottles
WBRx Platinum Pak – $3799.95
It includes the affiliate membership and bundled WBRx products of:
WBRx Energy – 11 bottles
WBRx Sleep – 11 bottles
WBRx Relief Balm – 12 bottles
WBRx Balance – 12 bottles
Wellness Biosciences RX Compensation Plan
Retail commission
You earn a commission for products sold at retail price. You get a wholesale discount from their products to sell at a margin. The difference between retail and wholesale is your commission.
Recruitment commission
You earn a commission for every time you successfully recruit someone through your member ID. The commission is based on the package your recruit signs up with.
Residual commission
You get a commission for earnings from your downline, or members that your recruits have recruited into the program. This follows a unilevel compensation structure where your personal recruit is placed on level 1, their recruits at level 2, and their recruits' recruits at level 3, and so on.
This repeats at the 6th level. Each level has a certain percentage for the commissions. The higher the level, the higher the percentage commission.
Your percentage commission also increases as you go up in ranking.
Wellness Biosciences RX Ugly Truths Revealed!
#1 Expensive Retail
Wellness Biosciences RX sells health and wellness supplements that are way too overpriced, even by commercial products' standards.
A quick Amazon search for CBD oils pointed me to popular brands that cost well lower than Wellness Biosciences RX's products, so this makes it difficult to compete against.
$100 for a 1 oz bottle is just too much, so this begs the question: just how many bottles are their distributors selling at an average to make up for their initial expenses?
#2 Products Are Untested
They claim that their products are all organic and gluten-free, and all that, but there's nothing on their site that proves that what they say is true.
There are no testimonies from customers or distributors that let us know that the products do work to some extent.
And the thing is, there are only a few reliable and authorized laboratories out there that are able to carry out these tests. These tests are also very expensive.
If Wellness Biosciences RX ever got their products tested, it would justify their expensive price tags.
#3 No Income Disclosure Statement
They've been around for a few years, so I would've expected to see some proof that their members are generating income through their program.
Unfortunately, that's not the case. There seems to be no income disclosure statement made available to the public, which is a shame.
The lack of an IDS would mean that their members have not made a substantial amount on average to be even worth reporting on.
What I Like About Wellness Biosciences RX?
Quite frankly, I don't think this program holds a lot of promise. It's just your run-of-the-mill CBD MLM company.
Is Wellness Biosciences RX a Scam?
Wellness Biosciences RX holds a lot of promise as a MLM company that markets CBD products. But until they get their products tested, or at least adjust their retail pricing, I wouldn't recommend this program to anyone.
There's no proof that members are making any money from their compensation plan, all because they don't have the income disclosure statement to prove it.
The products are priced higher than competitors, even higher than commercial products. This makes it difficult to market their products when there are cheaper ones available.
Truth be told, there are better CBD MLM companies out there that could be worth it to invest on than Wellness Biosciences RX.
Related Links
How I Make a Living Online?
I'm not a fan of MLM, not because it's illegal or not profitable, but because of all the restrictions and the expensive costs involved.
Instead, Affiliate Marketing is my top recommended business model for anyone to make money online.
The reason is simple...
You don't have to recruit anyone to make money
You have the freedom to promote any products you want and not being restricted to only promote the products from one MLM company
It's Free to get started
In fact, with affiliate marketing...
I've personally created a 4-Figure Monthly Passive Income Stream and become financially independent at just 21 years old without any College degree or working experience!
Through my own hard work, I went from a broke restaurant waiter to living my dream laptop lifestyle in less than a year's time...
If you want to discover the secrets of how I did it at such a young age, click here!