2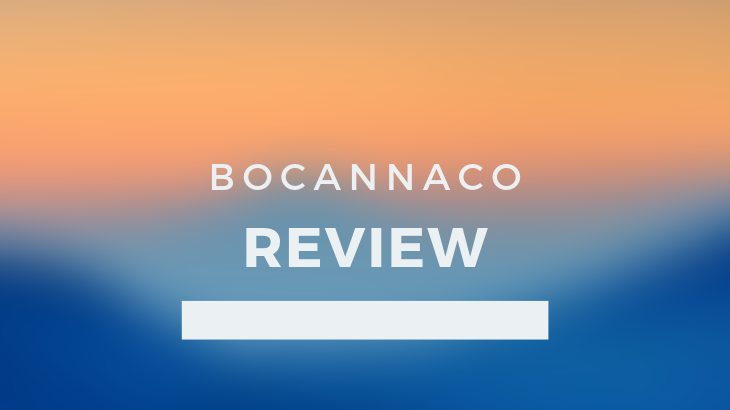 Is Bocannaco a Scam? Brand New Hemp MLM Reviewed!
Welcome to my Bocannaco review!
Hemp oil products are becoming more popular these days, all thanks to people who've tried it and enjoyed its many benefits.
And now, a lot of MLM companies that sell hemp oil products are turning up in the market as well. One of them is Bocannaco.
Does it have what it takes to stand out from the rest?
First of all, I must Congratulate you for taking your time to do your own research before buying into any "seemingly good" product.
That's the way to avoid scams and find the legitimate way to make money online!
Let me be completely transparent with you, I'm not associated with Bocannaco in any form.
So, rest assured that I'm not here to pitch or sell anything to you.
Instead, I'm here to reveal what this brand new MLM has to offer and if it's worth your time and money.
Bocannaco Review Summary
Product Name: Bocannaco
Founder: John Daniels
Product Type: Hemp Oil Products MLM
Price: $99 Annual Payment
Best For: People who can market Hemp oil products
Summary: Bocannaco is a legitimate MLM company that sells hemp oil products to its consumers. It's a relatively brand new MLM company that's been around for less than 2 years. Because it's brand new, I can't recommend this program to anyone just yet. There's no proof that anyone's made any money through their compensation plan. Speaking of compensation plan, there's hardly information at all on their website about their business opportunity.
Rating: 50/100
Recommended: No
More...
Bocannaco is a MLM or multi-level marketing company that claims they have the "best hemp oil" in the world. And because of that claim, I've decided to look into the company and what they provide.
Sadly, I was a little bit disappointed with the business opportunity.
About The Company
The company's website looks decent enough in terms of design, but there's hardly information at all so I had to look towards 3rd party websites to provide me with information about the company.
A quick search on WHOIS returned that the site was created in October 2017 and was recently updated in Oct 2018. I would assume that they've been in the industry for no more than 2 years as of this writing.
However, I don't think that this is also the age of their company as I would assume that they've been operating offline before they launched their website. So the real age of their company is completely unknown.
They're currently located in Torrance, California.
Founders
Again, there's no information about this company, which I found odd because it's an MLM company. Unless it was a scam, they'd have no reason to hide their founders.
Based on my research, John Daniels is the listed name as founder. Other names that came up were retired surgeon and neurologist Robert Lawrence, who's listed as the company's product developer.
It's hard to determine if Dr Robert Lawrence is a founding partner as well, so we'll just leave it at that.
This review will be updated as new information is readily available.
Bocannaco Product Line
Bocannaco offers hemp oil products in the form of oils, gels, and others.
Here's a list of products currently offered by Bocannaco to its consumers:
BocannaCaine Fast Acting Gel
1000mg CBD Oil
CannaGize
Hemp oil is a byproduct of Cannabis, or Marijuana in layman terms. However, the chemical that makes you high when you consume the plant, which is THC, is removed completely.
All the other components are intact, allowing you to enjoy the benefits minus the side effect of getting high. Imagine a cigarette but getting the nicotine out.
You can watch the full video presentation about their product here.
Here's a short highlight of what makes their products the best above the rest (according to their video):
Made of company's own hemp plants grown using cultivar
Uses Chromatography when extracting hemp oil ingredients
Nano-emulsion product delivery system
Product Affordability
I'm Jerry!
I Created My Own 4-Figure Monthly Passive Income at just 21 Years Old!​
Does the Product Work?
Bocannaco is a new MLM company, and with that said, not a lot of reviews about their products (positive and negative) can be found online.
But they do have reviews on their official Facebook page, but these shouldn't be used as evidence that the products work as promised.
Here's why you should take these reviews with a grain of salt:
These could be distributors putting in fake reviews
These could be fake profiles putting in fake reviews
But I have no proof that these testimonials are indeed fake, so let's just leave it at that. Apparently, people love using Bocannaco because of its pain relief effects.
Again, this information will be updated once it's readily available.
How To Make Money With Bocannaco
Bocannaco is your typical MLM company that provides you with the following as your source of income:
Profits from selling their products
Recruiting other distributors
How to Get Started with Bocannaco?
You'll need to pay $99 annually to become a distributor. Once you're paid up, you now have access to their business tools, but it doesn't give you any products to sell.
You should email support@bocannaco.com if you want more information about being a distributor.
And yes, there's no other information about the perks of being a distributor (apart from the usual wholesale pricing).
Bocannaco Compensation Plan
There's not enough information about their compensation plan, and their website isn't offering much help either.
Apparently, you can earn a 15% profit off of their products when you sell them.
When you recruit someone into the program, you also get a commission when they buy products – whether it's for retail or personal use.
You also earn a percentage of all product sales on your team as a residual bonus.
This video does a good job at explaining the full compensation plan:
Bocannaco Ugly Truths Revealed!
#1 – It's a New MLM Company
There's not much to say about Bocannaco because it's a new MLM company. There's no list of top earners yet who can prove that their compensation plan is indeed the best in the industry.
The company has yet to make its mark in less than 2 years of being in the business, and it's still a long way to go for them.
They're going against established companies such as:
The scary thing about being a new MLM company is that you don't know if it will succeed or not, so it's not wise to invest time and money in their opportunity just yet. Again, there's no proof that someone's earning a lot of money just yet.
#2 - Tons of Missing Information
I would cut them some slack because they're a new company with a new website, but I think the least they could've done was provide enough information about their business opportunity and the company.
If you're a new MLM company, you're going to have to present yourself in a way that doesn't seem suspect to your prospects. So you have to be really transparent.
Even a simple About Us page can already add confidence to prospective distributors because they know that there are real people behind it and they can easily look them up online.
#3 – Lack of Compensation Plan
It's rare for any MLM company to provide their compensation plan, mostly because this is their number one marketing tool.
And the absence of a proper compensation plan on their website means a lack of transparency. Other than the video I posted above, there's no other legitimate source of information about their compensation plan.
What I Like About Bocannaco?
#1 - Laboratory Tested Products
It's good to know that Bocannaco has its products tested by 3rd party laboratories because the quality of the hemp oil products you're getting are guaranteed.
And this isn't a statement to be taken lightly. Without going into a lot of details, any hemp oil product that gets laboratory tested and passes means that they pass rigorous industry standards in terms of manufacturing and production. You're guaranteed that the ingredients are not all fluff and filler.
To say that Bocannaco is a scam is unfair just because it's a new MLM company. However, I cannot recommend the program for the reason that it's a new MLM company.
We don't know yet if they are going to succeed within the next few years, and there's no proof yet of someone making a lot of money as a distributor.
Again, only time will tell as to whether or not this company succeeds, but for the time being, I don't see any benefit of signing up for their program.
How I Make a Living Online?
I'm not a fan of MLM, not because it's illegal or not profitable, but because of all the restrictions and the expensive costs involved.
Instead, Affiliate Marketing is my top recommended business model for anyone to make money online.
The reason is simple...
You don't have to recruit anyone to make money
You have the freedom to promote any products you want and not being restricted to only promote the products from one MLM company
It's Free to get started
In fact, with affiliate marketing...
I've personally created a 4-Figure Monthly Passive Income Stream and become financially independent at just 21 years old without any College degree or working experience!
Through my own hard work, I went from a broke restaurant waiter to living my dream laptop lifestyle in less than a year's time...
If you want to discover the secrets of how I did it at such a young age, click here!