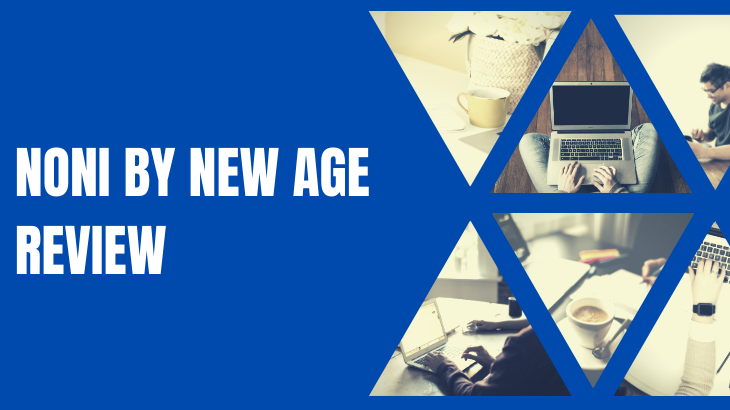 What Is Noni By New Age? A Reboot of Tahitian Noni!
Welcome to my Noni By New Age review!
This MLM company has been around for more than 20 years now, but has recently gone through a rebrand of sorts. You've probably seen a bottle or two in various small shops or herbal stores in where you live.
This is Noni by New Age.
First of all, I must Congratulate you for taking your time to do your own research before buying into any "seemingly good" product.
That's the way to avoid scams and find the legitimate way to make money online!
Let me be completely transparent with you, I'm not associated with Noni By New Age in any form.
So, rest assured that I'm not here to pitch or sell anything to you.
Instead, I'm here to reveal what this reboot has to offer.
Noni By New Age Review Summary
Product Name: Noni By New Age
Founder: Kerry Asay
Product Type: Health and Wellness MLM
Price: Starter Packages from $299 to $365
Best For: No one!
Summary: Noni By New Age is a health and wellness MLM company that's been around for more than 20 years. But despite its old age, it has a lot of things that we just don't agree with. First, the autoship system really kills it for us. Second, they incentivize recruitment more than retail sales. Your retail sales are reliant on making autoship subs. It won't take long before they are investigated by the FTC.
Rating: 50/100
Recommended: No!
More...
Noni by New Age is a MLM company that operates in the health and wellness niche. They started back in 1996 as Tahitian Noni. They summarized their achievements in two paragraphs citing they launched a multi-billion dollar industry overnight.
Tahitian Noni was founded by Kerry Asay in 1996. Then they changed their name to Morinda in 2012, which had an autoship recruitment focus for its members.
In 2018, Morinda was purchased by New Age Beverages, which is located in Denver, Colorado.
Asay then dropped his executive role in exchange for New Age shares. Following the acquisition, they rebranded to Noni by New Age. Their marketing material lists their official address in Utah.
Today, Noni by New Age is headed by New Age Beverages CEO Brent Willis. We also want to point out that Morinda was dropped as a company name but is still used to brand their products and compensation material.
Noni By New Age Product Line
The original products that Tahitian Noni offered were their Tahitian Noni Juice, which is still their flagship product. They've later expanded to offering nutritional supplements for weight loss, energy, probiotics, vitamins and minerals, and more.
They are even offering CBD products such as oils, creams, and gels into their lineup.
We won't list all of their products here, but instead, we'll just send you over to their shop's product page.
I'm Jerry!
I Created My Own 4-Figure Monthly Passive Income at just 21 Years Old!​
Does The Product Work?
There are a few differences between Noni by New Age's and Morinda's compensation plan qualification, but they're pretty much similar in terms of them being an autoship-focused recruitment scheme.
If you don't sign up for an autoship, you don't get to enjoy the compensation plan. It's that simple.
It's worth noting that Morinda doesn't provide any retail sales volume qualifiers, and that hasn't changed with Noni by New Age. The reason we mention this is because it doesn't incentivize people to sell more products in order to earn more.
What you're left with is a recruitment-focused scheme that the FTC should operate. Your monthly retail sales are reliant on autoship orders and not so much on actual selling.
With that said, we're disappointed with how their compensation plan works and we feel it's useless to evaluate their products at this time because people don't want to move these products.
Oh and if you're wondering if there are other MLM companies that follows, or used to follow, something similar to Noni by New Age, here are examples:
Vemma
And yes, Herbalife was recently
hit with a lawsuit
for doing just that.
How To Make Money with Noni By New Age?
Noni by New Age offers two ways to make money from their compensation plan:
Retail sales made by selling products or autoship subscriptions

Team-based sales and earning a commission from recruiting.
How To Get Started with Noni By New Age?
Their website doesn't really make it easy for you to find out how much it costs to join their program.
You'll find this banner called the 90-Day Business Challenge where Noni by New Age offers a no-questions-asked money-back guarantee if you don't have a successful business in 90 days.
This business package contains everything you need to build a profitable business and costs between $299 and $365.
The difference between packages would probably be on the kind of products included and the quantity.
Noni By New Age Compensation Plan
Noni by New Age's compensation follows their predecessor's compensation plan, so much so that they didn't bother removing the Morinda name from it.
The compensation plan has you jumping hoops and other qualifications to make more money and more bonuses.
Retail Commissions
Retail commissions are simply profits you make from buying at wholesale and selling at retail pricing. This can be done through your personal website, which is included in your business package, or in person.
Residual Commissions
The heart and soul of any MLM company's compensation plan is residual commissions. This is residual income that you earn based on your team's product purchases and sales.
Every personally recruited member nets you 1% from their product purchase every month. The bigger your team gets, the higher this percentage gets (up to 8%).
Fast Start Bonus Commissions
The Fast Start Bonus allows you to earn a bonus for your personally sponsored members and when your sponsored members also get new members at 5 levels deep.
This is a higher percentage payout compared to residual commissions and is paid out for 2 months.
TruPerformance Bonus Pool Commissions
Bonus pool commissions are based from 2% of the company-wide profit which you'll have to qualify for.
If you qualify for the pool, you earn an equal amount split with all of the members who qualified for this pool.
Noni By New Age Ugly Truths Revealed!
#1 Monthly Autoship!
Noni by New Age operates on a $120 monthly autoship for its members, so this means that every month you get $120 worth of stocks and you have to move it before the next month rolls over.
Autoships have always been a bad idea from the start because you're already losing money and you have a small chance of moving your entire month's inventory before the next month.
If you fail to move the previous month's inventory, it gets carried over to the next month. You'll be burdened with overstocking. Retail business owners will tell you that overstocking is never a good thing because that's money just sitting there.
#2 Herbal Products Are Overrated!
Herbal products, and pretty much health and wellness MLM products, are overrated. The reason we say this is because people don't really appreciate MLM products. You can find cheaper alternatives on Amazon and even in your local grocery stores.
MLM health products compete against commercial brands that have passed FDA standards, gone through testing, and other requirements that would put them ahead of everyone else.
This makes it difficult to market Noni by New Age and other herbal products.
#3 Pay To Play Pyramid Scheme?
Their compensation plan relies heavily on recruitment, so much so that we're not going to be surprised if the FTC decides to investigate them for their MLM activities.
Remember that even the bigger companies such as Herbalife were not spared by the FTC's investigations. Herbalife was hit recently with a lawsuit after the FTC found out they've been rewarding recruitment more than retail sales, which is a bad thing.
We're not saying that Noni by New Age is a pyramid scheme, but they have this red flag though.
What I Like About Noni By New Age?
We're not really inclined to find something positive about Noni by New Age. We do give credit to them for being around this long and for probably being one of the pioneers of herbal supplements in the MLM industry.
Is Noni By New Age a Scam?
Noni by New Age is a legitimate company as far as we're concerned. They've been around for 24 years and counting, and we're pretty sure it's going to stick around for longer.
Our only gripe here is that they work on this autoship system that has you losing money before you can even make it. You run the risk of overstock if you fail to move the previous month's inventory. We've always been against the idea of autoship.
Their recruitment-focused compensation plan is obvious enough that it might catch the FTC's attention. Remember that other MLM companies were investigated for doing what Noni by New Age is doing now, and were punished for it. It won't take long before FTC sees through Noni by New Age's pseudo-compliance BS.
I wouldn't recommend this income opportunity to anyone.
How I Make a Living Online?
I'm not a fan of MLM, not because it's illegal or not profitable, but because of all the restrictions and the expensive costs involved.
Instead, Affiliate Marketing is my top recommended business model for anyone to make money online.
The reason is simple...
You don't have to recruit anyone to make money
You have the freedom to promote any products you want and not being restricted to only promote the products from one MLM company
It's Free to get started
In fact, with affiliate marketing...
I've personally created a 4-Figure Monthly Passive Income Stream and become financially independent at just 21 years old without any College degree or working experience!
Through my own hard work, I went from a broke restaurant waiter to living my dream laptop lifestyle in less than a year's time...
If you want to discover the secrets of how I did it at such a young age, click here!