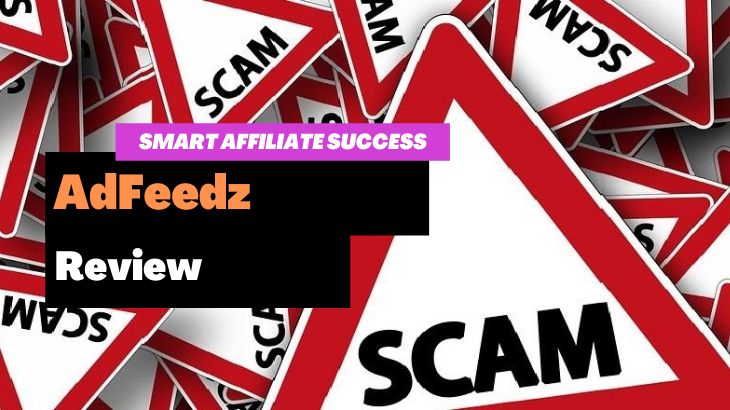 What Is AdFeedz? It's a Paid Traffic Ponzi Scheme Exposed!
Welcome to my AdFeedz review!
This Ponzi scheme has been around for quite some time now, but has only started to proliferate on social media just recently. When we found it under our radar, we were surprised to know that it was still operating amidst its MO (modus operandi).
If you want to know what we're talking about, this is AdFeedz.
First of all, I must Congratulate you for taking your time to do your own research before buying into any "seemingly good" product.
That's the way to avoid scams and find the legitimate way to make money online!
Let me be completely transparent with you, I'm not associated with AdFeedz in any form.
So, rest assured that I'm not here to pitch or sell anything to you.
Instead, I'm here to reveal what this scheme is all about...
AdFeedz Review Summary
Product Name: AdFeedz
Founder: Merry Makowski
Product Type: Paid Traffic MLM
Price: $29 minimum investment
Best For: No one!
Summary: AdFeedz is a paid traffic MLM ponzi scheme that even they themselves admit to. Sure, they present a valid product, but it's nothing more than pseudo-compliance. Their incentives are based on recruiting people, and they literally have nothing else to offer.
Rating: 1/100
Recommended: No!
More...
AdFeedz is a MLM or multi-level marketing company that operates in the paid traffic niche. In all honesty, we didn't know there was even such a thing as paid traffic MLM companies until we saw this.
The company claims that people make money based on cashback and ROI, but they only say these to be pseudo-compliant. What we mean is that they are operating illegally while trying to make it look like they're legitimate.
The domain name was registered in Nov 2018 and done under a private registration. We thought there was no way to find out who owns the company till we saw the Skype ID posted on their landing page: merry.makowski.
Digging deeper into that name, Makowski happens to be a real person. She only started to promote AdFeedz days before the domain registration was done. It's clear that she's the person behind this company.
Her Facebook profile mentions that she lives in Ontario, Canada. Her LinkedIn profile lists her as the owner of MMM Global, one of the worst Ponzi schemes in history. She's also been involved in other schemes such as CryptoTab Browser and Crypto Pros.
We're going to assume that this program is similar to the ones she operated before, and that they were Ponzi schemes.
AdFeedz Product Line
There doesn't seem to be any products or services being offered by AdFeedz, from a legitimate standpoint at least.
They offer a paid traffic service to make themselves look legitimate in the eyes of the FTC, but this is just a facade.
Does The Product Work?
We are inclined to think that AdFeedz operates as a Ponzi scheme, and we think this because they even claim this themselves.
They mention that their compensation plan is based on recycling 90% of the invested funds to out their members. This makes it a Ponzi scheme, whether you want to believe it or not.
If you don't believe us, check out what the FTC has to say about their guidelines for MLM companies.
AdFeedz members invest $29 on the promise of getting 120% ROI, which is paid out subsequently in invested funds. Members are encouraged to roll over returns through new investments.
We also noted that AdFeedz erroneously used the term "Cash Back". The legitimate way of using cash back is a percentage of a purchase of a buyer is returned to them. Think of it like a retro discount.
A cash back is when you buy something for $100, and get $5 back through your card or your bank account. This is how cash backs are supposed to operate.
But for AdFeedz, cash back is you literally getting cash back. And guess how much cash you're getting back? 120%! If normal businesses operate on that level, they'd go bankrupt in a heartbeat.
AdFeedz operates under the assumption that they're legitimate, thanks to their pseudo-compliance BS that they spout on their landing page. Their attempt at compliance is meaningless because it's so easy to distinguish terms such as Ponzi scheme and cash back.
Just like most Ponzi schemes, once the recruitment stops, the cash stops coming in too. This will lead to the collapse of the company soon after.
And when the company collapses, it's the investors who have the most to lose.
How To Make Money with AdFeedz?
There's two ways to make money from AdFeedz, supposedly.
The first is to invest your money and get paid 120% in returns in 50 days.
The second is to recruit people into the scheme and build your downline. You earn money invested by the people you recruited.
How To Get Started with AdFeedz?
It's free to join AdFeedz but you won't be able to access to the full compensation plan.
You would need to invest a minimum of $29 to take part in the compensation plan and get their promised ROI within 50 days.
AdFeedz Compensation Plan
Their compensation plan is straightforward and explains how you can make money from AdFeedz.
120% ROI
Investing in AdFeedz gets you a 120% return on investment in 50 days. The minimum investment is $29. There's no mention of how much you can invest at most. You're then encouraged to reinvest your returns back into the scheme.
10% Commissions On Referrals
You get a 10% commission from the initial investments made by your personal recruits.
Residual Commissions
AdFeedz' residual commissions follows a unilevel structure and looks like this.
Your recruits are the people you personally recruited. Your succeeding levels are the people your recruits have recruited into the program.
You earn from 10 levels down at most. AdFeedz does this thing where they create a Team Pool and take 20% of the invested funds and place it into one pool. This pool is then split up through the 10 levels.
Group Pool
AdFeedz creates special groups that consist of people who invested $599 every 4 months, $999 every 8 months, or $1299 every 12 months. These group managers receive an additional 5% of funds invested by their team.
Global Pool
10% of all investments is put into a global pool and paid to members who have an active contract.
AdFeedz Ugly Truths Revealed!
#1 It's a Ponzi Scheme!
At the heart of it all, AdFeedz is a Ponzi scheme. They're solely based on rewarding recruitment. They even said so themselves that new member investments are used to pay off the existing members.
#2 No Real Products!
Their product, supposedly, is paid traffic to your site just to make it look legal. But there's nothing really of value that you could possibly get from their paid traffic. We don't even know what the sources are for the traffic.
All that we know is that the paid traffic service is nothing more than pseudo-compliance to make themselves look legitimate.
#3 Shady Owner!
Adfeedz's owner is on the shady side of things because she's been operating other schemes similar to Adfeedz in the past.
We don't know what else she's got her hands on outside of the programs we mentioned in this review, so that's also one thing that bothers us about her.
What I Like About AdFeedz?
There's nothing to like about Adfeedz because it's a Ponzi scheme.
Adfeedz is nothing more than a Ponzi scheme in the disguise of a paid traffic MLM with a cash back system. Their definition of cash back literally means "getting cash back" at an exuberant rate. If legitimate businesses offered cash back the same way as Adfeedz, they'd be out of business in a snap.
They're a Ponzi scheme because new member investments are paid out to existing members, and that's the biggest red flag of them all. They even claim this pay out on their landing page.
The owner herself has been involved in similar schemes, so that's another red flag to look out for. We're not saying we can't trust her immediately, but we do want to err on the safe side.
Stay away from this program.
How I Make a Living Online?
I'm not a fan of MLM, not because it's illegal or not profitable, but because of all the restrictions and the expensive costs involved.
Instead, Affiliate Marketing is my top recommended business model for anyone to make money online.
The reason is simple...
You don't have to recruit anyone to make money
You have the freedom to promote any products you want and not being restricted to only promote the products from one MLM company
It's Free to get started
In fact, with affiliate marketing...
I've personally created a 4-Figure Monthly Passive Income Stream and become financially independent at just 21 years old without any College degree or working experience!
Through my own hard work, I went from a broke restaurant waiter to living my dream laptop lifestyle in less than a year's time...
If you want to discover the secrets of how I did it at such a young age, click here!