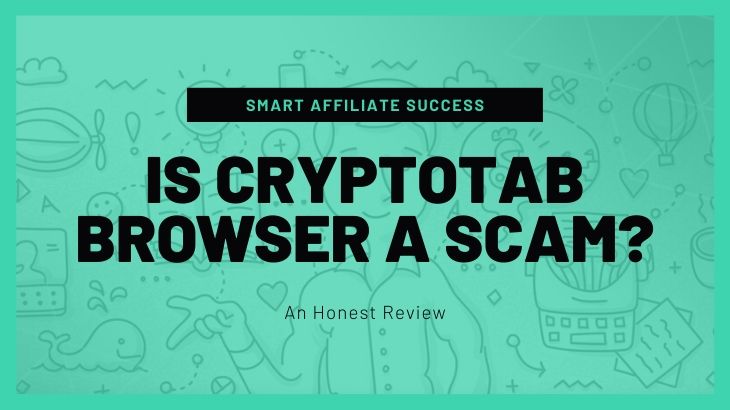 Is CryptoTab Browser a Scam? Mine BTC Through Your Browser
Welcome to my CryptoTab Browser review!
There are different ways to mine for Bitcoin and other cryptocurrencies, but the most popular one happens to be the ones that require you to install software, apps, or extensions on your device. Then you just have to leave your devices on while the program is running.
For the most part, this can be taxing on any device given that it requires a certain amount of power to farm the cryptocurrency. This is why the mining PC's that made headlines over the past 2 years were overpowered in terms of their specifications.
The program that we're about to review now will just require you to install an extension on your browser.
This is CryptoTab Browser.
First of all, I must Congratulate you for taking your time to do your own research before buying into any "seemingly good" product.
That's the way to avoid scams and find the legitimate way to make money online!
Let me be completely transparent with you, I'm not associated with CryptoTab Browser in any form.
So, rest assured that I'm not here to pitch or sell anything to you.
Instead, I'm here to reveal what this program is all about...
CryptoTab Browser Review Summary
Product Name: CryptoTab Browser
Founder: Not disclosed
Product Type: Cryptocurrency Miner
Price: Free to join
Best For: No one!
Summary: CryptoTab Browser is a cryptocurrency mining tool that allows you to mine BTC using your browser. It's not something that you'd be interested in given that the income potential is low, and that you need to recruit a lot of people to make this worth your while. We don't recommend this...
Rating: 50/100
Recommended: No!
More...
What is CryptoTab Browser?
CryptoTab Browser, found at cryptotab.net, claims to be the world's first browser for cryptocurrency mining. This is a plugin that you can install on any existing browser and it will start to mine Bitcoin.
You also have the option to make this browser your default one, which allows you to mine Bitcoin faster, so they claim.
CryptoTab Browser Owner
There's no information about who owns the company or where they are currently located. The site was registered and created on December 2017
Nothing much is revealed about the company's whereabouts, including the people behind it. The site, however, was created on December 26 of 2017.
The browser can be downloaded easily on their website. Just follow the instructions and once that's downloaded, you'll be asked to sign in using your Google Account.
You can also opt to sign in using your social media accounts.
How Does the CryptoTab Browser Work?
The CryptoTab Browser operates the same way as cryptojacking. So what does that even mean?
Cryptojacking is when you use someone else's computer or device without authorization to mine for cryptocurrency. A lot of hackers are able to do this by getting innocent victims to click on malicious links that loads up a cryptomining script or code on their device, or by infecting a website with a code that auto-executes the mining process once it's loaded in the victim's browser.
The only difference between CryptoTab Browser and Cryptojacking is that CryptoTab Browser has your authorization to operate and supposedly runs safely in the background.
Once the plugin is installed, it will run in the background as long as the browser window is open and the mining mode is turned on.
I'm Jerry!
I Created My Own 4-Figure Monthly Passive Income at just 21 Years Old!​
Will You Make Money with CryptoTab Browser?
At first glance, it looks like there's a chance to make money with CryptoTab Browser. Apart from mining BTC, it also mines Monero or XMR. It also converts the XMR currency to BTC, following the current exchange rate.
All balances and earnings are displayed in BTC, so don't be alarmed.
But can you make a full-time income with this program?
Sadly, you can't. And we'll tell you why in the next few sections.
CryptoTab Browser Referral Program
You can also participate in their referral system by inviting their friends and other people to install the plugin.
You earn a percentage of their earnings through their MLM-like compensation plan.
Compensation Plan
They have a compensation plan that follows a unilevel compensation structure at 10 levels deep. This is how much you earn at each level:
Simply put, you have to recruit people into the program and place them on various levels to get higher commissions.
How To Increase Cryptotab Browser Income?
The default mining hash rate for CryptoTab Browser is 100 GH/s, which isn't that fast. To raise your earning speed, you have to bring in more people to join.
Now, the free BTC mining from CryptoTab Browser is 8 times faster than your usual Google Chrome free BTC mining, but it's slower compared to industry standards. A good hashrate is about 12 TH or 12 Terahashes per second. As you can see, that's about 100x times more than what you would need from CryptoTab Browser.
I don't think you'll ever reach this mining rate if you recruit a lot of people, but I assume that you're still going to be within the GH or Gigahash rates.
Withdrawals
The minimum amount for withdrawal is 0.00001 BTC, and payment is processed twice a day manually. They will be upgrading to an automatic payment process once the number of payments increase.
Who's CryptoTab Browser For?
Sadly, we can't recommend CrytoTab Browser to anyone because there's just a lot of things wrong with the program. It's just not something anyone would be interested in using.
CryptoTab Browser Ugly Truths Revealed!
#1 Misleading Payout
There were several complaints about people not getting the amount of BTC they supposedly mined compared to what was actually being shown when they requested payout.
One user reported that he or she got to about 1.11 BTC, which is about $9,877, but only got 0.41 BTC upon payout request.
However, these are uncommon complaints and that some actually showed that they were given what they mined to their BTC wallets.
#2 Low Income Potential!
Contrary to the hype of making money from mining, CryptoTab Browser doesn't really live up to expectations. You're mining at a rate 100x slower than industry standards, and you can't expect to get to 1 BTC in a matter of days.
On top of that you have to recruit people to increase your mining rate.
#3 Recruitment Incentives?
Speaking of recruiting people, their incentives for making this program worth your while is all about getting people to join in.
To earn like a hypothetical amount at let's say $40,000 a month, you'd have to recruit 12 million people to get that amount of money.
Even if the numbers do check out, how would CryptoTab Browser even think of something like this to compute for the earning potential?
There's just no way that recruiting 12 million people will get you $40,000 a month.
That's absolutely insane!
#4 No Owner Information
One red flag that I would also mention here is that there's no owner information. It also begs the question as to how much the owners are making off of the miners who use their platform.
I mean, they need to take a cut out of the profits made by the miners to survive. So if I don't know who I'm helping mine BTC, then I don't really want to do business with them.
What I Like About CryptoTab Browser?
I'm not really a fan of cryptocurrency, so I don't think I could ever bring myself to liking a program within the industry. This doesn't mean that I'm not objective with my reviews though. Honesty is still one of our principles here in Smart Affiliate Success, so treat this review as an honest one for CryptoTab Browser.
Is CryptoTab Browser a Scam?
CryptoTab Browser is legitimate as far as we're concerned. There are multiple people vouching for its legitimacy on several forums such as Beer Money Forums, and people showing proof that they got paid.
However, it's not something that we would recommend to people looking for a source of full-time income.
The income potential is quite low and it doesn't really guarantee anything other than your electricity bills going up. You have to leave your device up and running for this program to work.
The mining rate is slower than industry standards, and that just coincides with why we think the income potential is low.
Recruiting is the name of the game here, but it's not a Ponzi scheme. You need to recruit people to make this program work for you, and you need to get a lot if you want a 5-digit monthly income.
Again, this isn't a Ponzi scheme nor do we think that there's something going on here. We just believe that there are better programs out there than CryptoTab Browser.
How I Make a Living Online?
I've personally created a 4-Figure Monthly Passive Income Stream and become financially independent at just 21 years old without any College degree or working experience!
Through my own hard work, I went from a broke restaurant waiter to living my dream laptop lifestyle in less than a year's time...
If you want to discover the secrets of how I did it at such a young age, click here!