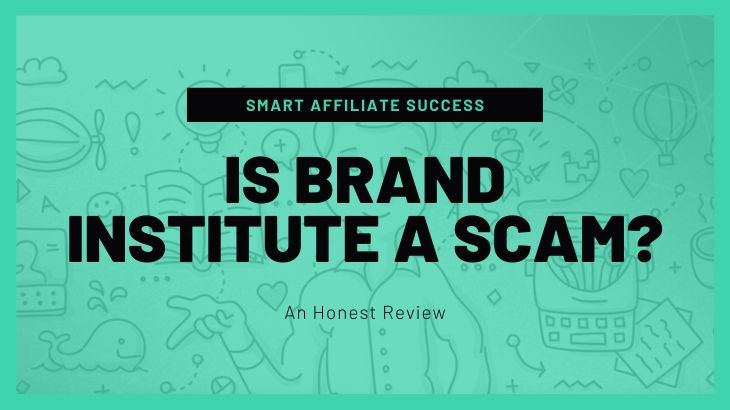 Is Brand Institute a Scam? An Honest Review About This Survey Site!
Welcome to my Brand Institute review!
There are several industries that make use of research panels, especially those that provide survey sites, to get a better grasp of their target demographics. The bigger the industry, the higher the payouts provided by these research panels.
That's why we were quite surprised to find out that there was one belonging in the medical industry that provided surveys for people to fill up and get paid for doing so.
This is Brand Institute.
First of all, I must Congratulate you for taking your time to do your own research before buying into any "seemingly good" product.
That's the way to avoid scams and find the legitimate way to make money online!
Let me be completely transparent with you, I'm not associated with Brand Institute in any form.
So, rest assured that I'm not here to pitch or sell anything to you.
Instead, I'm here to reveal what this site is all about...
Brand Institute Review Summary
Product Name: Brand Institute
Founder: Not disclosed
Product Type: Paid Survey Program
Price: Free to join
Best For: People who belong to the medical industry.
Summary: Brand Institute is a paid survey program that's part of a large pharmaceutical market research company. They provide competitive surveys in terms of payout, but they're very limited to who they target, specifically doctors, nurses, and other medical personnel. The income potential is low, so I doubt doctors will even bother with this program. But they do have surveys for generic consumers.
Rating: 50/100
Recommended: No!
More...
Brand Institute, or Brand Institute Inc., is not your ordinary research panel that most paid survey sites would use. They're dubbed as the "World Premiere Brand Identity Consultancy" and provide useful information to firms belonging to the medical field.
Brand Institute is also the parent company of Drug Safety Institute or DSI, which is a pharmaceuticals company responsible for helping drugs be named properly in a such a way that they get approved.
The target demographics for Brand Institute happens to be for medical professionals, but they do send out a variety of consumer surveys once in a while.
This means that you could make some decent cash if you're from the medical or healthcare industry, or you have connections to someone in that industry.
About the Company.
Brand Institute has been in industry for over 20 years. They started way back in 1996 and were incorporated 1 year after. They've been registered with the BBB or Better Business Bureau and have maintained an "A" grade rating.
The company is a brand identity consultancy with a strong market research section that provides the paid surveys. They also claim that they're world's top pharmaceutical branding consultancy.
Their website is secured by Entrust, which is one of the leading companies for internet security.
Brand Institute offers paid market research surveys for some of the biggest brands in the medical industry. They target medical professionals such as doctors and nurses for their panel.
Signing up is easy to do, and anyone can join the panel. The compensation is fairly competitive because of its demographics.
How Do You Make Money Here?
There's only one option here for making money and that's through surveys. The big problem here is that there's not a lot of them.
If you belong outside of the medical industry, you'll find surveys to be very less than other survey panels due to the target demographics.
I don't know how many surveys are available to those working in the medical field, but I would assume that there would be quite a few on a daily basis.
Survey invites are sent out via email, so you'll have to check out your dashboard if any are available every day.
VIP Program
If you signed up and stayed in the program for at least 6 months, you get into the VIP program that's supposed to get you added benefits.
The VIP Program also lets you access survey panels straight from your dashboard without you waiting for an invite. This means that if you're lucky, you get first dibs into a survey before the invites are even sent out.
I'm Jerry!
I Created My Own 4-Figure Monthly Passive Income at just 21 Years Old!​
How Much Can I Earn?
The generic surveys provided by Brand Institute pay somewhere around $2 to $5, while the specialized medical surveys pay anywhere between $5 and $30. In rare cases, there are surveys that pay out more than $30.
After completing a survey, your payment isn't released until the survey is closed – meaning that the company has finished gathering the data. Most surveys take anywhere between 3 and 4 weeks to close when they've reached the limit of responses needed.
There's no minimum payout threshold so you'll be able to withdraw your payout when it's available. What you could do is just get the available surveys as much as you can and then withdraw at a selected date when they're all available.
Payouts are made through PayPal or by check, whichever you chose when you signed up for the program.
Note that checks may take longer to receive due to logistics, but PayPal is available almost anywhere and anytime.
Discontinued Referral Program
As of this writing, their referral program has been discontinued. But according to what I've read, you get access to the referral system when you've signed up and got approved for the VIP program.
You earn a commission for people signing up for the panel using your referral link. You also get a commission from their earnings.
This program has been discontinued for 3 years now, even though they still have it advertised on their program.
This is the letter informing their members that the referral program is no longer available:
Who's Brand Institute For?
Brand Institute is something that would be interesting for those working in the medical field. I imagine that doctors and nurses won't have time to do this, but I think some people might be able to do the work provided.
It also doesn't really say that doctors and nurses have access to the medical surveys, so EMT drivers or other medical personnel might get into the surveys.
Brand Institute Ugly Truths Revealed!
#1 Lack of Surveys
This survey site doesn't really favor the generic consumers, so you might find less surveys than those who're working in the medical field.
This is a dealbreaker, but at the same time, you could land a $5 survey at least once a day, so just take the survey when it's available for the public.
#2 VIP Program Doesn't Have Added Benefits
There's no real benefit to just becoming a VIP member on top of getting first dibs for surveys. The only thing good about the VIP program is that you don't have to pay for it.
You don't get access to extra surveys as well if you're only after the generic consumers ones, so there's that downside as well.
#3 Low Income Potential
Even if you did manage to get a day where there are many surveys for you to do, it still wouldn't be worth your time.
This wouldn't even be considered as something to do to get a full-time income.
On average, the survey lasts anywhere between 30 and 45 mins. If you're lucky, you'd probably land a decent paying one at that. However, the surveys are slightly less to what you would make on minimum wage.
For healthcare and medical professionals, this wouldn't even be something that would interest them in terms of making money online.
What I Like About Brand Institute?
#1 They Do Pay Their Members
Quite frankly, the only thing that I like about Brand Institute is that it pays out to its customers. I've read several reviews from members and they showed their proof of payment from Brand Institute.
Is Brand Institute a Scam?
Brand Institute is definitely not a scam. They wouldn't be here for 20 years if they were. Their surveys are actually very competitive in terms of payout, but not in quantity. With that said, this isn't something for people looking for a way to make money full-time online.
The income potential is so low and this is affected by several factors, including the number of surveys available for generic consumers.
It takes a while to get your money because you have to wait for the survey panel to close, which takes weeks.
But in the end, you're still going to get paid no matter how many you do or how much you earned. This is still worth looking into if you're in no rush to get paid.
How I Make a Living Online?
I've personally created a 4-Figure Monthly Passive Income Stream and become financially independent at just 21 years old without any College degree or working experience!
Through my own hard work, I went from a broke restaurant waiter to living my dream laptop lifestyle in less than a year's time...
If you want to discover the secrets of how I did it at such a young age, click here!