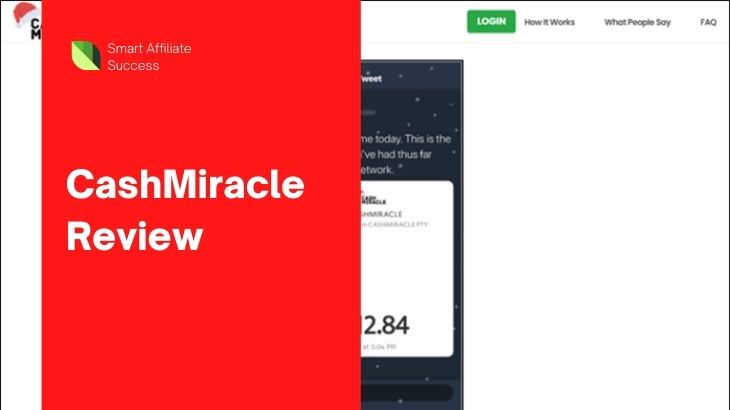 What Is CashMiracle? It's Another Influencer Scam That Needs To Go!
Welcome to my CashMiracle review!
All right, we've got another one of these boys! These scams were so prolific last year and the year before that we've been able to expose a whole lot of them. But I feel that we've only just scratched the surface.
These scams belong to an intricate network of influencer schemes that are nothing more than data farms.
You'll see what we're talking about when we review this program called CashMiracle.
First of all, I must Congratulate you for taking your time to do your own research before buying into any "seemingly good" product.
That's the way to avoid scams and find the legitimate way to make money online!
Let me be completely transparent with you, I'm not associated with CashMiracle in any form.
So, rest assured that I'm not here to pitch or sell anything to you.
Instead, I'm here to reveal why this program and its sister scam sites need to go!!!
CashMiracle Review Summary
Product Name: CashMiracle
Founder: Not disclosed
Product Type: Get Paid To Influencer site
Price: Free to join
Best For: No One!
Summary: CashMiracle is another one of those influencer scams that we've exposed here in Smart Affiliate Success. There's nothing good to be gained from their program. They use fake payment proofs to lure you in, and other fake details. There's nothing of value here.
Rating: 1/100
Recommended: No!
CashMiracle is a GPT or get-paid-to site that taps you as an influencer and has you doing several tasks for a lot of money.
You do small tasks such as completing surveys, installing apps, and submitting YouTube videos just to name a few.
They've claimed that they've paid out more than $450 million to 300,000 members. You read that right. More than half a billion was paid out to their members.
But how reliable are these claims?
Well, they're not. In fact, they're complete BS.
And we'll explain why in the next sections below.
As much as we want to tell you why they're a big scam, we first have to tell you what they have to offer.
So right off the bat, they have a sign up bonus of $40. Then you're promised a referral commission of $15 for every friend you sign up.
You also get paid doing tasks such as surveys, installing apps, watching videos, and posting video testimonials on YouTube saying how good CashMiracle is.
Now why does that MO seem so oddly familiar? Well, that's because it's also the MO for these other sites:
Those are the more recent ones that we've reviewed, so our list is quite longer.
Now legitimate survey and GPT sites will offer these tasks and more, but the payout is small. Here's why.
Legitimate survey and GPT sites are paid by their clients to have these tasks done by the populace. This would be you.
Let's say that a site is paid $1,000 to have a survey done by 1000 participants. Do you think that the $1,000 is divided by the recipients? Nope.
The company takes out their share, and the remainder is divided between the 1000 participants.
Assuming the company got 70%, which is $700, the remaining $300 is divided between 1000 participants. In short, each participant got $0.3 for their troubles.
Following the math, if CashMiracle is paying $10 to $50 for these tasks, it means that their clients are paying them millions of dollars to get these done.
Do you really think legitimate companies will pay out millions of dollars for a simple survey task? I don't think so.
I'm Jerry!
I Created My Own 4-Figure Monthly Passive Income at just 21 Years Old!​
The Truth About CashMiracle
There's no speculation here. The truth about CashMiracle is that it's nothing more than a scam. It's part of a huge network of influencer scams that promise the same thing: high payouts with minimal work.
We've probably exposed a handful of them last year, so we're expecting to uncover more of their network this year.
Will they stop? Sadly no. It seems that these scams are born one after the other. Once the predecessors shut down, newer ones take their place in a few months. The only problem is that they don't do a good job at hiding their tracks.
In fact these sites use the same templates over and over, but they sometimes leave behind a few pieces of the old sites such as an unedited old logo, their disclaimer mentioning the old site, and so on.
How CashMiracle Actually Works?
The purpose behind is that they'll harvest your personal information and other data.
They'll sell the information they generate from you to the black market. This means that hackers and other nefarious individuals may have access to your information.
Most of the time, users who sign up for the program end up using the same email and password combination that they use for their logins. These credentials are also used and sold by CashMiracle and the people behind them.
CashMiracle is not meant for anyone. This is one big influencer scam and we're going to expose their secrets in the next section below.
CashMiracle Ugly Truths Revealed!
#1 Fake Members and Payouts
The members and payouts are all fake. As you can see, they claim that they have 300,000 members with a payout of $450 million to these members.
That's a lot of money considering that they're only a GPT site.
But quick maths and common sense are all it takes to debunk these claims.
They've also posted these payment claims from their members but these are lies.
If you check the date, they claimed they got paid sometime in April 2020. However their domain name was registered in June 2020.
How is that even possible, you ask? Well, it's not. These are all fake. And their sister sites also use the same tactic.
#2 Fake Payment Proofs
So check out Megan Viola, who was gracious enough to post her income claims and got CashMiracle's attention. It's on their site too.
But oh no, Megan also appears in another program called SpinIncash. Huh, what are the odds?
There's a slim chance that Megan is a real person. The photo is probably a stock photo or stolen from another site.
As you can see, their payment proof screenshots are fake and there's no substance to them. And yes, their sister sites use the same payment proofs too.
#3 False Claims On Being a Social Media Giant
Being a social media influencer program, they claim they're one of the big names in the industry. But sadly, that's not true.
Their Facebook page leaves a lot to be desired because it only has about a few likes. Far from being a "giant" in the industry.
I mean you'd expect a program like this to generate millions of likes. But yeah that's far from the truth.
What I Like About CashMiracle?
There's nothing to like about CashMiracle. It's just one big influencer scam and it's just terrible at what it does.
CashMiracle is another one of those influencer scams that we've exposed over the last 2 years and we're continuing to expose them.
This site has nothing legitimate going on because it's one big data mining scam. They make false claims about their income and they also have payment proofs that are easily debunked with a quick Google search.
They'll probably shut down this scam in a few months and then reopen a new one. It's just going to be one vicious cycle for these scams.
How I Make a Living Online?
I've personally created a 4-Figure Monthly Passive Income Stream and become financially independent at just 21 years old without any College degree or working experience!
Through my own hard work, I went from a broke restaurant waiter to living my dream laptop lifestyle in less than a year's time...
If you want to discover the secrets of how I did it at such a young age, click here!