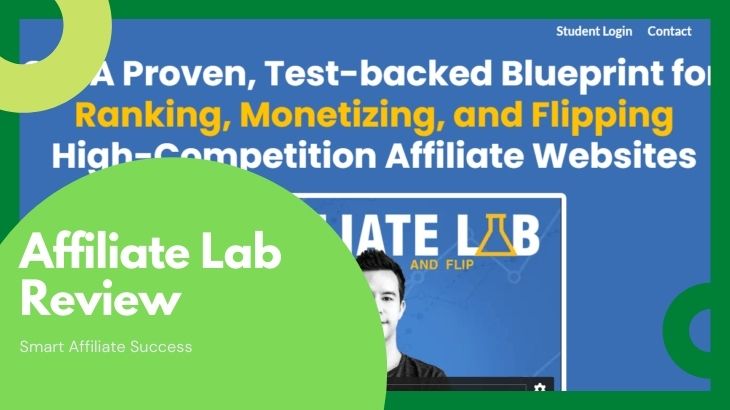 What Is Affiliate Lab? It's the Best SEO Training Course Out There!
Welcome to my Affiliate Lab review!
So, what does it take to become the best SEO training course? Well, it has to be thorough and it has to be up to date with the latest trends in the industry. Over the past few months, we've uncovered and reviewed SEO courses that just didn't meet those standards.
Until we came to this course called Affiliate Lab. Marketers are fawning all over it and we're about to see why in this review.
First of all, I must Congratulate you for taking your time to do your own research before buying into any "seemingly good" product.
That's the way to avoid scams and find the legitimate way to make money online!
Let me be completely transparent with you, I'm not associated with Affiliate Lab in any form.
So, rest assured that I'm not here to pitch or sell anything to you.
Instead, I'm here to reveal what this course has to offer...
Affiliate Lab Review Summary
Product Name: Affiliate Lab
Founder: Matt Diggity
Product Type: SEO Training Course
Price: $997 (one time fee)
Best For: People who want to take their SEO knowledge deeper
Summary: Affiliate Lab is an affiliate marketing and SEO training course made by Matt Diggity, one of the most popular marketers in the industry today. The course content is constantly updated and is comprehensive. It can cater to both expert and novice marketers alike.
Rating: 90/100
Recommended: Yes!
More...
Affiliate Lab is an affiliate training course designed by SEO expert and marketer Matt Diggity.
The course covers various topics, ranging from creating your website to ranking them to making money off of them.
The course also covers various SEO fundamentals and advanced strategies that will give you an advantage over your competitors.
Who Is Matt Diggity?
Matt Diggity is the brains behind Affiliate Lab. Considered to be one of the most knowledgeable in the field, Diggity was able to create multiple businesses in the industry, including his most popular one called DiggityMarketing.Com. This is where he blogs about his latest and tested SEO techniques.
Logging into Affiliate Lab for the first time, you'll be able to access Diggity's existing courses too:
The Website Flipping Masterclass
The Beginner Lab
The Truth About Penalties
Outreach Masterclass
The Affiliate Email Marketing Masterclass (NEW)
The Affiliate Portfolio Playbook (NEW)
Matt created Affiliate Lab a few years ago but the course content is constantly updated so it doesn't really feel old.
The Course Modules
Well, the course isn't exactly organized into step-by-step modules. Rather, these are independent of one another. You can take the modules in any order as far as we're concerned.
We're just going to highlight a few important features of the modules so you'll know what to take and in what order.
Note that these are not arranged in order.
I'm Jerry!
I Created My Own 4-Figure Monthly Passive Income at just 21 Years Old!​
Niche Selection Module
Like most training courses, Affiliate Lab tackles the importance of selecting the right niche for your business and how to go about selecting the right niche.
This is a set of video lessons where he guides you on choosing niches based on competitors.
Onsite SEO Module
The following topics are covered in the onsite SEO module:
Intro
Domains & Hosting
Keyword Research
Site Architecture
Content Building
Site Building (Single Page)
Site Building (Site-Wide)
Onsite Optimization
Featured Snippets
Affiliate Links
CRO (Conversion Rate Optimization Masterclass)
Website Maintenance
These are video lessons and the titles are pretty self-explanatory. These tackles the various aspects of on-page optimization and CRO lessons. You are also provided the fundamentals of on-page SEO by Matt and his team, so don't worry about starting from scratch.
Offsite SEO Module
Intro
Creating a Google Persona
Social Fortress Creation
Anchor Text Analysis
Local Citations
Social Signals
The Bulletproof Backlink Strategy
Optional PBN Linking (not black hat link building)
Not a lot of training courses cover off-page SEO, which makes this Affiliate Lab's golden module. Not only that, but Matt also teaches it better than anyone else.
You'll learn about making guest post links, how to reach out for link insertions, and when to use Skyscraper technique, a method popularized by Brian Dean.
Technical Audits
Google Search Console
Negative SEO
Technical Onpage & Offpage Audits
These are the most technical parts of the course and are completely boring. But they will cover important lessons that will help you rank up your sites better.
The Kitchen Sink
Each lesson found in these modules are tactics that you can use when your site gets stuck in a ranking. You can follow all of the steps in this course, but most of the time, you'll have to figure out on your own why your site isn't performing well.
These lessons are based on tested strategies used by Matt for getting sites unstuck, which is the reason why a lot of marketers have nothing but praise for this course.
The Authority Site Module
Authority Module Introduction
Building Authority Sites
Backlinks for Authority Sites
What to do When you Hit Authority Mode
Authority Site Pitfalls
The Influencer Pitch: Building Real E-A-T
These are specific lessons on authority sites and how they take advantage over other sites in the rankings.
This module covers everything you need to know about how to build a profitable authority site as well as more lessons in SEO.
How Much Does Affiliate Lab Cost?
Affiliate Lab costs $997, one-time fee. You can also avail of their 2-month installment plan and pay $597 per.
The cost will cover all of the training modules, the bonuses, and access to the Facebook Group.
The cost of the program will increase to $1497 with the next 50 members that join.
Affiliate Lab is a serious course meant for people who want to learn about SEO and affiliate marketing. The course content is also designed for newbies, so it's a good starting point as well.
What I Like About Affiliate Lab?
#1 Matt Diggity Is Legit!
Affiliate Lab's Matt Diggity is as legitimate as he can get. He's quite popular in the SEO and affiliate marketing industry, so it's no surprise that his courses are also popular.
A lot of marketers have also recommended his courses to novices because they recognize his abilities to educate the new marketers.
#2 Course Content Is Updated!
You want to know why we know his course content is updated? Well, he has a lesson called Why We Don't Use Amazon. This was released sometime last year after Amazon reduced the commission percentage on their affiliate program. He encourages you to find better private affiliate programs for your site.
As expected from Diggity and his team, he doesn't shy away from removing strategies that no longer work too.
Once you are enrolled in the course, you are also set to receive the newer modules he releases in the future at no extra cost.
#3 Proper On-Page and Off-Page SEO Modules
He covers on-page and off-page SEO better than anyone we've reviewed here at Smart Affiliate Success. He has the results to show for it and with our second point (course content is always updated), you're guaranteed to get the lessons you need.
Affiliate Lab Ugly Truths Revealed!
#1 No Refund Policy
So, you can basically try out the program for free (or access most of its content). This free trial is actually going to help you decide whether you want to enrol in the course or not.
But if you do decide to enroll, know that there's no refund policy tied to the program.
It's not a big deal given that you have a free trial of sorts and I think it's easier to decide from there because you get like 90% of the course content.
#2 Outdated Software
Most of the modules use outdated software and tools. For example, they still use DA, which is a MOZ metric and it's not as reliable as it was back then. They should've used Ahrefs' DR metrics instead.
But they're probably going to update these at some point. All in all, this isn't exactly a deal breaker.
Affiliate Lab is far from being a scam, and it's made by one of the most knowledgeable experts out there. The course content is comprehensive enough that it helps novices establish a better understanding of SEO, as well as provide expert marketers with new strategies to bolster their site rankings.
If you're going to invest in an affiliate marketing/SEO training course, Affiliate Lab is a good choice.
How I Make a Living Online?
I've personally created a 4-Figure Monthly Passive Income Stream and become financially independent at just 21 years old without any College degree or working experience!
Through my own hard work, I went from a broke restaurant waiter to living my dream laptop lifestyle in less than a year's time...
If you want to discover the secrets of how I did it at such a young age, click here!