14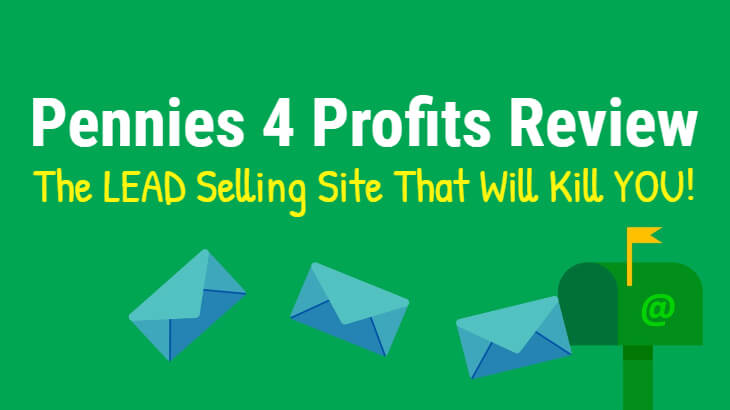 Pennies 4 Profits Review: NOT Worth it to Kill Yourself Purchasing Leads
Almost any kind of business needs to have leads to increase their customer base. So, you're here reading this Pennies 4 Profits review mostly because you want to generate more leads to your business, am I right?
Let me just tell you upfront to stay away from P4P because it's not worth your money.
I'm neither an affiliate nor a member of P4P. So, I've not personally tried this service myself but I can confidently tell you that Pennies 4 Profits is a scam from my experience in internet marketing.
You may be skeptical but read on and I'll show you why I'm so sure about this...
Pennies 4 Profits Review Summary
Product Name: Pennies 4 Profits
Founder: Unknown
Product Type: Email Leads Selling Membership Site
Price: One-time $30 setup fee + $30/month membership fee
Best For: Nobody
Summary: Pennies 4 Profits is an Email list (lead) selling website that offer you 100 leads per day in return for a one-time $30 setup fee and a $30 monthly membership fee. However, the founder, the company and the source of these leads are all hidden. Buying leads from P4P is just putting your own reputation at risk. So stay away from it at all cost!
Rating: 10/100
Recommended: No
More...
What is Pennies 4 Profits?
Pennies 4 Profits is a lead generation service which claims that you'll get quality leads at the price of a penny. Basically, in simple English, it is a platform that sells you people's Email address.
How they do it is by offering you 100 leads every 24 hours. In return, they are asking for a one-time $30 setup fee (which I have no idea what it is for) as well as a $30 monthly fee.
So it's $1 for 100 leads which is equal to $0.01 per lead. That's how they get their website name "Pennies4Profits".
They are smart in the sense that they turn their lead generation service into a membership site so you need to keep paying they recurring fees in order for them to keep offering you Emails after Emails after Emails.
What will I Get as a Pennies4Profits Member?
You'll be receiving an Excel sheet everyday with 100 leads which you can download it to your computer. In this sheet, 5 information will be provided:
Email
First name
Last name
IP address
Fresh Factor Date (Basically, it's to prove to you that the lead is obtained recently. Not an old lead that has been used repeatedly)
So, if you have your own Email Service Provider (ESP), you can import that list to your ESP (my top recommended one is called ConvertKit) and send them your follow-up Emails or promotional Emails to make money.
Alternatively, if you don't have an ESP of your own, you can import the list to P4P's CAN-SPAM compliant mailer which you can easily send Emails to your leads.
That's all! These are the only two things you'll get from your $30 one-time setup fee and $30 monthly membership fee - Leads & a built-in mailer.
Starting to see why I warn you to stay away from Pennies 4 Profits?
I'm Jerry!
I Created My Own 4-Figure Monthly Passive Income at just 21 Years Old!​
The Good
I guess the only benefit of purchasing leads from platforms like this is for you to get lots of leads in a short period of time (so that you feel good & to get a couple of sale if you're LUCKY). But whether these leads are qualified and useful is another story.
The Bad
Effectiveness - To be honest, purchasing leads and sending them your promotional Emails is basically spam. These people are not interested in you in the first place. So the open rates and conversion rates of the Emails will be very low.
Spam Filter - Since you didn't get the leads in a natural way, your spam Emails may never reach the person behind the Email because of the spam filter. Your Emails will end up in the spam folder.
Reputation - Once again, since you're spamming people, your reputation will be adversely affected in the long run.
Unknown Founder & Mysterious Company - Firstly, we can't find any information about the founder of this platform at all so I suppose they are hiding something. Secondly, at the bottom of their website, their copyright is from a name called "Prospect Flow USA". But if you search online, you can't find anything related to this company. Very dodgy and mysterious!
Scarcity Pressure - They are using the standard scarcity method to pressure potential customers. They'll claim that there's only a certain amount of memberships left. If you don't buy now, the price will go up to $1,299/year.
24hr Cancellation Period?! - Companies usually have 100% Money-Back Guarantee for at least 30 days to 60 days. But Pennies 4 Profits is only offering a 24hr cancellation period to get your money back. This is ridiculous. What's even worst is that they don't even have something like a Free trial, instead they are charging you $60 straight!
Very Little Information & Proof Given - Other scam products will even put in the effort to include more proof like testimonials but P4P has zero testimonial and only 5 FAQ questions. Their sales page only consists of a sales video with very little information, a buy button and 6 questions and answers at the bottom. The 5 FAQ at the support page are directly copied from the questions on their sales page. Absolutely no effort in backing up their product.
My Biggest Concern for Pennies4Profits
The first question that came to my mind when I came across P4P is...
"Where the hell did they get all these leads from?"
According to them, they said that they have over 300 Joint Ventures with the top Internet Marketing leaders. And the leads are mostly from the USA targeted to the Business Opportunity and Internet Marketing industry.
But, do you believe them?
If they are partnering with so many top IM leaders, at least the name of their founder and the details of the company should be widely known, right?
But they're not exposing any of their names and particulars in the public, which means they are hiding something.
What really is the source of these leads they are selling to you? We don't know!
Another concern of mine is whether they are sending the exact same leads to all the members. Who knows... It is possible.
Despite I've never used their platform, I can be 100% sure that you are just wasting your time and money by investing in this kind of service. What's even worse is that you may even be putting your own reputation at risk!
What are the Better Ways to Get Leads?
"Getting leads is NOT about the numbers, in other words, the QUANTITY. It's all about the QUALITY and the RELATIONSHIP you build with your lead."
I believe having 100 natural leads that are interested to your content is way more effective than buying 1,000 fake leads which have absolutely no idea about your business.
So, here are some ideas for you to build your list naturally and effectively:
Build a website and offer quality content
Set up an Email Service Provider and allow your visitors to opt-in to your list
Create a "Lead Magnet" - A FREE gift for your readers in return for their Email address (This can be an eBook, a Checklist, a Blueprint, Cheatsheet, etc.)
Use social media to promote your lead magnet or your website
Create a YouTube Channel and build a following by pumping out great contents in the form of videos
Use Pay Per Click (PPC) campaigns to attract leads (use your lead magnet once again)
Host webinars to build your list and promote your products or other people's products (affiliate marketing)
There are tons of ways for you to build a list effectively. Once again, I want to remind you that building a healthy relationship with your leads is still the most important thing.
The better the relationship you have with your potential customer, the more likely they will become your loyal fans and customers. This should be the strategy in the long run.
My Lead Magnet?
As you can see at the right sidebar, that's my lead magnet. I'm offering something for FREE in return for people's Name and Email Address. At the same time, I'm writing quality content and promoting my website.
So, if you want to learn the authentic and legitimate ways to build your list and your business, I highly recommend you to check out My Top Recommended Training Platform.
You'll learn how to build your own website like what I'm doing here and how to build your brand, your leads, your followings and most importantly is to convert leads into real paying customers to make money!
I've personally created a 4-Figure Monthly Passive Income Stream and become financially independent at just 21 years old without any College degree or working experience!
Through my own hard work, I went from a broke restaurant waiter to living my dream laptop lifestyle in less than a year's time...
If you want to discover the secrets of how I did it at such a young age, click here!