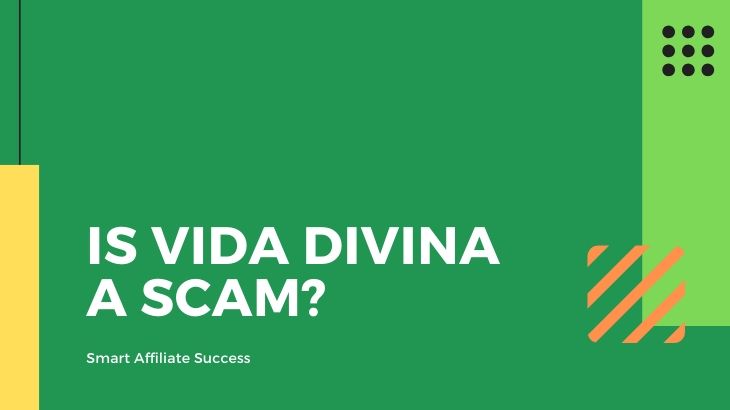 Is Vida Divina a Scam? Check Out This Health And Wellness MLM!
Welcome to my Vida Divina review!
One of the most popular sub-niches in the health and wellness MLM is weight loss. A lot of big companies are currently dominating the industry with their popular weight loss products. In fact, some of these companies have gone as far as getting promoted by international athletes.
But not all of them are made equal, and some of them just don't make it big. However, there are a handful that are promising but still too early to tell.
One of these companies happen to be Vida Divina.
First of all, I must Congratulate you for taking your time to do your own research before buying into any "seemingly good" product.
That's the way to avoid scams and find the legitimate way to make money online!
Let me be completely transparent with you, I'm not associated with Vida Divina in any form.
So, rest assured that I'm not here to pitch or sell anything to you.
Instead, I'm here to reveal what this company is all about.
Vida Divina Review Summary
Product Name: Vida Divina
Founder: Armand Puyoult
Product Type: Health and Wellness MLM
Price: Starter Kits ($135 to $1,360)
Best For: People who can confidently market these products
Summary: Vida Divina is a health and wellness MLM company with different products. They have weight loss tea and coffee, dietary supplements, and more. However, there's no guarantee you're going to make a lot of money here because there's no income disclosure statement to prove that. There's no guarantee that the products work because of certain government restrictions. You'll see what I mean in the article.
Rating: 50/100
Recommended: No!
More...
Vida Divina is a MLM or multi-level marketing company that markets different types of health and wellness products aimed to help with weight loss, brain function, boosting immune system, and better sleep quality.
Like most companies, Vida Divina follows a typical MLM business model where it has you purchasing products as a regular customer but you have the option to join as a member. Being a member allows you to earn commissions and other bonuses by selling their products and building your team.
Vida Divina's headquarters is located in Ontario, California and was founded by long-time network marketer Armand Puyolt in 2016. It's also registered with the Better Business Bureau and has maintain an A+ rating.
Vida Divina Product Line
As mentioned earlier, Vida Divina maintains a long list of health and wellness products. We won't be listing all of them down. instead, you can view their full product catalog by clicking this link.
These are their best-sellers, and you'll find some of them being sold on Amazon.
TeDivina Tea
This is their flagship product developed by Dr. Esther Ramos herself. The tea contains herbs and other ingredients to help you detoxify the mind and body. The tea does not contain any caffeine. I would also like to add that you can make one gallon of tea with just one pack, so it helps save you some money.
Café Divina
This is their weight loss coffee for those who don't like to drink tea. These come in different flavors, ranging from Black, Cappuccino, Hot Chocolate, Latte, and Hazelnut Latte. Each box comes with 20 individual packets, so that's good for 20 days.
Lean
Lean is Vida Divina's meal replacement protein shake with natural whey formula. It comes in vanilla, chocolate, and strawberry flavors. According to Vida Divina, Lean was designed to provide you with nutrients while you're trying to lose weight or build muscles. Each container has 15 servings.
Various supplements
Vida Divina has a long list of dietary supplements, each with their individual benefits such as:
Appetite suppressant
Better sleep
Improve joint health
Improve mood
And so on…
Vida Essentials
Vida Divina has their own line of skin care products. These include the Liquid Gold Skin Serum, Vida Divina Cream Foundation, and Liquid Lipstick.
Gano Bites
Vida Divina also has its own pet products for your fur babies. Their Gano Bites contains organic reishi, hyaluronic acid, and noni extract to keep your dog healthy.
I'm Jerry!
I Created My Own 4-Figure Monthly Passive Income at just 21 Years Old!​
Does The Product Work?
You'll find their products listed on Amazon, but these aren't sold by Vida Divina themselves. Rather, these are sold by their members.
Their products, specifically the TeDivina Tea, has a mix of positive and negative reviews. The positive reviews claimed that the products worked for them, and it has them making frequent trips to the bathroom (in a good way).
The negative reviews were focused on calling out members for replacing the tea with a different kind, and scamming other people. But we found one negative review that called them out for side effects.
These reviews should be taken with a grain of salt since not everyone's made to handle dietary supplements equally. You should always consult with a doctor before you
How To Make Money with Vida Divina?
Vida Divina follows a typical MLM business model, so the income opportunities are as follows:
Retail commissions
Residual commission from recruiting a team
Bonuses from team sales, promotions, and others
How To Get Started with Vida Divina?
To join Vida Divina as an independent distributor, you need to purchase a starter package.
The Basic Package costs $135 while the Popular Package costs $340. The Premium Package costs $680 and the Supreme Package costs $1,360.
Vida Divina Compensation Plan
Vida Divina follows a typical MLM compensation plan, meaning it's about a thick document with graphs and charts that no one has time to sift through.
Instead, I'll give you the important details and I'll post a video about their compensation plan that explains it better than we do.
Retail Sales Commission
Vida Divina can earn commissions when they purchase products at wholesale cost and sell them for retail prices. The difference between the wholesale and retail cost is credited to their account immediately.
Team Commissions
Vida Divina follows a binary compensation plan for residual commissions. This allows you to earn on two legs without sponsoring members of your team. You can also place them anywhere in your organization.
You should have at least 120PV since you joined and maintain an active status. You should also have a member under your right and left legs.
Fast Track Bonus
If you sponsor and enroll new members to Vida Divina within a few weeks after becoming a member yourself, you get a fast track bonus. You get this bonus when they purchase their package and could go as high as 70%.
Rank Advancement Bonus
You get a bonus after you get promoted. The lowest rank gets 250-star coins while the highest rank gets 20,000 coins. There's no mention of how much these coins are worth when converted to real currency.
You can check out more of their business opportunity here:
Vida Divina Ugly Truths Revealed!
#1 Dietary Supplements Are Almost Always Never Effective
The thing with any dietary supplement is that there's no guarantee whether they work or not. They won't even work the same way on two different people. One person might have positive results while another one might have adverse results.
This is where governing bodies such as the US Food and Drug Administration come in. They make sure that the health and wellness products being advertised are following their guidelines, from the manufacturing of the product to the advertising.
Vida Divina states that they're not guaranteeing any results for their products, as instructed by the FDA. They're not intended to treat and prevent diseases, so they shouldn't be used as such.
#2 No Income Disclosure
They've been around since 2016 and to my surprise, I have not seen any income disclosure statement. This is a public document made available by the company so people will have an idea how much their members are earning at any given rank.
Being able to access their income disclosure statement would've given me an idea as to whether or not people at the lowest tiers made enough money to make it worth their while, but sadly that's not the case.
It would be safe to assume that there's not enough data generated to come up with this statement, or people just came and bought products straight from the website without talking to a rep.
What I Like About Vida Divina?
#1 Extensive Products
It's great to see that Vida Divina has a lot of MLM companies, so there's a good chance that members won't have difficulties marketing the brand itself. You can cater to tea lovers, coffee lovers, and even those fitness enthusiasts.
But then again, there's no telling how much money members made because they don't have an income disclosure statement.
#2 Good Rating on BBB
Vida Divina has a good rating on BBB or Better Business Bureau. You see, BBB will contain all of the feedback from their members about the business side of things. Having a good rating on BBB means that the customers and members find the company and the products satisfactory.
Vida Divina is a legitimate MLM company with an extensive health and wellness product line. However, we just don't have enough reason to recommend this to anyone looking for a source of full-time income:
The biggest reason why we can't recommend this is that there's no income disclosure statement. We have no idea how much their members are making annually, and it wouldn't be fair to just guess their earnings too.
There's no guarantee in selling health and wellness products because different people will have different results. Some of them might work and some of them might not. Either way, the burden of proving it's great relies on both the company and agent.
It's up to you if you do want to check out the products and its income opportunity.
How I Make a Living Online?
I'm not a fan of MLM, not because it's illegal or not profitable, but because of all the restrictions and the expensive costs involved.
Instead, Affiliate Marketing is my top recommended business model for anyone to make money online.
The reason is simple...
You don't have to recruit anyone to make money
You have the freedom to promote any products you want and not being restricted to only promote the products from one MLM company
It's Free to get started
In fact, with affiliate marketing...
I've personally created a 4-Figure Monthly Passive Income Stream and become financially independent at just 21 years old without any College degree or working experience!
Through my own hard work, I went from a broke restaurant waiter to living my dream laptop lifestyle in less than a year's time...
If you want to discover the secrets of how I did it at such a young age, click here!