10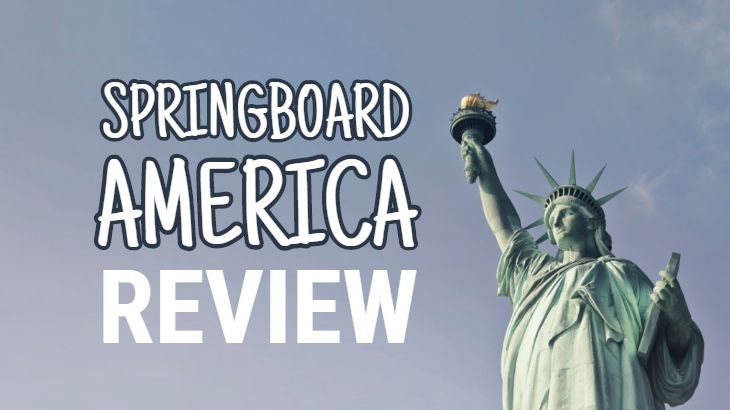 Is Springboard America Legit? (Good Luck America!)
Springboard America claims that YOUR opinion has the power to change your life and America's future.
Well, that's a really bold statement. But first let's take a look at whether Springboard America is a legit make money online opportunity...
Springboard America Review Summary
Summary: Springboard America is a legit survey panel for Americans. But the extremely low earning potential is just like many other survey panels. It's just wasting your time with such paid survey sites.
Rating: 40/100
Recommended: No
Warning: Springboard America is only available for Americans who are actually residing in the State. If you're not an American living in the State, head over through the link below to find out My Favorite way to Make Money Online regardless of where you are...
More...
What is Springboard America?
Springboard America is one of the leading online market research companies in the US.
They are actively working with companies and policymakers in the United States and help them collect the research information they need.
So, they offer the opportunity for panelist (survey takers) to make some money while providing their opinion.
Springboard America surveys on a pretty wide range of topics, but mostly surrounds consumer behavior and preference.
One thing to take note is that Springboard America is one of the very few survey panels that actually touch on political topics. So there will be questions regarding US politics if you're their target demographic.
How to Make Money with Springboard America?
There are only 2 ways for you to make money with Springboard America, unlike survey panels like American Consumer Opinion, which offers a number of ways for you to make money with them.
One example is to make money via product testing, which can be a pretty high-paying survey thing to do.
1. Online Surveys
This is the typical method for all online paid surveys.
For Springboard America, their surveys are relatively short. Most surveys can be completed within 10 to 15 minutes.
For the 10 to 15 minutes survey, you can earn on average between $0.50 to $5. But you have to know that those $5 are not common.
You should be happy if you could earn just $1 per survey. That's pretty good for a short survey.
2. Affiliate/Referral Program
The second way to make money with Springboard America is to refer people to join this survey panel.
You'll make $2 for each referral who has successfully signed up and set up their profile.
This is also considered quite a high-paying referral program.
I'm Jerry!
I Created My Own 4-Figure Monthly Passive Income at just 21 Years Old!​
How to Join Springboard America?
It's completely FREE to join Springboard America.
All you need to do is to sign up on their website and complete a questionnaire.
Almost every survey panel requires you to answer a questionnaire before they accept you and send you survey invitations. This is for them to know your demographic and send you the relevant surveys.
Some things you need to answer in the questionnaire include your name, Email, date of birth, employment status, income range, credit card number, credit card security code...
I'm just kidding about the credit card, LOL! Don't ever give your credit card information to any survey panel because there's no legitimate survey panel that requires you pay a fee to join. Remember this!
Anyway, just be completely honest with your answer because that's how they determine what surveys are suitable for you.
Your personal information is pretty safe with Springboard America. That's one of the benefits. So, don't worry about giving away your personal information. (Except CREDIT CARD INFO!)
How does Springboard America Pay me?
Springboard America is another panel that uses a point system.
You're rewarded with a certain amount of points after completing each survey. This ranges from 50 point to 500 points.
1 point = $0.01
You need to accumulate at least 5000 points ($50) before you can cash out your earnings.
There are 4 main ways you can cash out:
VISA Prepaid Card
Amazon Gift Card
PayPal (They've just added this popular payment option)
A lot of people were complaining about the lack of PayPal payment option. They finally have it now.
The Good
1. Free to Join
There's no hidden fees or upsells within Springboard America which is a good thing.
Never join any survey panel that requires you to pay a fee. Almost all of them are scams!
That's the first thing wikiHow warns you: Don't ever "Pay-to-Play".
2. Mobile & Tablet Friendly
Another good thing about Springboard America is that you can actually take surveys on any devices you like. There's no need to download any Apps.
Also, the system is smart enough that you can switch between devices even if you're half way through a survey.
---
The Bad
1. High Cash out Threshold
A lot of legit paid survey sites allow members to cash out with just $10.
However, Springboard America requires one to reach $50 before they can cash out. This is considered pretty high threshold for paid survey.
Just imagine you're earning $0.50 to $1 per survey. How long will it take for you to reach $50?
A lot of members have complained that it took them months to even reach the threshold.
2. Only Available for American Residents
Like I've said in the beginning, only Americans that are actually living in the US are allowed to join.
If not, they'll tell you that you're not their target audience:
Even if you try to fake your location, they'll know unless you use VPN.
3. Extremely Low Earning Potential
Springboard America states that on average you'll receive around 1 to 4 survey invitations PER MONTH.
Let's be very optimistic and imagine they pay you $5 per survey and you receive 4 survey invitations per month.
You're only making $20 per month which is not even half of the payout threshold!
Not only that, some of the surveys are not rewarded in terms of cash. Some of them only allows you to take part in contests like a lucky draw for you to win some rewards.
Most of the time you'll win nothing, which means you completed the survey and you are rewarded with nothing.
How are you going to make any money with such a low earning potential?
4. Payments Take Forever
Another common complaints among survey panels is that it takes forever for people to receive their payout. Springboard America is no different.
There are people complaining that it took up to 3 months to receive their money, which is pretty ridiculous.
But with the addition of PayPal as another payment option, I believe this will not be a major problem.
5. Poor Customer Service & Support
Springboard America has a really poor customer service and support. A lot of members have been ignored despite they keep contacting them via Email.
Some took very long to receive a reply. And by the way, Email is the only way to reach their customer support.
6. Poor BBB Rating
Is Springboard America Legit?
Yes, Springboard America is a legit survey panel that doesn't require you to "pay-to-play" and actually pays you.
However, like many other survey panels, it's just too hard to earn money, not even a minimum wage. You can only do it as a hobby or time-killer but don't expect to earn anything much.
So basically, Springboard America receives a pretty average user rating.
But if you really want to take online surveys, Survey Junkie is a much better option which is available not just in the US.
How I Make a Living Online...
Affiliate Marketing is my top recommended business model for anyone to make money online.
The reason is simple...
You don't have to recruit anyone to make money like what people usually do in MLM
You're building your own passive income stream for your financial freedom
It's Free to get started
In fact, with affiliate marketing...
I've personally created a 4-Figure Monthly Passive Income Stream and become financially independent at just 21 years old without any College degree or working experience!
Through my own hard work, I went from a broke restaurant waiter to living my dream laptop lifestyle in less than a year's time...
If you want to discover the secrets of how I did it at such a young age, click here!