5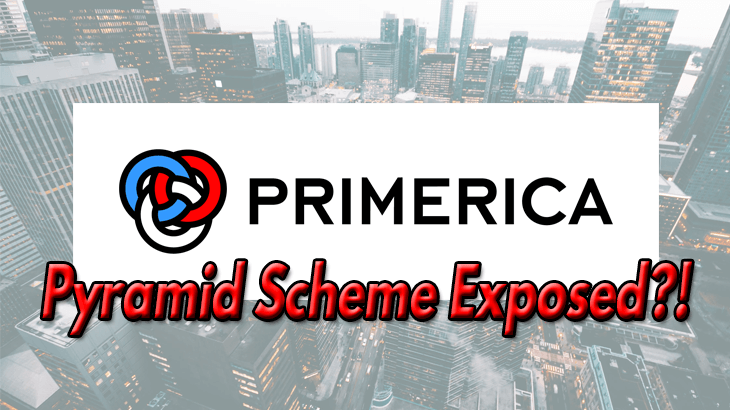 Is Primerica a Pyramid Scheme? – Life Insurance Scam Exposed?!
Welcome to my Primerica review!
Primerica has been a really controversial company because a lot of people have been calling it a scam or pyramid scheme while others are protecting against it.
Chances are, someone has just introduced certain insurance from Primerica or their business opportunity for you to make money selling insurance.
First of all, I must Congratulate you for taking your time to do your own research before buying into any "seemingly good" product or business opportunity.
That's the way to avoid scams and find the legitimate way to make money online!
To be completely transparent with you, I'm not associated with Primerica in any form.
So rest assured that I'm not here to pitch you anything. Instead, I'm here to offer you an honest 3rd party review on this company.
Is Primerica a pyramid scheme? Or is it a scam?
Here's the truth...
Primerica Review Summary
Product Name: Primerica
Founder: Founded by Arthur L. Williams Jr. in 1977. Now a publicly listed company. (CEO: Glenn J. Williams)
Product Type: Insurance & Financial Services MLM Company
Price: $99 to start + $25/month fee
Best For: People who are good at networking, selling and recruiting. Also, they must be interested in finance, insurance and things like that.
Summary: The good news is that Primerica is NOT a pyramid scheme, nor is it a scam, because they have real products & services. They don't solely rely on recruiting people to make money. However, the same old MLM problem applies. It's extremely hard for you to make a sustainable living with Primerica!
Rating: 55/100
Recommended: No
More...
Some Background Info...
Primeria is an US based Multi-Level Marketing (MLM) company selling insurance and other financial services.
To be honest, this is a very unique product that's sold via the MLM business model because there are simply too many MLM companies competing in the health & wellness industry making it difficult to determine which are the better ones. 
Some examples include Modere & Rodan + Fields.
Whilst, Primerica is more like AmeriPlan who is selling something like a healthcare insurance in the form of network marketing.
Primerica was founded back in 1977 under Citigroup, Inc. They spun off from their former company Citi through an IPO in 2010.
And it's now a publicly listed company on New York Stock Exchange with the symbol "PRI".
Judging from such a long history, Primerica seems to be a legit company.
If it's a scam or pyramid scheme, it's quite impossible for them to survive for more than 40 years in the market.
Being a MLM company, their business consists of two main parts:
The financial products/plans
The business opportunity for individuals to make money with Primerica
I'll talk about the making money part in just a second. Let's take a look at the products offered...
Primerica Product Line
The various financial products offer by Primerica include:
Term Life Insurance
Financial Investments
Long-term Care Insurance
Auto & Home Insurance
Credit Monitoring
Debt Management Plans
Their main target audience is the middle-class families in the US, Canada and Puerto Rico.
I'm Jerry!
I Created My Own 4-Figure Monthly Passive Income at just 21 Years Old!​
How to Make Money with Primerica?
There are 2 main ways for you to make money with Primerica:
Sell financial products like insurance to earn sales commissions (This is pretty much like being a salesperson for a traditional insurance company such as Prudential)
Recruit people as your downline and help them do the same
However, in order for you to start promoting financial products and make money, there are certain steps you need to go through beforehand...
How to Get Started with Primerica?
First of all, you need to pay an upfront $99 to join them.
This $99 include getting yourself and official "Primerica Sales License" and a background check.
What's so different about Primerica is that every distributor needs to undergo a screening process. They'll check for your background for any criminal record and things like that.
This ensures the quality of their Sales Representative which is a good thing.
After that, you'll need to pay a $25/month fee to access their tools and platform, which consists of training and marketing materials to help you with your business.
That's pretty much about getting started with Primerica.
Oh yes, by the way, the $99 is refundable after a few months time!
Primerica Compensation Plan
Now comes the most exciting part - how to get paid?
There are 4 main ways for you to earn commission from Primerica:
Sales Commissions on Insurance - Commissions earned when you sell any financial plans (detailed percentage see below)
Overrides on Downline's Insurance - 10% override commissions for the sales from your donwlines
Differentials from Downline's Insurance Sales - As you advance in ranks, this allows you to earn more commissions by supporting your downlines and help them make more sales
Commission on Other Products - Primerica offers quite a wide range of financial products and you can earn commission from selling any of the products
The good thing about Primerica's compensation plan is that it is "11-tiered", which means you can earn commissions from your recruit's recruit, your recruit's recruit's recruit and so on down 11 levels.
Below is an overview of the different sales commission rates for different ranks:
Representative – 25% commission
Senior Representative – 35% commission + bonus
District Leader – 50% commission + bonus
Division Leader – 60% commission
Regional Leader – 70% commission
Regional Vice President – 95% commission + bonuses
Senior Vice President – 95% commission + bonuses
What is a Pyramid Scheme?
Back to the question...
Is Primerica a pyramid scheme?
In order to answer this question, let's fully understand what really is a pyramid scheme.
According to Wikipedia, "A pyramid scheme is a business model that recruits members via a promise of payments or services for enrolling others into the scheme, rather than supplying investments or sale of products or services."
In other words, if the company mainly focuses on recruiting members to make money instead of offering real products or services, it can be considered as a pyramid scheme.
Below is a very interesting animation explaining how to spot a pyramid scheme:
Is Primerica a Pyramid Scheme?
The simple answer is NO, Primerica is NOT a pyramid scheme.
As we have discussed earlier on, Primarica does offer real products & services and distributors don't just rely on recruiting to make money.
In fact, it's even possible for you to make up to 95% commission from selling Primerica's financial products.
That's one of the highest paying MLM I've ever seen so far.
Those people who claim Primerica is a pyramid scheme are usually those who have tried but failed. Those are definitely not the type of people you want to listen to.
However, I need to warn you...
Not all MLM with products or services are legit.
The definition of the modern pyramid scheme is getting more and more unclear because there are many companies that are actually "pyramid scheme in disguise".
Just take MOBE and Digital Altitude as an example, they were once very popular because they were offering "internet marketing training" as their products and help people make money online.
However, the truth is that those "internet marketing training" are not real product. They're actually teaching people how to recruit more members into the system. That's all!
So, unsurprisingly, they were both caught by FTC and shut down just a few months ago.
My point here is that there are too many shady companies out there. Please be careful before making any purchasing decision.
The fact that you're doing your own research here shows that you're a cautious person. So, keep it up!
What I Like About Primerica...
1. Trustworthy Distributors
Like I've explained earlier on, every member needs to do a background-check before participating in the business opportunity.
Once approved, they'll have an official "Primerica Sales License".
As we all know, there are a lot of people promoting network marketing companies who have no idea what they're doing!
So this screening process ensures the distributors of Primerica are of certain quality.
2. Reasonable Costs
To get started, you need to pay $99 and a $25/month fee.
The $99 is refundable and it's for the purpose of sales license and screening. Whilst, the $25/month is for the tools and training on their platform.
The only major long-term cost is $25/month, which is really affordable for most people.
In fact, many MLMs today require its distributors to spend hundreds or even thousands of dollars just to get started.
This is especially true for those health & wellness companies because you need to spend hundreds of dollars to purchase those physical products yourself.
3. Good BBB Rating
For those of you who're familiar with BBB, you'll know that it's very hard for a company to be accredited by BBB and get an A+ rating.
What's even better is that this company has been in business for more than 40 years and they got BBB accreditation since 1980.
If this company is a scam or a pyramid scheme, it's impossible for them to maintain such good rating for such a long period of time.
So, don't listen to those who say otherwise. Here's the truth in front of your eyes!
What I DON'T Like About Primerica...
1. Lots of Complaints
Despite having a good BBB rating as shown above, Primerica actually received quite a lot of customer complaints about their product and services:
There's a total of 140 customer complaints being found on BBB at the point of this writing and majority of them came from "Problems with Product/Service".
Upon further investigation, some of these problems include moving of funds, cost of insurance, penalties, taxes, etc.
2. Not For Everyone
Also, this business opportunity is definitely not for everyone because you really need to have interest to study those financial products, such as insurance plans, rules and regulations, etc.
Not everyone can handle that.
In my opinion, this is more suitable for those who are working in the financial industry.
Another thing is that this company mostly operates in US, Canada and Puerto Rico.
I'm not sure if you can join from other countries but even if you can, there may not be as much support as people in those countries.
3. Recruit Friends & Family Members
Despite not being a pyramid scheme, Primerica is still a typical MLM business that requires you to recruit people.
However, the first thing they'll teach you is to ask you come up with a list of people you know who may be interested about financial products.
That's what we called the "warn market money jogger".
Inevitably, you still need to approach your friends and family members to sell them insurances things like that.
I'm not saying this is bad or something illegal. I'm just saying this type of thing is definitely not for me and for many of you as well.
Too many people had the experience of losing their friendship as a result of running a MLM business.
I believe if you adopt the right techniques, you won't lose your friends and family members and still succeed with MLM.
But that really takes a lot of hard work and most people just can't make it.
This leads us to our last point...
4. Low Success Rate
Just like many other MLM companies, most Primerica distributors failed to make enough money to sustain themselves and eventually quite.
Here's what their income disclosure says:
"From January 1 through December 21, 2016, Primerica paid cash flow to its North American sales force at an average of $6,088 per life licensed representative."
In other words, most Primerica distributors earn an average of $6,088 per year. That's only around $500 per month!
What's even worse is that 60% of all members fail to make a single cent.
So, I think this stats is enough to show you why most people cannot make it with not just Primerica but MLM as a whole.
How I Make a Living Online...
If not MLM, then what?
Personally, my top recommended business model for anyone to make money online is Affiliate Marketing!
The reason is simple...
You don't have to recruit anyone to make money
You have the freedom to promote any products you like and not be restricted to only promote products from one MLM company
In fact, with affiliate marketing...
I've personally created a 4-Figure Monthly Passive Income Stream and become financially independent at just 21 years old without any College degree or working experience!
Through my own hard work, I went from a broke restaurant waiter to living my dream laptop lifestyle in less than a year's time...
If you want to discover the secrets of how I did it at such a young age, click here!