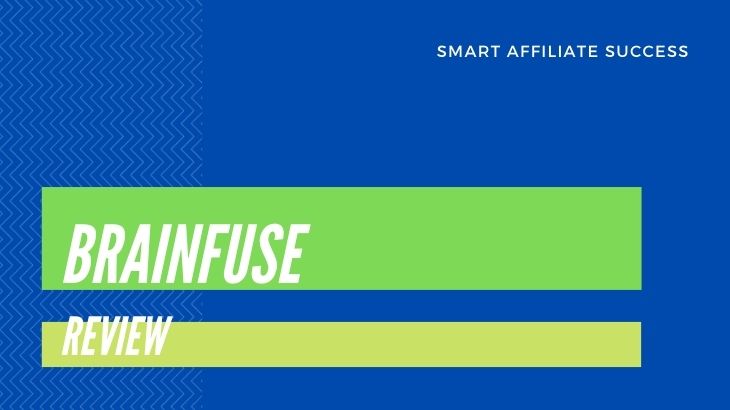 Is Brainfuse a Scam? An Online Tutoring Company Reviewed
Welcome to my Brainfuse review!
One of the most lucrative, and sometimes most overlooked, income opportunities online is tutoring. You get paid a lot of money just for an hour's worth of work, but it's not exactly what we'd consider you can do full-time as well.
Given the current state of the Pandemic, it also won't hurt to try out these opportunities to help us make some money.
Today, we're reviewing Brainfuse.
First of all, I must Congratulate you for taking your time to do your own research before buying into any "seemingly good" product.
That's the way to avoid scams and find the legitimate way to make money online!
Let me be completely transparent with you, I'm not associated with Brainfuse in any form.
So, rest assured that I'm not here to pitch or sell anything to you.
Instead, I'm here to reveal what this program is all about...
Brainfuse Review Summary
Product Name: Brainfuse
Founder: Alex Sztuden
Product Type: Online Tutoring Platform
Price: Free to Join
Best For: People who want to tutor students
Summary: Brainfuse is an online tutoring company with a somewhat decent income opportunity. It's a great way to make money online if you're a teacher looking to make a few bucks online. But there are several issues that we discovered, such as teachers being fired for stupid reasons. We'll explain more about this situation in the article...
Rating: 60/100
Recommended: Yes and No!
More...
Brainfuse, found on Brainfuse.com, is an e-learning and tutoring platform that caters to two kinds of people: the students and the tutors. The income opportunity focuses on the tutors.
The company focuses on students belonging to 3rd grade and up to the 12th grade.
They also offer higher education and career services to students from around the USA.
The company was founde by Alex Sztuden in New York City, NY in 1999.
His resume is just as impressive, which you can easily view on his LinkedIn profile.
Before creating Brainfuse, Sztuden was an attorney for Baker & McKenzie for 3 years. He attended Columbian Law School and became an Editorial member of the Columbian Law Review and a Harlan Fiske Stone Scholar.
With credentials like that, it's no wonder why Brainfuse has been around for more than a decade now.
You can join Brainfuse as a student or a tutor, but you will only make money if you sign up for the latter.
You'll be required to submit your resume, in PDF format, through their site. If they consider you, you'll be emailed to discuss the job. You'll also be required to take the Brainfuse Tutor quiz before you can proceed with the application. These quizzes will depend on the subject that you're applying for. You can also apply for multiple subjects, but you'll have to take the corresponding quiz.
Here are some of the subjects that Brainfuse's offers:
Math

English

Writing

Chemistry

Physics
Unlike most tutoring companies, Brainfuse allows you to retake the tests in case you fail it. You don't need to request to retake it because the test results show up automatically.
Assuming that you pass the tests, you'll then go through their training before you can start the actual tutoring process.
I'm Jerry!
I Created My Own 4-Figure Monthly Passive Income at just 21 Years Old!​
What Hours Can You Work on BrainFuse?
Brainfuse hires you an independent freelancer and not as an employee, so don't expect any employee benefits when you're hired here.
Typical of any freelancing job, you get to decide what hours you want to work on, and how many hours you want to work.
With that being said, your hours are only flexible to a point when there are tutoring jobs. You may have to adjust your work hours if you need more students in your session.
What's The Typical Day of a Brainfuse Tutor?
Your day as a Brainfuse tutor starts off with you logging into your account and checking whether or not you have students to tutor on.
If you do find students to tutor, you'll then be taken to a dynamic platform that allows you and the student to interact. It also comes with a writing lab that allows you to review student documents and consult with them one-on-one.
This is how their platform works from a tutor's perspective:
https://www.youtube.com/watch?v=aP1_H-jDM_E&feature=emb_title
https://www.youtube.com/watch?v=_J-MYIxkndw&feature=emb_title
How Much Does Brainfuse Pay?
All right, now comes the main topic for this article. How much are you getting paid for tutoring students on Brainfuse?
All classes are about one-hour long, and tutors are earning $11 to $13 reportedly per session. Your payment is deposited every 2 weeks through PayPal or direct deposit.
Brainfuse Basic Requirements
Here's the list of requirements to apply for the Brainfuse tutoring position:
Must be a resident of the USA

Must agree to do a background check

Must have a Bachelor's degree at the minimum
Two things to note here.
There are some third-party sites mentioning that tutors need to have a Master's degree in order to be considered. But upon checking Brainfuse's official site, there's no mention of anything about having a Master's degree.
Note that it might take some time before your application can be considered, so if you're in a rush to land a job, then this might not be it for you.
Brainfuse is meant for people who want to make a few extra bucks tutoring kids online. It works similarly to the following sites that we've reviewed:
Brainfuse Ugly Truths Revealed!
#1 Tutors Can Get Fired For Stupid Reasons
Just like the online tutoring programs that we've reviewed, Brainfuse doesn't really favor their tutors in terms of handling disputes. Most of the time, Brainfuse tutors can get fired for the stupidest reason, such as mispelling a single word on group chat or spending an "unreasonable amount of time" teaching a student.
Of course, there's going to be two sides of the story, but if it just so happens that Brainfuse favors students' feedback more than tutors, then this is cause for concern.
#2 Students Entering The Wrong Class
We don't know if it's the platform itself that's having this problem or it's being caused by other things. But there are complaints about tutors claiming to have been assigned the wrong class. This is a big deal because if you refuse to teach a class, you'll be penalized until you get removed from the program.
You can get in touch with support to rectify this mistake, or take the risk and teach the class yourself. This would lead us to complaint #1, which would be Brainfuse arbitrarily removing you just because.
#3 More Work Doesn't Mean More Money
On the account of earning $10 to $13 per session, that's not entirely based on students. Rather, it's for all the students book for that day. So if you think that you're earning $50 per hour because of tutoring 5 students in one session, you thought wrong.
What I Like About Brainfuse?
#1 Flexible Hours
Brainfuse allows you to work on your own hours and doesn't have any form of quota in terms of hours rendered by their tutors. This flexibility will allow you to take on other types of work-at-home gigs.
#2 You Get Paid Regardless
Unlike most tutoring programs, you still get paid for your time even if the students don't attend it.
For example, if you have a session booked for the day and the students don't show up, you still get $7 for the attendance.
This makes us appreciate the fact that Brainfuse values your time and will pay you regardless. It's not exactly the same amount of money you're earning when you do teach a student, but it's something.
Brainfuse is a legitimate online tutoring platform with a decent income opportunity. People are free to try it if they want to make a few bucks online.
However, we do want to address these concerns:
We have a feeling that Brainfuse favors students' side more in a dispute than tutors, so in case you get a complaint from your students, there's a chance you'll be removed from the program.

There's also a system-wide glitch where it may assign you to the wrong class. If you refuse to teach that class, you will be penalized. And we know how Brainfuse's platform is when it comes to handling tutor errors.
We would like to call on those who have experience working with Brainfuse to verify these errors (whether or not they actually happen) and leave a comment on this article.
How I Make a Living Online?
I've personally created a 4-Figure Monthly Passive Income Stream and become financially independent at just 21 years old without any College degree or working experience!
Through my own hard work, I went from a broke restaurant waiter to living my dream laptop lifestyle in less than a year's time...
If you want to discover the secrets of how I did it at such a young age, click here!