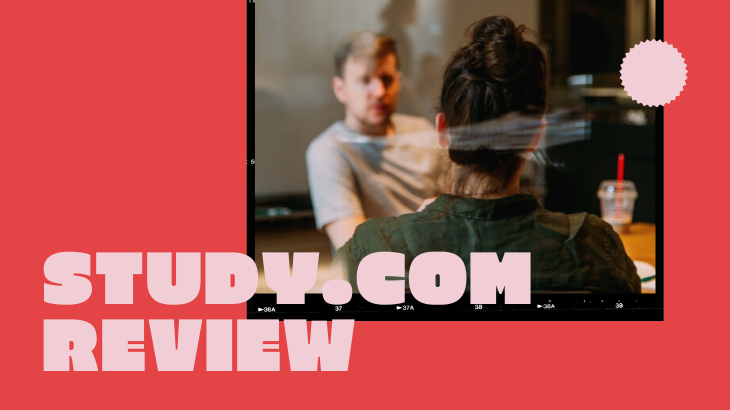 Study.com Review – A Mediocre Tutoring Program Reviewed!
Welcome to my Study.com review!
Make Money Online programs also include working as an online tutor, and believe it or not, some serious cash can be made within these programs.
If you know what you're looking for in an online tutoring program, that is.
One of those online tutoring programs that we're reviewing is Study.Com, and we're going to find out if it can give you a decent income, or if it's a waste of time.
First of all, I must Congratulate you for taking your time to do your own research before buying into any "seemingly good" product.
That's the way to avoid scams and find the legitimate way to make money online!
Let me be completely transparent with you, I'm not associated with Study.com in any form.
So, rest assured that I'm not here to pitch or sell anything to you.
Instead, I'm here to reveal why I think this program is mediocre and why it may not be worth your time.
Study.com Review Summary
Product Name: Study.com
Founder: Not disclosed
Product Type: Online Tutoring Opportunity
Price: Free to sign up
Best For: No one!
Summary: Study.com is a online tutoring opportunity that hires you as an online tutor to teach and to do other tasks (which will be listed below). However, the income potential is quite low for the program, compared to the others we've reviewed here. There's also some issue with their transparency since we can't find out anything about their income opportunity.
Rating: 20/100
Recommended: No!
More...
Study.com is an online educational program intended for 2 kinds of people: students who want to improve their grades on tests, and people who want to work for the program as online tutors.
Their work-at-home opportunity covers tutoring for various fields in:
Math
Science
Physics
Business/Accounting
Psychology
History
And many more.
The company was founded in 2002 and are currently located in Mountain View, California. To date, they have over 25,000 video lessons and 50,000 articles provided to 30 million students and teachers every month.
You can sign up as a student or contractor in Study.com.
It's free to sign up as a contractor, but you'll have to apply for the position.
But both students and contractors are required to fill in their name, email, and phone number. Then students are offered a 5-day free trial followed by a $39.99 monthly subscription while it's $59.99 per month if you're a teacher.
Work-At-Home Contractors
There's not a lot of information (both from Study.com and from other sources) about their contractors. But I did my best to gather certain pieces to make sense of their opportunity.
Study.com follows a traditional application process implemented by other online tutoring programs.
You sign up as a tutor, you indicate which subject you want to work with, and then wait for a few days.
The site will list various job descriptions for available tutoring positions (as listed above). Meanwhile, your job application will also be specific.
So if you're going to apply as a tutor, you're required to focus on a specialty. And then your application process will go on from there.
They will also test your knowledge about the subject matter by presenting you with application questions. For example, if you indicated that you want to work as a tutor for business or accounting, then you'll be asked questions like these:
Once you're done with these questions, you will be required to submit proof about your highest level of education (Transcript of records, etc.).
It doesn't say how long the application process takes, but I would guess it would be between a few days to 2 weeks. I would assume that it would only take days to process it.
I'm Jerry!
I Created My Own 4-Figure Monthly Passive Income at just 21 Years Old!​
List of Study.com Jobs
Study.com isn't always going to have vacancies for their tutoring positions, but here's what you can expect from their job descriptions for their subjects:
Lesson Plan Writer
Quiz Optimizer
Assessment Writer and Reviewer
Video Editor
Article Writer
Curriculum Designer
Statistics Expert
How Much Does Study.com Pay?
This is another difficult piece of information that I couldn't find on their main site, or any review site.
In-house employees don't have the same pay as contractors, so if you do read up on their profile on GlassDoor, you'll find that the reviews there are from in-house employees and not contractors.
From what I read, contractors or tutors paid per project or per hour. For example, one lesson plan writing project would go for $40 upon completion, or one lesson would cost about the same price.
Another person also got $4 for answering short questions in a document. Since the work changes every time, I'm pretty sure that the rates change as well.
With all of that taken into consideration, it's safe to conclude that the hourly rate would average at $10 per hour, and then you'll have a few people reporting either higher or lower wages. Either way, there's no consistent going rate for anyone to work with.
How's The Scheduling?
Again there's no information, official or third-party, about their scheduling. But from what I've read, tutoring and project schedules are flexible enough, so you can work whenever you feel like it and as often as you like.
One review mentioned that it's easier to find work and get help from Study.com themselves to adjust your schedule based on west-coast work hours.
Study.com is intended for people who know their way around their subjects and programs, and you can make money from the side projects (outside from the tutoring).
Quite frankly, there are better online tutoring programs out there that are worth checking out. We highly recommend DaDaABC. It's probably one of the best online tutoring programs out there and it's got some great reviews from other sites.
Study.com Ugly Truths Revealed!
#1. Lack Of Transparency about Income
When it comes to these online jobs, you'd expect to have them pay at lower than minimum wage. That's a given because there's not a lot of money to be made here, both client-wise and employee-wise.
But Study.com just makes it difficult to track down any official information about the salaries for their contractors. This is a big deal because it's hard to verify the claims from their reviews on pages such as Indeed or GlassDoor.
#2. Low Income Potential
The thing about these online tutoring programs is that the income potential is low, and the biggest advantage or motivation that you could ever get out of programs like these is you could get something from your vacant time.
However, the time and effort that it takes to earn a few dollars here and there might not be worth it if you're looking to replace your day job with Study.com.
#3. Selling Student Information
All right, this might be difficult to verify but having read this and a few others would make me assume that they're selling student information.
Per this review from a previous employee, your personal information is sold to third-party market
Again there is no way to verify this information, and we're just going to leave it at that. The fact that someone's pointed it out means that it has been done at some point.
What I Like About Study.com?
There are better online tutoring programs out there and you'll find them here on our list of programs that we've reviewed.
Honestly, there's just no appeal behind Study.com and I don't think it incentivizes anyone to try and join their program.
This review about Study.com made me realize that this is probably not going to be worth anyone's time or effort, especially if you're looking for a decent source of income online.
There's just a severe lack of information about their opportunity and that their income potential is low enough that it doesn't motivate or incentivize anyone into joining.
Other than having to read up about their program from third-party sites, Study.com is questionable in terms of what it can do and provide its online contractors.
How I Make a Living Online?
I've personally created a 4-Figure Monthly Passive Income Stream and become financially independent at just 21 years old without any College degree or working experience!
Through my own hard work, I went from a broke restaurant waiter to living my dream laptop lifestyle in less than a year's time...
If you want to discover the secrets of how I did it at such a young age, click here!