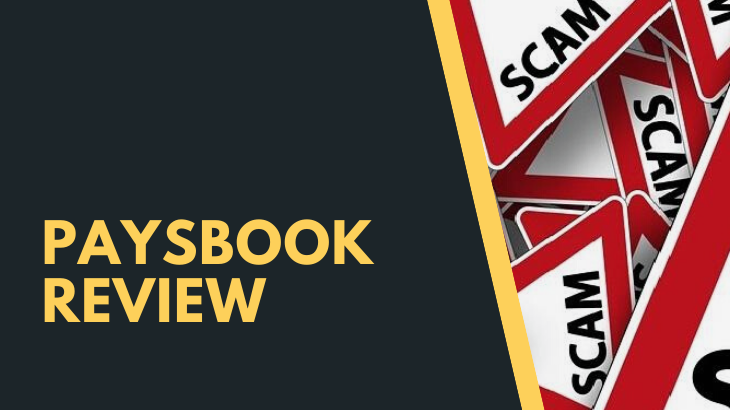 Paysbook Review – A Pyramid Scheme from the Philippines?!
Welcome to my Paysbook review!
As someone from the Philippines, I've heard about this program from a lot of friends on Facebook and I even got an invite into joining this program.
Unfortunately, I already knew that there was something up with this program just by the name itself.
This is Paysbook.
First of all, I must Congratulate you for taking your time to do your own research before buying into any "seemingly good" product.
That's the way to avoid scams and find the legitimate way to make money online!
Let me be completely transparent with you, I'm not associated with Paysbook in any form.
So, rest assured that I'm not here to pitch or sell anything to you.
Instead, I'm here to reveal why this program is nothing but a pyramid scheme.
Paysbook Review Summary
Product Name: Paysbook
Founder: Arjay Gallenero
Product Type: MLM Recruitment Scheme (Pyramid Scheme)
Price: Free to join
Best For: No one
Summary: Paysbook is a MLM recruitment scheme that has no products or services to sell, and they're all about recruitment. Everything that has to do with making money needs you to recruit a lot of people, and no, they will not pay out. That's why this is nothing more than a Pyramid Scheme.
Rating: 1/100
Recommended: No!
More...
Paysbook claims to be a 3-in-1 platform that promises a social media, e-commerce system, and affiliate program rolled into one. They even have a section called Paysbook University that allows you to learn about making money online.
Through this platform, you're going to advertise and monetize your traffic, so the more you advertise, the more you recruit. And the more you recruit, the more you earn.
The founder is Arjay Gallenero, and started this company in 2017 so it's barely 2 years old as of this writing.
Despite having the proper registrations with DTI (their local trade and industry), SEC (the equivalent of the FTC), and other local business permits, there's still something very wrong about this program.
Throughout this review, we will be mentioning the currency in Php or Philippine Peso with the USD equivalent beside it. So if I mention Php 300 (it would be $6).
Signing up is free for this platform, but sometimes you're going to be recruited into the program through someone's affiliate link.
After signing up, you're credit Php 300 (which is $6) . However, you will not be able to withdraw this amount (or any amount, for that matter).
You'll then be required to activate your account before you can withdraw your money. And in order to activate your account, you'll have to spend a higher amount. After activating your account, you'll earn Php 50 (or $1) every time you log in and log out. You'll be able to earn on two log ins and two log outs, so that's about $4 every day just for logging in.
However, you can only earn this login bonus for 6 days, so that's about $24 in total or Php 1200.
The main way for you to make money from this program is through referrals.
I'm Jerry!
I Created My Own 4-Figure Monthly Passive Income at just 21 Years Old!​
Direct Commission
You earn a direct commission of Php 100 or $2 per person recruited directly or indirectly. You can recruit people via contacting them directly or indirectly through the people who are on your team.
You'll only earn direct commissions from a maximum of 15 recruits or account activations daily.
That's about $30 in max commissions or Php 1500 every day.
Matching Commissions
When two people join your team, you'll earn a matching commission, based on direct or indirect recruits.
These two people will be placed on two different teams under you, which is your left and right team.
You're paid Php 100 or $2 for each match or pair, at a maximum limit of Php 4000 or $80 daily. This puts you at about Php 120,000 or $2,400 every month.
Leveling Commission
When you earn your first matching commission on any level, you're paid a levelling commission. The first level includes people you recruited directly, and the second level are people recruited by your first level. And so on. This will continue for up to 10 levels.
Levelling commission pays Php 400 or $8, which earns you up to Php 4,000 or $80 if you earn through all 10 levels.
How Much Does It Cost to Join?
As mentioned earlier, it's free to join this program because the owner is trying to coax you into joining this program.
He'll show you how to make easy money just by logging in, and then lure you into making the big bucks by recruiting people.
How to Get Paid with Paysbook
The minimum withdrawal amount is Php 3,000 or $60 for your first payout.
You get paid via:
Bank Transfer - BDO (Banco de Oro) or Cashcard
Money Remittance Centers - Cebuana, M. Lhuilier or Palawan Pawnshop
OFW Payout - Information regarding this is undisclosed by Paysbook
Paysbook, despite having all the legitimate paperwork, is not something that I would recommend to anyone. And this program isn't intended for anyone either!
Paysbook Ugly Truths Revealed!
#1 – Obvious Pyramid Scheme!
Paysbook is a pyramid scheme with all the right paperwork, and you can't rely on the business if you're looking for a serious source of income.
The US FTC also created guidelines to distinguish legitimate business opportunities against pyramid schemes. And here's their cheat sheet:
No genuine product or service
Promises of high returns in a short period
Easy money or passive income
No demonstrated revenue from retail sales
Buy-in required
Complex commission structure
Emphasis on recruiting
So as you can see, Paysbooks pretty much hits all of the guidelines and it doesn't take a genius to conclude that this is an obvious pyramid scheme.
#2. SEC Warning For Potential Scheme
Paysbook is a registered company under the SEC or Securities and Exchange Commission (the PH counterpart for the FTC), but it's not entirely allowed to perform its operations (or at the very least, those that require you to recruit).
The government agency issued a warning against the company on July 2018 about its recruitment and income program.
Here's the link to the entire warning.
#3. The Income Opportunity Relies On RECRUITMENT!
The income opportunity relies too much on recruitment and it's just unsustainable. This company is not meant to last for a long time because there's no money coming in.
There are no products sold, or services offered. And they're not getting any cash from new people coming in.
The bigger question remains is: how is the company getting funds to begin with?
And at the rate that they're promising income, there's just no way that this business is going to last for a few years!
#4. No BBB Records
For those who live and die by the BBB or Better Business Bureau profile, it doesn't help that Paysbook doesn't have any BBB profile so there's no chance of them getting accreditation.
#5. Poor Customer Support!
There's enough proof that people aren't getting any money from the program, let alone customer support.
And I've stumbled across many reviews that talked about people not getting paid by the company.
It's no surprise that they're not paying anyone any money because the company doesn't have money to pay out.
What I Like About Paysbook?
The company's running an obvious pyramid scheme, so there's nothing about this program that I like.
Paysbook may be a legitimate company, but it doesn't operate a legitimate opportunity. They're clearly a pyramid scheme, or running some form of recruitment-schemed opportunity.
The income is too focused on recruitment that it doesn't incentivize you to do anything else to make money.
How I Make a Living Online?
I've personally created a 4-Figure Monthly Passive Income Stream and become financially independent at just 21 years old without any College degree or working experience!
Through my own hard work, I went from a broke restaurant waiter to living my dream laptop lifestyle in less than a year's time...
If you want to discover the secrets of how I did it at such a young age, click here!