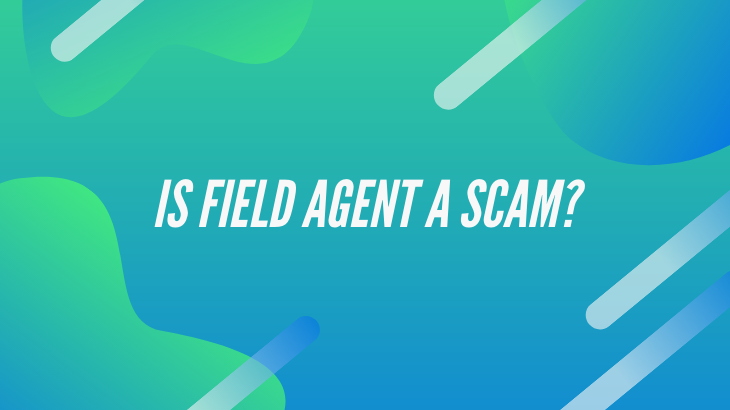 Is Field Agent a Scam? It's A GPT Site Unlike Any Other
Welcome to my Field Agent review!
Some survey and GPT (Get Paid To) Sites follow what I call cookie-cutter templates, meaning different sites having you do the same thing over and over.
But this one is a GPT site unlike any other because the tasks are as unique as the company itself while still bearing some semblance to traditional GPT sites.
This is Field Agent.
First of all, I must Congratulate you for taking your time to do your own research before buying into any "seemingly good" product.
That's the way to avoid scams and find the legitimate way to make money online!
Let me be completely transparent with you, I'm not associated with Field Agent in any form.
So, rest assured that I'm not here to pitch or sell anything to you.
Instead, I'm here to reveal what makes this GPT program unique.
Field Agent Review Summary
Product Name: Field Agent
Founder: Not disclosed
Product Type: Get Paid To Rewards program
Price: free to join
Best For: People who are willing to do extra steps in earning money.
Summary: Field Agent is a GPT or Get Paid To rewards site that has you doing certain tasks beyond surveys and watching videos. However, the income potential might be low because it relies too much on where you live, so you might not even be eligible for some of them. But there's still some way for you to make money on this site.
Rating: 50/100
Recommended: Yes and No!
More...
Make no mistake about its name, you're not going to be sent out as a spy.
Field Agent is a crowdsourcing/GPT or Get Paid To app for both Android and iOS phones that allow you to earn money by doing small tasks such as mystery shopping, taking pictures, and checking local prices.
The company was founded in 2010 and is headquartered in Fayetteville, AR.
While you won't be making any full-time income here, you could use this app as an opportunity to earn some decent cash online for doing small tasks.
Let's go talk about their features in the next section.
You can download the Field Agent for free on Google Play Store and Apple Store. You'll be promoted to create an account once you completed the download.
The signup form requires your typical information, such as name, age, gender, educational level, where you shop, and so on.
This is for demographic purposes so you'll be matched with the tasks best suited for you. This is where it works a lot like a GPT site.
Once you're done with the signup, you'll be able to proceed with the tasks.
How Does Field Agent Work?
So basically, Field Agent works by working with companies who want to know how their products are doing in the market, or if they want to solve a problem in the sales process. The Field Agent people (that's you) are going to be paid to collect this information.
Field Agent comes up with a way to let you gather this information through their app in the form of tasks. Once you complete the tasks, you'll be paid for it.
There's no point system followed here, so you're getting the actual cash value for your hard work here.
On their app, you'll be able to sort jobs via proximity and salary. You can also locate more jobs by using the map feature.
The next step here is to follow instructions based on the job description, which basically involves you doing something in the store.
I'm Jerry!
I Created My Own 4-Figure Monthly Passive Income at just 21 Years Old!​
What Kind of Jobs Are Available on Field Agent?
Examples of tasks you can find include the following:
Going to stores and taking photos of products, display shelves, price tags etc
Comparing a competitor's product prices
Answering survey questions
Taking photos of certain products in your kitchen or bathroom storage cabinet
Trying out products sent to you
Mystery shopping and more
Each job has its own set of instructions and the payment amount, so I wouldn't assume the current average. But I would imagine that these tasks would pay anywhere between $5 to $10, depending on complexity and location.
For example, you'll be given a Walmart Scan Project that pays out $5. This task requires you to go to a specific retailer (maybe Sunmart Foods, or whatever the client specifies) and then pick a print ad or circular.
Field Agents will be required to go to Walmart and scan the barcode of a list of products that are identical to the ones they picked from Sunmart Foods.
This has you doing their job of comparing product prices between their competitors.
Field Agent Scores
Every Field Agent (you) is given a score that helps determine your reliability. It also helps determine your willingness to accept tasks. The companies that hire Field Agents are responsible for giving out scores.
A better score also gets you access to better paying opportunities.
This score is calculated by several factors, depending on the jobs you accept, deny, and complete.
85 + Completed Jobs - (Accepted - Completed) = Agent Score... or
85 + Completed Jobs - Denied Jobs = Agent Score
Income Expectations
The reason why there's no fixed average for how much you earn is your location. Where you live affects your income potential on this app. The bigger the town, the bigger the income; that's what it's all about.
As far as amount is concerned, the pay varies, so you can earn anywhere between $2 and $30, based on the reviews that I've read.
A couple of users reported earning as much as $5,000 from Jan 2018 to Sept 2018, but I am more inclined to think that they spent money to get to that amount.
Maybe they travelled to other states to get tasks. Some have also said that they spent hours on the road just racking up points in each town.
I wish there were more proof that could be provided here. But everything provided by customer feedback are all anecdotal at best and should be taken with a grain of salt.
Fund Transfers and Frequency
Payments are made via PayPal in the USA, but they're not available in Canada. For Canada, it's direct deposit or e-transfer or Dwolla.
Minimum payout threshold is $5.00 and a 0.75 cent fee for withdrawals.
Field Agent is a GPT site that's not intended for those that aren't willing to do the extra tedious things, like drive to a retail store. The income might be worth it though.
Field Agent Ugly Truths Revealed!
#1 – It's Not a Work-At-Home Opportunity!
By now you should know that this isn't a complete work-at-home opportunity. I mean, you can do some of the tasks at home but you're more likely going to other places to complete the high-paying ones.
The most available jobs for you will definitely require you to visit some stores, so be ready to drive or walk. There are going to be some surveys that may need to be completed every now and then, but these are rare.
#2 – Small Town, Low Income
Large cities have all the advantage of having access to all of the stores, but if you're in a small town, then Field Agents might be rare. This affects your income potential, positive and negative.
#3 – Not Available Internationally
As of this writing, it's only available in certain countries such as the US and Canada, so if you're not from that country, then Field Agent isn't going to be available for you.
Who knows? Maybe in the future, they'll cast a wider net and cover a wider area.
#4 – Some Jobs Get Easily Rejected
Some tasks will require to be reviewed by the clients before you get paid, so there's no guarantee that you're going to earn from the task you did.
The biggest reason why your task may not be approved is that the photo qualities might be poor or you weren't following instructions at all. Then again, this is a common occurrence in GPT sites so don't take it personally.
What I Like About Field Agent?
Field Agent is an interesting GPT site, but there's just not a lot of appeal behind it.
Even if there's a chance to earn a lot of money, there are far better programs out there that might give you something worthwhile to do.
Field Agent provides a legitimate make money online opportunity, but it's not something that I would recommend if you're looking for a full-time income.
With that said, there are several reasons why this program may not be for you. The income potential might be low if you are living in small towns, and as explained above, this restricts your access to high-paying tasks. That alone is more than enough to discourage people into joining.
The program doesn't have any bad reviews about members not getting paid or not being able to withdraw their money, so they're doing something right.
However, if you're decided to give this one a try, then go for it.
How I Make a Living Online?
I've personally created a 4-Figure Monthly Passive Income Stream and become financially independent at just 21 years old without any College degree or working experience!
Through my own hard work, I went from a broke restaurant waiter to living my dream laptop lifestyle in less than a year's time...
If you want to discover the secrets of how I did it at such a young age, click here!