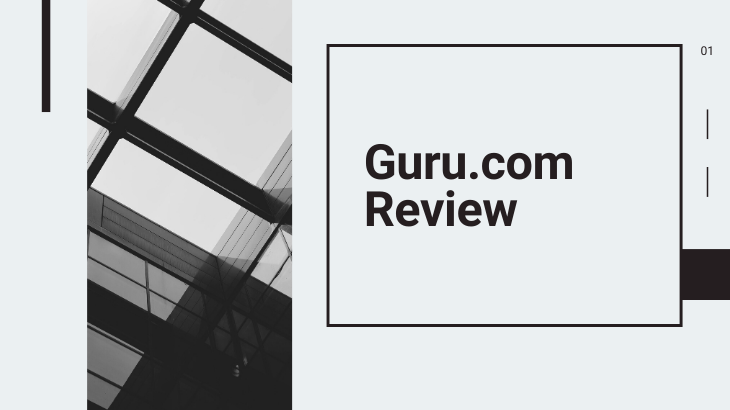 Is Guru.com a Scam? Another Freelance Marketplace REVIEWED!
Welcome to my Guru.com review!
Some of the best make money online opportunities often come from freelance marketplaces, and they'll sometimes get you the best projects for the buck.
One of these marketplaces is Guru.com, but are they going to give you the income that you need?
Stick around and read the review…
First of all, I must Congratulate you for taking your time to do your own research before buying into any "seemingly good" product.
That's the way to avoid scams and find the legitimate way to make money online!
Let me be completely transparent with you, I'm not associated with Guru.com in any form.
So, rest assured that I'm not here to pitch or sell anything to you.
Instead, I'm here to reveal why I think it's a mediocre freelance platform
Guru.com Review Summary
Product Name: Guru.com
Founder: eMoonlighter.com
Product Type: Freelancer Marketplace
Price: Free to join or Monthly Subscription
Best For: Experienced freelancers
Summary: Guru.com is a freelancer marketplace that has you competing against other freelancers, and this system has you bidding for projects. While there's money to be made here, it's not going to be that high because you're forced to undercut each other. So you're not going to get 100% guarantee on getting jobs as well. Everything just relies too much on the clients.
Rating: 10/100
Recommended: No!
More...
Guru.com is a freelance marketplace that brings together both employers and freelancers together for some back-office business duties, responsibilities, and so on. They're currently located in Pittsburgh, PA.
The company was founded by eMoonlighter.com in 1998 and has faced tough competition over the years.
The site is basically similar to Upwork and Freelancer, so there's not that any difference from what they offer but there are certain nuances.
However, Guru doesn't rank as high as those sites because of the many issues that plague them.
Guru.com is open to freelancers who're 18 years old above. You'll need to set up your username, password, and select from their two memberships: freelancer or employer. We're going to focus on the Freelancer membership.
How Do Bids Work?
Bids are offered to free or paid memberships, but as a paid member, you obviously get more bids.
Free members get 10 bids per month, with the option of paying more:
20 bids - $10
40 bids - $20
60 bids - $30
125 bids - $50
250 bids - $100
There are differences between purchased and paid membership bids as well. Monthly membership bids don't roll over into the next month and will expire. Purchased bids have no expiry.
I'm Jerry!
I Created My Own 4-Figure Monthly Passive Income at just 21 Years Old!​
Memberships
Paid memberships have other benefits that aren't available to free members, and this includes lower fees (the percentage that Guru takes when you get paid for a job).
Here's a complete list of the membership costs:
Basic (free) – 120 bids/year and 8.95% job fee.
Basic + ($11.95/month or $8.95/month paid annually) – 600 bids/year and 8.95% job fee.
Professional ($21.95/month or $15.95/month paid annually) – 600 bids/year and 6.95% job fee.
Business ($33.95/month or $24.95/month paid annually) – 600 bids/year and 5.95% job fee.
Executive ($49.95/month or $39.95/month paid annually) – 600 bids/year and 4.95% job fee.
Additional bids are available for all membership levels.
Setting Up Your Profile!
Once you're signed up, you'll be good to go. But first, you got to set up your profile. If you've worked with sites like these before, then it shouldn't be that difficult for you.
In your profile, you should include details such as:
Services you provide
Credentials
Rates
Experiences
Strengths and weaknesses
And possible testimonials
Additional Costs
Freelancers also have to shoulder additional costs, such as the 2.5% handling fee that Guru adds to their employers' invoice.
There are also skill tests that are provided for you that could help you land better jobs, but these are optional. Higher membership tiers get these tests for free, and more.
Basic members - $4.95/skill test
Basic + members - $2.95/skill test
All other members – Free
There's also a controversial fee that freelancers pay to have negative feedback on their profile removed, which leads to a very inaccurate rating system, which I'll get on later in next two sections.
How Does Guru.com Calculate Pay?
Guru.com is an open freelance marketplace so the rates vary from one client to another. The pay determines on the bid you set and the bids your competitor placed. This also depends on whether or not your employer agrees to the bid.
However, there are four ways for you to negotiate your way around the rates and to calculate payments:
Milestones – This is good for long-term projects and you break down payments into smaller segments or installments. Milestones can be set for each segment of the project done, or based on dates (monthly, bi-monthly, etc.). This is commonly used in software development and website development projects where features and pages are used as milestones.
Tasks – You can negotiate based on tasks as well. This is ideal for short-term projects that only need to be invoiced at one time.
Hourly – Hourly rates are difficult to negotiate, especially if your client has no history of working with you. Most employers will also require you to install time-tracking software to make sure that you are doing 100% work during the hours you billed them for. These software aren't invasive, but some will take screenshots every now and then of your desktop (and this includes your extended displays as well), so there's no way around it.
Recurring Payments – Think of this one as something similar to a payroll system where you get paid a fixed amount weekly, bi-weekly, or monthly, depending on the arrangement. This is intended for long-term projects who don't want to work with hourly and milestone rates.
Payment Transfer Methods
Guru uses the Safe Pay system, which is an escrow system of sorts that ensures employers fund the projects before you begin. In theory, this is supposed to give you some sort of confidence that you're going to get paid. But employers have to verify the payments before they complete the transfer over to your account.
When receiving funds, you can use the following transfer methods:
Direct Deposit (US banks only)
PayPal
Payoneer Prepaid Mastercard
Wire Transfer (To non-US banks)
Guru.com is intended for experienced freelancers with strong credentials and who know their way around bidding systems. The environment is cutthroat and may not suit novices for the time being.
Guru.com Ugly Truths Revealed!
#1. Freelancers Not Getting Paid
This has been the topic of many complaints by Guru freelancers, and I kind of understand where they're coming from.
Escrow systems are intended to safeguard both employers and freelancers; clients get their projects, and freelancers get their money. That's it.
And there will always be two sides to the same story. Clients are also at risk for getting ripped off by the freelancers, and vice versa.
Now, I'm not saying that the escrow system is 100% perfect, but there are instances where the system favors employers more over clients and thus resulting in clients not getting paid.
#2. Bidding System May Reduce Income Potential
The thing about bidding for projects is that you end up lowering your costs to secure the project. And some of the freelancers are more than willing to go lower than their rates.
If your intention is to go for high-paying projects, you might as well swallow your pride and take the loss because the only way for you to book projects is to bid lower.
And just because you bid lower doesn't always guarantee projects either. There are extenuating factors (such as time, manpower, and even experience) involved, so you're not exactly raking up on projects.
#3. Inaccurate Rating System
So freelancers get rated by their employers based on the quality of their work. Obviously, higher ratings mean that you're doing a great job and the companies love your work.
However, there's one feature that keeps their rating system quite inaccurate and this is from the paid members' ability to remove negative comments on their pages.
Now this hasn't been expounded upon by Guru, but you can pay a certain amount to remove negative feedback or rating from your profile. This allows you to carry out your business without people knowing about what you did that got you that negative rating.
What I Like About Guru.com?
There's nothing about their program that I like because it's basically still employment, but there's some form of control in terms of how much you can earn and how long you want to do particular tasks.
With that said, I would recommend other online freelance marketplaces such as Upwork and OnlineJobs.
Guru.com is a legitimate freelance marketplace that has some issues, and I don't think I can recommend this platform to anyone who wants to start the freelancing life.
The income potential might be low because of the fact that you have to bid for these projects. Bidding requires you to go lower and lower to beat out other bidders, so there's not always a guarantee that you're getting paid for the price that you want.
There are also other factors that hinder you from making this one as a source of full-time income, such as their escrow system being faulty. Some clients may come up with excuse that will make it look like you haven't done any work, so you're not getting paid for your trouble.
How I Make a Living Online?
I've personally created a 4-Figure Monthly Passive Income Stream and become financially independent at just 21 years old without any College degree or working experience!
Through my own hard work, I went from a broke restaurant waiter to living my dream laptop lifestyle in less than a year's time...
If you want to discover the secrets of how I did it at such a young age, click here!