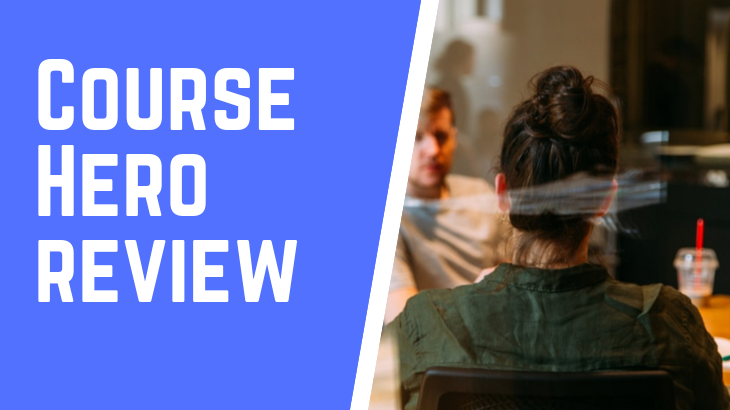 Course Hero Review – An Online Tutor Program Gone Bad?!
Welcome to my Course Hero review!
A lot of make money online programs right now are focused on online tutoring and teaching, and some of them are very lucrative.
We've reviewed some of them here on Smart Affiliate Success, but we haven't found any that are worth getting into.
Will Course Hero be the first program that we'll recommend? Let's find out…
First of all, I must Congratulate you for taking your time to do your own research before buying into any "seemingly good" product.
That's the way to avoid scams and find the legitimate way to make money online!
Let me be completely transparent with you, I'm not associated with Course Hero in any form.
So, rest assured that I'm not here to pitch or sell anything to you.
Instead, I'm here to reveal why this program is bad and why they aren't doing something about it.
Course Hero Review Summary
Product Name: Course Hero
Founder: Not Disclosed
Product Type: Online Tutoring Program (Make Money Online)
Price: Free to join
Best For: No one
Summary: Course Hero is a make money online opportunity by hiring you as an online tutor, but it's a program that leaves a lot to be desired. There are a lot of issues that doesn't really make this program look good for both tutors and students, and I'll show them all in the article below.
Rating: 10/100
Recommended: No!
More...
Course Hero is an online tutoring and learning resource where students and tutors are brought together.
The company was founded in 2006 and is headquartered in Redwood City, California.
They provide you with make money online opportunities such as:
Uploading Documents
Referring Friends
Tutoring
Course Hero also pays you when you upload educational materials such as flashcards, quizzes, class notes, study guides, and even practice exams.
Course Hero is similar to the other online tutoring programs we've reviewed here:
But Course Hero is also very different from these platforms because instead of a virtual classroom setting, their interface is based on a Q&A forum, which is a great way for people who don't like to interact via the webcam and microphone.
To register as a tutor, you'll have to fill out their application form and then make an account. You'll then be contacted for a phone interview within a few days.
Then if you're accepted, you'll be asked to take a 1-day basic training course.
Requirements
There's no specific educational attainment or other requirements in order to apply for their tutoring program.
The basic and non-negotiable requirements however are a computer and Internet access. You'll also need a scanner and a cellphone with decent camera if you plan to upload study guides and other documents.
What Subjects Are Taught in Course Hero?
These are the subjects that are handled by Course Hero:
Accounting
Biology
Business
Chemistry
Finance
Statistics and Probability
Economics
Computer Science
Math
Psychology
Physics
US History
Calculus
Management
I'm Jerry!
I Created My Own 4-Figure Monthly Passive Income at just 21 Years Old!​
How Much Does It Cost?
There's no fee for joining as a tutor, but if you're joining as a student, you'll have to pay anywhere between $10 and $40 a month, depending on their annual or bi-annual package.
The flash cards can be accessed for free though.
How Much Does Course Hero Pay?
There's no information provided by Course Hero on how much they pay their tutors, but upon digging further, I haven't found anything completely substantial.
But here's what I could gather:
Uploading materials earn you $0.25 to $0.75 per document
Tutoring earns you $1.00 to $5.00 for every question answered, depending on the difficulty of the topic
To focus more on the question part, some of them are packaged with follow-up questions so you'll have to answer those questions as well before you can submit them.
Course Hero Schedule
Your schedule is dependent on the student's availability, so there's not much flexibility in terms of working on the hours that you want.
Course Hero may sound promising, but it's not a program that I would recommend to anyone. And I'll explain why in the next section below.
Course Ugly Truths Revealed!
#1. Reviews and Complaints
Let's face it. The company is in no way under a positive spotlight right now. I've browsed through several reviews from their Glassdoor, TrustPilot, and SiteJabber and a lot of them are very negative.
From tutors, the most common complaint is that the pay is very low and that they immediately delete your accounts when a customer or student complains about the quality of your work.
From the student's point of view, there are several complaints about being billed and not being able to access the site's features immediately. Which is why most reviews have called them a scam or fraud.
Just look at these reviews and tell me that this isn't a one-time thing.
#2. Poor Quality of Work
Another issue here is that the company doesn't seem to have proper QA (quality assurance) processes in place since a lot of students complain about getting duplicate work and poor quality of educational materials being uploaded.
Check out the complaints from their TrustPilot page:
In my opinion, the students should get the best quality of education from programs such as Course Hero because these are valuable resources to them. If a company doesn't provide quality service to their customers, what do you think the quality of service they provide to their tutors?
Think hard about that.
#3. Low Income Potential
As you can see from their business opportunity, they offer a low payout compared to the other online tutoring programs out there.
Now $5 for getting a question answered might be some money, but not if you're spending 2 hours to research the question's answers.
If my memory serves me correctly, they're probably the lowest paying tutoring program we reviewed to date.
What I Like About Course Hero?
Despite being a promising program, I don't think there's something positive worth mentioning about the program and that's because of the all the negative issues that they have right now.
Course Hero may not be a scam, but they're completely far from being a totally reliable make money online platform.
They have several issues that need to be addressed, such as the poor quality of work provided by the tutors and the poor service they provide to the students. The income potential is also very low, so I don't think this is a very reliable source of income at this point.
There are better make money online programs out there.
How I Make a Living Online?
I've personally created a 4-Figure Monthly Passive Income Stream and become financially independent at just 21 years old without any College degree or working experience!
Through my own hard work, I went from a broke restaurant waiter to living my dream laptop lifestyle in less than a year's time...
If you want to discover the secrets of how I did it at such a young age, click here!