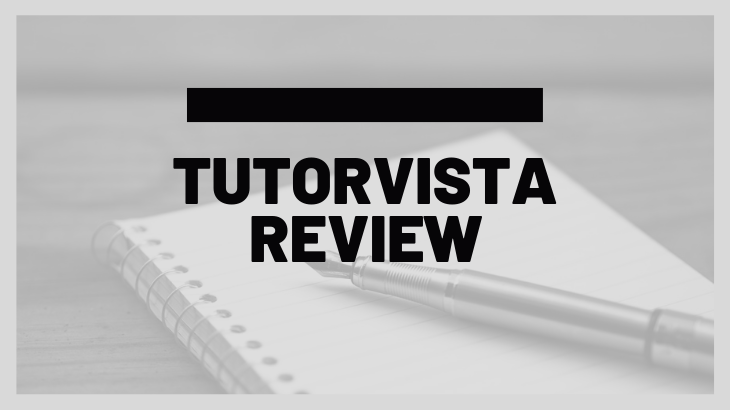 Is TutorVista a Scam? Another Online Tutor Opp Reviewed!
Welcome to my TutorVista review!
Online tutors are starting to become more relevant these days as more and more kids are looking for help to understand their subjects better.
With the rising demand for online tutors, a lot of programs are also starting to pop up. And one of them is TutorVista.
The question here is: will TutorVista be worth the time and effort to earn a few bucks online as a tutor?
First of all, I must Congratulate you for taking your time to do your own research before buying into any "seemingly good" product.
That's the way to avoid scams and find the legitimate way to make money online!
Let me be completely transparent with you, I'm not associated with TutorVista in any form.
So, rest assured that I'm not here to pitch or sell anything to you.
Instead, I'm here to reveal what this work-at-home opportunity has in store for freelance tutors and if you can make some decent coin in this site.
TutorVista Review Summary
Product Name: TutorVista
Founder: Not disclosed
Product Type: Work-At-Home Opportunity (Online Tutoring)
Price: Free to Join
Best For: People who have the passion for teaching.
Summary: TutorVista is an online tutoring platform available for Kindergarten up to college undergraduates. They hire freelance tutors, which is you, to help teach their subjects requested. It is a legitimate program that provides a decent hourly rate, but it doesn't provide you with a full-time source of income. The flexibility they claim isn't really that decent, given that you still have to set schedules and work a minimum number of hours per day. At the end of the day, you're trading in hours for dollars still.
Rating: 50/100
Recommended: No
More...
TutorVista is an online tutoring platform that connects both students and tutors. Students can range from Kindergarten to college undergrads and have access to tutors through a virtual classroom environment.
TutorVista was founded in 2005 and currently located in India, and provide a work-at-home opportunity for new and experienced tutors.
TutorVista is similar to CheggTutors and DadaABC in that it provides students with a classroom environment that includes a chat window, whiteboard, and graphic and drawing tools.
Common subjects being taught are:
Math
Physics
English
Chemistry
Biology
Essay Review
And many others...
Take note that this is a zero-leverage opportunity, which means that you only get paid once for your work and that there's no passive income to be made here. You're still trading in hours for dollars.
TutorVista Requirements
TutorVista requires all their tutors to have good English communication skills and a minimum of a Bachelor's Degree AND a teaching degree in your field.
Some subjects such as Engineering won't accept anything less than a Master's Degree.
They also require you to work for 4 hours per day along with a working computer and a stable Internet connection.
TutorVista Application Process
You only have to send your resume and application letter to their email: jobs@tutorvista.com, and they'll contact you if you qualify and if they need tutors for the subjects you are experienced in.
TutorVista covers Kindergarten to Undergraduate levels, so there's a wide-range of opportunities provided here, especially if you want to earn a few bucks online at night.
Once you're accepted, you'll receive training on how to use their tools as well as familiarization of the TutorVista methodology and curricula for different grades. Training also includes trial tutor sessions with trainers and other tutors.
Training is dependent on your skill level as well, but on average, you go through about 35 hours over a 7-day period.
I'm Jerry!
I Created My Own 4-Figure Monthly Passive Income at just 21 Years Old!​
How Much Does TutorVista Pay?
There's not that much information about how much TutorVista pays, but a few sites have confirmed that it's somewhere between $8 to $39, based on experience and level of expertise. However, I also found that $18 is their most expensive advertised rate, so you can expect the average pay rate to be quite lower.
It's not a lot of money after all's said and and done, and when TutorVista takes their cut, you're probably looking at $8 per hour, which is still a dollar above the US Federal minimum wage.
TutorVista Schedule
They may boast of a flexible work-from-home job, but they still require you to work at least 4 hours a day. These times are scheduled as well, so there's not a lot of flexibility here.
A lot of your hours will be worked in the evening for most of the time, and you're lucky if you get to start late in the afternoon.
They only provide part-time hours when you apply but they do offer a full-time position at 9 hours.
Each tutoring session takes about 45 minutes at the minimum, so you're looking at an average of 2 to 3 sessions per night within a 4-hour timeframe.
TutorVista Ugly Truths Revealed!
#1 – Low Potential Income!
It doesn't have the same income potential as CheggTutor and DaDaABC. Again, you're barely making above Federal minimum wage, and that you're still trading in dollars for hours so it's not a form of passive income at all.
On top of that, I haven't found anything about getting promoted or getting an increased rate because they don't have a rating system like DadaABC and CheggTutor. Basically, there's no room for growth here.
#2 – Lots Of Waiting Around and Doing Nothing.
You also have to take into consideration that students will still have to choose you, so in the 4 hours that you're working, you're going to do a lot of sitting around and doing nothing.
Again, there's no guarantee here that you're earning anything in the 4-hours unless you're teaching.
#3 – Rude Students!
Some students can be rude, and I guess that comes with the territory. You just have to be willing to take their rude statements if ever.
#4 – Lack of Flexibility!
TutorVista just doesn't offer that much flexibility even though it's a work-from-home opportunity. You're required to work at least 4-hours per day so students will always have access to a tutor every hour.
The only way that this could work in your favor is when this becomes your full-time job, and that's the only time the lack of flexibility can be justified.
What I Like About TutorVista?
#1 – You're Teaching People!
Let's be honest here. Any program that teaches people anything is a decent program. TutorVista and all the other online tutoring platforms should be applauded for giving students a chance to become better versions of themselves.
TutorVista is a legitimate work-at-home platform that provides you with an opportunity to become a tutor for their various subjects.
At the end of the day, this is still a job and not a form of passive income.
You're trading in dollars for hours, and that's why I can't recommend TutorVista if you are looking for any program to help you earn money online.
Teaching is a noble profession, and I can't take that away from TutorVista. If your passion is teaching children or people about anything, this program might be worth looking into.
How I Make a Living Online?
I've personally created a 4-Figure Monthly Passive Income Stream and become financially independent at just 21 years old without any College degree or working experience!
Through my own hard work, I went from a broke restaurant waiter to living my dream laptop lifestyle in less than a year's time...
If you want to discover the secrets of how I did it at such a young age, click here!