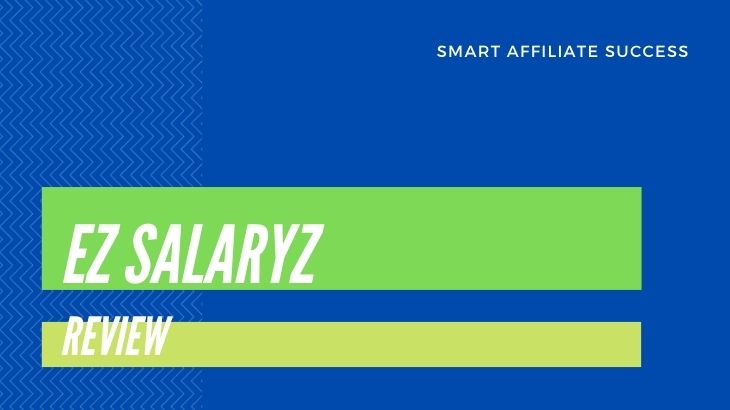 What Is EZ Salaryz? A DFY Affiliate Marketing Platform Exposed!
Welcome to my EZ Salaryz review!
Affiliate marketing is no easy feat, and it's often a wonder why we see a lot of companies marketing it the way these guys are. The program that we're about to review right now promises that you can get set up with affiliate marketing, or making money online, in as little as 5 minutes.
But are you also going to be earning a decent amount of money by then?
This is Ez Salaryz.
First of all, I must Congratulate you for taking your time to do your own research before buying into any "seemingly good" product.
That's the way to avoid scams and find the legitimate way to make money online!
Let me be completely transparent with you, I'm not associated with EZ Salaryz in any form.
So, rest assured that I'm not here to pitch or sell anything to you.
Instead, I'm here to reveal what this program is all about...
EZ Salaryz Review Summary
Product Name: EZ Salaryz
Founder: Jason Fulton and Mosh Bari
Product Type: DFY Affiliate Marketing
Price: $22 one-time fee plus upsellss
Best For: No one!
Summary: EZ Salaryz is a DFY affiliate marketing platform intended for beginners, but it's quite the contrary. There's nothing on this program that's easy nor intended for novices. We discovered a few things that made us skeptical as well.
Rating: 60/100
Recommended: No!
More...
Ez Salaryz is a DFY (done-for-you) program that allows you to create membership websites. These websites allow you to make money off of people signing up for whatever it is you want to offer membership for.
This program launched on March 6 2020 and was created by Jason Fulton and Mosh Bari. They're also the people behind the following programs:
OMG Profitz
Trazeall
Lazee Profitz
DFY Profitz
RapidProfiXpro
MaxProfiXpro
If you noticed, all of their sites have a common theme, and we're not talking about the name either. All of them work on the premise of setting up an automated online business similar to 12 Minute Affiliate and the 3 Step Method.
The only difference between Ez Salaryz and these two aforementioned programs is that the former were scams.
Ez Salaryz markets their program by telling you that there's only three steps that you need to take to make money online:
Buy the Ez Salaryz software

Create your membership site (around 30 seconds per site)

Push one button to fill it up with products, articles, videos, and so on
And that's about it.
After performing the steps above, your site is good to go and ready to accept members (and charge them monthly fees). These are your sources of income.
I know what you're thinking. Why does it sound so promising and yet why do we doubt their claims?
It's because we're thinking the same thing. Everything about the program makes us skeptical, so let's just tackle the bigger questions here:
I'm Jerry!
I Created My Own 4-Figure Monthly Passive Income at just 21 Years Old!​
Earn $5,000 to $50,000 a Month with EZ Salaryz?
I believe that Ez Salaryz is a solid platform, but I don't believe for a second that they're able to generate this amount of money for you through their system no matter good of a product you have to offer.
Let's look at it from the outside looking in. Pretend you're the buyer of the Ez Salaryz's buyer (a.k.a. Their customers' customers).
What could you possibly have from Ez Salaryz that would make people sign up for you site, let alone being a new one at that?
What do you have to offer on your Ez Salaryz platform that would make hundreds of people signing up?
There's just nothing that I could think of that a newbie marketer like you could ever sell through Ez Salaryz's platform that would make people sign up for it right off the bat (practically speaking and no disrespect meant, of course).
What If People Don't Have Products To Sell?
In order for any membership to work, you need to have content and products that come in the form of articles, videos, reports, courses, and so on. But what if you don't have any of those when you sign up for Ez Salaryz?
Well, according to Ez Salaryz, even if you don't have anything to put on your, it's not going to be a major problem. You can use their white label products (PLR products) and use it as your own.
But this is where it becomes problematic. How many members of Ez Salaryz will be using the same white label products?
Not only will you be dealing with the issue of plagiarism (Hello, Google algorithm for search engine optimization), but you'll also be dealing with certain legal issues associated with using PLR (Private Label Right) products.
Where Do People Get Buyers?
People who purchase Ez Salaryz are going to be new to online marketing as a whole. They need to understand that the key to making money online is through traffic, one way or the other.
You need people to sign up to your site and to pay the membership fees.
But where do you get traffic?
You could do it the free and easy way by doing SEO (search engine optimization) and SMM (Social Media Marketing). But you could also do it expensively through paid traffic.
But paid traffic doesn't guarantee quality traffic right off the bat. It requires a lot of testing and fine-tuning, so you have to spend a lot of money before you can identify the audience that you need to be targeting for the site.
As a beginner, there's just no justifiable way to spend money on paid traffic for something that you might not even commit to within the next few months.
How To Get Started with EZ Salaryz?
The front-end price of Ez Salaryz is $22, which is relatively cheap for what it has to offer.
Unfortunately, they do have upsells on their program that are designed to help you run things smoothly.
For example, they don't have an in-house autoresponder, so you have to go get one yourself. This is an additional monthly cost, and will continue to grow as your list grows.
We don't know if the upsells in Ez Salaryz's dashboard are the creator's affiliate products or not, so they might make money off of you when you sign up for one of them.
We don't have a list of the upsells, so we're just going to leave it at that.
There are tons of better affiliate marketing programs out there that can help beginners like yourself establish a stronger foundation in your online business. Ez Salaryz promises to be beginner-friendly, but it actually isn't.
EZ Salaryz Ugly Truths Revealed!
#1 Not Meant For Novices
Like I mentioned, it's not actually meant for novices. There's a lot of things on this program that might have novices wondering about.
Because it's a DFY system, then it's simply going to assume that you already know a few things and that it's not going to teach you on a couple of things (otherwise, it'd be charging you more).
#2 Expensive Due To Paid Traffic
Paid traffic is an expensive venture and is only done by expert marketers. But even then, they'd need to be confident that the campaigns they run will work based on the data they gathered from previous campaigns.
As a novice marketer, you probably won't know anything about paid traffic and its intricacies. This is where Ez Salaryz also falls short on.
#3 Ez Salaryz Founders Don't Even Guarantee Income
Their earnings disclaimer states it all. They don't want to guarantee that you'll be making a ton of money on this program.
All they really have to say is that it depends on the person running the program and what he or she is going for. In other words, an experienced marketer running Ez Salaryz' platform will probably be more successful than the novice marketer.
And to me, that's not exactly fair.
What I Like About EZ Salaryz?
There are better programs out there, and I can't think of anything that I like about this program.
Ez Salaryz is a legitimate program and it markets to novice marketers. But we hate to be the bearer of bad news and start off by saying this isn't something that novices should even think about signing up.
The biggest reason for that is this program does not exactly give you anything to work with in terms of learning the ins and outs of the industry. All it does is give you a platform to run your online business on the assumption that you already know what you're doing.

There are several upsells on the site that may force the novice marketer to spend more money than they should. Again, they operate on the premise that you already know what you're doing. If you're completely new, chances are you'll purchase everything they have on their upsells.

There's no guaranteed income here. As I explained earlier, an experienced marketer might be able to make this program work because they already know what to do. But a novice marketer may not have the same results.
I would advise people to look someplace else if they want to start their business online.
How I Make a Living Online?
I've personally created a 4-Figure Monthly Passive Income Stream and become financially independent at just 21 years old without any College degree or working experience!
Through my own hard work, I went from a broke restaurant waiter to living my dream laptop lifestyle in less than a year's time...
If you want to discover the secrets of how I did it at such a young age, click here!