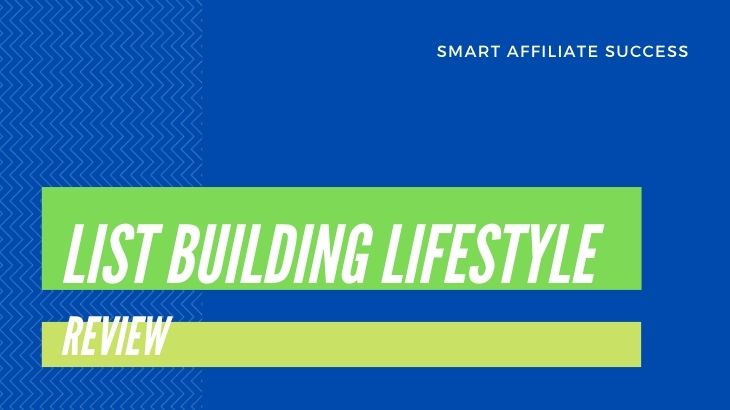 List Building Lifestyle Review – Email Marketing Made Easy?
Welcome to my List Building Lifestyle review!
Email marketing is probably one of the most lucrative ways to make money online, but it's definitely not meant for beginners. It's also something that needs a lot of time and investment in order for it to be successful.
Today, we're taking a look at an email marketing program called List Building Lifestyle.
First of all, I must Congratulate you for taking your time to do your own research before buying into any "seemingly good" product.
That's the way to avoid scams and find the legitimate way to make money online!
Let me be completely transparent with you, I'm not associated with List Building Lifestyle in any form.
So, rest assured that I'm not here to pitch or sell anything to you.
Instead, I'm here to reveal why it makes email marketing easy...
List Building Lifestyle Review Summary
Product Name: List Building Lifestyle
Founder: Igor Kheifets
Product Type: Email Marketing Course
Price: $97 monthly subscription
Best For: People with existing online businesses.
Summary: List Building Lifestyle is an email marketing course designed by Igor Kheifets. It's an affordable subscription-based course that has a lot of things to offer. But it's not meant to get you an independent business running. This is merely to supplement your current or existing marketing strategies.
Rating: 70/100
Recommended: Yes!
More...
What is List Building Lifestyle?
List Building Lifestyle is an email marketing platform that was created by marketer Igor Kheifets. This program is all about how to build your email list and navigating your way through email marketing.
Who Is Igor Kheifets?
The man behind List Building Lifestyle is Igor Kheifets and is a widely-recognized internet marketer/affiliate marketer in the industry. He's been in the industry for quite a while now, and we first saw him in one of his solo ads not too long ago.
Before List Building Lifestyle, he was also the man behind a popular course called Elite Affiliate Pro that costs $997. This was his training course for affiliate marketing. Compared to other affiliate marketing courses we've reviewed, Elite Affiliate Pro is relatively cheaper.
If you want to know more about how Kheifets approaches his teaching, you can check out his YouTube channel.
His video titles are not clickbait nor do they have unnecessary income hypes.
Rather, the videos are straightforward and short. He knows what he's talking about in the realm of Internet marketing and email marketing.
Inside List Building Lifestyle
Note that List Building Lifestyle is not an email marketing training course in its entirety. There are some training involved with this program, but it's not the main focus of it.
Here's what you can expect from the monthly subscription you're paying:
Monthly AMA's With Igor
Igor will go LIVE every month where he holds an AMA or Ask Me Anything session with his community.
Granted, you may not be getting 1 on 1 attention, but it's a good avenue to get your questions answered by the man himself.
Hot Seat
While this isn't exactly uncommon in a lot of training courses, it's a great way to have your business looked at from the outside looking in.
The Hot Seat is a session where your website, business strategy, and marketing strategies are looked at and critiqued by Igor and other members of the community.
This may be a good way to identify key flaws in your current business, but it doesn't help if your business doesn't get looked at a lot.
We also don't have any information as to how often this session is done in a week, nor do we know how many people are accommodated per session.
I'm Jerry!
I Created My Own 4-Figure Monthly Passive Income at just 21 Years Old!​
Community
The main gist of the program is its community. You surround yourself with like-minded individuals who are there to succeed and help other succeed.
List Building Lifestyle is relatively new, so we don't have any feedback or info as to how good the community actually is.
Some Training
There are some valuable training to be had here, and not just on the email marketing side of things. We assume that you get access to the trainings, and all future content, as long as you're still subscribed to the training program.
One of the valuable training courses here is Igor's 6-Step Affiliate Checklist. This is the same checklist he uses to create 11 different affiliate paydays.
Email Swipes
You also get access to the 10 Email Swipes that Igor himself uses in his campaigns. But it's not a copy-and-paste kind of thing. You would still need to customize the swipes to meet your needs and to match your audience.
Monthly Fees
The program comes in with a monthly fee of $97, which gets you access to everything that I listed above and more.
We don't have any information as to whether or not they have upsells within the dashboard, but we assume that even if they did, it would be to Igor's other program Elite Affiliate Pro.
Refund Policy
They have a 7-day refund policy, which is also a no-questions-asked kind of policy. Normally you expect it to be 30-days, but since this is a monthly sub, the 7-day refund is fair.
Who's List Building Lifestyle For?
List Building Lifestyle is meant for people who already have an existing business online and who're looking to supplement their income and marketing strategies.
What I Like About List Building Lifestyle For?
#1 Igor Kheifets Is Legit
List Building Lifestyle and Igor Kheifets are both legitimate. While his YouTube channel is not an indication of how well-established he is, you can definitely traces of Kheifets and his reputation in various places online.
#2 Email Marketing Is A Great Way To Make Money
Email marketing, when combined with other businesses or when supplemented into an existing marketing strategy, can be beneficial for the business as a whole. This goes without saying that you just can't set up an email marketing business on its own without relying on other business models.
That's why if you don't have an online business just yet, don't subscribe to this program. There are better options out there for you to build your business.
List Building Lifestyle Ugly Truths Revealed!
#1 Not Much Training for Novices
The community might be good and all, but it's not meant for novice marketers. As a whole, List Building Lifestyle is meant to supplement your current business online. It's also meant to enhance your list building processes.
When you subscribe to this platform, Kheifets will assume that you already have some working knowledge of affiliate marketing, Internet marketing, and even email marketing.
Is List Building Lifestyle a Scam?
List Building Lifestyle is a legitimate email list building platform created by Igor Kheifets. It's definitely one thing we'd recommend to expert marketers out there who're plateaued with the way they're currently making their email list.
Igor definitely knows what he's talking about not just in the realm of email marketing, but also on different aspects of Internet marketing.

Email marketing is a great way to supplement existing marketing strategies, and List Building Lifestyle could potentially help you improve your email marketing processes.
This program is not meant for people who've yet to start their business online, or who've little to no working knowledge about Internet marketing, affiliate marketing, and email marketing. This is just meant to supplement your marketing processes as a whole. List Building Lifestyle is not meant to be built as a business alone.
How I Make a Living Online?
I've personally created a 4-Figure Monthly Passive Income Stream and become financially independent at just 21 years old without any College degree or working experience!
Through my own hard work, I went from a broke restaurant waiter to living my dream laptop lifestyle in less than a year's time...
If you want to discover the secrets of how I did it at such a young age, click here!