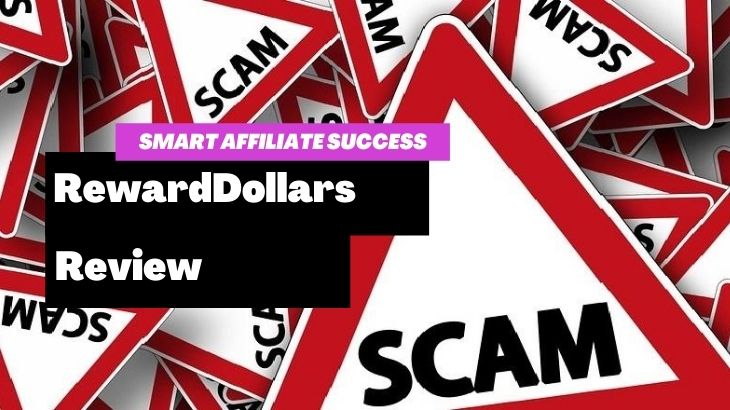 What Is RewardDollars? Another Influencer Scam Site Exposed!
Welcome to my RewardDollars review!
These influencer scams are everywhere, and they're just going after one thing: your personal information. They promise you with a lot of rewards and money, but they're not going to give you anything.
This is another one of those scams called RewardDollars.
First of all, I must Congratulate you for taking your time to do your own research before buying into any "seemingly good" product.
That's the way to avoid scams and find the legitimate way to make money online!
Let me be completely transparent with you, I'm not associated with RewardDollars in any form.
So, rest assured that I'm not here to pitch or sell anything to you.
Instead, I'm here to reveal what this influencer scam is all about...
RewardDollars Review Summary
Product Name: RewardDollars
Founder: Not disclosed
Product Type: Influencer Scam Site
Price: Free to Join!
Best For: No One!
Summary: RewardDollars is an influencer scam site that we continue to uncover here in this site. There are a lot of fake stuff on their landing page, from fake founding dates to fake testimonials.
Rating: 1/100
Recommended: No!
More...
RewardDollars claims to be a lot of things, most especially being the #1 social media network and influencer site.
They will hire you as an influencer, have you do a lot of tasks, and get paid up to hundreds of dollars a day.
Their About Us page mentions that they've been around since 2000, but the domain registration dates them back to 2020.
So what is this program all about then? And why is it a scam?
This is how RewardDollars works. You create an account with them and you give them your personal information.
To make the pot sweeter, they give you a $25 bonus for it. But you're not able to cash out just yet.
You also have to do the following in order to withdraw the bonus:
Refer people into the program

Get people to click on your referral link

Do X number of tasks

Upload a video talking about how good RewardDollars is
By that time, you'll have accumulated a good amount of money. Probably around $450 to $500, including your signup bonus.
That's pretty good, right?
I'm Jerry!
I Created My Own 4-Figure Monthly Passive Income at just 21 Years Old!​
Will You Get Paid By RewardDollars?
The bad news here is that you're never going to get paid.
So, when you think you're able to cash out your signup bonus, they make you do the tasks I listed above.
But when you complete them and request for a second payout, they'll deny your request.
They'll even go as far as telling you that they found illegitimate activities done by your account, and that the link clicks and sign ups you accumulated were fake.
I mean, you can just check out what the comments say about the program by these people.
How RewardDollars REALLY Works?
So in essence, RewardDollars lures you in with the promise of making a lot of money. Then the tradeoff here is that they get your personal information.
What do they do with your personal information? Probably sell it to the highest bidder, which could be anyone. Might be a market research company who picks it up, or worse, hackers.
And pretty much what they're doing can be debunked by doing some quick math and some common sense.
Here's how legitimate survey sites work.
Say a client pays a survey company $100 to get 1,000 people to fill up a survey. But that $100 is not going to be divided between the participants. On the contrary, participants only get a percentage of that $100. The rest they keep for profits and so on.
So if a survey sites splits it by giving the participants 30% of the total amount paid, then it gets divided between the participants.
Imagine $30 divided between 1,000 members. That's roughly $0.03 per participant.
And note that this is a legitimate way to run survey sites or GPT sites.
Following that math, if RewardDollars promises you that $30 is for doing a task, then that means a portion of a portioned share. So, that means RewardDollars shelled out $30,000 for the participants. They get $70,000 from their clients paying them for the services.
Why would any company pay out $100,000 to get surveys filled out? It doesn't make no sense at all.
RewardDollars is not meant for anyone at all. This is an absolutely notorious scam and Modus Operandi.
RewardDollars Ugly Truths Revealed!
#1 Unknown Founders
There's no information about who owns the company, which is not a surprise given that it's how it operates. They don't want to be liable for anything that happens with you or with any of your information.
#2 Fake Founding Date
This is a screenshot of their founding date, which they claim they've been around since 2000. But the domain name was registered just in 2020, so we don't know why they're lying about when they started.
The reason why they're just making stuff up is to make themselves look legitimate. We don't really know why even bother with making a fake founding date. It also goes against them when they try to date themselves back because they could be debunked by a quick Google search.
#3 Fake Payment Proofs
Don't believe any of these payment proofs that they have on their landing page. These are all fake, and copied off from one of their sister sites' landing page.
There's just no real and legitimate proof that people are getting paid here.
#4 Fake Testimonials
The testimonials are also fake, which comes as no surprise. These testimonials use fake names and stock photos to make it look like they have real people using the system.
These testimonials are also copied and pasted from their sister sites as well. They'll share the same context, but probably just use different names and/or photos.
#5 A Clone of InboxDollar.co?
It's a clone of InboxDollar.co and some other of its sister sites. All of their landing pages and their content are copied and pasted from one site to another. We just don't know who the original site is.
What I Like About RewardDollars?
There's nothing to like about this program. RewardDollars is one big scam!
RewardDollars is one big scam and there's nothing that proves that this is a legitimate site. This may be part of an influencer scam network that's proliferated all over the Internet.
RewardDollars has a lot of red flags, and we found them some (if not all).
There's a lot of fake stuff going on, from fake founding dates to testimonials to payment proofs.

They're using the same templates that their sister sites are using, including the fake stuff on it.
Stay away from this program at all costs!
How I Make a Living Online?
I've personally created a 4-Figure Monthly Passive Income Stream and become financially independent at just 21 years old without any College degree or working experience!
Through my own hard work, I went from a broke restaurant waiter to living my dream laptop lifestyle in less than a year's time...
If you want to discover the secrets of how I did it at such a young age, click here!