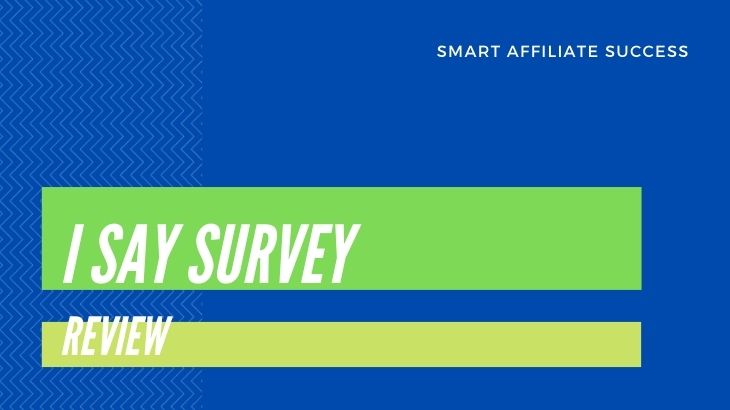 I Say Survey Review – Can You Make Money Here?
Welcome to my I Say Survey review!
Survey sites are fun to do, and they're one of the most reliable way to make a few bucks online. It's going to take a lot of work, but it gets the job done. Some of the survey sites pay more than others, while there is a small handful that don't really do justice to the industry.
So how do we know if a survey is good or not? Well, we keep an eye out for a few things and how it works. Then we just do the math and go from there.
Today, we're reviewing I Say Survey, and we're going to find out whether it's good enough to waste your time on or you're better off going for a different program.
First of all, I must Congratulate you for taking your time to do your own research before buying into any "seemingly good" product.
That's the way to avoid scams and find the legitimate way to make money online!
Let me be completely transparent with you, I'm not associated with I Say Survey in any form.
So, rest assured that I'm not here to pitch or sell anything to you.
Instead, I'm here to reveal what this program is all about...
I Say Survey Review Summary
Product Name:  I Say Survey
Founder:  Ipsos Research
Product Type:  Paid Survey Program
Price:  Free to Join
Best For:  No one
Summary:  I Say Survey is a paid survey intermediary that has you filling up surveys and fulfilling other rewards. However, it's not as lucrative as we think it was. There's issue with its income potential because you're earning a few cents. And there's availability issue with surveys. It's not that good of a program, but it's not that bad either. 
Rating: 50/100
Recommended: No!
More...
I Say Survey is a paid survey program developed and managed by a research firm called Ipsos. This company was founded in 1975 and currently employs more than 16,000 employees from all around the world.
I Say Survey is Ipsos' online marketing research division where, as you guessed it, online market activity and research is being carried out.
I Say Survey and Ipsos are two of the largest survey and marketing research firms in existence today, so there's no denying that this program is legitimate.
Signing up for I Say Survey is easy. All you have to be is at least 18 years old, and have to reside in the USA or Canada.
As of this writing, we can't say if they accept international members.
The process takes a few minutes, and you'll be asked to verify your email. After that's done, you will be asked to answer a few questions. This allows I Say Survey to build your profile to help match you with the surveys that fit your demographics.
Once that's done, you'll be able to enjoy the following services to help you make some money:
Paid Surveys
The best way to earn money on I Say Survey is through their surveys. Surveys can take you as long as 30 minutes to fill, and pay varies depending on the length. Majority of the surveys pay out a few cents and take a couple of minutes to fill.
You also have to qualify for the surveys before you can take them. There's a chance that you could take one survey and be disqualified right in the middle of taking one because you don't meet the requirements.
I'm Jerry!
I Created My Own 4-Figure Monthly Passive Income at just 21 Years Old!​
Loyalty Program
Like some survey sites we reviewed, I Say Survey also has a loyalty program in place. The more surveys you take, the higher bonuses you can qualify for. You earn points that you can convert for cash or other rewards based on the number of surveys you take.
Contests
You'll be eligible to join contents that give out cash prizes and points, including a quarterly contest of $100 to 30 members. You'll just have to keep an eye out for these contests on the site.
Referrals
You can enjoy I Say Survey's referral programs to make money from people you invite to join the site. You'll have to send an email from your profile to them and earn 100 points when they sign up.
It's not really that impressive, and the incentives for building a team doesn't justify the time it takes to convince people to join this program.
How Much Money Can You Make?
At the lowest end of the spectrum, you're looking at $0.45 and as high as $2 per. Most of the time, you're averaging at $0.90 per survey.
They also have a point system in place where 1 point is equal to $0.01, which you can use to exchange for cash and gift cards.
What Are The Rewards?
On top of the cash rewards, you can also enjoy the following gift cards which you can convert your points to.
You can expect to get the following, and more:
500 points for a Starbucks Card worth $5. Delivery is instant.
500 points for a Facebook Game eCard worth $5. Delivery is instant.
1,000 points for an Amazon Gift Card worth $10. Delivery is instant.
1,500 points for a Target Gift Card worth $15. Delivery is instant.
1,530 points for PayPal Funds worth $15. You will have to wait for between 1 and 3 weeks before the money is deposited into your account.
2,000 points you an i-Say Choice Visa Prepaid Card. You will have to wait for between 3 and 4 weeks to receive the card.
I Say Survey is meant for people who want to do surveys for gift cards. This is probably the only reason why this survey program is decent enough.
I Say Survey Ugly Truths Revealed!
#1 Not Enough Surveys
Just like most survey sites, there's never going to be enough surveys to go around with. You see, surveys only need a limited number of participants on top of requiring a certain demographic.
Some surveys will only take in hundreds of participants and close out once that quota is filled. This is also one of the reasons why you might get booted out of a survey.
#2 Low Income Potential
You're not exactly earning a few bucks every hour here on I Say Survey, and that's expected. Even the best survey sites don't offer that much in terms of pay.
You're earning a few bucks in a week at best. This isn't something that you can do full time.
#3 Cash Payouts Take Up To 4 Weeks
It takes you quite a while to receive cash payouts. Whether it's through PayPal or through the debit card, expect to wait for a week or two to get your cash.
And by the time, you've already gotten enough money on your next run to cash out again.
What I Like About I Say Survey?
#1 Free To Join
You can join this site for free, which is again expected. There's no membership level or any sort of premium perks that would require you to pay to get an advantage.
#2 Low Payout Threshold of $5
Survey sites are notorious for high payout thresholds, so it's a breath of fresh air to see sites like I Say Survey offer payouts at lower than industry average. The industry average would probably be around $15.
I Say Survey is a legitimate program, and we don't have any doubts about the way it runs things. However, it's not going to be your quickest way to make a few bucks either.
The income potential is low for a number of reasons. There are issues with the number of surveys available and the amount of money you're earning per survey.
Cash payouts take a few weeks to process and receive. It can be a little frustrating to wait this long to receive $5.
All in all, I wouldn't say that this isn't worth checking out either. We would definitely put it on our list of decent survey sites, but then again, don't quit your day job over this.
Related Links
How I Make a Living Online?
I've personally created a 4-Figure Monthly Passive Income Stream and become financially independent at just 21 years old without any College degree or working experience!
Through my own hard work, I went from a broke restaurant waiter to living my dream laptop lifestyle in less than a year's time...
If you want to discover the secrets of how I did it at such a young age, click here!