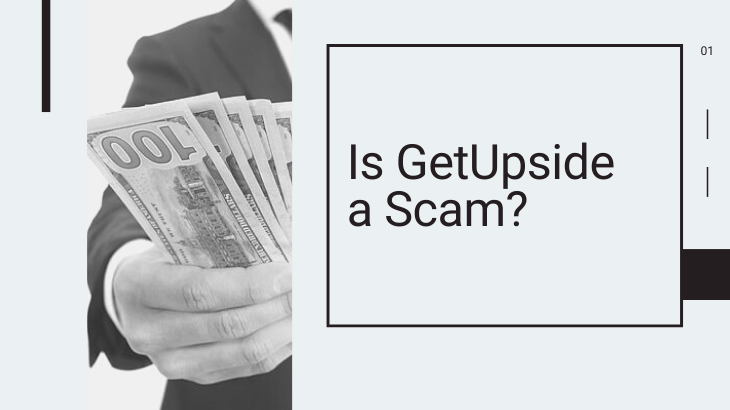 Is GetUpside a Scam? It's A Fun Cashback App But…
Welcome to my GetUpside review!
Cashback apps are quite a decent way to make some money back from your purchases. We've reviewed quite a handful of them on this site, and we all found them to be very good.
Today, we're adding one to the list called GetUpside…
First of all, I must Congratulate you for taking your time to do your own research before buying into any "seemingly good" product.
That's the way to avoid scams and find the legitimate way to make money online!
Let me be completely transparent with you, I'm not associated with GetUpside in any form.
So, rest assured that I'm not here to pitch or sell anything to you.
Instead, I'm here to reveal why it's a fun app and why it's something worth checking out...
GetUpside Review Summary
Product Name: GetUpside
Founder: Not disclosed
Product Type: Cashback Purchase App
Price: Free to join
Best For: People who love to shop
Summary: GetUpside is a legitimate cashback app with a lot of fun features. It's just a little bit different from the other apps we reviewed because there's a limited amount of times you can redeem rewards per company per week, and you can't use for these purchases associated with the rewards. But it has a lot of positive reviews and people did get paid, so there's something positive too.
Rating: 70/100
Recommended: Yes
More...
GetUpside is a cashback app that gets you money back on your everyday purchase. You get as much as $0.25 cents back on certain purchases like a gallon of gas. This makes it great if you do a lot of driving.
GetUpside is partnered with some of the biggest names in gas, groceries, and restaurants.
But why is cashback appealing?
Cashback is an appealing premise to help businesses attract more customers. While discounts are also very interesting, the premise of a cashback actually helps you save more cash because the money is returned back to you.
GetUpside was founded in Washington DC, and is partnered with thousands of local companies.
They've gone through a lot of updates since last year, and they've improved their services greatly.
GetUpside is a very simple app. You sign up for a free account, scan your receipts, upload it to your app, and you get your rewards.
How To Make Money with Get Upside?
Find Businesses With Cashback Offers
On the app, you'll see a list of stores within your location that have cashback offers. These will include restaurants, gas stations, grocery stores, and so on.
Click on where you want to buy or shop and the app will show you how much money you'll get back. You'll see the original price of the purchase and the discount that the app shows.
Claim Offers
Before you make the purchase, be sure to claim the offer for the partner store. Once you claim the offer, you can continue with the purchase.
You'll have 4 hours to upload the receipt to redeem the offer. After the receipt has been uploaded and the reward has been issued, you can claim the offer again.
Upload Receipts
You'll need to upload the receipts of your purchases through the app. Make sure the receipt contains the business' address, date and time, items purchased, and the last four digits of your credit card number.
I'm Jerry!
I Created My Own 4-Figure Monthly Passive Income at just 21 Years Old!​
Cash Out
You'll be rewarded between 24 and 48 hours if the receipt is approved. Then you get paid out via PayPal or Check.
Refer Friends And Earn More
GetUpside also has a referral program in place that helps you make more money. When a friend joins and uses your link, you get a $0.20 per gallon bonus cashback on your next receipt.
And then you earn $0.02 for every gallon of gas your referred friends buy and redeem.
At this time of writing, there are no referral bonuses for Grocery and Restaurants.
How Does GetUpside Pay?
GetUpside pays via PayPal or check. I couldn't find any information on the cashout amount, so it seems that you can cash out anytime.
However, there's a Paypal fee of $1 for every withdrawal for amounts under $15. There's also a $1 fee for mailed checks under $50.
But if you do refer a friend that uses the app at least once, there's no fee for cashing out. Paypal payments reflect on the account within 24 and 48 hours. Check payments take longer to process.
As of Sept 2018, GetUpside now pays via gift cards as well as other options starting at $10.
GetUpside is an app for people who love to purchase from groceries, gas stations, and restaurants on a daily basis.
The app is specifically intended for people who drive a lot because they have a lot of partnered gas stations.
Here's a list of other cashback apps that we reviewed:
What I Like About GetUpside?
#1 Plenty of Cash Out Options
There's a lot of options for their cashback program, and there are plenty of cash out options as well. You can choose between PayPal, Check, or exchange it for gift cards.
This is a great way for people to enjoy the flexibility of the program so they know what to do with the money they get back.
#2 Lots Of Partner Stores
GetUpside has a lot of partnered stores, restaurants, and gas stations so you'll always have some place to go to when you use this app.
#3 Lots of Positive Reviews
GetUpside has a lot of positive reviews from their members, and they've posted screenshots that they did get paid by GetUpside.
GetUpside Ugly Truths Revealed!
#1 You Can't Use Cash
One downside here is that you can't use cash for your purchases, so you're left to use your credit card or debit card.
Cash and gift card payments are also not allowed because the app can't verify these forms of payment.
#2 Limited Cash Back Rewards Per Week
Another downside here is that you can't get an infinite amount of cashback rewards for their partners. At most you can redeem rewards for their partnered stores no more than 2 times in a week.
It's also worth noting that their cashback amount is based on a pre-tax and pre-tip basis, so you might get lower amounts.
GetUpside is a legitimate cash back program that can get you your money back on your daily purchases.
However, this isn't something that would ever net you a full-time income no matter how much you spend, so there's that.
But it is a good app to have if you just want to get your money back on certain purchases. The only downside here is that there's a limited amount to redeeming rewards per store. You also can't use cash for your purchases if you want to redeem rewards.
Regardless of these disadvantages, people have been saying good things about this program saying that their rewards are worth it and that they did get paid.
How I Make a Living Online?
I've personally created a 4-Figure Monthly Passive Income Stream and become financially independent at just 21 years old without any College degree or working experience!
Through my own hard work, I went from a broke restaurant waiter to living my dream laptop lifestyle in less than a year's time...
If you want to discover the secrets of how I did it at such a young age, click here!