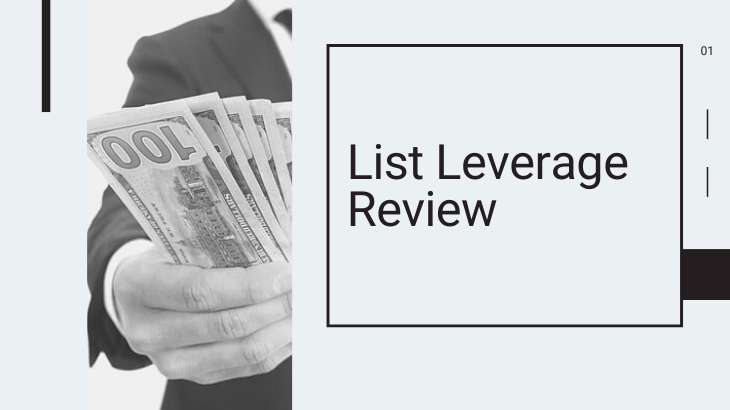 List Leverage Review – Make Money by Building Your List? NOPE!
Welcome to my List Leverage review!
One of the most important tools that any successful Internet marketer will have in their arsenal is a list building program.
But there aren't many of them that can offer you some form of compensation if you refer people into the program.
This one's called List Leverage…
First of all, I must Congratulate you for taking your time to do your own research before buying into any "seemingly good" product.
That's the way to avoid scams and find the legitimate way to make money online!
Let me be completely transparent with you, I'm not associated with List Leverage in any form.
So, rest assured that I'm not here to pitch or sell anything to you.
Instead, I'm here to reveal why you won't be making money with this list-building software...
List Leverage Review Summary
Product Name:  List Leverage
Founder:  Matthew Neer
Product Type:  Email List Building Program
Price:  $49 per month or $398 per year with upgrades
Best For:  No one
Summary:  List Leverage is a list building program with a MLM-like compensation plan.  As impressive it may sound, it's not something that we'd recommend as a source of full-time income. There's no guarantee that you're going to earn a lot of money, and it's an expensive program to begin with. 
Rating: 40/100
Recommended:  No!
More...
List Leverage is an email list building program developed by Matthew Neer. He's been in the Internet marketing industry for quite some time now, and has created a few products such as:
$5K Formula System
Viral Cash App
Income League
And a lot more…
Part of the List Leverage program is the inclusion of 2 third-party programs: Traffic Authority by Doug Wellens and Send Shark by Joel Therien of Now Lifestyle and GVO.
Just a short introduction, Traffic Authority is a traffic MLM program that was popular 3 years ago that sold overpriced solo ad traffic within a MLM business model.
Send Shark is an autoresponder that allows you to send mass broadcast emails to your leads. This is something similar to MailChimp. However, this program has been known to have low inbox deliverability rates.
Here's a short list of what you can expect from List Leverage
LIST LEVERAGE SOFTWARE SUITE – $49.00/MONTH OR $398/YEAR
This is the software that allows you to create high-quality email lists through leverage very rapidly. This includes only 3 lead capture pages and access to their Viral Lead Pass-up System.
LIST LEVERAGE HAS 3 ADDITIONAL UPGRADES:
Then you have the option to avail of these upgrades for List Leverage.
PAGES – COST IS $97.00
Includes 15 additional high-converting lead capture pages and access to all 15 of the best Squeeze pages for only $6.40 per page.
SWIPES – COST IS $247.00
Swipes is a collection of Neer's 1000 highest converting email swipes, which come in 1000+ email marketing swipe file templates.
This supposedly automates your marketing, but not much is known about how it's actually done.
I'm Jerry!
I Created My Own 4-Figure Monthly Passive Income at just 21 Years Old!​
WEBINARS – COST IS $497.00
This covers over 30 hours of content that Neer obtained from interviewing his personal circle of insiders:
Instant Access To 10 Webinars
Download & Stream All Videos
Over 30+ Hours Of Webinar Content
LIST LEVERAGE ADD-ON PRODUCTS:
Traffic Authority – This package costs from $220 up to $8,397, which is a lot more than what you're supposed to pay for traffic.
Send Shark – This cost $25 per month for 50,000 subscribers and pays up to 50% commission, which is kind of a good deal, but you're getting what you pay for. The quality of the subscribers is very questionable, boasting a very low inbox rate in the industry. I read reviews that emails coming from Send Shark are sent straight to Spam folders.
LIST LEVERAGE COMPENSATION PLAN
So they have a MLM-like structure for compensating their members whenever they recruit people into the program.
List Leverage monthly is $47/mth and pays a $20/mth commission to the direct Sponsor
List Leverage Annual fee is $398/year and pays a $200/year commission
If the member's direct sponsor is not eligible, the $200 commission would roll upline to the next eligible qualified member in that members upline.
List Leverage Add On Products Compensation:
Pages = $97 retail pays a $50 commission
Swipes = $247 retail pays a $125 commission
Webinars = $497 retail pays a $250 commission
List Leverage looks great at first, but there are so many problems with the program. And I'll list them down below.
This isn't something that I would recommend to Internet marketers. This isn't also any program that you could sell to anyone who doesn't even know how Internet marketing work.
List Leverage Ugly Truths Revealed!
#1 Overpriced Programs
Their programs compute to about $500 for the initial investment if you want to go the yearly route, and I'm not even including the addons for the program.
There are better email list building programs out there, and they're cheaper as well. We've reviewed some list building software and programs that are more decent than List Leverage.
#2 Income Not Guaranteed
There's just no guarantee here that you're going to make some money with their program because you're selling something expensive to marketers. You just can't sell this product to anyone.
There's no incentive to sell this program based on their compensation plan alone because they wouldn't be able to maximize their program. It's a waste of money if you just want to get into the compensation plan.
According to their official website, the average affiliate earnings range between $300 and $1,800 per year, and that's not impressive to say the least.
#3 Email Addresses' Qualities Are Questionable
Their email addresses are quite questionable in terms of quality, mostly because they just get sent to your list's spam folders.
Successful email list building programs will have the best quality leads, and these may get you some conversions when you have the right niche. I just don't see it happening with List Leverage.
Tying in with this point, you might also be breaking some anti-spam law in your country, so that's something to consider as well.
What I Like About List Leverage?
#1 Impressive Compensation Plan
The fact that they have some decent incentives for their members to promote the program is their only positive note on this review.
Most of these programs don't even have referral systems in place. List Leverage has a decent compensation plan in place, but sadly, there's no guarantee that you can make a lot of money from tehir program.
List Leverage is a legitimate email list building program that can be used by Internet marketers for their existing online businesses.
With that said, it's not something that I would recommend on the merit of both their software and their compensation plan.
The price that you pay for the program isn't that worth it when you have other cheaper programs out there.
There's also no guarantee that you're going to make some money, and on their page, the average member earns as little as $300 per year, which isn't that impressive.
How I Make a Living Online?
I've personally created a 4-Figure Monthly Passive Income Stream and become financially independent at just 21 years old without any College degree or working experience!
Through my own hard work, I went from a broke restaurant waiter to living my dream laptop lifestyle in less than a year's time...
If you want to discover the secrets of how I did it at such a young age, click here!