79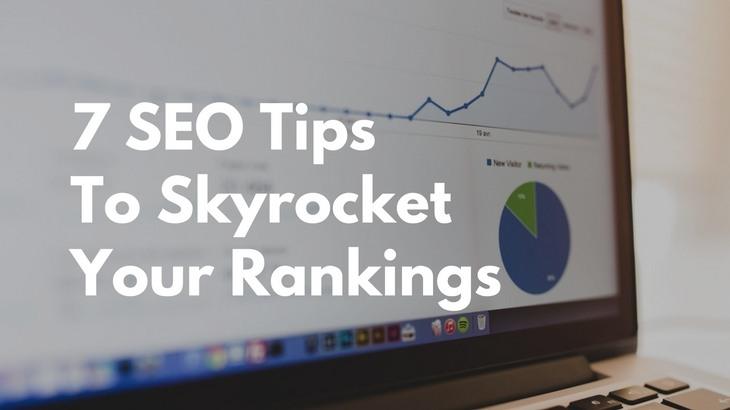 How To Immediately Improve SEO Rankings For Any Content In 7 Steps?
How to improve Search Engine Optimization (SEO) rankings is a very common question among bloggers and online marketers.
Everybody wants their content to be on the first page of Google or even better the first position to get maximum traffic. But a lot of you are struggling. (The fact that you're reading this post right now shows that you're one of them...)
You've probably been wondering why your content just couldn't rank well in the search engine no matter how much time and effort you put in. I can totally understand that feeling. It sucks! It feels like your efforts are wasted, right?
Don't worry!
I know many of you have high quality contents that deserve a better ranking.
More...
One of the problems could be your post is not SEO friendly enough for search engines to give you your deserved ranking position.
In this post, let me teach you 7 simple tips to improve your SEO ranking for your existing posts. These tricks can be implemented in just a couple of minutes. And you can use these tips to make your future posts rank better as well.
7 SEO Tips To Skyrocket Your Rankings
#1 Meta Title
Meta title is different from the headline of your post. Meta title is the title which the search engine indexes. It is also the title of your post that search engine users see in the search engine results page (SERP).
This means that you can have a different headline from your meta title. Basically, headline is the title of your post that is shown only within your post. Whilst, meta title is the title of your post that is shown elsewhere, including SERP, social media, browser tabs, etc...
Many people thought having a title for your post is enough.
You must have a meta title because it allows search engines to immediately identify the title of your page and better understand your content.
If you're using WordPress, meta title can be added in your SEO plugin.
Ideally, you should include the keyword of the post in your meta title.
For example, if your keyword is "make money blogging", your meta title can be "How To Make Money Blogging in X Steps?"
Also, the optimal character of a meta title is between 50 to 60 characters. Keep your meta title below 60 characters if not the rest of your meta title will not be shown in the SERP.
(Related Post: Which is the Best SEO plugin for WordPress?)
#2 Meta Description
Meta description is a short summary to tell search engines what your post is about. It is also the short description shown in the SERP under your meta title.
Again, meta description is a MUST for on-page SEO as it allows search engines to better understand your content. It can be added in your SEO plugin as well.
The character limit of the meta description is 160 characters. So, try to keep the length of your meta description between 150 to 160 characters.
Meta description is another place you should include your keyword.
#3 Keyword in Content
This is a very straight forward point. You definitely need to include your keyword in your actual content.
However, the old SEO techniques would talk about keyword density, which means the ratio of the number of times your keyword appears in your content as compared to the total word count of the post. This is an outdated technique.
In today's SEO, the number of times your keyword appears in the content doesn't matter anymore. As long as your keyword appears at least ONCE, you're good to go. (Ideally, in the first or first few paragraphs of your content.)
Techniques like keyword stuffing all these are not only outdated but can actually have a negative impact on your ranking because Google now put a lot of emphasis on quality content that your readers like.
The old SEO techniques are kind of trying to cheat and mislead the search engine. Google will definitely penalize these kind of tricks.
So, you should write freely and your goal should be offering maximum value to your readers. Just make sure your keyword appears at least once in the whole content regardless of how long it is.
#4 Alt Attributes Within an Image
When you're editing your image in your WordPress editor or any Content Builder Plugins, there are 4 main sections you need to pay attention to: Title, Caption, Alt Text and Description. These are important field you need to fill up.
Among the 4, the most important one is the Alt Text. It has 2 main purpose:
It helps visually impaired people to understand the image because having Alt Text allows screen readers to tell them what the image is about. This improves user experience which is what Google wants.
Alt Text also helps Google to understand what your image is about. This improves SEO for your page.
When you type in all 4 fields, only Caption will be shown to your readers in your front-end published content. The Alt Text and Description are not shown visually but are included in the HTML of your page. (Google Bots will crawl them)
Ideally, you should have at least one Alt Text that contains the keyword of your post. This is another SEO tip you need to adhere to.
But, please refrain from keyword stuffing and don't just copy paste your keyword into all the fields. You should have some variations of the keyword to better describe the image as much as you can.
#5 Internal Links
Internal links are hyperlinks pointing at different pages within the same domain. So, when you link to other pages of your website, it is considered as an internal link.
Internal links are good for SEO because they allow both readers and Google bots/spiders to better navigate and crawl your website. Also, it spreads the "link juice" to other pages of your website, making your website more SEO friendly.
So, trying to include more internal links within your pages/website whenever suitable. But don't just anyhow link. The link must be relevant!
#6 External Links
On the other hand, external links are hyperlinks pointing at another domain/website.
Some of you may be wondering why we need to send our readers to other people's website by putting external links. This triggers them to leave our website, isn't it?
Yes, it is. External links not only gives link juice to other websites but also makes your readers leave your site.
However, the fact is that linking to other authority websites can actually help your site's SEO as well!
Ideally, you should have both internal and external link within your post. Because all these show Google that you're trying to offer as much value to your readers as possible by providing them with more relevant information.
Here's the trick...
Only link to highly relevant and authority websites/pages
Open the link in a new window so that readers won't leave your site and never come back
Make sure your anchor texts are relevant keywords as well (anchor texts are words that you create hyperlinks on)
It's best to have a somewhat balanced amount of internal and external links
#7 Video Embed
Having a video embedded in your post has 2 main SEO advantages:
It provides another way for people to consume your content, i.e. improve user experience. This is good because there are people who prefer to watch videos than read texts.
Having a video on your post will generally increase your readers time spent on your page & website while they watch the video. Visitor's time spent on your site is an important SEO indicator for search engines.
Judging from these two benefits, you can understand how having video embed can greatly improve your page ranking if done properly.
Here are some tips for you...
Firstly, you can create your own video for your page. This requires another set of skills to film and edit your videos. Don't expect your video to look nice at the start because it takes a lot of practices to make awesome videos. (Successful YouTubers aren't that easy to become!)
Secondly, instead of creating your own videos, you can just embed other people's video from YouTube. As long as their videos have an "embed" button, it is perfectly legal to embed it inside your content.
The important thing is always RELEVANCY!
Make sure you're always adding value to your readers. That's the most important thing to succeed in Search Engine Optimization!
#1 Fetch As Google
Basically, fetch as Google is the way for you to request Googlebots to crawl and index your newly published content.
Let me show you how to do this:
If you have not set up your Search Console for your website, you should follow the guide here and go set it up now! It is one of the most important thing for your website ranking.
Once you have your Search Console properly set up and verified, go to "Crawl" -> "Fetch as Google".
Copy paste your post URL and click "Fetch and Render".
Click "Request Indexing" and then verify you're not a robot. Finally, you can request Google to crawl this URL.
You don't have to do this every time because Googlebots will periodically crawl your website according to your publishing frequency. Manually fetching as Google is just to speed up the indexing process by requesting Googlebots to crawl your site straight.
#2 Post on Google+
As you would have known, Google+ is the social network owned by Google. It's always good to share your content to more platforms operate by Google.
Apart from G+, if you've created your own YouTube video and embedded it in your content, make sure you also add the link of your post in the description area on YouTube.
There's no hard in doing all these which can potentially help your SEO rankings. It just takes a few minutes to share it. So, why not do it?
#3 Resubmit Sitemap
Sitemap makes your site easier for Google to crawl and understand. It is an essential part of a good and SEO friendly website.
Resubmitting sitemap after you've updated or published a new post allows Google to update their database faster for your website.
However, if you publish new content regularly, you don't really need to resubmit sitemap because Google will automatically update your site's database frequently.
But if you don't publish frequently, you may want to resubmit your sitemap so that you can speed up the process. It's just a minor thing to do.
#4 Be Social, Join Relevant Discussions
Another tip is that you can spend some time hanging around relevant social media or forums to participate in discussions about your content topic.
By discussing and answer other people's questions about the topic, you'll slowly gain authority and trust in your niche.
In some cases, you're also able to include your website or post link to other social media groups and forums. This will definitely increase your traffic as well as your SEO juice!
#5 More Advanced Traffic Strategies
Apart from SEO and improving rankings, here are some more advanced strategies to drive traffic to your site and also boost your rankings even more:
There are a lot more factors which can affect the rankings of your posts. The tips I've just provided in this post are the simple strategies you can implement immediately to make your content more SEO friendly. This allows Google to better understand your content to give you the rankings you truly deserve.
It has been tested that if you make changes to your existing posts according to these tips, your position for that post will likely to go up, some can see a huge improvement.
But how your rankings improve is out of our control because your keyword, niche, authority or even the competition for that keyword all play a very important role in determining your position.
So, what you can do is to make sure all the things within your control are properly in place.
P.S. If you want to check how well your posts perform in search engine, you can try Keyword Rank Checker by searchenginereports.net!
Wanna Watch The Full Video Demonstration of The 7 Steps To Improve Your SEO Ranking?