10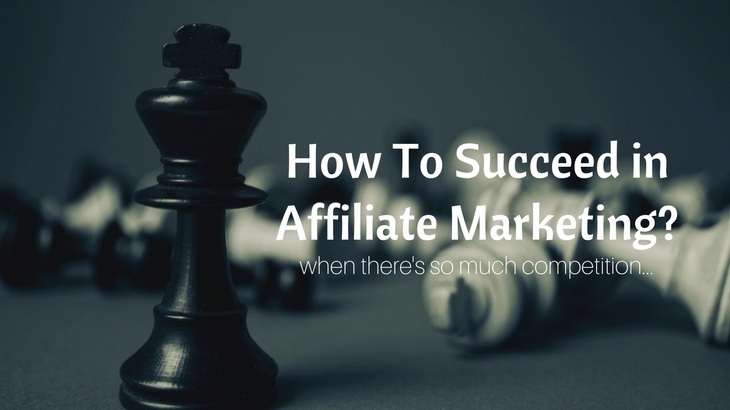 How to Succeed in Affiliate Marketing With So Much Competition?
"There are so many people doing the same thing in my niche. There are even experts with very well-developed websites in the market and I'm just a beginner. How to succeed in Affiliate Marketing when the competition is so intense? And how do I even compete with them?
More...
I get it. I get this kind of questions all the time. In this post, I'm not going to teach you all the affiliate marketing tips and strategies because those can be easily found online.
What I want to share with you today is how to overcome these concerns mentally, which will help you take massive actions, stop procrastination, get closer to your goals and eventually succeed in affiliate marketing.
The Truth about Affiliate Marketing
Let me tell you the truth straight:
You can definitely succeed in affiliate marketing no matter how many people are there in your niche!
Yes, I understand that when there are more people in your niche, the competition is more intense and there are more keywords which are hard to rank for.
However, affiliate marketing is not about directly competing against your competitors. Instead, it is more about how you are going to market your affiliate product to your right audience.
The most important factor is really about your marketing skill, rather than your competition. If you can find a good target audience and find a way to offer them your help, you'll make sales. Simple as that.
Most people are too afraid of the potential competition. So they form an illusional barrier in their own mind, preventing them from moving forward. Ask yourself, is that you?
How to Make the Competition "Irrelevant"?
Have you heard of the book called "Blue Ocean Strategy"? It's basically about making your competition irrelevant.
In affiliate marketing, the good news is that your competition is already irrelevant to you.
Why is that so?
Think about this. Even in the same niche, no two websites are the same, no two affiliate marketers are the same. Everyone of us have our own unique approach and our own knowledge to share.
Take the gym niche as an example. One person can be doing the niche on how to maintain and care for the gym equipment. The other can be what are the best gym equipment to be put at home.
As you can see, there are many many different ways to approach a niche and there will always be a target market for each one.
On top of that, all the contents you share will be different than other people in your niche.
To make the competition even more irrelevant, there are different platforms and channels for you to promote your affiliate products.
As for keywords, there are many powerful long-tail keywords you can target for you to stand out from the crowd.
So, why are you still worrying about your competition?
My Advice
Find your interest/passion/hobby and your target audience.
Most importantly, find the issue that your target audience need the most help.
Then choose the best approach to target them, help them and recommend them the best solution (your affiliate products).
If you are following a great system like Wealthy Affiliate, which has helped lots of people to find success in affiliate marketing, you'll never fail... Unless you're not putting in consistent effort and are not patient enough. In other words, you want to find ways to get rich quick.
I can guarantee you that if you follow a good system and take consistent action, affiliate marketing is for everyone.
What's Next?
Having the right mindset and attitude about affiliate marketing is the key.
Once you understand all these, you'll slowly find that the competition can be irrelevant to you because no 2 marketers or websites are the same.
With some practice, you'll also learn how to build your own authority/influence and market the right product at the right target audience who are ready to buy from you.
Affiliate marketing is not dead. In fact, affiliate marketing is growing at the fastest pace ever, with an estimate worth of $5.97 billion by 2019.
So, what are you waiting for? Stop the procrastination and pessimism.
If you've not started your own affiliate marketing business or if you want to build a stronger foundation in affiliate marketing, click on the banner below I I'll walk you through step-by-step.