47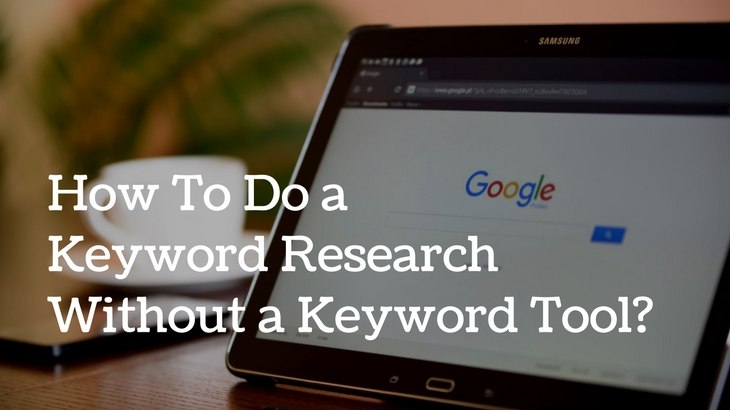 How To Do a Manual Keyword Research in Other Languages?
If you're building websites in languages other than English, you've probably faced some difficulties in doing your keyword research, right?
Because most of the keyword research tools are in English. They are used to search for English keywords.
So, if you want to do keyword research in other languages, this post will give you some ideas on how to do it.
More...
Why Do Manual Keyword Research?
The first alternative is to look for keyword research tools in the language you want to use. However, the chances of finding one is very low.
That's when manual keyword research comes in handy. In fact, it is the only option left if there isn't a suitable keyword research tool.
In this post, let me show you how to search for the 3 main keyword research indicators manually: average monthly searches, keyword competition and SERP analysis.
Average Monthly Searches
Without any keyword tool, the only way to know roughly about the average monthly searches of a keyword is to use Google Keyword Planner.
Enter your keyword in Keyword Planner and the average monthly searches will be shown. The range shown in Keyword Planner is very broad so most of the time there's no point checking.
Anyway, keyword competition and SERP analysis is more important than average monthly searches. So my suggestion is that as long as your keyword make sense, then you're good.
Move on to the next step and search for its competition.
(P.S. Make sure you change the language of your Google account to the one you want before using Keyword Planner to search)
Keyword Competition
The competition of your chosen keyword is very important as it will affect how easily your content can be ranked.
Let me show you how to manually research for keyword competition step-by-step:
Step 1: Enter your keyword into Chrome's search bar with the quotation marks.
Quotation mark is used to tell Google that you want search results with the exact match to the keyword. This is to help you find the real number of competitions with the exact same keyword.
Step 2: Go to the last page of the search results.
I have no idea why this is the case but the real number of competition will only be shown when you go to the last page.
The number of competition is the number of results shown. In this case, it is 115 competitions.
Ideally, the lesser the competition, the merrier. You should aim for competition of less than 150.
But make sure your keywords make sense. They must be the words that real people will type in the search engine.
SERP Analysis
Doing SERP analysis manually, you'll have to type in the keyword in the search bar and look at every single result that shows up in the first page. Then decide whether you're able to outrank these results.
The 2 main indicators to look at are the page authority and domain authority. They indicate how trustworthy they are in the eyes of the search engine.
The following 3 tools allow you to check the authority of the results shown in the first page:
Simply copy and paste the URL of the results page into these online tools and they'll show you the authority score as well as other statistics such as social shares, etc. The higher the score, the more competitive it is.
If there are quite a few results with page authority/domain authority of more than 50. it'll be really hard to get ranked in the first page for that particular keyword. If that's the case, try to change the keyword or the way you phrase it.
Other stats such as social scores and number of backlinks can also show the competitiveness of the results. Your job is to look at all these stats and decide whether it is easy to rank in page one.
Apart from the stats, you should also go into the page and take a look at the actual contents and comments. If you think you can provide a better content, be it more thorough or more info, then go ahead and do it.
---
P.S. Moz's Open Site Explorer has the most detailed stats. However, it is a paid tool with 3 free searches per day. If you don't want to pay a hundred bucks per month for it, then use your 3 daily searches wisely. After the 3 searches are used up for the day, change to the other 2 free tools.
---
Conclusion
Researching for keywords manually is not that hard but it definitely takes some practice to master it.
Keyword research is important. But what's more important is your actual content. So, put more effort in crafting your content rather than spending most of the time finding keywords.
Nevertheless, I hope this manual keyword research tips are helpful especially for people researching keywords in other languages.
Let me know below if you have any questions!
Want To Try The Most Powerful Keyword Research Tool Online for FREE ?