20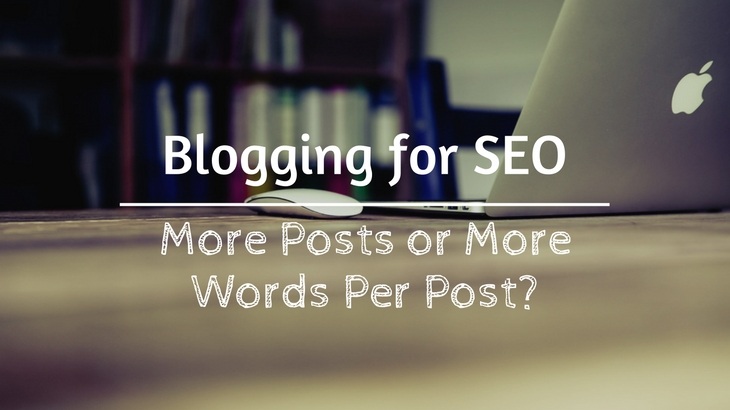 Better SEO Strategy for Blogging – More Posts or More Words Per Post?
A lot of people, especially beginners, are asking about the best blog posting strategy in order to be more SEO friendly and get a better ranking.
Two of the most frequently asked questions are "How often should I write a blog post?" and "How long should my post be?".
Below are two resources you may refer to regarding the two questions.
You can find many more different answers and opinions online. But today there's one more common issue regards to writing a blog post. The question is:
Is writing more posts (with less words) or writing less posts (with more words) better?
(This is the combine of the two questions above...)
More...
The Dilemma Many Bloggers Are Facing Today
People today are struggling for TIME because many of us are very busy with other commitments at the same time of running a blog or online businesses.
That's why there's this dilemma between writing more frequently with less words per post or writing less frequently with more words per post.
So, if you're struggling for time and want to know what's the best SEO strategy for blogging, continue reading 🙂
My SEO Blogging Recommendation
Ideally, you should have both short (less than 1000) and long (more than 1000 or 2000) posts on your website.
You cannot stick to just either one of them. There's no definite answer that which one is better for SEO ranking. It depends on your choice of keyword, your content and your competition.
For the topics that you can write more, a longer and more thorough post is definitely better. For the topics that you don't have much to say, just write to the point and keep it short and sweet.
There's no need to purposely write a lot when there's nothing much to say, and vice versa.
Just keep it natural and write to your readers by focusing on the value of your content.
My Final Advice
So, is writing more posts (with less words) or less posts (with more words) better?
The answer to this question is that neither of them is better.
Here's what you should do...
If you are struggling for time, the minimum you should do is to publish a blog post once a week. The length of your post will depend on the topic itself.
If you're writing a long post this week, minimally you should publish one post. If you're writing a short post, you can aim for two or more posts in that week if you can.
The more frequently you publish a blog post, the better it is for SEO. So, don't focus on the length but focus on the content.
And once again, the recommended blog posting frequency is at least once per week!
Bonus Tip
Your blog should have a main focus (your niche/topic) and you should write your blog posts accordingly.
There are definitely a few relatively more important posts/pages on your site. They are your cornerstone articles. Make them as thorough and updated as you can. These articles will usually have at least 2000 words or more.
After that, you should write relevant short posts and link to these cornerstone articles.
The important thing here is you need to have a clear structure on your site that so that your readers are easy to navigate to the pages you want them to see.
You shouldn't just randomly publish posts and "hope" people will come, read the things you want them to read and take the actions you want them to do.
That won't happen. You need to guide them on your site.
---
That's my opinion on this common question many people have. You may have your own opinion. There's no right or wrong answer. The most important thing is to use the strategy that's most suitable and effective for you.
I wish you great success in your blogging journey!