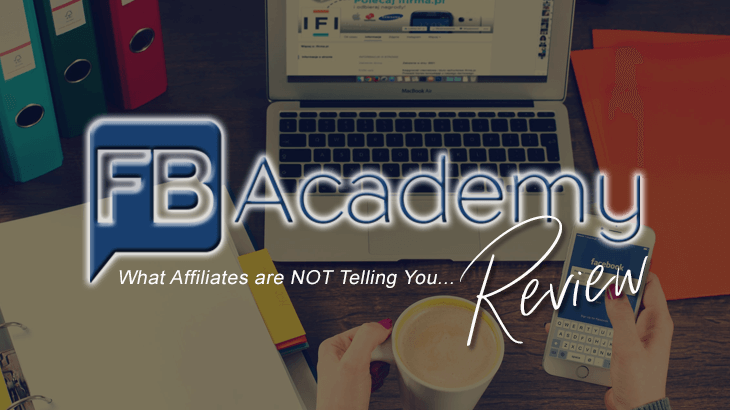 FB Academy Review – What Affiliates are NOT Telling You…
Welcome to my FB Academy review!
First of all, I must Congratulate you for taking your time to do your own research before buying into any products online.
That's the way to avoid scams and find the legitimate way to make money online.
I know I only have a few seconds to capture your attention. So, very quickly why should you listen to me?
The reason is very simple...
If you've done some research yourself, you'll know that majority of the FB Academy reviews online are all written by affiliates who are trying to promote this product to you.
But, I'm NOT an affiliate of FB Academy. So, I'm not trying to promote this product to you.
Instead, I'm just trying to investigate this product and help you make your own purchasing decision.
Cool?
Anik Singal, the founder of FB Academy, claims to help you master Facebook Ads with his course.
Let's take a look at how good this course is and whether it is worth your money...
FB Academy Review Summary
Product Name: Fb Academy
Founder: Launched by Anik Singal on 21 Sept 2017
Product Type: Facebook Ads training course
Price: $697 or 3 payments of $277
Best For: Marketers struggling with Facebook Ads
Summary: FB Academy is a detailed step-by-step training teaching people about Facebook Ads. It is a pretty actionable course which I recommend even though I'm not an affiliate. The only downside of this course is that I don't think it's worth the price.
Rating: 85/100
Recommended: Yes
More...
Before we begin, below is a Quick Navigation menu to help you find the information you need ASAP...
FB Academy, as its name suggests, it's a video training course to teach people about how to properly set up Facebook Ads and leverage Facebook to drive leads and make money online.
It's an extensive course created by Anik Singal, a very successful young entrepreneur.
If you've been in the internet marketing industry for awhile, you've probably heard of Anik before.
He is the founder and CEO of Lurn, Inc.
He has been recognized by Businessweek as Top 3 of the Best U.S. Entrepreneurs Under 25
His digital publishing businesses generate over $20 Million/year in sales
And he is also the founder of many other famous digital programs such as Inbox Blueprint
All these really give a lot of credential and authority to his course FB Academy.
He claimed that he started Facebook Ads with a mere $20. Now, he is investing thousands of dollars per day into Facebook.
Not only that, he has a record of investing $3.5 Million a year into Facebook Ads and getting $13.5 Million back, a 286% ROI in a year!
With all these records and experience, I can guarantee you that Anik's course work. It all depends on whether you have the money to invest and whether you're implementing it correctly.
Haven't Made Your First $1 Online?
Studies have shown that more than 70% of the people who want to make money online have not made their first dollar yet. So you're not alone!
Wanna Check Out My Top Recommended Training?
There are 9 modules included in the FB Academy member's area
Module #1: Getting Started with Facebook Ads
This is the introductory module where Anik will explain to you how Facebook Ads work and why is it important to leverage Facebook to grow your business.
We all know that for many people, investing in Facebook Ads is kinda like flushing money down the drain.
Anik course here will help you figure out why you're not getting the results by teaching you how to choose the right type of Ads and how to target your audience.
Module #2: The Funnels
There are cold, warm and hot traffic in all businesses. In order for you to succeed, you need to identify these different types of audience and what offer suits best for each type.
Just imagine this...
If you have more than one children, you'll know that even if you provide the exact same education to all of them, they'll still end up being very different in terms of everything.
That's because everyone of us is unique. You have to treat each children differently.
This is the same for your target audience. You need to cater to their specific needs and help them solve their respective problems. That's how you run successful campaigns online to make lots of money.
Apart from identifying different types of audience, you still need to create sales funnel to effectively monetize your campaign. If not, you're just donating to the Zuckerberg's Foundation!
That's exactly what Anik will be covering in this module.
Module #3: Landing Page
Facebook has numerous strict rules called Facebook Compliance.
If you're not complying to their rules, you can run your Facebook Ads. Simple as that.
So this module is mainly about teaching you how to build Facebook Compliant landing pages to generate quality leads to your business.
Module #4: The Ad
There are a lot of functions and tools within the Facebook Ads account. That's what overwhelms many people.
You see, there are a total of 11 different marketing objectives in Facebook Ads Manager:
As for Ads Format, there are at least 5 of them:
This haven't include all those settings for you to target your audience, etc...
On the surface, Facebook Ads seem so complicated. That's why a lot of people struggle.
But Anik said this, "90% of the links inside your FB Ad account are useless"
I agree with him.
So, this module is all about how to identify, create, and design the most effective Facebook ads to serve to the right audience.
Module #5: Targeting
This module will be solely focusing on targeting the right audience and get your Ads in fron of the right people.
There are training on some basic targeting in the previous module. But this module will teach you more techniques, such as Facebook Pixels, retargeting and visitor segmentation.
Module #6: Optimization
The most common mistake in Facebook Ads is "guessing".
Many beginners simply "guess" the group of people who will be interested in their offer, "guess" the type of Ads that will be effective, guess, guess, guess...
But the pros know that in order to succeed with Facebook Advertising, one of the most crucial factor is "Tracking".
This module will teach you how to track your Ad campaign and optimize it to scale up the entire campaign.
So, you'll be learning when to invest more, adjust the campaign or shut it off.
Module #7: Advanced Strategies
This module is NOT about Facebook Ads, but something even more important for you - your funnel after people have opt-in through your Facebook Ads.
Regardless you're doing Affiliate Marketing, E-commerce or selling your own products online, there are guidance on what type of sales funnel works best for you and how you ca implement it.
Module #8: Certification
This is like your "Final Exam" after learning so much from all the previous modules.
You'll actually be getting a Lurn Certificate proving that you've passed the FB Academy exam.
According to Anik, this certificate is recognized by the industry. So, if you're looking to get a social media job, this can be useful.
If not, what you've learnt throughout the course is definitely helpful to your own business.
Module #9: Nuts and Bolts
This module is like a Q&A section.
For example, if you don't know how to set up a Facebook Business account, you can get your answer here. If you are not sure about the exact steps to install your Facebook Pixels, set up campaigns, use Facebook Power Editor, etc, you can get help here.
BONUS
For the Bonuses, there are a couple of useful resources, such as Ad Swipe Files and Facebook Ads Checklist.
There are different types of Ad Swipe Files that have proven to work with different products. You can make use of them for your own promotion as well. A huge time-saver!
Support
There are 2 types of support provided in FB Academy:
Exclusive Facebook Group - where you can connect with other successful internet marketer, get help if you encounter any problems and get feedback on your campaigns
24/7 Access to their coaches and team
Who is FB Academy For (and NOT for)?
FB Academy is for those who want to drive traffic to their own website or sales funnel but are struggling to do so.
If you don't have a website or sales funnel in place, you're not going to benefit from this course at the moment and you're just wasting your time and money.
Facebook Ads is just a paid traffic method to grow and scale your existing business, be it Affiliate Marketing, E-commerce, Dropshipping or selling your own products.
If you don't have an existing business yet, I'm sorry FB Academy is not for you. You may want to look into programs like Wealthy Affiliate, where you'll learn how to build your own website and stuff.
FB Academy is also for complete Facebook newbies as long as you have your existing online business.
Even if you don't even have a Facebook account, you can still benefit from FB Academy and help you grow your business.
How Much Does it Cost to Join FB Academy?
Anik claimed that FB Academy costs $997. But he said there's a $300 discount for "Founding Members".
I really don't understand who are these "Founding Members".
Apparently, ALL of us can be founding members. This is just a sales techniques used to generate some urgency for you to purchase his course.
Regardless of when you purchase it, the $300 discount will always be there. So the cost of FB Academy is a one-time fee of $697.
Installment
There's also an installment option where you pay 3 payments of $277 each for 3 consecutive months.
What I Like About FB Academy...
1. Step-by-Step Detailed Training
Undeniably, FB Academy is a high quality training on effective Facebook Ad strategies that work.
Even if you're a complete beginner, you can easily follow the step-by-step training provided and achieve success with Facebook Ads.
2. Locked Modules
The training is not just step-by-step, Anik even forces you to take it step-by-step and don't skip any steps.
When you just join the community, most of the training are locked. So, you really need to follow the training step-by-step.
There's quiz at the end of each module. You can only unlock the next module after you've passed the quiz for the previous module.
This really help students to build a strong foundation in Facebook Ads.
I really love all the quizzes and the "final exam" in module 8. FB Academy is like attending a real school. You need to take exams and you can get a certificate once you pass the exam.
This is a good way to keep everyone on track.
3. Very Targeted
FB Academy is the only course I've seen so far that solely focuses on teaching Facebook Ads.
Whilst, Facebook Ads is just a small portion for many other courses out there.
So, if you really want to hone your Facebook Ad skills, FB Academy is the course to go.
4. Anik's Experience & Expertise
Another benefit of this course is that it is created by someone who has achieved huge success himself with Facebook Ads.
Unlike some other programs, such as Fan Page Money Method, where the owners are just trying to make money for themselves and they did not even achieve any real success with their own "system".
What I DON'T Like About FB Academy...
No matter how good a product is, it will never be perfect.
So here are some issues I've found with FB Academy...
Yes, I agree FB Academy is a really useful and valuable course. But I really don't think it's worth $700.
A lot of the information can actually be found online for Free. That's why I believe you shouldn't pay that much to gain access to such information.
Another thing I've found regarding Anik's products is that he tend to price his products pretty high.
For example, his Inbox Blueprint, an Email Marketing course cost $1K!
You can check out the link above for my review. You'll see that once again it is a valuable course but I believe it is overpriced...
2. No Refund Policy
Another problem with Anik's products is that there's NO refund policy. So, no matter how much you've paid Anik, be it $700 or $1,000, you can't get it back.
Anik explains in his refund policy page that his training is in digital format and you can get immediate access to it once you join. That's why he doesn't offer any refund.
But my question is...
Even if it's in digital format, it's impossible for one to get immediate access to all the information when Anik has locked up most of the training in the beginning.
So, what's the point of not offering a refund policy?
I guess it's because Anik don't want the trouble of having a team to mange the refund requests and stuff and he wants to keep all the money.
Don't quote me for this. It's just my guessing. But having no refund policy is definitely a downside to his courses.
3. Some False Claims
Anik used some false claims in his sales page which I really don't like.
He said that he can build a system so that Facebook pays you to drive traffic to your website.
He even claimed that...
"Before my credit card even gets billed for my Ad spend, Facebook has already paid me a 300% ROI. All before the original bill even comes."
To be honest, this is a typical sales pitch.
Let me reveal to you the truth!
Facebook will NEVER pay you any money unless you're their employee.
The money Anik is making is from his own sales funnel. Since his sales funnel is so effective and profitable, it can feel like Facebook is paying him even before they charge him for his Ad spend.
That's not gonna happen if you don't have a strong sales funnel in place. Just by buying into Anik's course, there's no guarantee for you to make any money.
Most importantly, Anik's claim on Facebook paying him money is NOT TRUE!
No, FB Academy is definitely not a scam. The value of the course speaks for itself. There's no doubt for it.
But, the real question is...
Is FB Academy worth it?
Personally, I don't think it's worth $700. There are lots of cheaper alternatives or even Free training out there to help you run profitable Facebook Ads.
If you have a tight budget, I suggest you to start by watching YouTube tutorials and practice with a small amount of money.
If you have the money to invest and you are really struggling with Facebook Ads, please go ahead and learn from Anik with his FB Academy!
I'm not an affiliate for them so the link above is not an affiliate link.
How I Make a Living Online...
I've personally created a 4-Figure Monthly Passive Income Stream and become financially independent at just 21 years old without any College degree or working experience!
Through my own hard work, I went from a broke restaurant waiter to living my dream laptop lifestyle in less than a year's time...
If you want to discover the secrets of how I did it at such a young age, click here!