13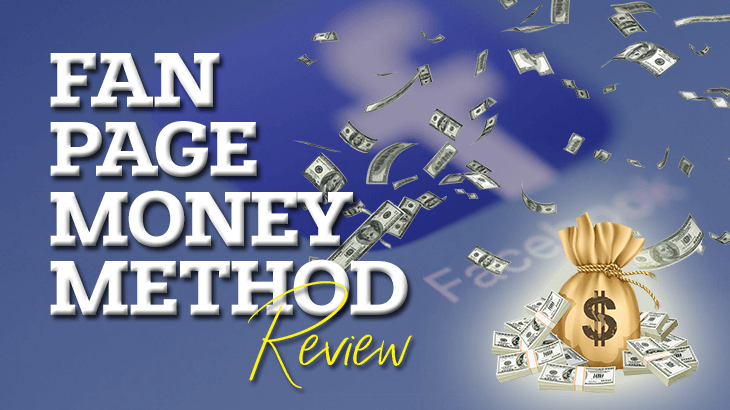 Fan Page Money Method Review – FB Marketing The Wrong Way!
Welcome to my Fan Page Money Method review!
First of all, I want to congratulate you because the fact you landed on my review means that you're doing your own research before buying into any "seemingly good" products.
Fan Page Money Method is no different. It promises you to start making money within 24 hours. And all you need to do is to copy & past the "code" which only takes you 7 minutes to set up...
Is it really possible? Or is Fan Page Money Method a scam?
Let's see...
Fan Page Money Method Review Summary
Product Name: Fan Page Money Method
Founder: Launched by Michael Cheney in 2014
Product Type: 37-page PDF report
Price: $9.95 or $10.99 or $97 + Upsells (you'll find out why is the pricing so weird)
Best For: Michael himself and affiliates promoting this product
Summary: Fan Page Money Method has some decent information about Facebook marketing in its "special report". But everything can be found online for FREE. Not only that, Michael used a lot of unscrupulous means to promote his products and make money for himself.
Rating: 15/100
Recommended: No
More...
This is going to be an in-depth review of Fan Page Money Method. I hope the following Quick Navigation can help you find the information you need as soon as possible:
What is Fan Page Money Method?
Fan Page Money Method is just a 37-page eBook, which Michael calls it the "Special PDF Report", to teach you the basics about Facebook Marketing & Email Marketing.
Below is a video overview by Michael explaining how his "method" works:
Basically, according to Michael, many people are doing the wrong thing in Facebook Marketing by driving people to an external landing (e.g. opt-in page on their own websites).
Michael proposed that the "correct" way is to create a landing page within Facebook to get the maximum Return On Investment (ROI) per lead.
So, in his Fan Page Money Method, he will be teaching:
How to set up your Facebook fan page and landing page
How to target the right audience
How to drive traffic to your landing page &
How to monetize your traffic
So far, these are all legit on the surface but my question is...
Do you really think you can learn ALL these in just a 37-page PDF?
You see, Michael is a marketer and he knows how to format his sales page to make it appealing to beginners.
However, when something is too good to be true, it most probably is.
In the case of Fan Page Money Method, I don't need to go through all the ugly truths which I'll be revealing to you in a short while, I can straightaway know that this is a product to stay away from.
Why?
Because it's really too good to be true! Think about it:
You're going to get a 37-page PDF to teach you Facebook Marketing & Email Marketing
Not only that, you're going to start making money within 24 hours by just spending 7 minutes copying Michael's work
Even a 10-year-old kid will know that's impossible!
I'm Jerry!
I Created My Own 4-Figure Monthly Passive Income at just 21 Years Old!​
Inside Fan Page Money Method
Now, here's a quick overview for the PDF report you'll be getting...
Step 1: Find The Money
The Frankenstein Effect
Targeting people with money
Re-targeting existing contacts
This step is all about finding the right audience to target and re-target.
So, you'll be learning how to customize your Facebook Ads' targeting settings to find the best audience.
Step 2: Build Your Facebook Funnel
How to create your fantastic freebie
How to activate autopilot Email sales
How to create your fan page on Facebook
How to create your killer opt-in form
How to produce your custom tab (Free option)
How to customize the name & image of your custom Facebook tab
Step 2 is all about setting up the essential components of your business, such as your Facebook fan page, landing page, lead magnet, opt-in form and most importantly your Email Service Provider (ESP) for Email Marketing.
Step 3: Get The Money
How to create your killer Ad on Facebook
Lastly, it's all about monetizing the leads you've collected through your Facebook funnel.
However, like I've said just now, you really can't learn much with just a 37-page eBook. All of the information can be learnt online for FREE, especially watching YouTube tutorials.
Most importantly, Facebook Marketing & Email Marketing aren't something you can master within 24 hours. Forget about making money within 24 hours like what Michael promised you.
It's just hyped-up sales pitch!
Fan Page Money Method Sales Funnel Revealed!
Just like any other hyped up products, there are definitely upsells in Fan Page Money Method's sales funnel.
But first, the cost of its front-end PDF is already very confusing. There are 3 different prices depending on which landing page you land on.
If you happen to land on this page, it's $97. If you land on this page, it's $10.99. But if you land on this page, it's $9.95.
That's not the end my friend...
According to many older reviews, Fan Page Money Method actually costs $7!
So, what's the real price? I don't know. It all depends on your luck and the landing page you land on.
Now, let's look at their upsells. Below is a screenshot taken from their JV page:
Upsell #1: Fan Page Money Templates & Videos ($37)
Michael is using the typical technique to promote his upsells and that is to say no matter how great his front-end product is, it won't be effective without these upsells. Because you can better create your opt-in pages using the ready-made templates in this upsell.
As you can see in the screenshot above, you're finally getting some step-by-step videos. But they're all based on the concepts in the front-end report.
Upsell #2: Fast-Track Facebook Traffic Program ($97)
Michael claimed that he originally sold this FB traffic coaching program for $5,000 which I doubt so. (Another common sales technique)
And this upsell will cover more traffic generation methods, both free and paid.
Fan Page Money Method Ugly Truths Revealed!
We've finally come to the most interesting part - exposing the ugly truths of Fan Page Money Method & Michael Cheney...
1. Michael is a SERIAL Scam Artist!
Okay I may be too extreme by labeling Michael as a scam artist. Michael is good at what he is doing - creating low quality and hyped up digital products to make money for himself.
I'm not accusing him without evidence. Take a look at the screenshot below take from JVZoo:
Michael has launched at least 10 products on JVZoo.
This is not the first time I come across Michael Cheney. In fact, I've looked into his another product called The Commission Machine before.
If you have time to take a look at my Commission Machine review, you'll see that once again it's a hyped up product with lots of issues.
That's not the end...
Take a look at the screenshots below. They're all taken from Michael's different sales page for each product. But he is using the exact same photos claiming that this is the kind of lifestyle he has created by using his own product...
After compiling all these, my mini conclusion is that Michael didn't create his own lifestyle through any of the products he sold or the "methods" he taught.
He created his own lifestyle by launching low quality products to make money for himself, taking advantage of his sales techniques.
That's why sales and marketing are so valuable skills to learn. Once you master it, you can sell anything you want.
2. Michael's FAKE Story...
In Fan Page Money Method's sales page, Michael claimed that he had locked himself away for 1.5 years just to learn all these tricks he will be teaching you in his 37-page PDF...
Seriously, do you really believe what he said?
He has launched so many digital products and has made lots of money doing so. Locking himself away for 1.5 years is just a fabricated story as part of his sales pitch. Can you see that?
3. Michael's FAKE "Method"...
This is a big one!
In the video I attached above, Michael said that you should be using Facebook Ads Behavioral Targeting to target people who have the money to spend.
That's a good point. However, there are a few things he made up himself...
He said you can target a group of people called "Online spenders" who has spent money in the last 30 days.
To be honest, it's impossible to track which user spent how much money. The only thing you can track is which user has clicked on the "Shop Now" button in the past week. That's what I show you in the screenshot below:
The only target audience group under "purchase behavior" is "engaged shoppers". Engaged shoppers basically means people who have clicked on the Call-to-Action button "Shop Now" in the past week.
That's not the end of his lie. He said you can also target people based on their average income, how much their houses worth and their net worth.
Seriously, do you believe his lie?
If Facebook knows and shares your average income, how much your house worth and how much your net worth is, there's no more privacy in this world!
That's probably the end of the world or another digital war...That's crazy!
4. Selling Hype
Fan Page Money Method's sales page is another typical scammy sales page. Michael did not explain anything about the actual "method" he will be teaching you in his product. All he talked about are stories after stories and all the unrealistic claims.
He did not mention anything about how his product works.
My question is...why would you hide what your product is about if it was actually good?
It's basically a mysterious product unless you spend the money to purchase yourself.
Fortunately, there are people like myself who is doing all these hard work investigating different products and expose them so that you can save time and money.
Look at the screenshot below taken from the sales page:
All the claims here are about putting in very little effort but getting huge rewards for it.
Again, this is a typical sales pitch. If you're more experience or more cautious, you'll not fall into such claims.
Making money online is really not that easy. Please be extremely cautious and don't fall into the trap of these scam artists who are just taking advantage of people's innocence.
5. Michael is Eating His Own Words
If you're observant enough, you'll realize that Michael actually said he hated buying Facebook Ads in his sales page so he had found another way to do it:
But in the end, he is still teaching about Facebook Ads and spending money on it. Isn't Michael eating his own words and being contradicting?
6. Hidden Costs
You may think $9.95 is cheap so it's okay to try it out. But take note, there are not just upsells but also hidden costs involved.
For example, you'll be building your Email list with Michael's product, which means you need to invest in an Email Service Provider (ESP) or an autoresponder.
Autoresponder is a paid tool regardless of which company you choose. There are Aweber, MailChimp, GetResponse and my top recommended CovertKit. They all require a monthly fee.
Not only that, Facebook Ads are not cheap. If you think you can spend one or two hundred dollars and start making thousands back, you're wrong.
In the beginning, it's often the opposite. You can be spending thousands of dollars but only earn back a few hundred. Because sometimes it's all about trial and error.
So, please don't fall into any scams in the future.
The fact that you're reading my review right now already separate you from those who just blindly buy into hyped up products to "try their luck".
So please give yourself a pat on your back for coming this far.
All I can do for you is to expose this product and guide you in the right direction!
What I Like about Fan Page Money Method?
After exposing so many ugly truths about Michael Cheney and his Fan Page Money Method, I must mention a few good thing about him and his product...
1. Michael Cheney's Courage
Many products like this have "mysterious owners". I've reviewed so many scam products and a common strategy they use is to come up with a fictitious character acting like the owner of the scam product.
The real owners are hiding behind their own computer making money secretly via these unethical means.
I must say I really admire Michael's courage for showing his real face and name because many of his products are really really lousy.
Most of them are just about making money for himself.
But his courage is really commendable. At least this shows he has some confidence in his own products.
2. Some Useful Information
The strategies being taught in Fan Page Money Method are not scam. They are real and working techniques.
So you can expect to learn some legit knowledge about Facebook Marketing & Email Marketing. But like I've said, you can learn all these online for FREE.
You don't have to waste your money on this.
3. Use of Screenshots
The 37-page PDF is full of screenshot. There are pros and cons to this...
The pros is that at least it's easy-to-follow with screenshots attached.
The cons is that this means the entire content is much lesser because there are many screenshots in the already short 37-page PDF.
Also, the lack of video training is something you should take note of. Videos are only included in the upsells.
4. 30-Day 200% Money-Back Guarantee
Lastly, Fan Page Money Method has a 200% money-back guarantee. What this means is that you'll not only get your money back but they'll also compensation you for the time wasted.
I'm not sure why Michael is so confident about his own product. Maybe this is just another sales strategy.
Is Fan Page Money Method a Scam?
Fan Page Money Method is a scam judging from the fact that it is very misleading and impossible to make money within 24 hours.
But it is not a scam judging from the fact that the training is legit.
So it's up to you to decide if it's a scam. My stand is just to stay away from this lousy product.
By the way, I just want to mention that I've recently reviewed another scam product called "30 Minute Money Method".
This product is even worse than Fan Page Money Method and it's an outright scam. But it's really interesting that a lot of low quality products have so similar names.
Who is Really Making Money with Fan Page Money Method?
Apart from Michael himself, there's a group of people who are making good money with Fan Page Money Method.
But it's definitely not those innocent customers who've purchased Michael's product.
Let me give you some hints...
Yes, the Affiliate Marketers who are promoting this product actually earns a lot more than those you bought this product.
You see, Michael gives 100% commission to affiliates who help him product this product and affiliates can earn up to $143.95 per customer.
The fact that Fan Page Money Method was awarded JVZoo product of the day 3 times shows that affiliates are doing well by selling this product.
So, do you want to be the innocent buyer who bought into this low quality product or affiliates who can make money by promoting any products they want?
(By the way, I'm not asking you to promote scam products just to make money. LOL)
That's why Affiliate Marketing is my top recommended business model.
If you have the foundation of affiliate marketing, you can then leverage Facebook marketing and Email marketing to scale up your business.
In fact, with affiliate marketing...
I've personally created a 4-Figure Monthly Passive Income Stream and become financially independent at just 21 years old without any College degree or working experience!
Through my own hard work, I went from a broke restaurant waiter to living my dream laptop lifestyle in less than a year's time...
If you want to discover the secrets of how I did it at such a young age, click here!