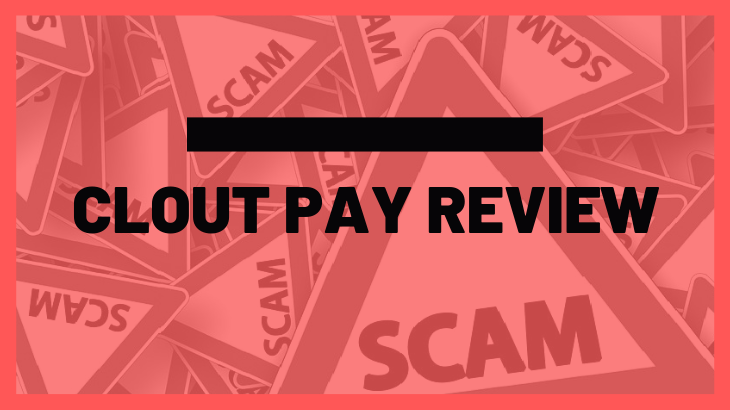 Clout Pay Review – Another Obnoxious Scam Exposed!
Welcome to my Clout Pay review!
It's just another one of those influencer sites that promises to pay out a lot of cash for doing a few tasks, but in reality, they hide a darker agenda behind their program.
And we've reviewed similar program such as the one we're about to review now!
This is Clout Pay.
First of all, I must Congratulate you for taking your time to do your own research before buying into any "seemingly good" product.
That's the way to avoid scams and find the legitimate way to make money online!
Let me be completely transparent with you, I'm not associated with Clout Pay in any form.
So, rest assured that I'm not here to pitch or sell anything to you.
Instead, I'm here to reveal what this GPT site is trying to scam you out of and why it's such a bad idea.
Clout Pay Review Summary
Product Name: Clout Pay
Founder: Not disclosed
Product Type: Get Paid To Rewards program
Price: Free to join
Best For: No one!
Summary: Clout Pay is an GPT program for social media influencers that promises big payouts for their tasks. Unfortunately, none of the claims they're making are true and they're all one big scam. The biggest proof here is that other people actually called them out for not getting paid. This is a complete waste of time and you shouldn't bother signing up for it!
Rating: 1/100
Recommended: No!
More...
Clout Pay, now known as Paid 4 Clout, is a platform that runs on a GPT or Get Paid To business model and hires people like you to use your social media accounts for making lots of money.
They claim to be the #1 influencer network in the industry, but I don't think that's the truth.
The site also promises to give you $25 when you sign up, which is probably the reason why a lot of people are signing up for the site without doing a lot of research about it or its program.
Now, the idea of making hundreds of dollars without investing a lot of time and money especially when it has something to do with your social media, but there's a lot more to what Clout Pay is trying to get you to do.
But what most people don't realize here is that Clout Pay is after your personal information, and they do that by tempting you with signing up.
Clout Pay works a lot like these scams, and we've reviewed these as well:
I am not surprised to see that Clout Pay runs the same Modus Operandi as these scams, from the structure to their site layout because I still believe that these may be from just one company and they're making it look like they're completely different sites.
One reason why they change their names is that they want to mislead victims into the program. If the scam gets exposed enough, then they just change the website's name and contents and they'll be back up and running in no time.
$25 Sign Up Fee Is a Red Flag!
The site promises to pay you $25 as a sign up bonus, but this is actually a red flag that tells you that this program might be a scam.
In reality, there's just no logical way for any site to award anyone with that amount of money upon signing up.
Think about it. If you get 100,000 members in a month, that's $2.5 million in payout. The site would need to earn more than that to sustain the number of members who're signing up.
The only reason why they say they promise $25 for signing up is to make their site more attractive and to trick you into thinking that you're signing up for a lucrative opportunity.
I'm Jerry!
I Created My Own 4-Figure Monthly Passive Income at just 21 Years Old!​
How Does Clout Pay Work?
Clout Pay works a lot like any typical GPT or Get Paid To site, where you get paid to do simple tasks such as:
Submitting your own YouTube Video - $50 payout
Referral Link Clicks - $2 per click
Referral Sign Up - $10 per referral
Surveys and app downloads - $30 and up
From what I can see, these claims are already fake and I would consider them as red flags.
Yes, there are legitimate sites that pay you to do these tasks but not in the amount that Clout Pay promises.
And if you compare these sites to Clout Pay, that's where you'll see the huge difference between legitimate companies and Clout Pay.
Clout Pay Is Not What You Think It Is!
Clout Pay's biggest problem is that it's more dangerous than you would think. It doesn't work as advertised and simply wastes your precious time and effort.
All stats on Clout Pay's website are fake, from the website visitors to the testimonials.
A simple WhoIs query reveals that the Paid4Clout website was only registered on July 12th 2019, which means it's only been a month since they transitioned from Clout Pay to Paid 4 Clout.
There's just no way that this is the #1 influencer site and there's no way that members are getting paid!
No one! The site's clearly a scam and I don't think that there's no one that would benefit from the program except for the program creators.
Clout Pay Ugly Truths Revealed!
#1 – They Won't Pay You!
Third party reviews and feedback from members have proven that the site does not pay. You'll find a sample of the boatload of complaints from Twitter:
Clout Pay, and the other scams that we exposed, are only after your personal and financial information. They'll generate enough data to sell to market research companies or to marketing companies that do cold calls.
Quite frankly, I am not surprised to see that people are coming forward to expose the site.
#2 – No Owner Information And Support Provided!
Another red flag that marks this site as a scam is that there's no information about who owns the website, where they're located, and there's no support information provided.
There's no technical or customer support system in place to help people with their issues.
If Clout Pay was a legitimate website, they'd have these information and more ready as a sign of transparency. And that the information they provide about their owners would be verifiable.
Sadly, that's not the case.
You're left to your own devices once you sign up for the site, so don't expect to hear from anyone on their side!
#3 - Fake Testimonials!
All the testimonials are fake, and the proof here is that no one's getting paid. So why would anyone say something good about the site if they've been screwed over?
I mean check out the similarities between Clout Pay and Paid 4 Clout's testimonials. They're basically the same.
The reason why sites do these is because they want you to think that there are people who're earning money, but that's far from the truth.
If you compare the number of testimonials to the number of people complaining about not getting paid, you'll find that there are more people complaining than praising the site. This is an indicator that the site's testimonials are probably fake.
What I Like About Clout Pay?
There's nothing about the site that I like. It's an obvious scam that's only after your personal information.
Yes, without a doubt, there's something fraudulent about Clout Pay that makes me think that this is a scam. They did a good job changing their name, but they still run the same MO.
They say that they're an influencer network that promises to pay you a lot of money, but that's not the truth.
A lot of people have come forward and complained about not getting paid, so that beats out their fake testimonials and their fake claims of making tons of money.
Stay away from this program!
How I Make a Living Online?
I've personally created a 4-Figure Monthly Passive Income Stream and become financially independent at just 21 years old without any College degree or working experience!
Through my own hard work, I went from a broke restaurant waiter to living my dream laptop lifestyle in less than a year's time...
If you want to discover the secrets of how I did it at such a young age, click here!