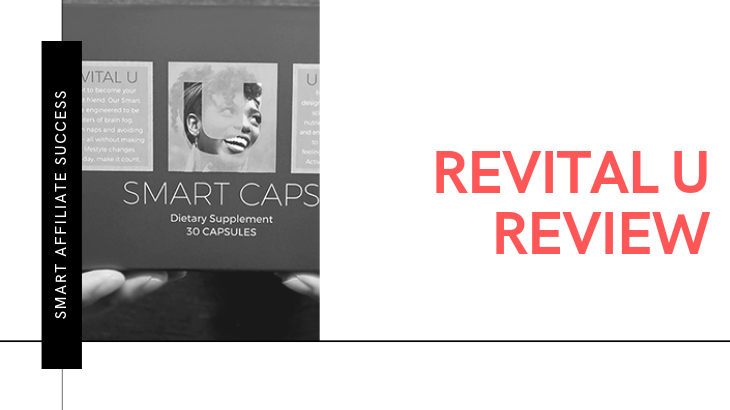 Revital U Review – A Healthy Coffee MLM Reviewed!
Welcome to my Revital U review!
A Coffee Product MLM? You probably think that I'm pulling your leg, but there are actually MLM companies out there that focus on coffee products.
One of those companies is Revital U. Is this going to be a MLM company worth getting into?
First of all, I must Congratulate you for taking your time to do your own research before buying into any "seemingly good" product.
That's the way to avoid scams and find the legitimate way to make money online!
Let me be completely transparent with you, I'm not associated with Revital U in any form.
So, rest assured that I'm not here to pitch or sell anything to you.
Instead, I'm here to reveal what this MLM company offers and if their coffee products are worth the time and money!
Revital U Review Summary
Product Name:  Revital U
Founder:  Andrew McWilliam
Product Type:  Healthy Coffee MLM
Price:  $49.99 one-time membership fee + Autoship
Best For:  People who can market alternative coffee products
Summary:  Revital U is a MLM company that markets alternative healthy coffee with a lot of benefits, from healthy weight loss to improved brain function. However, there are few things about this program that doesn't sit well with me. First, there's severe lack of information, from the lack of income disclosure statement to their proper compensation plan. I had to watch a sales video on how their comp plan works. Second, they have a questionable ingredient on their products that's banned in some countries. It's a health risk and I don't think this is meant for anyone. And you'll see why in this review. 
Rating: 50/100
Recommended:  No!
More...
Revital U was founded by current CEO Andrew McWilliam in the first quarter of 2016, but the website launched on July 2016.
Andrew McWilliam is also known for his involvement in several MLM or multi-level marketing companies before starting Revital U.
He was part of Momentis as CEO. He was also a recruiter for companies such as ACN and Luxurilife.
So, if you're wondering if Revital U has someone who knows their way around MLM, then that answer is YES.
Revital U Product Line
So let's get right to it. Revital U's products are all about coffee. They boast of what they call "Smart Products", which claim to do the following:
Boost your energy
Suppress your appetite
Help you stay focused
Enhance your mood
Help you lose weight
For their products, these are the notable active ingredients:
Nootropics - Smart drugs and cognitive enhancers
L-Theanine - Improves mental focus and sharpness
Chromium Picolinate - Reduce hunger and promote weight loss
Octodrine – Known as a powerful stimulant known to increase cardiac output and blood pressure. Banned in countries such as UK and Australia.
Now the USDA warns the public that Octodrine is potentially dangerous.
As far as I'm concerned, the coffee's designed to help you get through the day as well as help you lose weight and keeps you focused while working.
As of this writing, there are three products that they currently market.
Smart Coffee
Revital U's main product is something that coffee drinkers might probably like. I'm not really a fan of MLM-type coffees and haven't tried a single one.
Smart Coffee contains all of the notable ingredients listed above.
Smart Cocoa
For non-coffee drinkers, Revital U provides you with Smart Cocoa. These provide you with the same benefits as their coffee product (minus the caffeine).
Smart Caps
For those who don't drink coffee or cocoa, you can take the capsule version.
Each of their products are good for 30 servings, or for 30 days, for $49.99. That's quite affordable because you're paying $1.66 per serving, which is cheaper than getting commercialized coffee.
I'm Jerry!
I Created My Own 4-Figure Monthly Passive Income at just 21 Years Old!​
Does The Product Work?
There's a mixture of reviews about whether or not the products work. However, there are more bad reviews than good.
From their TrustPilot profile, they average a 79% 1-star review and 21% 5-star review.
Probably the biggest complaint that people have is that the products don't work, claiming that they haven't lost weight after taking the supplements for a month, as seen in the screenshots below:
But there are also people who claimed to have lost weight and more.
How To Make Money With Revital U?
Revital U is your typical MLM company and provides you with the same opportunities for income:
Retail commissions
Bonus via referrals
How To Get Started With Revital U?
Revital U dubs their distributors as "Influencers", and to avail of their compensation plan, you have to sign up as an influencer.
As of this writing, Revital U only ships to the USA and UK, so customers and influencer signups are limited to residents of those countries.
It will cost you $49.99 (one-time fee) to join and to avail of their affiliate compensation plan.
Revital U Compensation Plan
As an influencer, you're required to subscribe to their monthly autoship to maintain your active status.
There are 8 ranks that are determined by the number of people you recruit and number of products you order:
Brand influencer – Achieved just from signing up
Qualified Brand Influencer – 2 active customers + $99 PV a month
Executive Brand Influencer – 4 active customers + 2 qualified brand influencers + $198 PV a month
Senior Brand Influencer – 10 active customers + 3 executive brand influencers + $399 PV a month
Regional Brand Influencer – 10 active customers +  1,000 total group retail customers + $399 PV a month
National Brand Influencer – 10 active customers + 2 executive brand influencers recruited direct or indirectly + 5,000 active group customers + $399 PV a month
Global Brand Influencer – 10 active customers + 4 direct or indirectly recruited Regional Brand Influencers in 4 different legs + 15,000 active customers + $399 PV a month
Platinum Brand Influencer – 10 active customers + 6 Brand Influencers (any rank) + 50,000 active customers + $399 PV a month
Retail Commissions
Your commissions are calculated based on the customers that you have.
If you have 2 to 9 retail customers, you get 5% on their total purchase.
If you have 10 to 14, you get 10%
At 15 to 24 customers, you get 15% from whatever they purchase
25 or more gets you 25% commissions
Weekly Bonus
You get weekly bonuses based on the number of sales and customers enrolled.
When your sponsor enrolls a new member under them, you get $50.
You also get weekly bonuses every time you move up a rank, which is anywhere between $250 and $50,000.
Monthly Bonus
You get monthly bonuses based on your performance and will pay you additional commission.
This video does a good job at explaining the details of their compensation plan:
Revital U Ugly Truths Revealed!
#1 – Octodrine is Illegal
From what I read, Octodrine is a banned substance in Australia and Canada. It was also banned in the USA by the FDA before, but now a lot of companies seem to be selling it again.
Octodrine is a strong stimulant that's literally not for the faint of heart, so I would advise anyone to consult their doctors first about this substance before taking Revital U products.
This is already a huge downside considering that their products contain Octodrine, so these are health risks.
#2 – Lack Of Information!
For a company that's been around for more than 3 years, they still don't have complete information made available about their program.
They don't have their compensation plan posted on their website.
And they don't have any income disclosure statement made available to the public.
The lack of transparency on how anyone makes money and if anyone's made any money is disappointing, to be honest.
What I Like About Revital U?
#1 - Nootropics Are Work And Are Backed By Science.
Okay just because they have an illegal substance doesn't mean that all their ingredients are bad. Nootropics are actually good and they do work. Or at least, their benefits are backed by science.
Even if you don't lose weight, you're going to be more focused and have higher mental clarity when you drink their coffee.
#2 - Straightforward Comp Plan
One good thing about Revital U is that the compensation plan is straightforward and rewards you for selling more over than recruiting.
Basically, the more you sell, the higher your rank goes, and the higher your rank goes, the more % commission you earn per sale. At 25% of $49.99, that's about $12.25 per sale. There's no fancy mumbo jumbo terminology going on around here.
I wish they'd just post more information about their comp plan on their website.
Revital U is a legitimate MLM company that markets coffee products with health benefits. However, I am quite hesitant to recommend this as a source of full-time income due to the absence of an income disclosure statement.
This statement is supposed to tell us how many people are earning every year, and how much they average per rank. The more people earn at the lower levels, the more feasible the business opportunity is.
However, we can't determine that for Revital U because there's no statement.
Another thing that makes me not want to recommend this is that they have an illegal ingredient in their products, which has already been banned in most countries. I would advise people to take these products at their own risk.
But if you can testify that the product has done wonders for you, then you should be able to market a few of these every month.
How I Make a Living Online?
I'm not a fan of MLM, not because it's illegal or not profitable, but because of all the restrictions and the expensive costs involved.
Instead, Affiliate Marketing is my top recommended business model for anyone to make money online.
The reason is simple...
You don't have to recruit anyone to make money
You have the freedom to promote any products you want and not being restricted to only promote the products from one MLM company
It's Free to get started
In fact, with affiliate marketing...
I've personally created a 4-Figure Monthly Passive Income Stream and become financially independent at just 21 years old without any College degree or working experience!
Through my own hard work, I went from a broke restaurant waiter to living my dream laptop lifestyle in less than a year's time...
If you want to discover the secrets of how I did it at such a young age, click here!