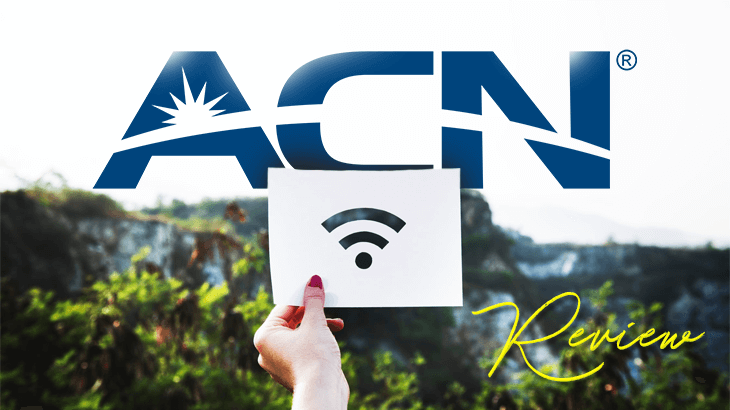 Is ACN a Scam? (Very Controversial Pyramid Scheme Exposed?!)
Welcome to my ACN review!
Chances are, one of your friends or family members has just shared with you this amazing opportunity for you to earn residual income called the ACN.
And probably he or she claimed that you can get paid every time someone talked on the phone, watched television, sent text messages, surfed the Internet, swiped a credit card or used natural gas and electricity.
No matter how you came across ACN, I must Congratulate you for taking your time to do your own research before buying into any "seemingly good" product.
That's the way to avoid scams and find the legitimate way to make money online!
Let me be completely transparent with you, I'm not associated with ACN in any form.
So, rest assured that I'm not here to pitch or sell anything to you.
Instead, I'm here to give you an unbiased 3rd party review of ACN and reveal to you exactly what you need to know about ACN.
One thing we know for sure is that ACN is very controversial company and a lot of people are calling it a pyramid scheme. At the same time, a lot of people are protecting against it as well.
So, is ACN a scam? Or is it a pyramid scheme?
Here's the truth...
ACN Review Summary
Product Name: ACN, LLC (formerly ACN, Inc.)
Founder: Founded by Robert Stevanovski, Greg Provenzano, and twin brothers Anthony and Michael Cupisz in 1993
Product Type: Telecommunication MLM Company
Price: $499 to start + $39.99/month + $149/year (A hell lot of money!)
Best For: People who are good at networking and recruiting
Summary: The good news is that ACN is actually a legitimate MLM business opportunity for you to make money and it's also not a pyramid scheme (I'll explain why in the full review below). However, most people are failing with this business due to the high startup cost and small profit margin.
Rating: 45/100
Recommended: No
More...
ACN stands for "American Communications Network".
It is a North-American based Multi-Level Marketing (MLM) company which is the world's largest direct seller of telecommunications, energy and other essential services for homes and businesses.
Currently, they have expanded their services to 25 countries across North America, Latin America, Europe, Asia and the Pacific.
And here are some of the services provided by ACN:
As you can see, these services range from mobile phone plans, Internet/WiFi plans, television subscription plans, home security & automation, and even energy which includes gas & electricity.
I'm Jerry!
I Created My Own 4-Figure Monthly Passive Income at just 21 Years Old!​
How to Make Money with ACN?
Just like any other MLM businesses, there are 2 main ways for you to make money with ACN:
Sell ACN services to earn retail profits from your customers' expenditure these services
Recruit people and build your downline teams to qualify for residual income and other bonuses
But before that, we need to first understand how to get started and qualify for commissions...
How to Get Started with ACN?
RED FLAG ALERT!
There are some really steep startup costs you need to invest before you can even qualify for commission.
First of all, to become their "Independent Business Owner (IBO)", the term they used to describe their distributors, you have to pay a $499 one-time sign up fee.
They claimed that this is the cost needed for them to provide you with the basic training and materials to get started with the business.
One notable tool is that you'll receive a custom ACN website where your customers can join or purchase services straight from your site and you'll earn the commission.
Apart from that, there's also a $149 annual renewal fee which according to them is to cover the cost of servicing your business.
To be honest, I really doubt the actual costs of "servicing". I don't believe you have to pay $499 and $149/year just for some materials, a website and its maintenance.
But that's not the end my friend...
Once you join, they'll tell you that you can get an optional upsell called "Your Business Assistant" at $39.99/month which contains "everything you need" to succeed with the business.
WHAT?! You mean I'm paying $499 upfront to join the company but I won't get everything? And I still need to pay another $39.99/month for that "everything"?
My guessing is that ACN is just trying to take as much money from you as possible.
And there are more by the way...
All IBOs are required to spend an addition fee up to $10.00 per week for online meetings.
And up to $159.00 plus your additional cost for food and travel accommodations to attend periodic ACN training events.
This is ridiculous my friend.
Although this is a business and all businesses require certain fees to get started. It's really too much for a MLM business opportunity.
ACN Compensation Plan
There are 3 main ways for you to get paid by ACN:
Customer Commissions - You can earn anywhere between 1% to 10% of your customers monthly recurring bill once you sign them up for any of the services offered by ACN. The percentage depends on the Customer Points you have.
Overriding Residual Commissions - This is the commission you can earn from the sales/recurring bills made by your downline members
Customer Acquisition Bonuses - These are bonuses awarded to people who can recruit a certain number of qualified downline members within a certain period of time
For detailed explanation, please refer to their compensation plan document here or watch the video below:
ACN Ugly Truths Revealed!
1. Compensation Plan is Hard to Make Money
Although ACN services offer residual income due to the recurring subscriptions, these services have very small profit margin.
For example, you can only earn 1% commission from these bills in the beginning.
Let say your customer signed up for a $30/month mobile plan. 1% of that is only $0.30/per of residual income.
Of course you can earn more by signing up more customers but the commission is still very low.
How many people do you need to sign up to earn a sustainable income?
2. The Hype
Most MLMs put a lot of emphasis on motivating its distributors because having a group of highly motivated members is a better way to keep them engaged.
That's why a lot of MLMs including ACN has lots of training sessions or company events which only focus on building confidence and getting people pumped up.
The downside of ACN is that they lack the actual training to help you with the nuts and bolts of running and scaling the actual business.
In fact, since this business is about getting people to switch from their existing services to using ACN's services, one tactic they recommend their distributors is to "ask for a favor".
LOL, this is the first time I heard this strategy of running an MLM business.
Let me tell you...
This may work for your close friends and relatives. They may give it a try since you are the one recommending it.
But this is not going to help you scale this business into a sustainable income.
3. Ridiculously High Startup Cost
I've explained the costs involved in running this business.
Let me list down and calculate the total cost of running ACN business in your first year...
$499 sign up fee
$149/year renewal fee
$39.99/month "Your Business Assistant" subscription
And the total cost in your first year is...
$1,127.88!!
This hasn't include all the miscellaneous costs for other company training events and the cost needed for your marketing campaigns.
Without proper marketing and lead generation skills, you're prospects are only limited to those people you know and that's not going to help you build a successful business to replace your job.
P.S. This program that has enabled me to generate a 4-Figure Monthly Passive Income at just 21 years old is FREE to get started and only cost $49/month fee to go full-time!
4. Most People FAILED!
Most people are told from the start that less than 1 in 100 are successful in the business.
Additionally, some studies have shown that approximately 0.5% even make their initial $499 investment back.
The average income of an ACN representative is less than $2 a month.
By the way, I don't have any proof for these right now because ACN didn't publish any official Income Disclosure Statement.
I got these are ex-distributors who shared these info to warn other people.
1. Easy Sale
Unlike those health & wellness MLM companies where distributors need to convince customers to use their products, ACN's home-based business provides an opportunity to earn income on the services people are already using every day.
In the modern world, we all need the Internet, mobile phones, electricity and gasoline to survive. These are the things we are already using on a daily basis.
In other words, you don't need to create the demand for such goods because those are existing demands.
All you need to do is to present people the idea of saving some discounts for their bills while having an opportunity to earn some residual income.
In my opinion, this could be a much easier sale as compared to companies selling sophisticated supplements.
2. Long History
Another thing to take note is that ACN has been around for more than 25 years since 1993.
Also, they're a member of the Direct Selling Association (DSA). This means that they need to meet certain criteria and they must be a legitimate MLM company.
3. Residual Income
You can expect to earn residual income as long as you have signed up a few customers because the nature of their services is on subscription basis.
I heard that there are expensive cancellation fees if you want to cancel the subscription before it expires.
This is unlike companies like Enagic where all the products are only a one-time sale. It's really hard for you to make repeat sales to the same customer due to the nature of the products.
However, like I've mentioned, the downside of ACN is that the earning potential is very low even though they can earn residual income.
Like I've said in the beginning and in my title, ACN is NOT a pyramid scheme and here's why...
According to Wikipedia, pyramid scheme is a business model that recruits members via a promise of payments or services for enrolling others into the scheme, rather than supplying investments or sale of products or services.
In other words, a real pyramid scheme rewards people based on the number of people they recruit and recruiting is the main way to make money.
However, that's not the case for ACN.
ACN offers real services to its customers (mobile plans, Internet, electricity, etc...)
ACN rewards its Business Owners based on sales, not recruitment
For example, IBOs don't earn commission for recruiting people into the downline. They can only make money when those people sign up for certain services provided by ACN.
And that's when you can start earning the "Customer Commissions", which is a percentage (1%-10%) of what people spend on their subscriptions.
This is a clear reason why ACN is not a pyramid scheme.
The reason why many people claimed ACN to be a pyramid scheme is because they were taught to use the "Warm Market Approach".
In other words, for you to make money from this business you're required to start by selling and recruiting your friends and family members.
For example, you'll need to come up with a list of 100 people to contact and things like that.
Also, since the profit margin is very small, the only way for you to make big bucks is by constantly recruiting as many people as possible.
That's why it's very controversial and many people called it a pyramid scheme.
Regardless of whether ACN is a pyramid scheme or not, I'm sure you wouldn't want to be a part of very controversial company, right?
I think the answer for this is pretty clear by now.
ACN has been in business for more than 25 years and they're a member of DSA.
If it's a scam or a pyramid scheme, it should already been shut down by FTC long ago.
However, I think it's also pretty clear by now that ACN is definitely not a good business opportunity for you to make big bucks and become financially free.
The only way to achieve that is when you have the skills and ability to recruit a ton of people and build a huge downline team, which only a very small percentage of people can accomplish.
So, ACN is a legit MLM business opportunity. It's not a scam, nor a pyramid scheme.
But I don't recommend you to be a part of this company if you want to make money.
How I Make a Living Online...
I'm not a fan of MLM, not because it's illegal or not profitable, but because of all the restrictions and the expensive costs involved.
Instead, Affiliate Marketing is my top recommended business model for anyone to make money online.
The reason is simple...
You don't have to recruit anyone to make money
You have the freedom to promote any products you want and not being restricted to only promote the products from one MLM company
It's Free to get started
In fact, with affiliate marketing...
I've personally created a 4-Figure Monthly Passive Income Stream and become financially independent at just 21 years old without any College degree or working experience!
Through my own hard work, I went from a broke restaurant waiter to living my dream laptop lifestyle in less than a year's time...
If you want to discover the secrets of how I did it at such a young age, click here!