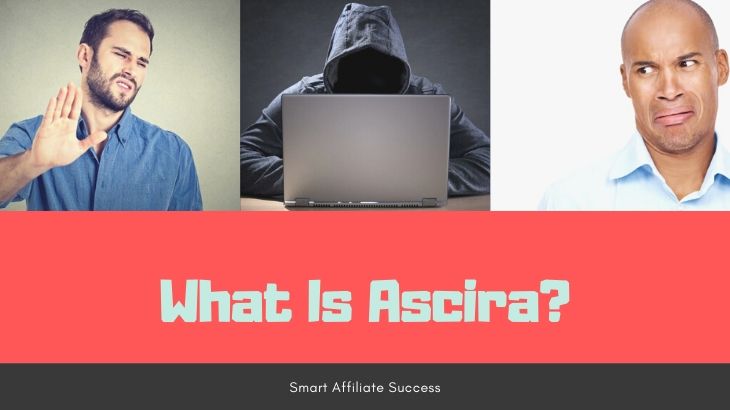 What Is Ascira? It's a Questionable And Suspicious MLM!
Welcome to my Ascira review!
In the MLM industry, one of the most dominant niches is the travel and education niche. They're lucrative, but they can be expensive to start with.
Today, we're going to review one of the up-and-coming MLM companies belonging to that niche. However, we found out several disturbing things about the program.
This is Ascira.
First of all, I must Congratulate you for taking your time to do your own research before buying into any "seemingly good" product.
That's the way to avoid scams and find the legitimate way to make money online!
Let me be completely transparent with you, I'm not associated with Ascira in any form.
So, rest assured that I'm not here to pitch or sell anything to you.
Instead, I'm here to reveal why you shouldn't mess with this MLM at all...
Ascira Review Summary
Product Name: Ascira
Founder: John Sachtouras
Product Type: Travel and Education MLM
Price: $499 to $4,999 for starter packages
Best For: No one!
Summary: Ascira is a travel and education MLM company brought by experienced MLM, but this experience is not that positive at all. In fact, most of the brand ambassadors were involved in some sketchy schemes, including the owner. This leads us to believe that there's something up with the program. It's still in its early stages but it's already showing negative issues.
Rating: 1/100
Recommended: No!
More...
Ascira is a MLM or multi-level marketing company that's still in prelaunch, as of this writing. They belong to the education and travel discount niche. They've done several marketing promos and seminars, so they're hitting the ground running.
The company was founded by John Sachtouras, a well-known marketer behind companies such as Organo Gold and Jeunesse, both reputable MLM companies.
He then joined FutureNet, a crypto Ponzi scheme back in April 2019. After his involvement with FutureNet, he created Ascira.
Ascira Product Line
There are two products that we found from their company website:
The Ascira Academy
Discount Travel Portal "Smart Travel"
Ascira Academy
This is their library of recorded videos from professional authors and other leaders. No information as to what the specific titles of the videos are has been released.
Smart Travel
Smart Travel is Ascira's discount travel portal where they offer the company's main service. This is a monthly service that fuels residual income to you.
There's no information as to how much the retail pricing is to access this portal since they're selling a membership into the service.
I'm Jerry!
I Created My Own 4-Figure Monthly Passive Income at just 21 Years Old!​
Does The Product Work?
Honestly, their Travel Smart is probably not going to be any different from the many discount travel platforms out there, especially within the MLM industry.
It probably works the same way. People pay a fee, book travel, get a discount based on their membership, and then earn a few bucks back when they sign other people up on their platform.
As for the Ascira Academy, I don't want to turn to their promoters and founders if I'm talking about "education". I'm inclined to believe that the videos they'll be presenting will be from their promoters' business ventures in the hopes of getting you to join them.
They haven't revealed the entire content of the Academy yet, but they're trying to get you to buy a 12-month prepaid access worth $5,000. That's insane!
Is any of their program viable for retail sale? Maybe, but there are a lot of factors to consider.
Either way, there's a lot of money involved to join their mediocre offerings. I say mediocre because it has nothing unique or valuable to offer.
Their commissions kicked off in March 1st, but I haven't heard a peep on whether or not their members have made any money.
How To Make Money with Ascira?
Supposedly, you can make money with Ascira from:
Retail commissions for selling their packages.
Recruitment commissions from building a team.
How To Get Started with Ascira?
According to their prelaunch, there are two product prices to choose from:
​Pro Pack ($499) – You get 3 months' worth of Ascira Academy and Smart Travel, with 1 convention ticket to sell.
Founders Club ($4,999) – Gets you 12 months' worth of Ascira Academy and Smart Travel, along with 4 VIP convention tickets to sell.
They have other membership packages available between $199 and $2,499 but no information is released to what they contain yet.
Ascira Compensation Plan
Their compensation plan has 9 different ways to make you money, but we're not going to talk about all of them.
Retail Commissions
You earn 20% commissions on selling Ascira Academy and Smart Travel. No other information has been provided on how to maximize this part of the compensation plan yet.
Recruitment Commissions
You get 15% commission every time you recruit someone into Ascira.
Residual Commissions
Their residual commissions follow a 3x12 matrix that looks like this:
It has you earning money from your downline's activity. Downline refers to the team that you built.
You're at the top of the matrix, and the first 3 people you recruit are placed one level below you (Level 1). Their recruits are placed below them (Level 2), and it goes on from there up to the 12th level.
You earn a percentage based on the levels you have and your current rank. But information has not been disclosed yet.
Matching Bonus
Every time someone from your downline earns a bonus, you get what's called a Matching Bonus. You earn up to 30% on your level 1 and 10% on levels 2 and 3.
Everytime someone in your downline earns a bonus, you get a Matching Bonus.
You can earn up to 30% on level 1, 10% on levels 2 and 3.
The details haven't fully been released here yet.
Ascira Ugly Truths Revealed!
#1 Questionable Leadership
One of my biggest concerns here is the people leading the company. Almost everyone, from the CEO to their Brand Ambassadors, have had their hands full with Ponzi schemes and Pyramid schemes.
Let's start with Sachtouras, the CEO. Together with Steve Martin, they both joined FutureNet's corporate team sometime last 2018 and only got out recently.
Gerti Navisotschnig and Hans Joerg "Happy" Hartmann are also from FutureNet.
Daniel Grenon is known for his string of failed Ponzi schemes, with his latest one being FXTV Global which made headlines back in September 2019.
Andy Hansen's Aspire Worldwide pyramid scheme collapsed in 2014 and victims lost about $5 million from said collapse. Hansen was last seen fleeing regulators in Australia and headed off to the UK. He goes by Andrew now and has a beard.
Does this make us conclude that Ascira might be a pyramid scheme?
No, but it does make us feel suspicious about its future activities.
#2 Expensive To Join!
You have to pay at least $499 to join their program. MLM companies average somewhere around the $200 for their starters, so we know that this is already considered expensive.
The price isn't exactly a big disappointment since we don't know what value the products bring, but it's the leadership and ambassadors that concern me in terms of what you're investing into.
#3 Recruiting Is Required!
At the heart of it all, you need to do a lot of recruiting to make this venture work for you. Their incentives are focused on recruitment, so you'll have to build a good team to generate passive income.
Then there's also the issue of their leaders getting involved with pyramid schemes, so it's no coincidence that their incentives are focused on recruitment.
What I Like About Ascira?
Because they're in prelaunch, it's hard to note something positive about this program. This is an honest feedback. There's not enough to go around that makes us want to say something positive too.
Ascira does appear to be a legitimate company, but it has a few issues that does not sit well with us. We don't recommend this program to anyone simply because:
Their leadership and their ambassadors have had some involvement with pyramid schemes and Ponzi schemes, so the integrity of Ascira is questionable at this point.
The products are quite expensive, so it might be difficult to sell one, let alone get started on their program.
Recruiting is required to get the most out of the program based on their compensation plan.
We advise you not to join this program just because it's still in its early phases and has yet to be really recognized.
How I Make a Living Online?
I'm not a fan of MLM, not because it's illegal or not profitable, but because of all the restrictions and the expensive costs involved.
Instead, Affiliate Marketing is my top recommended business model for anyone to make money online.
The reason is simple...
You don't have to recruit anyone to make money
You have the freedom to promote any products you want and not being restricted to only promote the products from one MLM company
It's Free to get started
In fact, with affiliate marketing...
I've personally created a 4-Figure Monthly Passive Income Stream and become financially independent at just 21 years old without any College degree or working experience!
Through my own hard work, I went from a broke restaurant waiter to living my dream laptop lifestyle in less than a year's time...
If you want to discover the secrets of how I did it at such a young age, click here!