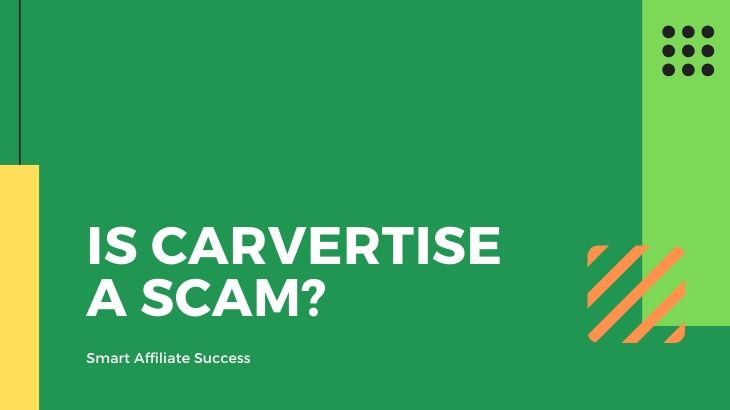 Is Carvertise a Scam? Get Paid To Drive Around Without Passengers!
Welcome to my Carvertise review!
You can make money with your car apart from driving people around. Just by posting ads on your car like a legitimate race car, you can earn a few hundred dollars a month. How's that possible?
Well, companies like Carvertise can make that happen. And today, we're taking a look at their business opportunity.
First of all, I must Congratulate you for taking your time to do your own research before buying into any "seemingly good" product.
That's the way to avoid scams and find the legitimate way to make money online!
Let me be completely transparent with you, I'm not associated with Carvertise in any form.
So, rest assured that I'm not here to pitch or sell anything to you.
Instead, I'm here to reveal how this program works...
Carvertise Review Summary
Product Name: Carvertise
Founder: Mac Nagasawami
Product Type: Get Paid To Place Ads on Car
Price: Free to join
Best For: People who drive around a lot.
Summary: Carvertise is an advertising service that hires you to drive around with an ad on your car. There's some good things about this program if you are driving around town on a daily basis. But the income potential is quite low, and we'll explain this in the article.
Rating: 50/100
Recommended: Yes and No!
More...
Carvertise or Carvertise.com is an advertising company based in the USA where they pay drivers like you to place removable ads on your cars.
The company was launched in 2012 by Mac Nagaswami and they currently have 6 different headquarters located in the USA.
Carvertise offers two kinds of opportunities – one for drivers and one for brands.
For this review, we're just going to check out the Driver side of their business opportunity.
It's free to register as a Driver for Carvertise. You'll just have to fill in your necessary information such as name, contact details, and your car details.
Once you're approved to be a Driver, they're going to instruct you to drive to their nearest headquarters so they can proceed with the car wrapping.
Carvertise will match advertisers to you, so campaigns will vary. You may end up with a campaign that lasts for one month to up to six months. In some cases, campaigns may last up to a year.
How Do You Qualify to Be a Carvertise Driver?
According to their website, there are only four main qualifications that you need to comply with to become a Carvertise driver:
Clean driving record
Factory paint job
Car model that's 2008 or newer
Drive a minimum of 30 miles a day
The last qualification is hit or miss since there are also opportunities for you where you just park your car at specific spots. I'll talk more about their income opportunity in the next sections below.
I'm Jerry!
I Created My Own 4-Figure Monthly Passive Income at just 21 Years Old!​
What Are Carvertise Wraps
Carvertise uses wraps for their advertising campaigns. There are two kinds of wraps that you need to be aware of:
Partial wrap – only the sides of your car and back window are wrapped with ads.
Full wrap – the entire car will be wrapped except for the front and side front windows.
How Long Is The Wrapping Process?
The partial wrap takes about 30 to 60 minutes, while full wrap takes anywhere between 6 and 10 hours.
In case it's a full wrap, Carvertise will reimburse their drivers for an Uber or Lyft to pick their cars up from the Carvertise install shop.
This image below is an example of a partial wrap.
How Much Money Can You Make with Carvertise?
According to their website, Carvertise offers a fixed $100 per month at the bare minimum. This is if you're going to be stuck with a mediocre-looking advertisement wrapper and you don't drive around busy streets.
Your income depends on how long the campaigns last and who their clients. Naturally, bigger clients mean bigger campaigns and that basically equates to bigger paychecks.
Campaigns on Carvertise last for a month at the minimum and can go as high to 12 months or a year. But these year-long gigs are often rare so you might not even see these hit your car.
The top dollar campaigns pay about $600 per month, but if not, you can still make a decent amount of money driving around as you usually do. The only difference is that you have a big advertisement glued to your car.
I don't know the specifics of being able to advertise more than one campaign on one car, but even if you were able to do that, the income opportunity is not enough to do this full-time. The money you earn from Carvertise could offset your gas and car maintenance expenses.
What Is the Carvertise Scam?
Carvertise is a legitimate company, but they are victim of an on-going check fraud that has people pretending to be part of their company.
The scam consists of people pretending to be Carvertise staff, or working on their behalf, and they'll promise you a substantial income for signing up. They'll send you big checks every week (these are fake) and will ask you to send the money you got from the check (supposedly, after removing your cut) to another person or third-party.
By the time the bank realizes the forgery, the scammers are gone and you're left with a bad record and you will lose money in the process.
It's gotten so bad that Carvertise issued this statement to their drivers and to warn people about the scam:
If you find yourself driving for long periods, then this might be a good income opportunity for you. Note that this isn't a full-time gig, nor is there a guarantee that you'll make money consistently every month.
Carvertise Ugly Truths Revealed!
#1 Not A Work-From-Home Gig
By now, you realize that this is not a work-from-home gig and this is completely different from the opportunities we review.
Carvertise looks appealing to those who want to drive around or find themselves driving miles at a time due to their normal routine. Much like being a Grab, Uber, or Lyft driver, you still have to put in work using your car.
#2 Part-Time Income
Carvertise offers a part-time job more than anything. I would consider it part-time because the income is not consistent, i.e. it's not guaranteed you're going to get ad campaigns every month.
It's also part-time considering the amount of money you get paid to do so. At best, you're earning money as a side hustle for when you're driving around town or you find yourself parking in a particular spot for a period of time.
But all things considered, there's still money to be made here.
#3 Damage to Vehicles
Some people have complained about their cars being damaged while the ads were being removed, even though Carvertise promised that the wraps wouldn't damage anything.
Based on their BBB profile and their Facebook reviews from drivers, it seems to me that this is a somewhat common issue but Carvertise is quick to resolve them.
What I Like About Carvertise?
#1 Free To Try Out!
The application is free to try out and you'll not be asked to pay out a certain amount for joining. If you meet the qualifications and if there's a Carvertise HQ near you, then you have a chance of being booked as an advertiser.
This is worth noting because you don't have to shell out a certain capital for trying out something that could make you money.
#2 Less Payment Issues
Carvertise seems to have the least amount of complaints about their payments compared to the sites that I usually review.
Carvertise pays their drivers on time and with no delays, so that's another bonus in itself. You can also think of it as a monthly paycheck. Again, you can't deny that $100 a month won't be good for you or your car.
Carvertise is a legitimate company and has been around for almost a decade. They have several headquarters in the USA, with install shops all across different states.
However, if you're looking for a full-time gig that pays more than a full-time income, this isn't the program for you.
You're only getting paid hundreds of dollars a month, so you're not even close to matching minimum wage at the minimum.
You run the risk of damaging your vehicles after removing the ad wraps. I would like to emphasize that damages to your car are uncommon issues, but they are resolved nonetheless.
This isn't a work-from-home gig since you actually have to get out of the house to drive around.
Their income opportunity is great for people who find themselves driving around town more than they need to. A couple of hundred dollars a month can still go a long way for saving up for something.
How I Make a Living Online?
I've personally created a 4-Figure Monthly Passive Income Stream and become financially independent at just 21 years old without any College degree or working experience!
Through my own hard work, I went from a broke restaurant waiter to living my dream laptop lifestyle in less than a year's time...
If you want to discover the secrets of how I did it at such a young age, click here!