35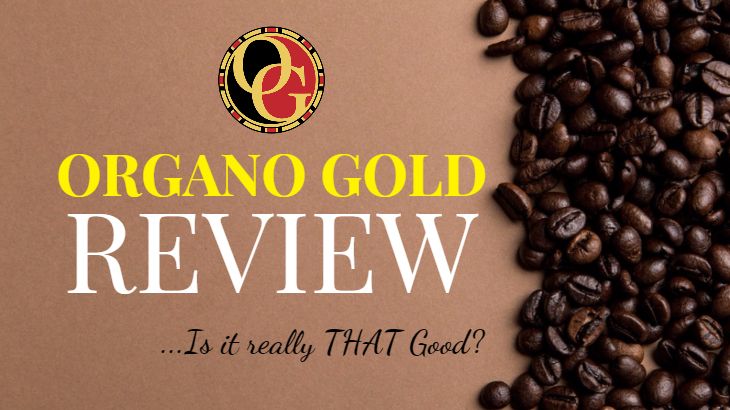 Is Organo Gold a Scam? Organo Gold Coffee Review 2018
​Welcome to my Organo Gold review!
Organo Gold is a Multi-Level Marketing (MLM) company selling their own "unique coffee", which I'll explain what it really is later on.
In this review, I'll cover 2 main parts about this company:
The product itself (for consumers who want to buy their products)
The MLM business opportunity (for people who want to make money)
Just to let you know, I'm not related to Organo Gold in any way. I'm not their "Independent Distributor" trying to pitch their business opportunity to you.
My goal for this review is to offer you the necessary information for you to make your own informed decision. Sounds great?
In fact, feedback for this company is quite extreme. Some people say this is one of the top MLM companies while others say this is a total scam or even a pyramid scheme.
So, Is Organo Gold a scam? Or is it a pyramid scheme?
We'll find out very soon...
Organo Gold Review Summary
Product Name: Organo Gold
Founder: Founded by Bernardo Chua & Shane Morand in 2008
Product Type: Multi-Level Marketing (MLM) company selling coffee and personal care products
Price: From $49.95 (Starter Pack) up to $1,300 (Gold Pack)
Best For: People who love coffee & people who are interested in making money through MLM
Summary: Organo Gold is not a scam, neither it is a pyramid scheme. They have real and unique products to offer and they have legit MLM business opportunity. However, the problem is that it's too hard to make enough money to even cover your investment. (I'll prove to you in this review)
Rating: 45/100
Recommended: No
More...
Before we start, let this Quick Navigation help you find the information you're looking for:
What is Organo Gold (OG)?
"Bringing the treasures of the earth to the people of the world."
This is Organo Gold's slogan and mission.
OG is a global network marketing company (aka MLM) revolving around coffee with more than half a million Independent Distributors over 50 countries.
It was first founded by Bernardo Chua (Or Bernie Chua) back in 2008 in British Columbia, Canada, who had a dream to provide a better cup of coffee to the world.
So how does OG's coffee different from all other poplar coffees these days, especially renowned brands like Starbucks?
Basically, they infuse an edible mushroom powder called Ganoderma Lucidum into their coffee with the aim of providing coffees with better health benefits.
Health Benefits & Danger of Ganoderma Lucidum
So how does this mushroom make so much difference?
Let me give you a brief explanation about this mushroom and its pros and cons.
I don't want to turn this review into a Biology lecture but I think it's important to let you understand whether Organo Gold's unique coffee is really good or not.
I'm sure you want to know that, right?
Ganoderma, also known as LingZi (靈芝) in Chinese, is a widely-used ingredient in the Traditional Chinese Medicine for over 2,000 years and it is said to be the "King of the Herbs".
Some of the effects of Ganoderma include anit-oxidant effect, therapeutic effect on insulin resistance and anti-cancer effect. So its health benefits include:
Enhance immune system
Prevent or slow down cancerous tumors
Regulate blood pressure
Alleviate allergies
Decrease inflammation
Aid in digestion, etc... 
(Source: Examine.com)
However, not all of the health benefits mentioned above are proven scientifically. In fact, studies have shown that Ganoderma is not suitable to be consumed for a prolonged period of time (3-6 months).
Some potential dangers/side-effects of Ganoderma include:
Upset stomach
Nose bleed
Dry mouth
Dizziness
Itching
Rash
(Source: LiveStrong.com)
It's said that it may be unsafe for pregnant or nursing women to consume Ganoderma because taking Ganoderma may increase bleeding, making you more susceptible to blood clots.
So some people are saying one should consult a doctor first before consuming.
As you can see, despite having some potential health benefits, this is a very controversial subject because of the possible dangers as well.
You may want to give their coffee a try but just from this above-mentioned fact alone, I don't think it's a good idea to promote this kind of coffee to other people, right?
Today, Organo Gold does not just produce different types of coffee, they have other products such as nutraceuticals, personal care products and other types of beverages such as hot chocolate.
But the common thing about all these products is that they are all infused with Ganoderma Lucidum.
You know what? My mini-conclusion about this company is...
Organo Gold is a Ganoderma company disguised as a coffee company!
I'm Jerry!
I Created My Own 4-Figure Monthly Passive Income at just 21 Years Old!​
Since Organo Gold is a MLM company, there are two main lines of product, one for the consumers and one for the Distributors (people who want to make money with OG).
Consumer Products
Just coffee alone, there are quite a number of different types, not to mention other beverages:
Gourmet Black Coffee - Classic coffee with regular beans & Ganoderma lucidum
King of Coffee - Finest organic beans with Ganoderma lucidum
Cafe Latte - Blended with cream, sugar and of course Ganoderma 
Cafe Mocha - Black coffee + Cocoa + Ganoderma
Cafe Supreme - Creamy coffee + ginseng + Ganoderma
Hot Chocolate - Regular hot chocolate with Ganoderma
Green Tea - Organic green tea + Ganoderma
Black Ice - Refreshing iced black tea with pure & natural honey + Ganoderma
Enzyme - Natural enzyme complex with probiotics. Help your digestive, energy, health, vitality and balanced function of your entire system.
How Much Does it Cost to Join Organo Gold?
Business Packs
We're slowly moving on to the business opportunity aspect of Organo Gold. Business packs are kinda like the "membership levels" for MLM business.
​1. Starter Pack - Business Entry Kit ($49.95)
Just like any other MLM business, Organo Gold requires every Independent Distributors to have a Business Entry Kit.
In this Business Entry Kit, you'll get access to your OG online backoffice as well as a "Pro replicated website".
Other than that, you'll have your own resources to help you build your business:
Distributor Binder
Brochures & Applications
Coffee Samples
Access to wholesale purchases
However, there are some problems with this Starter Pack:
Access to your own backoffice for FREE is only 1 year. There are extra fees you need to pay after the first year.
The "Pro replicated website" they provide you are meant to help you grow your business online. However, since the sites are "replicated", it's really hard for you to have any success with the website, especially if you don't have prior experience with internet marketing.
Starter Pack is not the only thing you need to purchase in order for you to run your business with OG. You still need one of the following packs...
2. Bronze Pack
Initial cost: $150
$50/month autoship
Receive up to 10% compensation
3. Silver Pack
Initial cost: $450
$100/month autoship
Receive up to 15% compensation
4. Gold Pack
Initial cost: $1,300
$100/month autoship
Receive up to 20% compensation
Basically, purchasing the Starter Pack allows you to become an OG Distributor. But in order to be qualified for commission/compensation, you need to purchase one of the three packs I just mentioned above.
(P.S. Autoship means you need to purchase a certain amount of OG products every month and they'll be shipped to you automatically. You can either consume the products yourself or sell it to other people to earn retail profit.)
5. Other Marketing Tools
OG also has additional marketing tools for sale to help your business if you need them. See the screenshot below:
So, let's go back to the main question: How much do you really need to spend if you want to start your own business with Organo Gold?
It depends on the package your choose...
Bronze: $49.95 + $150 + $50/month for 12 months = $800 (First year)
Silver: $49.95 + $450 + $100/month for 12 months = $1,700 (First year)
Gold: $49.95 + $1,300 + $100/month for 12 months = $2,550 (First year)
To be honest, this is a lot of investment for beginners.
I'll be showing how much can you earn in your first year in just a moment. Then you can compare whether it's worth the investment...
P.S. This program that has enabled me to generate a 4-Figure Monthly Passive Income at just 21 years old is FREE to get started and only cost $49/month fee to go full-time!
Organo Gold Compensation Plan
Before that, let's understand how OG's compensation plan works.
Holton Buggs, the Chief Visionary Officer of Organo Gold, will explain to you how the entire compensation plan work in the following video:
Organo Gold adopts a binary compensation plan.
What this means is that you need to build one team on your right and one team on your left. And the amount of commission you can earn depends on the sales performance from both of your teams.
Yes, this is a Multi-Level Marketing business. You're going to recruit people to become your downlines and train your downlines to recruit more downlines.
The more active downlines you have, the more passive income you can make.
But Organo Gold is NOT a pyramid scheme because apart from recruiting, they're also selling their own unique products. As long as there are real products or services involved, it's not a pyramid scheme.
7 Ways to Make Money with Organo Gold
A lot of MLM companies boast about the number of income streams they can provide for their Distributors. Organo Gold is no different.
The 7 of them are...
Retail Profit: Sell OG products as a retailer and earn up to 50% profit
Fast Track Bonus: Earn $20 – $120 on each OG Promotional Product Pack sold, with no limit on the number of packs you can sell. 
Dual Team Bonus: Basically building your two main downline teams and earn up to $75,000 (which is impossible for most of the people)
Unilevel Bonus: Receive bonuses from product orders and re-orders generated in your group, up to nine levels deep. (Source of residual/passive income)
Unilevel Matching Bonus: Earn a percentage of the Unilevel Bonus earned by your Personally Sponsored Distributors, up to 4 levels deep. (This is very similar to the one above)
Generational Bonus: Additional bonus for OG leaders
Global Bonus Pool: Once you reach a certain level, you can qualify in sharing 3% of Total Worldwide Unilevel Commissionable Volume.
The Good
1. Open About Their Income Disclosure
A legitimate MLM company should have an Income Disclosure Statement documenting how much money on average people are making with them.
Most MLM companies have very low earning potential. That's why some companies try to hide their income disclosure, probably a very small link in the footer.
However, what surprised me is the Organo Gold is completely honest and open about their income disclosure, despite they have a low earning potential.
Take a look at the screenshot above. This is one of the biggest and most obvious Income Disclosure link I've ever seen after reviewing so many MLM companies.
2. OG Participates in Charity
"ORGANO™ is the proud corporate sponsor of the OG Cares Foundation; a non-profit organization that supports youth by providing them with opportunities to become productive and engaged members of their communities, so that they may initiate positive change for future generations." - Organo Gold
It's pretty rare that a MLM company will give back to the society by setting up a foundation.
Another MLM company I know which has their own foundation is USANA Health Sciences.
Anyway, being able to give back to the society shows that this company is doing well and they have a good vision & purpose.
---
The Bad
1. Low Earning Potential
One of the major drawbacks of Organo Gold is that its earning potential is extremely low. But this is not something uncommon in the MLM industry.
Many other companies have the same problem. There will always be a small number of people who are making most of the money while another small number of people are making decent income and the rest just keep struggling.
Take a look at the income disclosure below:
86.34% of all the active Distributors are making less than $600 PER YEAR. That's extremely low.
Do you still remember how much money you have to invest in order to join OG?
The minimum is $800 for the first year. Which means, majority of the people couldn't break even in the first year.
Spending $800 to earn a maximum of $600 is really not enticing at all. Only 13.66% of active Distributors are making more than $600 per year.
Take note! The percentages below the "Leadership Ranks" are out of this 13.66%, not based on ALL Distributors.
After my calculation, only 4.6% of the entire active community is making $600-$1,000 per year. And the numbers below are all much smaller.
OG is trying to make the percentages seem more enticing but in reality it's just like many other MLM. Only a very small percentage of people will be making a full-time income.
2. Not a Part of Direct Selling Association (DSA)
Direct Selling Associate is an organization that regulates companies in the MLM industry.
There are certain rules and standards to meet in order to be accepted into DSA. So companies being accepted into the association are more trustworthy than those who don't.
Organo Gold tried to become a member of DSA but was rejected in 2013.
3. Recruiting
Once again, for those of you who are familiar with MLM, you'll know that recruiting is a big part of a MLM business.
So most likely you're going to pitch this business opportunity to your friends and family members.
I'm sure you know what usually happens. You're sabotaging your own friendships and relationships to grow your business. Then you become the "no friend zone".
Of course, this is the worst case scenario and it may not always happen if you run your MLM business in the right way.
But it's a really challenging task for most people.
If you hate recruiting and pitching new business opportunity to other people, you're not going to enjoy running your MLM business.
4. Extremely Controversial
There are a lot of complaints against Organo Gold over the years. The 3 most common complaints are:
Delivery issue - customers not receiving the products they purchased
Health concerns - there are cases where people suffer from really serious health problems by consuming Ganoderma, especially for a prolonged period of time.
Income claims - OG made inflated claims regarding the potential income people can earn as an Distributor.
In fact, Federal Trade Commission (FTC) records show that the agency has received at least 55 complaints about Organo Gold.
You can see the actual documents for some of the complaints here.
5. You MUST Stay Active
Another downside of most MLM business is that there's a certain sales volume requirement every month in order for you to earn commission. That's what they called "being active".
To reach this requirement, you can either purchase and consume the products yourself, sell it to others or help your downlines reach the sales requirement.
Seriously, it is comparable to your bank clearing your account if you do not make monthly deposits.
No, Organo Gold is not a scam because they have a legit MLM business model. Like I've said, it is also NOT a pyramid scheme because they are selling their own unique products to the market.
It is a pyramid scheme if the only way to make money is to recruit people into the system.
However, as you can see from my review, there are quite a number of problems regarding this company. It's not just very controversial, but it's also very hard to make decent amount of money, if at all.
So, I really don't recommend you to join Organo Gold if you want to build your own business and make money.
I'm not a fan of MLM, not because it's illegal or not profitable, but because of all the restrictions and the expensive costs involved.
Instead, Affiliate Marketing is my top recommended business model for anyone to make money online.
The reason is simple...
You don't have to recruit anyone to make money
You have the freedom to promote any products you want and not being restricted to only promote the products from one MLM company
It's Free to get started
In fact, with affiliate marketing...
I've personally created a 4-Figure Monthly Passive Income Stream and become financially independent at just 21 years old without any College degree or working experience!
Through my own hard work, I went from a broke restaurant waiter to living my dream laptop lifestyle in less than a year's time...
If you want to discover the secrets of how I did it at such a young age, click here!