1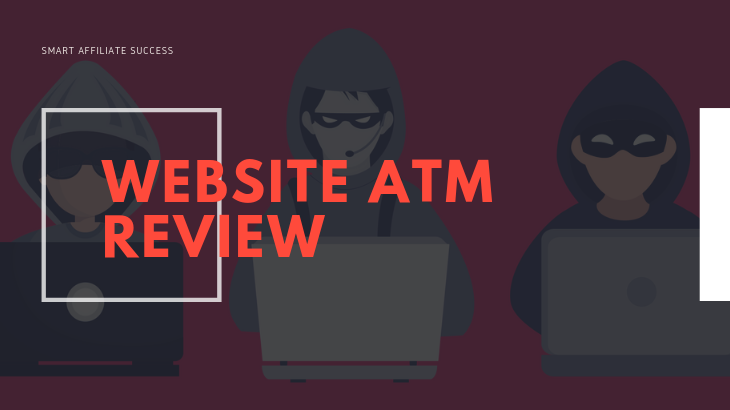 Website ATM Review – 100% No Cash, No Profits Here!
Welcome to my Website ATM review!
This program isn't even trying hard enough to not sound and look like a complete scam.
The name itself is quite humorous because it implies that you can make money with a push of a button.
On the contrary, what you're going to experience with this program is anything but making money.
Programs like these give affiliate marketing a bad name, mostly because they show you how it's NOT SUPPOSED TO BE DONE.
These programs take all the important elements out of AFFILIATE MARKETING and chuck them into the trash.
This is Website ATM.
First of all, I must Congratulate you for taking your time to do your own research before buying into any "seemingly good" product.
That's the way to avoid scams and find the legitimate way to make money online!
Let me be completely transparent with you, I'm not associated with Website ATM in any form.
So, rest assured that I'm not here to pitch or sell anything to you.
Instead, I'm here to reveal why you're not going to make any money out of this program!
Website ATM Review Summary
Product Name: Website ATM
Founder: Nick Harvey
Product Type: Affiliate Marketing System
Price: $47 plus upsells
Best For: No one!
Summary: Website ATM is anything but a legitimate affiliate marketing program because it absolutely does nothing to make you earn a single dime. The fake testimonials and the lack of information about the owner are just two of the red flags that were raised in this review, and these are more than enough to classify this review as a scam.
Rating: 1/100
Recommended: No!
More...
Website ATM implies that it's a push-button website builder that churns out money-making websites with each click.
Developed by an ex-accountant named Nick Harvey, Website ATM is marketed as an instant cash machine.
It's so good that Nick wants you to keep it a secret.
"Don't tell anyone about this" he says on his sales video, in the hopes of keeping authorities and marketers away from his system.
Admittedly, the sales video and pitch is quite good and it's quite similar to the other scams that we've reviewed recently.
But I understand that you want to know more about how this program works, so let's get into that in the next section below.
Website ATM is your typical get-rich-quick scheme that promises you a lot of things, but delivers none of them.
Website ATM is also a sales funnel for something called EasyKits, which is a program that might cost you thousands of dollars to join.
What Are You Getting?
Website ATM promises you a done-for-you website that's already set up and configured with money-making links to begin earning with.
While they do provide you with a website, it's actually just a template more than anything else.
And it's the exact same template that's provided to every other member. This means that all of the sites are duplicates and it will be next to impossible for you to make money out of these duplicates.
But this is just the beginning.
They said that they will give you a website, but they won't give you website hosting. So you have to sign up for an expensive website hosting platform from them (which they're an affiliate of).
I'm Jerry!
I Created My Own 4-Figure Monthly Passive Income at just 21 Years Old!​
Why You're Not Going To Earn Money?
You're wondering why I'm just hating so much on Website ATM.
The reason for that is everything they're giving you is completely trash.
The whole concept of their program relies solely on affiliate marketing, which is a very legitimate business model and how I make a living online.
It's a very good way to make money online, but the problem here is that Website ATM completely takes advantage of people knowing the wrong things about affiliate marketing.
You are getting a website from Website ATM, but they're not going to give you traffic. Without traffic, there won't be anyone to visit your website. Without visitors, no one's going to buy your products.
They don't even tell you how to go about with generating traffic. They'll just get the $47 out of you and give you a duplicate website that hundreds of their customers probably have, and leave you to your business.
It's also clear that the creators of Website ATM don't care about you making money or not. All they care about is making money out of you.
This is why if you want to learn more about their affiliate marketing system, it's going to cost you another $997.
No one.
Website ATM is affiliate marketing done wrong, and it just sends the wrong message for people who want to make money online.
If you want to get started the right way, check out my FREE 1-HOUR TRAINING that shows you how affiliate marketing works and all of my secrets to success.
Website ATM Ugly Truths Revealed!
#1 - Fake Testimonials
On their website, you'll see popups from people who said they're making money from the program.
But let me tell you now that these are fake.
Here's a sample testimonial popup:
And here's the actual stock photo:
The woman is named "Nicole" but she's not exactly a member of the website. She doesn't even exist at all.
The stock photo that Website ATM used can be found on stock photo sites such as Shutterstock.
It's common for these sites to use fake testimonials to drive more hype into their product and to make people think that they're legitimate.
#2 – No Info About Real Owners!
If Website ATM actually worked and delivered their promises, wouldn't their owners be proud to show their true identities?
After all, this is the chance for them to get associated with the success of their program.
But this isn't the case.
You'll find no information about who the real owners are and what company is running the program.
They do this to protect themselves and so they can create more scams without people flagging the product because their real name is associated with it.
#3 – A Rehash Of Other Scams!
I am quite confident that Website ATM is a rehashed version of existing scams, and I can name a few of them:
These scams are just like Website ATM in a sense that they promise you could make a lot of money with a few clicks of a button. But they turned out to be completely total frauds.
It's also a rehashed version of another notorious scam called Money-Sucking Websites, and it's clear from their landing pages that they only changed the logo.
As seen here:
And it's quite common for sites like these to just copy off one another, mostly because they're probably run by the same group.
As long as people will continue to fall for their scams, they will continue to churn out these programs. That's why sites like Smart Affiliate Success do their best at exposing these frauds.
What I Like About Website ATM?
There's nothing positive that's worth pointing out with Website ATM. There's just too much going on that makes me not want to say anything good about it to begin with.
Fake testimonials, no information about their real owners, and simply a rebranded version of other scams, Website ATM has proven itself that it's nothing more than a scam with these three red flags.
It's sites like these that prevent people from making money online the right way, and it's sites like these that give legitimate marketers like us a bad name.
And I guarantee you we won't be seeing the last of Website ATM since they'll just take down the website and then relaunch with another name.
How I Make a Living Online?
I've personally created a 4-Figure Monthly Passive Income Stream and become financially independent at just 21 years old without any College degree or working experience!
Through my own hard work, I went from a broke restaurant waiter to living my dream laptop lifestyle in less than a year's time...
If you want to discover the secrets of how I did it at such a young age, click here!