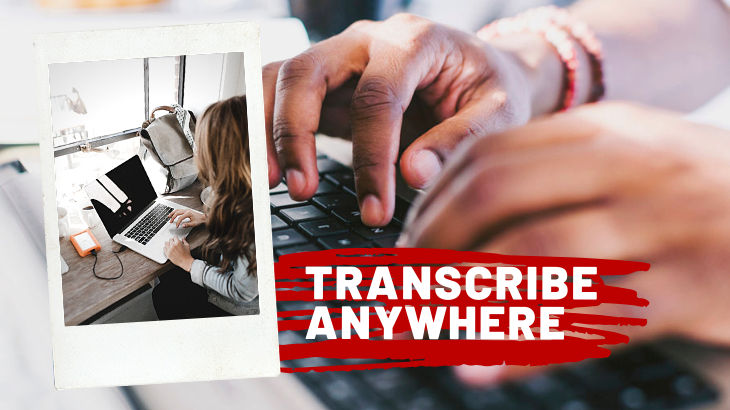 Is Transcribe Anywhere a Scam? It's The Best Course For Transcribers!
Welcome to my Transcribe Anywhere Review!
You'll find a lot of these training programs online, and these are always great (most of them, anyways).
In lieu of attending class at a physical school, online programs such as Transcribe Anywhere makes it easy for anyone to access the modules anytime, anywhere.
If you're planning on becoming a transcriptionist, here's why this program may be for you.
First of all, I must Congratulate you for taking your time to do your own research before buying into any "seemingly good" product.
That's the way to avoid scams and find the legitimate way to make money online!
Let me be completely transparent with you, I'm not associated with Transcribe Anywhere in any form.
So, rest assured that I'm not here to pitch or sell anything to you.
Instead, I'm here to reveal what this program is about and how it can help you become a professional transcriber.
Transcribe Anywhere Review Summary
Product Name: Transcribe Anywhere
Founder: Janet Shaughnessy
Product Type: Training Program for Freelance Transcribers
Price: $597 to $697, depending on payment options
Best For: Aspiring Transcribers who want to enhance their skills or to build their own business.
Summary: Transcribe Anywhere is a training program for aspiring transcribers who want to start their own business or for professional development. The training course is thorough and provides different payment options to make the course more accessible. It's also good enough to give you a solid foundation for professional transcribing.
Rating: 80/100
Recommended: Yes!
More...
What is Transcribe Anywhere?
Transcribe Anywhere is an online transcription course developed by Janet Shaughnessy, who's also the owner of Zoom Transcription.
She started working from home when her husband became disabled, and through transcription, she was able to find that balance and lifestyle that she was looking for.
The course is also certified by the AAERT (American Association of Electronic Reporters and Transcribers), so you know this program is very legitimate!
Inside Transcribe Anywhere
The concept of transcribing is to convert audio, song, or a video into written text.
Basically all you need to do is listen to the file and type it into the document.
This may sound like something that a high school student could do, but transcriptionists actually do a lot more than just typing.
Companies and other professionals are also willing to pay top dollar for transcription services to convert their files into written texts.
For example, a lawyer may need to convert his video or audio deposition files into written text for courtroom purposes or for other reasons.
There's a big demand for transcription jobs, but not a lot of people are trained properly in doing transcription.
This is where Janet and Transcribe Anywhere come in.
With their training module, you'll develop the foundation that you need to set up your transcription career.
Here's a short video on how transcription works:
I'm Jerry!
I Created My Own 4-Figure Monthly Passive Income at just 21 Years Old!​
How Does Transcribe Anywhere Work?
I'm not going to lie. When I saw the price tag for Transcribe Anywhere, my first thought was "the course had better be worth it".
And sure enough, I think Janet and the team delivers a comprehensive training module.
There are two main courses found inside Transcribe Anywhere:
The General Transcription Course.
The Legal Transcription Course.
The General Transcription Paid Course
Module 1 - The Foundation: This module covers what a general transcription is, the jobs they do, and the equipment needed.
Module 2 - The Most Essential Skills to become a Pro Transcriptionist: Here you learn the skills needed to become a great transcriptionist.
Module 3 - Best Time-Saving tools for more efficient transcription: Here you'll learn about the tools you need to make your transcriptions smoother and more efficient.
Module 4 -Practice Dictations: This module provides practice dictation.
Module 5 - Building Your Transcription Business: This module focuses on building your business and how to set your own rates, as well as finding clients and marketing yourself.
Module 6 - Final Exam + Certification: If you pass the final exam, you'll receive your certifications.
The Legal Transcription Paid Course
This course is focused on legal transcription and is longer than the general transcription course because it comes with 16 modules.
I won't list them down here, but instead, I'll give you a brief overview.
The first 4 modules are an introduction into the legal transcription world and the tools needed to get the job done.
The 5th to 9th modules are focused on the types of laws, transcription guidelines for a court transcript, and lots of practice on demurrer, mock trials, and other courtroom materials.
The remaining modules are then all about setting your own business as a legal transcriptionist, setting your rates, and teaching you how to do SEO and social media.
You'll also be required to complete a final examination to receive your certification.
The Mini-Courses
Transcribe Anywhere doesn't give out refunds, so in case you don't like the courses, you're out of luck,
Thankfully, they provide you with two free mini-courses that will help you decide if Transcribe Anywhere's teaching style will meet your needs.
There are two courses that you'll have access to, each with their own modules:
The General Transcription Mini-Course.
The Legal Transcription Mini-Course
General Transcription Mini-Course
This mini-course is an email series that you can access just by entering your email address. Here you'll get 7 lessons that'll give you an overview of the General Transcription paid course.
Legal Transcription Mini-Course
The second mini-course is focused on legal transcription and is for those who're interested in legal transcription. This is also an email series, but is quite shorter than General Transcription Mini-Course.
And both courses will also give you access to email Janet whenever you have questions.
How Much Does Transcribe Anywhere Cost?
I mentioned earlier that this course is not cheap, but the value you're getting from the courses is just too good to pass on.
With that said here are prices of the two courses:
General Transcription Course: $597
Legal Transcription Course: $697
If you finish the General Course and pass the exam, you get a discount on the Legal Course and get it for only $500 instead of $697.
You can also buy both courses for $1,100 to get a discount of $200 (instead of paying $1,300 for both).
Payment Plans Options
Transcribe Anywhere also provides payment plans to make their program more affordable.
This called their "pay as you go" option.
For the General Transcription course, here's the option:
Level 1 – Get modules 1 and 2 for $127 for 30 days
Level 2 – Get Modules 1 to 4 for $362 for 60 days
Level 3 – Gives you full access to the modules at $597, but if you upgrade from Level 1, you only pay $470 and $235 if you upgrade from level 2.
The Legal Transcription Course Payment Plans:
Level 1: You get modules 1 to 4 for 30 days for $197.
Level 2: You get modules from 1 to 9 for 60 days the price is $497.
Level 3: You get access to the whole course here for $697, you will pay $500 if you upgrade from level 1 and $200 if you upgrade from level 2.
Who's Transcribe Anywhere For?
Transcribe Anywhere is definitely the course for those who want to start a career as a transcriptionist.
It's also for those who're already working as transcribers but want to develop their skills further as part of their career advancement plans.
What I Like About Transcribe Anywhere?
#1 – Online Training Is Convenient!
Learn at your own pace. Transcribe Anywhere's modules can be accessed anywhere as long as you have access to the Internet.
Now, most of these files are in text form, so you're going to have to do more reading than watching videos.
#2 – Helps You Build Your Business!
The training course covers as far as helping you set up your own business and how to market yourself.
The course also goes as far as even teaching you how to do SEO and how to develop a business plan.
The module is thorough enough that it can be a course in itself, but Janet included them.
#3 – Thorough Training Is Provided!
Newbies get the competency required to become professional transcriptionists thanks to the thorough training provided.
The fact that they require you to take a certification exam means that you're going to have to put a lot of work in and actually practice what you learned to the best of your ability.
This just shows the kind of quality assurance that Janet and the rest of team do to ensure that their students are high-caliber transcriptionists.
#4 – The Payment Plan Options Are Lifesavers!
Transcribe Anywhere makes it possible for anyone to access their training course by making it affordable.
Their payment plans don't require people to shell out a lot of money for the entire course, but it still allows them to finish at their own pace.
Transcribe Anywhere Ugly Truths Revealed!
#1 – Transcription May Not Be For Anyone!
This is not a criticism of Transcribe Anywhere, but transcription may not be for everyone.
I could see myself as a perfect example of why I wouldn't be a good transcriptionist. I may have been writing for the past 10 years, but I don't have the speed or accuracy that's required of a professional transcriptionist.
Is Transcribe Anywhere a Scam?
Transcribe Anywhere is actually a legitimate transcriptionist training program for people who aspire to become full-time transcriptionists.
The modules are thorough and extensive so their students develop the core competencies and build a solid foundation for their business.
The program is also made accessible thanks to the availability of their payment plan options, so not only can you learn at your own pace, but you can pay at your own pace too.
How I Make a Living Online?
I've personally created a 4-Figure Monthly Passive Income Stream and become financially independent at just 21 years old without any College degree or working experience!
Through my own hard work, I went from a broke restaurant waiter to living my dream laptop lifestyle in less than a year's time...
If you want to discover the secrets of how I did it at such a young age, click here!